Art is such a personal thing to add to our homes and it can really personalize your space so much. So my motto is have fun with art, don't take it too seriously, and make sure you really love it. I think if you bring home art you love, your house take on your personality and what you love to surround yourself with.
When Mark and I got married almost 3 years ago, our households combined as well as our artwork. We each have personal taste in art. Some of our tastes are similar and some are not. We both love watercolors, so that's a common ground we share. He favors winter scenes. I favor lake, water scenes, and landscapes. I love botanicals. He loves big graphic posters and has plenty of those in his man cave. I'll include a few pics of his man cave too. In the main part of the house, we've tried to mix both our styles to create a personal gallery of art in our home that is unique to us and both of our tastes. So today I'm sharing our artwork and how we choose art to display in our home. Again, art is very personal and we all have to choose what fits our style and personality best. Mark's original watercolors are displayed in the family room and the rest of the main floor shows more of my taste in art. Mark's man cave is filled with his poster art and his love of original watercolors, but I won't show all of those in this post.
There are several things to consider when choosing art as well. Style and colors are one thing but a big consideration is budget. I have visited many galleries over the years and I love looking at and admiring original art, but many times the ones I love are way out of my price range in the 1000's of dollars. So I buy what I can afford within a budget we are comfortable with. I'll share our favorite places online to buy art too, in case you are interested in what we have bought. None of our artwork is priceless or super expensive. I'd love to be able to afford some more expensive pieces, but it's just not in the budget to spend money on. Plus it's fun to find art that speaks to you for a reasonable price. Art is truly SO subjective!
Here's a breakdown on the kind of art I've bought myself, as well as some of Mark's original watercolors. Please excuse the photography on these. Most of our artwork is behind glass and I wasn't about to take them all out to photograph them, so you'll see some glare on most of them. I did the best I could to show the paintings and prints as they are.
VINTAGE ART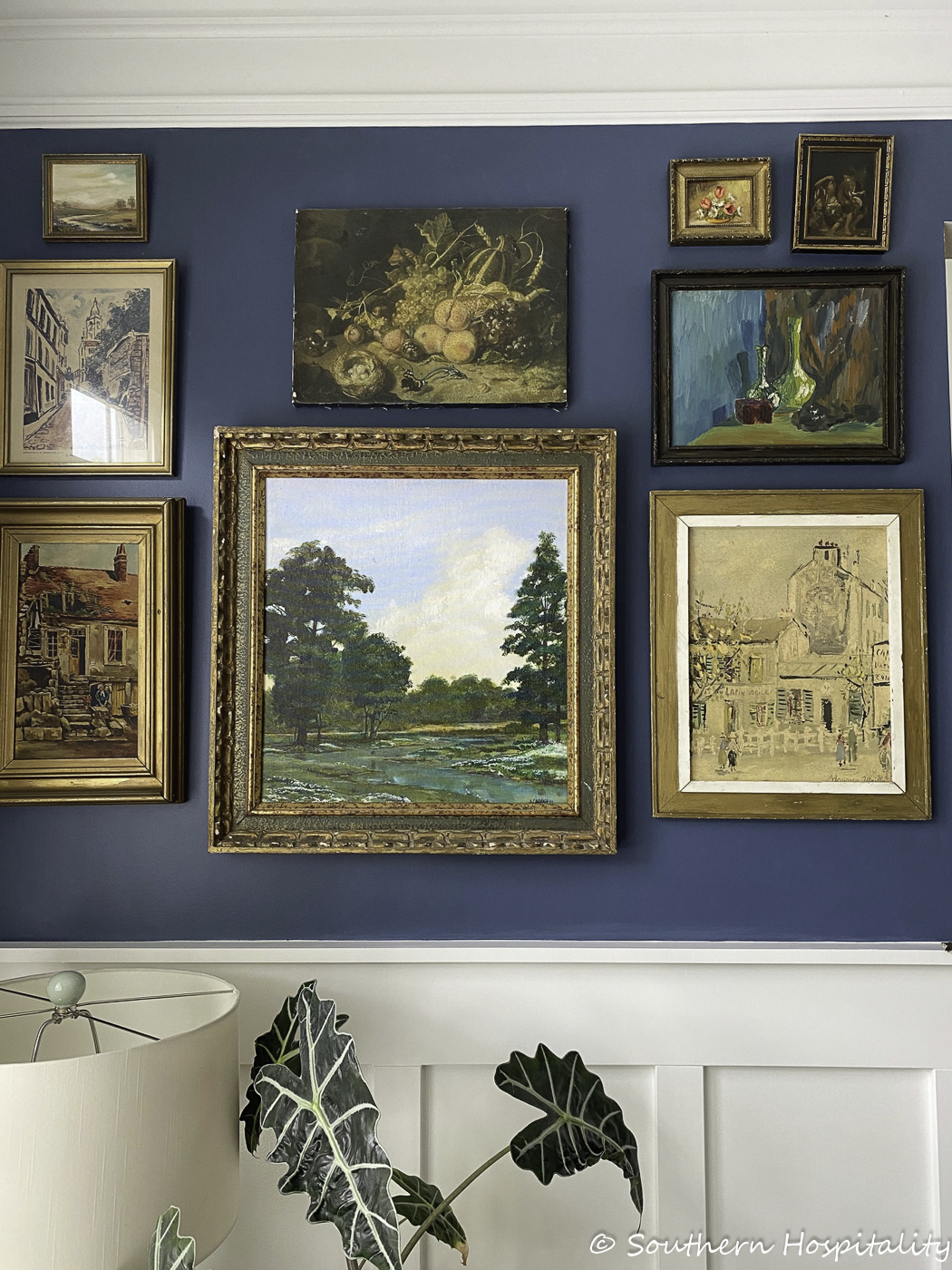 I have enjoyed over the years buying vintage art at yardsales, estate sales, and antique shops. All the art in this gallery wall in our living room was bought at one of those places. You can't beat the prices of this type artworks and these are still some of my favorite pieces I've collected. From prints, to original oil paintings, these are all over the place, but they all speak to me and I love them. They each have unique frames but I like the way they all look together on this blue painted wall (Spellbound by Ben Moore). I especially adore tiny oil paintings and have several of those that I display on my foyer table each season.
ORIGINAL ART
This piece is an original Charlotte Terrell, an artist out of Nashville. This original painting (not sure what type paint) is painted on wood and I love the soft muted shades. It's very smooth. No frame needed for this one, I like the simply display. Although I could frame it, the painting wraps around the edges. She specializes in water and lake scenes and I have this original (this size is all I could really afford and it was about $200), but I do have 2 of her prints as well that Mark bought me for Christmas one year. I'll show you those too.
I first saw her work in Nashville at a showhouse and was immediately smitten. Unfortunately, a painting this size is out of my price range.
Isn't this gorgeous? I bought what I could afford, so I'm glad I have one of her originals. It looks like none of her original artwork is available on her website anymore, but you can check galleries she is showing at if you're interested in buying.
I'll go ahead and share these 2 numbered prints by the same artist, Charlotte. Mark bought me these for Christmas in 2017 and I've enjoyed them so much. I had these framed at a local frame shop. This one is in the foyer right inside our front door.
Framing is not inexpensive either and we have done both DIY framing and some we take to a frame shop like these for professional matting and framing. I love how both of these turned out. This one is hanging in our master bedroom sitting room.
GICLEE PRINTS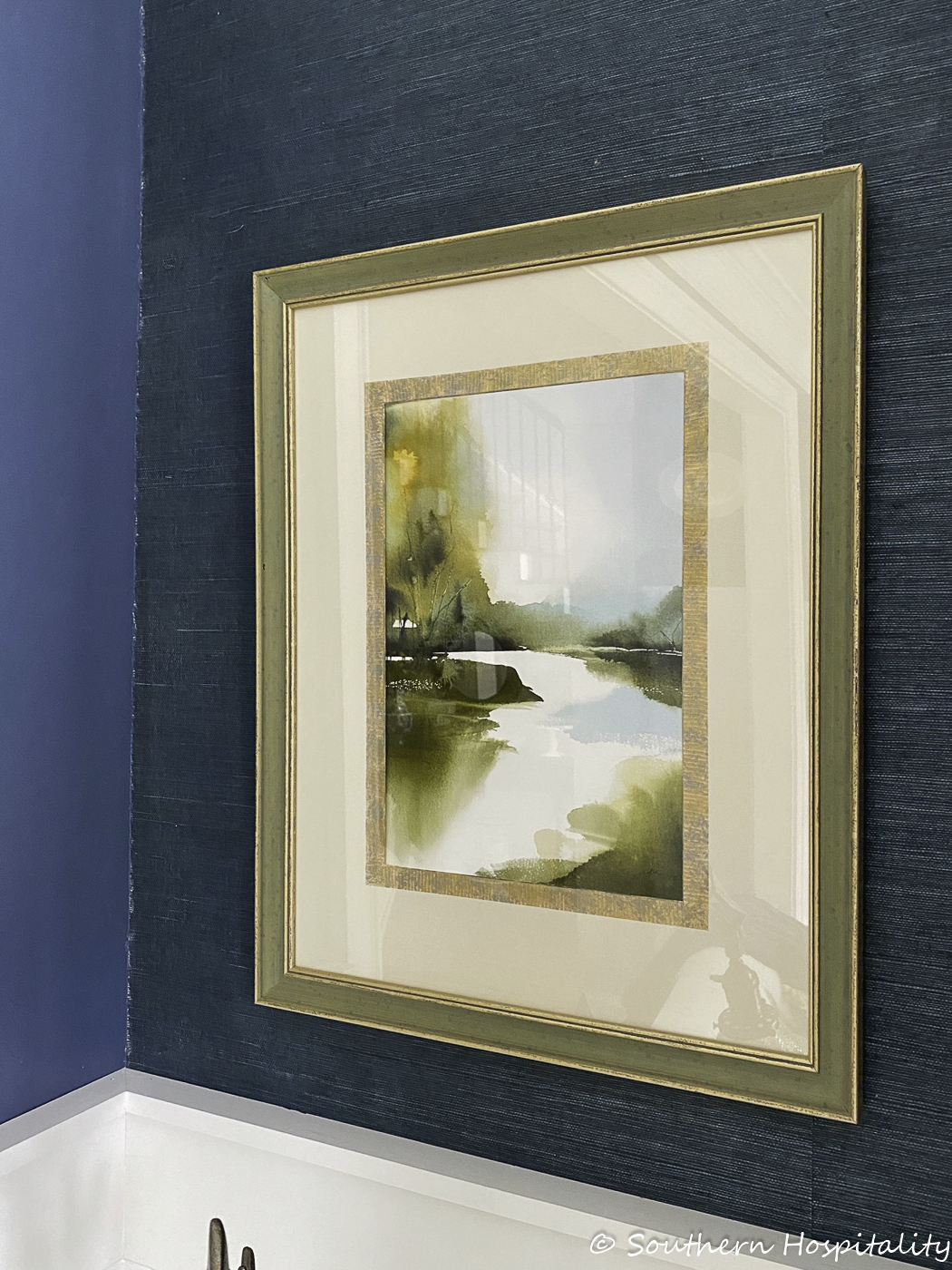 Giclee prints aren't bad either for watercolors and I bought this print from an Etsy shop. These were not that expensive and I could choose the size I wanted. You can see I love water and lake scenes a lot, as well as landcapes. Giclee watercolors are really hard to tell they aren't original and these have nice colors. These are from an Etsy shop and the artist is Nancy Knight Art (affiliate link). I like her water scenes a lot. I found these frames at Goodwill and decided to change out the prints that were in them so these were pretty reasonable to reframe. I bought the size print that fit best in here and it worked out well. You can see that DIY frame project if you'd like to see how I did these. These are hanging on either side of that pretty cabinet of Mark's in the living room.
TINY OIL PAINTINGS
I do have a thing for small oil paintings and have several that I display on my foyer table seasonally in the bamboo easel. This one is a recent find on Etsy and I love it. You can find the artist, Next Page Paintings on Etsy.
You can see a few of these easel paintings, this one by a local to St. Simons artist, Peggy Buchan.
And here's a tiny old little painting that reminds me of Fall that I picked up in Round Top, TX a few years ago and I put it out during Fall months.
BOOKPLATES
I've also bought a few bookplates, which are pages from books. I dearly love botanicals and have for many years so I have bought a few pages at antique sources and framed them. These came from Round Top too and were already matted, so I just popped them into existing frames that I already had that fit.
ORIGINAL WATERCOLORS
Back to original watercolors, these are the winter scenes that Mark has collected. He started collecting them before we got married and I thought they all looked great together so we display them in our family room. These 3 look so good as a trio.
Hard to get great shots with the glass, but this is one of my favorites. It looks a bit abstract, but if you look close you can see it's a Winter snow scene, very moody with beautiful muted colors.
This pair of watercolor trees that he picked up look great on either side. They just seemed to go together.
We took the rest of his winter scenes that he had at the time (the collection has grown a lot since then and the rest are in his man cave) and we did a gallery wall with them here and I like this a lot too.
This is one of his pricest water colors. I'm not sure how much it was, but he said this guy is pretty famous. All the frames don't match but I think they look good together.
Surrounding the large one are these smaller Winter scenes on either side, plus a pretty red cardinal bird. I'll share his favorite artists with you too. Most of these are from Ebay and Etsy as well and all are original.
CANVAS WRAPPED PRINTS
My love of landscapes has been around a long time and I found this water scene at the Ballard Outlet years ago. I remember it was $35 and was such a great deal. I still love these colors and it hangs over our guest room bed. It's been in a lots of spots over the years. Canvas prints can be found from so many sources and one of my favorite places to look for art is Homegoods. They have a pretty good selection of inexpensive art.
Another framed print, this one came from a local store called Tucci's (on Barrett Parkway if you're local). I've visited there and she had some really nice artwork I thought for good prices, so a good place to look locally. This one was perfect for our small guest bath and even though it's oversized, it makes a nice statement on that grasscloth wallpaper and it's framed so nicely.
I also have a love of abstracts and that has grown over the last 10 years or so. I love a mix of modern and traditional and I think every home can use a mix. Most abstracts that I really love are far out of my price range so when I spotted this one with colors that fit our house and it was original from Homegoods, I grabbed it. It's large and fits our stairwell nicely.
ORIGINAL CANVAS ART
We have a huge wall on the other side of the stairs that we would love to add more big canvas originals one day. We will see if we can find some that fit the budget. I had to talk Mark into the abstract look, it's not his favorite but he was a sport about it. I just love the juxtaposition of Modern and Traditional in decor. This one was about $130 if I remember right and it's pretty large.
Moving upstairs to the master bathroom, we're back to original watercolors again and this one I found on Etsy as well from Julie Horner Art.  We had just the right spot in our master bath for a few watercolors, so Mark had 2 to add in here and I found this one. I just used a simple white mat in a black frame and love it.
Mark found this one on Etsy as well. I love it too. Artist is Pinetree Art, Jim Lagasse. He's one of Mark's favorites.
Back to canvas art, this is a canvas print from Lindsay Letters. I love her abstracts and fell in love with this one for the master bathroom. She has a nice selection of abstract art as well as other styles.
Another original watercolor snow scene from Mark's collection is in the water closet in the bathroom. I thought the colors were perfect in here.
And here's another Jim Lagasse watercolor is in the sitting room of the master bedroom.
There are so many options for finding artwork online and Minted is another good one for art prints. They have a lot of artists to choose from as well as styles and you can choose frames as well as sizes for a special unique piece. I have two pieces from Minted and this botanical is in the laundry room. I've linked both of these below in the widget you can click though. 
This one is also from Minted and I have it in my office.
I originally had it on my old screen porch, but put it in my office since the colors were just right.
I found this little original watercolor on Etsy, but the shop is no longer there. There are so many interesting paintings out there in all price points, so it's fun to look. When looking on Etsy, just type in a description like "original watercolor landscapes" to find what you're looking for. There are 100's of artists on there to choose from, so you're sure to find something you like for a decent price.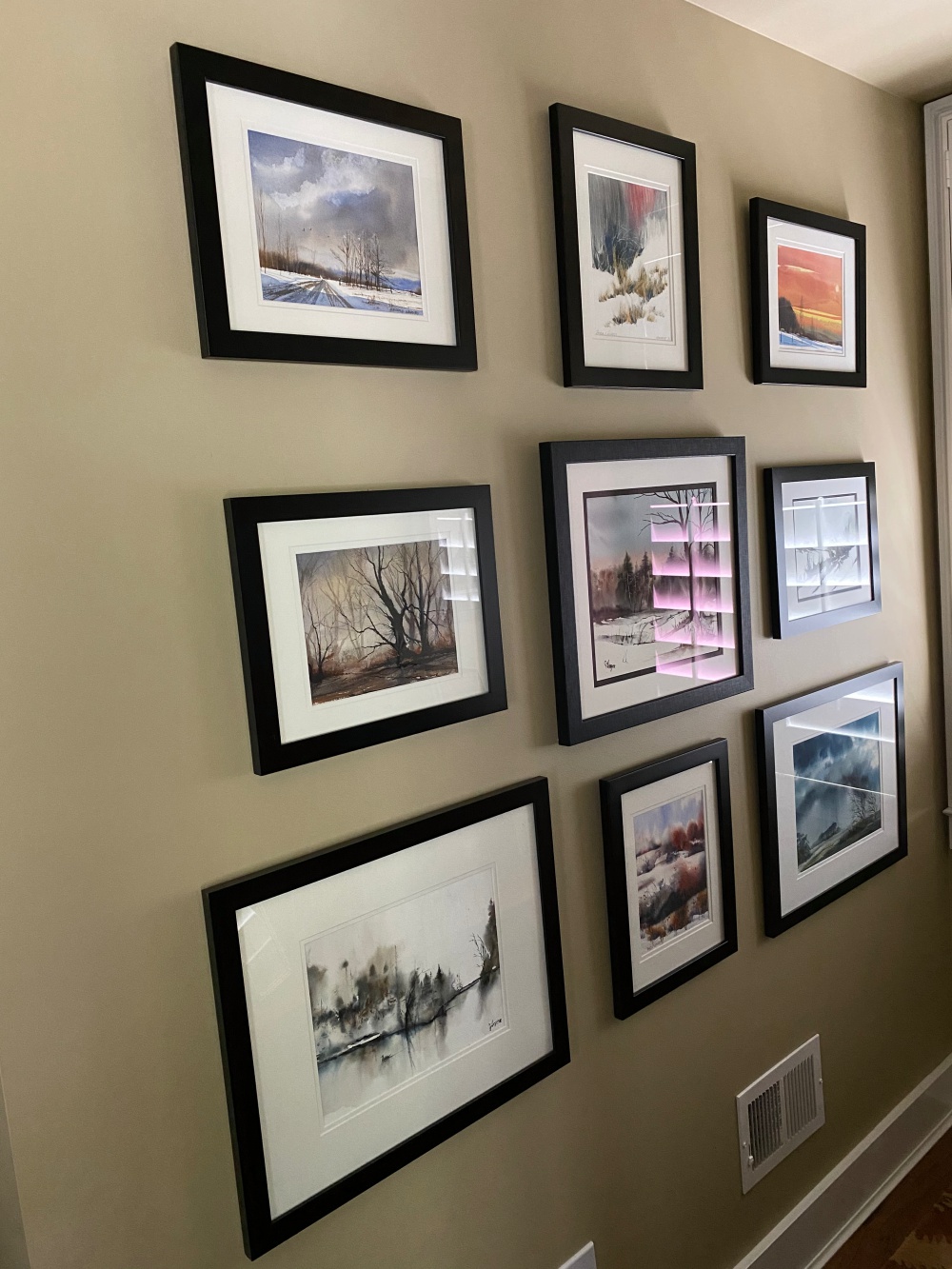 Mark's gallery wall of original Winter scene watercolors in his man cave. These he all framed with standard sized mats and frames.
Mark's man cave has all his collectibles plus lots of art. Check out that post if you haven't seen it, he has since added a lot more winter watercolor scenes to it. Here's an example of his poster art above and below.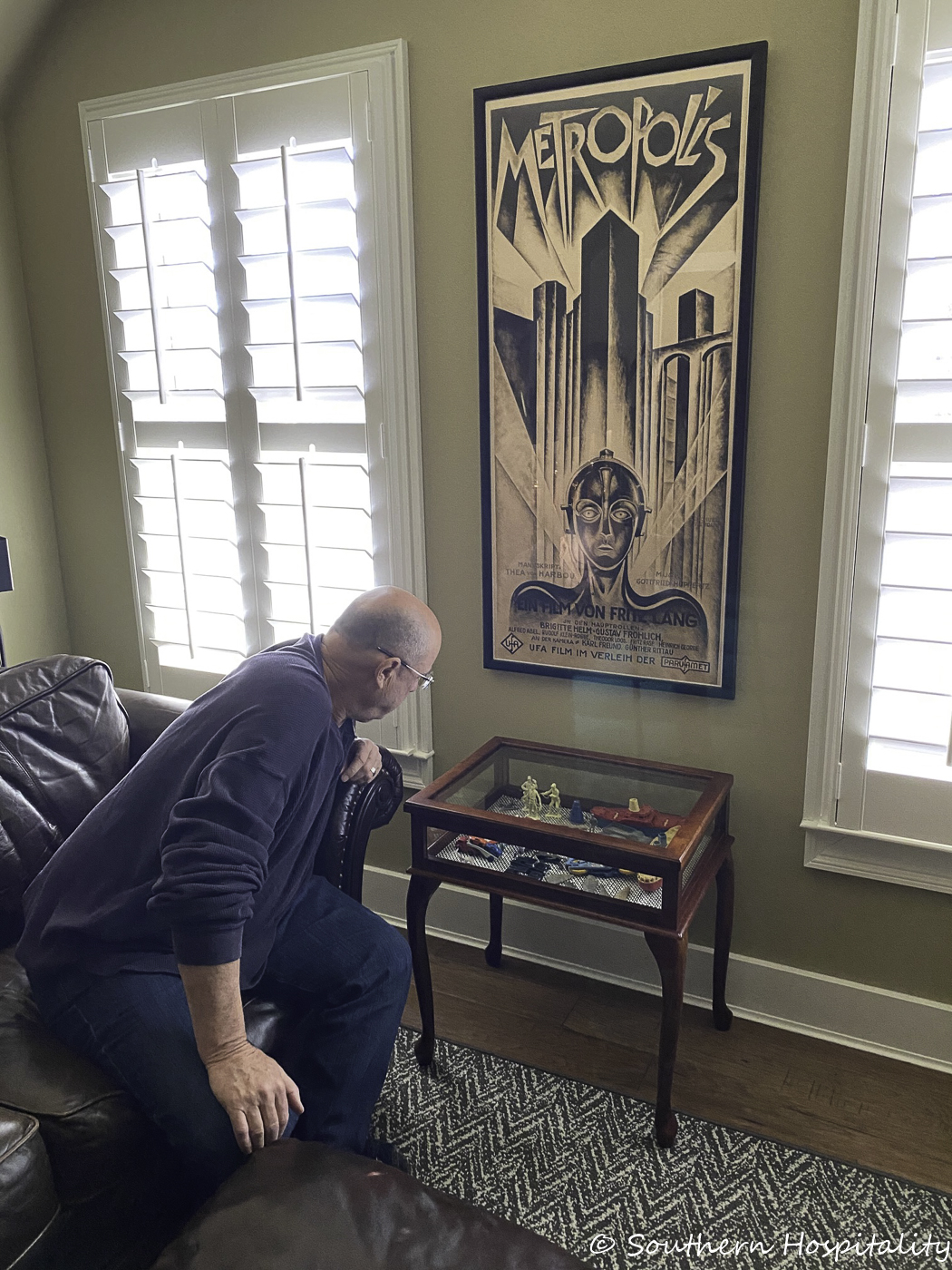 Here are a few more Etsy shops that Mark loves. Some are pricier than others, but all really nice. What Mark does is look for paintings that fit or are a close fit to a standard size mat and frame. Framing can be very costly to get custom mats and frames so this will definitely save you money if you buy artwork that fits a standard frame. That's a big tip for you!
There are so many options for artwork so my tip is just to get out and look and decide what you like. I like a lot of different styles from Traditional landscapes to abstracts with pretty colors. There's a place for all styles in a home and it's fun to mix them up.
Here are a few pieces of art that are online and I think nice for the money. Target always has some good looking artwork for reasonable prices so I'm including a few from there as well by Studio McGee.

Don't Miss a Post, join my list!