Back today, with Part 2 of Christmas at Callanwolde and I hope you are enjoying this beautiful Tudor mansion.  If you missed Part 1, go back and read up.
The Billiard Room was really beautifully done by designer Mark Sunderland.  So much eye candy to see in this space, it fascinated me the most.
The mix of fresh greens, fruit, blue and white pottery over the mantel in this room was just breath taking.
Old-fashioned, classic and beautiful.
An explosion of color and texture.
Stain glass windows in here are outstanding.
Live, tall tree was gorgeous too, decorated with men's ties and lots of pretties.
Huge pinecone and tie.
It was a very cool design.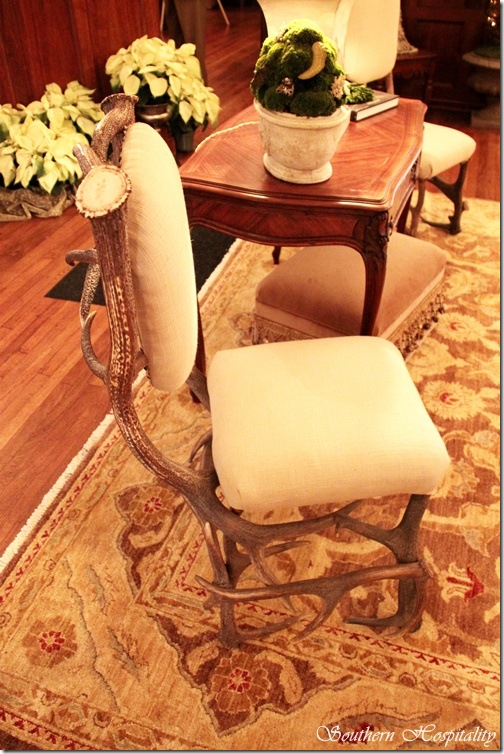 Antler chairs were eye-catching too.
A nod to Asa Candler and Coca-Cola.
Over the top and gorgeous!
Loved the white deer head and crest plaques.
Horsehead lamps
Textured leather and glass on a side table, beautiful collection.
Corner of the room.
Loved this zebra chair too.
Next stop is the family breakfast room, a cozy and warm space.
Bedecked with a stunning chandelier over the top of the beautifully set table, this was a space that we just wanted to hang out for awhile.
Classic tree with lots of reds and naturals.
Pretty arrangements on the mantel.
Sideboard is full of beautiful things too.
Place setting on the table.
And the tree.
Doors going to the courtyard.
There's even a cafe at Callanwolde.
The dining room is one of the major rooms downstairs and was also done up for the Holidays.
This beautiful chandy hangs in there.
This space was decorated a little modern in contrast to the old architecture, but beautifully done.
This white and blue tree was very eye-catching.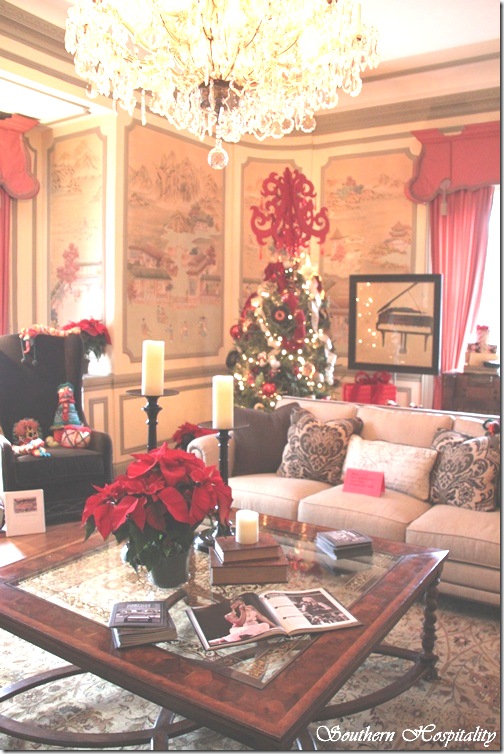 The Music Room was also on the main level of the house.
Pretty walls and interesting furniture choice.  The Beatles are displayed on this large chair.
Pretty fireplace.
And another tip of the hat to Coca-Cola, this old-fashioned tree and rocking horse is very nostalgic.
That's Part 2 of the tour.  Tomorrow, I'll be back with Part 3 and we will go up the Grand Staircase to the upper level of this gorgeous Tudor mansion.
Designers for these rooms:
Billiard Room – Mark Sunderland, Allied ASID, Mark Sunderland Interiors, Inc.
Breakfast Room – Vivian Cook, ASID; Janet Cross; Jules Guedry, Sweet Abode
Music Room – Dana Terrell, Westside Foundry
Dining Room – Clay Snider, Allied ASID, Clay Snider Interiors
Don't Miss a Post, join my list!