If you're dropping by to visit and see my home tour, welcome! So glad you stopped by.

If you're coming by from my friend, Emily from Décor Chick, big welcome!  I know you enjoyed seeing Emily's home, right?
I've shared a couple of my spaces already, the living room and dining room and today, I'll do a recap of the whole house, including all of those areas too.  If you want all the details from the first 2 rooms, just check out those links above.   I love decorating for Christmas and try to bring some cheer to my main living areas, but don't go too crazy with it all.  I like a more simple feel with rustic/glam elements and lime green and red in my kitchen always makes me smile.
My living room has a few touches around the room, with my main tree in here as well.
My fireplace is rustic stone, so I go with that and use natural elements and a real wreath this year.
A few shiny and sparkly Christmas baubles fills an iron birdbath.
My tree in the urn greets guests coming in the front door.
This is a prelit tree from Lowes and it sits on a pedestal for a little extra height.  For more of the living room, you can click on the link above.
Merry Christmas!
Sparkle and cheer with mercury glass and silver on the foyer table.
Nothing says Christmas like a boxwood wreath.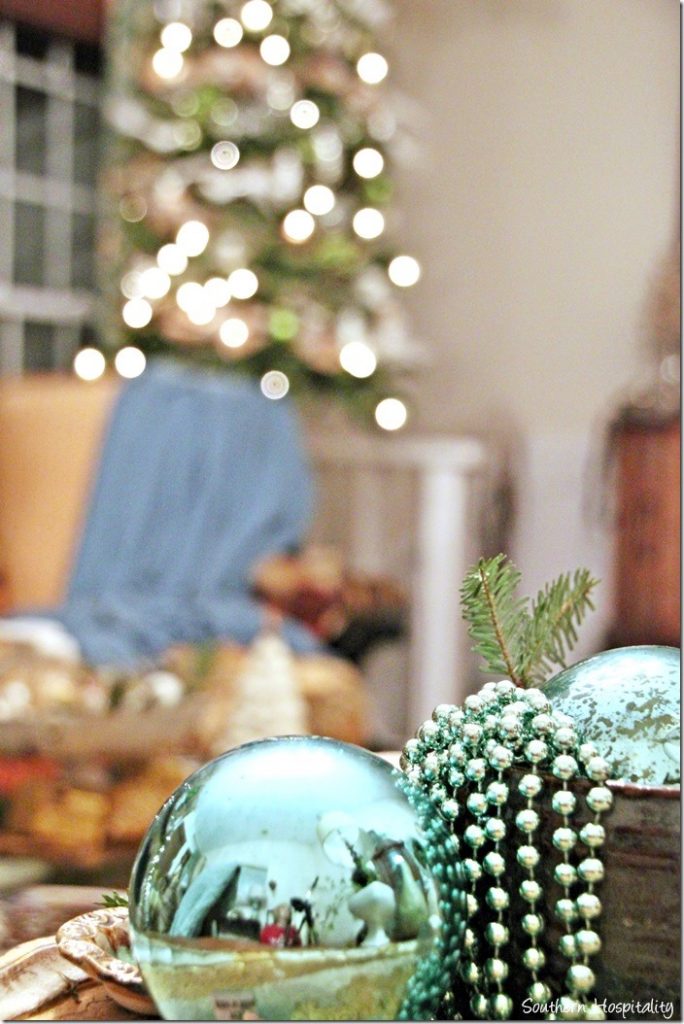 A few touches of aqua blue in the living room just feels at home.  Do you see me in my red sweatshirt? 
I love adding baubles and beads to bowls around the house, with a few snips of green.
I got inspired this year to do 2 cute ornament trees using knitting needles.  This was after seeing Diane's cute ones from In My Own Style. Check out her tutorial, these are so easy!  Who knew knitting needles would be a tool needed for Christmas décor?
On this one, I pulled out some gold glass balls that I wasn't using and just threaded them on the needle.  I did add a piece of light cardboard to the bottom and this helps to hold it upright.  I found this finial thing in my Christmas stash and I'm not sure what it came off of, but it worked great for my tree topper.
Next, let's go into the kitchen. I have been doing my lime green and red tree in my kitchens for several years now and still love this little mini-tree in the metal container, which I decoupaged with scrapbook paper ages ago.
I've collected a few lime green and red Christmas serving pieces and they just look right at home in here too.
All of this stuff is reused every year and I never get tired of it.  The chevron runner is from Hen House Linens and really works well with my red and green.
My little tree is full of cute red and green ornaments and I love them every year. One of my friends gave me that cowboy boot last year after I bought myself some new boots.
Sparkly green birds.
I love to add sparkly picks to the top of the tree looking like an explosion of red and green in the topper.
Just a few red things on the shelves in my kitchen for some festive touches.
Red bottlebrush trees.
Hope sign and a cute little boxwood wreath.
You better not pout, hear me?
All my little Santas, candlesticks, ornaments and pinecones sit in the window sill.
Those are a pair of faux paperwhites that I picked up while I lived in Birmingham. I love how cute they are.
Peace and a sparkly tree.
I love playing with my camera and trying to get bokeh shots (those sparkly dots in the background) when the lights on the tree are up.
Merry Christmas on the chalkboard.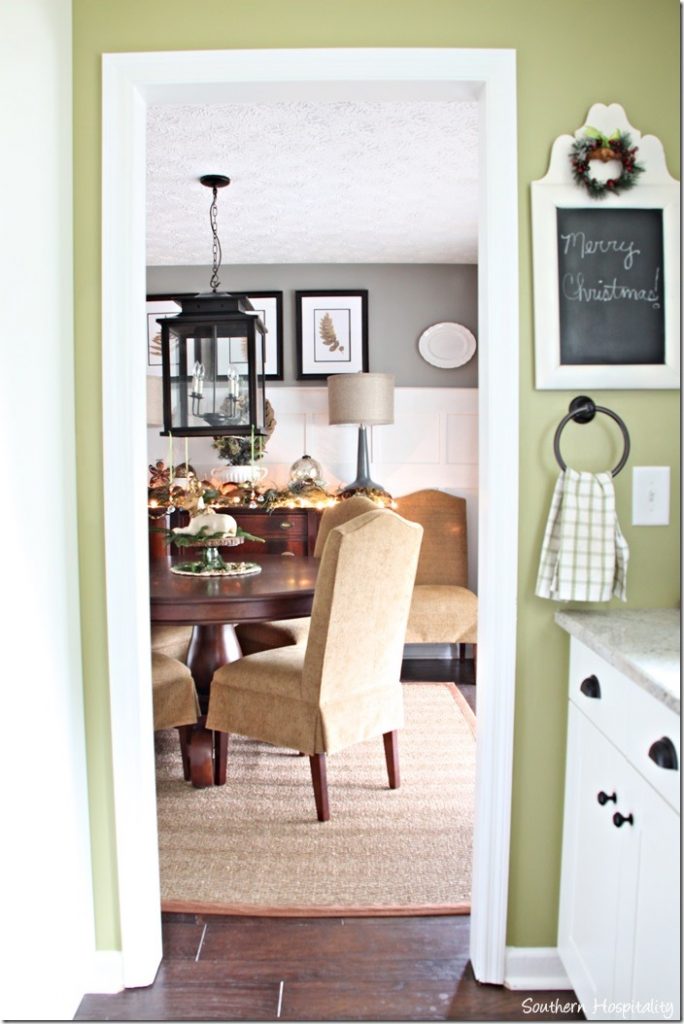 And looking back into the dining room.
Now we'll head to the den where I added my Ballard Designs tabletop tree and all my vintage ornaments from my mom and others that I've picked up.
It's fun to use all these colors together, they are so happy and fun.
I grew up with these ornaments on our tree and my mom handed them down to me, the ones that were left. I'm glad they didn't all get broken along the way.
They are pretty and fragile.
Especially those dented ones, don't you love those?
This tree sits in an urn too and it's nice to have sparkle in the den.
I made another ornament tree in here and sat it on my blue and white candlestick.  These are so easy, so give them a try if you have some extra ornaments.
Thank you ALL for stopping by my Christmas home. It is always fun for me to share my decorations and I enjoy  it every year.  I wish for you and your families a wonderful and peaceful Christmas time this year.  Enjoy and celebrate the real meaning of Christmas!  I plan to do just that too!
The home tours continue this week and Carmel from Our Fifth House is up next, so I hope you'll stop on over to her Kentucky home. I do not think you'll be disappointed, she has fabulous taste!
Here's the complete lineup in our Christmas home tours today:
Don't Miss a Post, join my list!