My sister is an early-bird and her house is already decorated for Christmas.  I showed you her house last year and she has added a few more trees this year, so I'll share those too.  We had a fun time browsing some of the antiques spots in Marietta, as I caught up with my family last weekend.
I captured some of the fun Christmas inspirations there, so come along with us.  I have GOT to get busy on my own Christmas decor.  We stopped by a couple of antique stores in Woodstock, corner of Hwy. 92 and Canton Hwy. for you locals who are interested and also The Classy Flea and another big mall in Marietta next to Value Village.  There are plenty of places to browse in my hometown.
Love this beautiful cupboard.  If I had about $2 grand to spend, I could really fall for this. 
Lots of wreaths and ornaments all around the store.  They are ready for Christmas.
Simple and elegant mantel.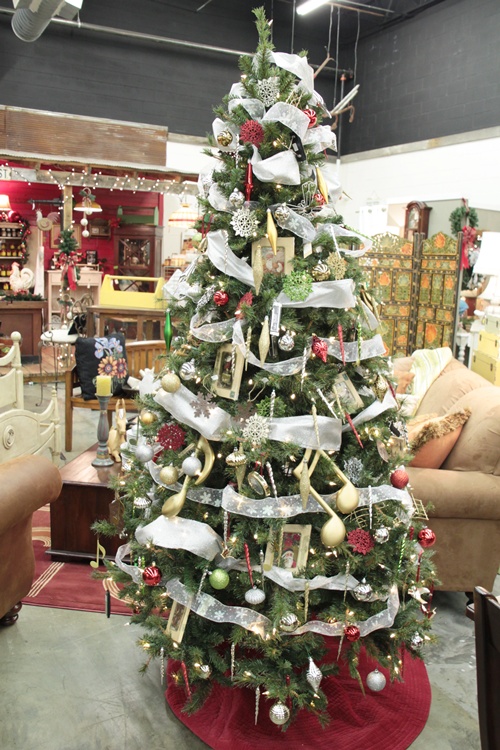 A Christmas tree all decked out.
Another one with fun colors.
Don't we all love the simpleness of a cloche with glass balls, ribbon and greenery.  So simple, yet effective.
Pinecones and berries.
Wreath on a mirror.
I've never seen this idea.  Large Christmas bulbs piled into a clear glass lantern with candle.
A stack of plates with Christmas balls on top.
Christmas bells.
Pretty baubles everywhere.
Love the pink and silver.
Saw a few neat pieces along the way too, like this old typeset cabinet.  It had all these little cubbyholes inside the drawers.  Very cool piece!
These blue and purple balls caught my eye.
Another simple mantel idea.
I spotted this antler and decided I had to bring it home.  Only $9.
More pretty and colorful balls.
Loved this white wreath with lime green accents.  Love!
A whole booth of lime green and red ornaments and accessories.
Pretty wreath and notice the tree in the reflection.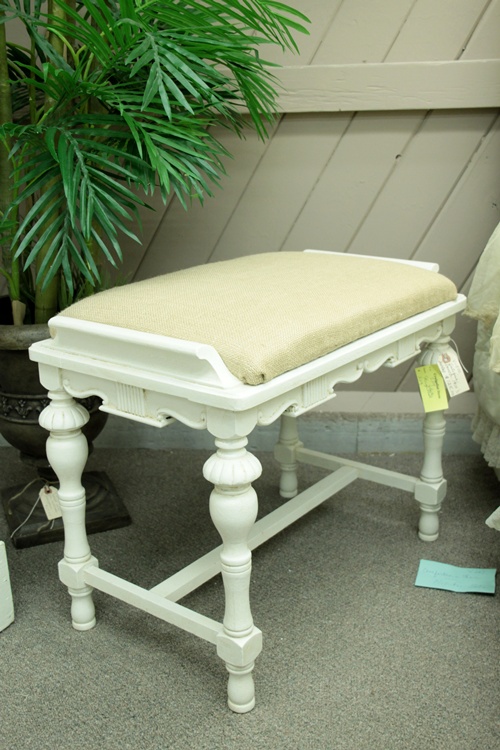 Such a pretty stool all painted up white with burlap cushion.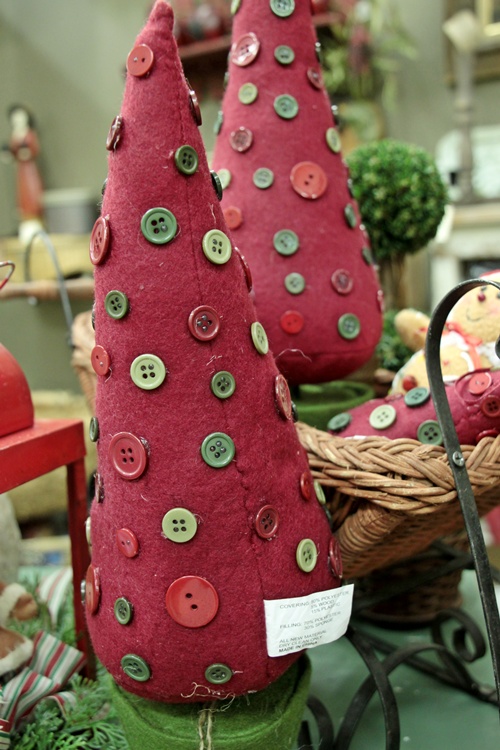 Now these are a simple and pretty little craft you could do.  Felt trees with button ornaments.  Cute!
So, after a few stops, we headed to my sister's house where she has some new trees.
This one is multi-colored, very fun and festive.
In the diningroom, a new tabletop tree in animal print.
So unique and gorgeous.  My sister LOVES Christmas, you might remember that from last year.
Dining room table and the Christmas village in her hutch. 
Kitchen bakers rack with some lighted houses and people.  So cute!
In the guest room is an aqua blue and chocolate/bronze tree.  So pretty.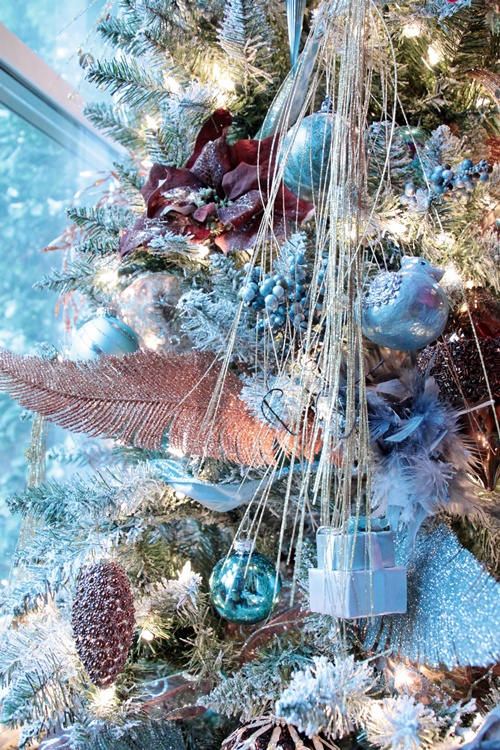 Lots of elegant details on this tree.
Gorgeous!
The living room tree is all white.
And so pretty too.  Yep, my sis gets in Christmas spirit every year by decking her halls to the max.
Are you getting ready for Christmas??  I have a long ways to go, but I'll be putting a little Merry and Bright around our house too.  Don't forget, the Christmas linky party starts next week, with Layla's mantel party on November 30 and my vignette party will be  December 2.  Next week will be a lot of fun!
So, get your Holiday cheer on and join us for the parties!
Don't Miss a Post, join my list!