There's something very special about the lights, sights and sounds of a small town Christmas. We are so fortunate that we get to experience that now in our quaint town of Acworth, GA.
Join me today as I share our little town all decked out for the Holidays. I'm not sure exactly when the wreaths go up on the street lights lining downtown, but you know Christmas is coming when they make an appearance once again. The glow of Christmas lights are the unmistakable highlight of the coming Holiday season and you know that it's just going to get better and better.
It's so fun to drive down Main Street by the new Depot and see the wreaths and lights adorning the building and structures in town.
It's a beautiful sight to behold on a blue sky day like this one!
And even better at night, when the pergola is all lit up with lights.
The new pedestrian bridge is ready this year for the Holidays and it opened not long ago for people to cross over the railroad tracks bridging downtown with the park side of Acworth. You can see this side gets glowing Christmas decorations too, just as little towns have been doing for decades.
I can vividly remember being a child in the backseat of my dad's huge 4 door sedan, traveling to Florida to see relatives for Christmas. We passed through so many small towns after we left the interstate and got on the back roads. I can remember laying on the floor on a pallet staring out the windows and seeing lighted Christmas decorations on all the light poles in those small towns. What a feeling that was! It was Christmastime!  I loved it then and love it now!
I tried to capture the beauty of Acworth at night and these don't quite do it justice, but you can tell that it's fun and festive downtown.
The new pedestrian bridge changes colors too, which is really fun and the lighted wreaths accent the brick facade.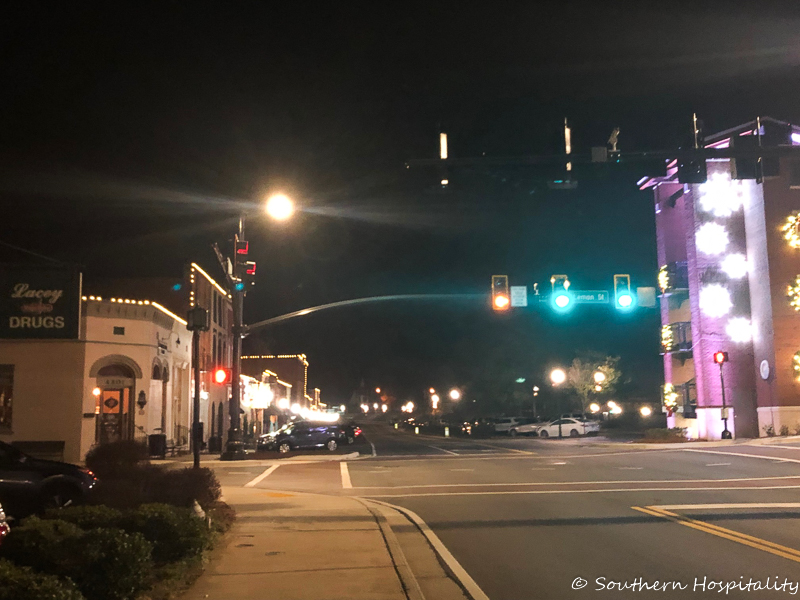 The bridge stands over downtown Acworth like a beacon of light, especially with the Christmas lights glowing. This little town is really walkable now.
There are several lighted trees placed at strategic points around town and seeing them all glowing and lit up is a classic Christmas tradition. This one sits in Logan Farm Park.
I just love the holly and poinsettias on the park side too.
Wreaths on the bridge.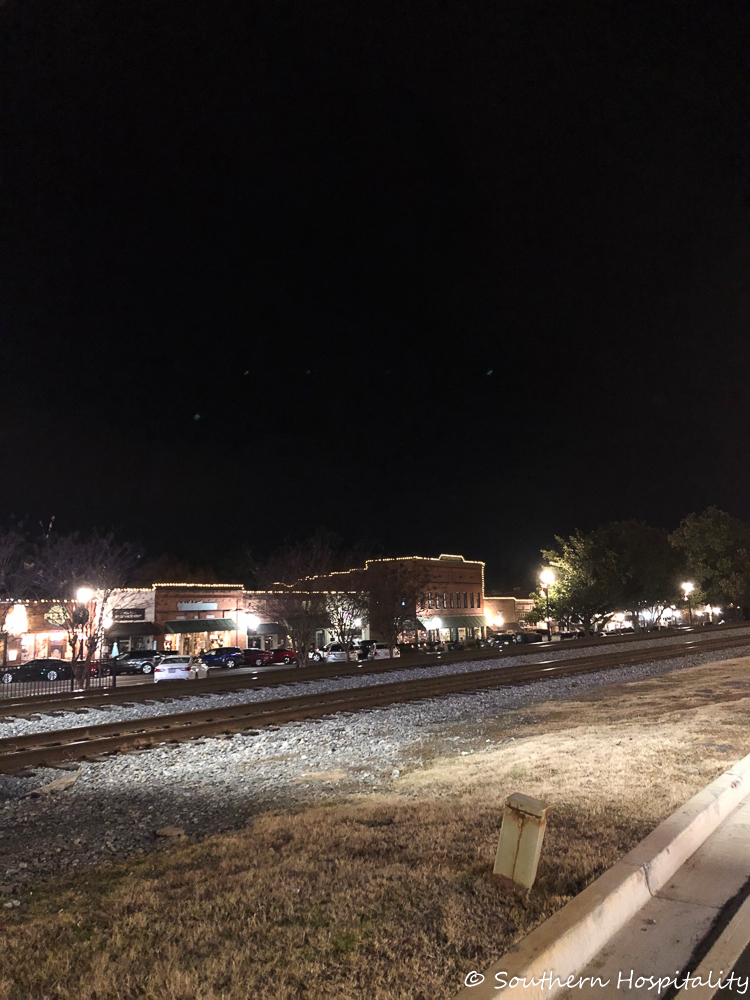 Downtown Acworth is ready for Christmas! What we love about living here is the small town community feel of the downtown area. As I get to know more and more people here, it makes us feel even more connected to our newish home town in a different way than I've ever felt. I've never lived so close to a small town like this before and it's the best.
I pass by the Acworth Christian church all the time and couldn't help but notice these beautiful wreaths on the door for the Christmas season.
Every Christmas season, the community comes together for the lighting of the big tree outside City Hall. Many families from the local community come out for the kids' activities and the arrival of Santa himself. It's a very festive time and everyone is excited! Mayor Tommy (hugging Santa) reads The Night Before Christmas to all the kids in the audience as they gather around him by the tree. Santa is spied on top of City Hall and then comes down the chimney, making his first appearance in Acworth.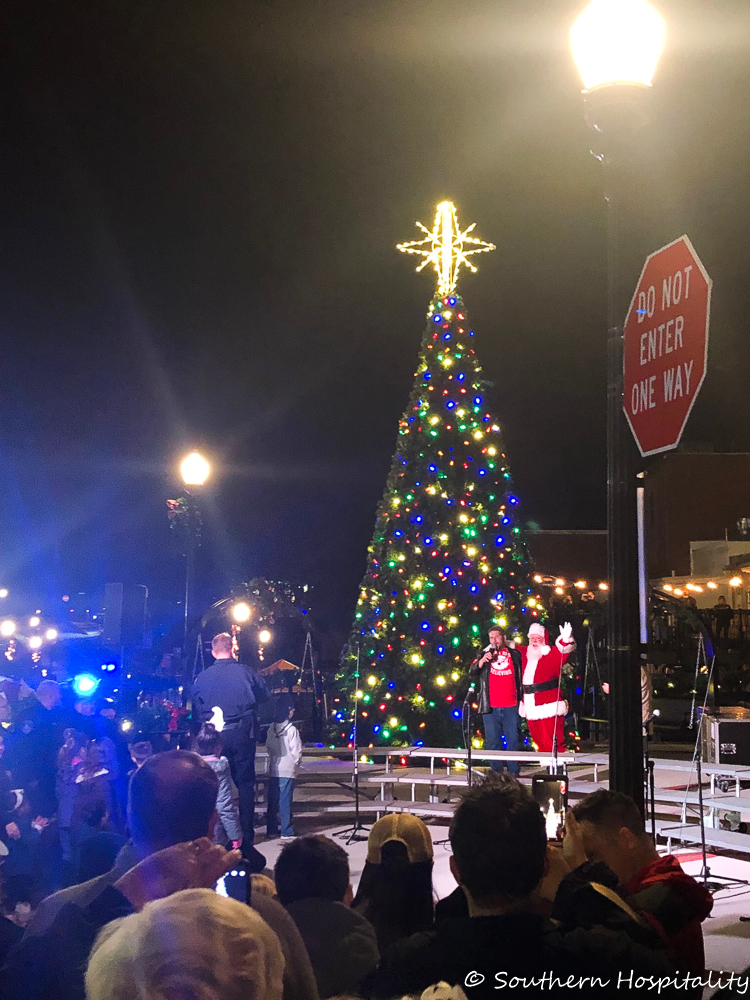 Then the countdown of the big tree lighting begins and before we know it, it's all lit up and ready for the season.
It's a very joyous occasion and here's the big tree looking all festive and beautiful! Mark and I were there, along with grandson baby H. His mom came to meet us and we all went for pizza afterward downtown on Main Street. It's so nice to live in a community such as this and enjoy these perks of small town living.
Chef Henry was there passing out his Mardi Gras beads. A well known fixture in downtown Acworth for almost 20 years, Henry is a beloved restauranteur and we love dining at Henry's ourselves. Many people I know tell me they come to Acworth just to eat at Henry's. It's totally worth the drive for sure!
After I wrote the first post about Acworth, I got to meet our Mayor, Tommy Allegood and his wife, Carol. They are the nicest people! It's so nice to live in a small enough community and to feel like we are part of it all. I'm finally getting out and meeting more people in our community and I love that. It's my own fault for not getting involved and out before now. I'm about to start playing pickleball, which we have at our new Community Center. I've heard it's a fun game!
Mayor Tommy has been mayor of Acworth for over 20 years and I was so impressed with his passion about Acworth from the very first town meeting we went to after we moved here. Things are looking so good around Acworth and we are so happy about that. There are so many new restaurants, breweries and more coming to town next year. Acworth continues to grow and improve and we've seen many positive changes just in the 2 years we've been here. I know that much of that is attributed to the leadership of Mayor Tommy.
Mark, baby H, and Mayor Tommy. That baby was taking it all in and loving all the festivities! We all had a fun night out in town.
Christmas, as you can see is a beautiful event in Acworth. It just makes you feel good to drive down Main Street and enjoy all the lights that are part of the season.
We wouldn't want to be anywhere else right now and are so enjoying our small town life! I hope you enjoyed this look at Christmas in Acworth, GA!
I'm joining these ladies for a look at their Christmas communities and towns, so stop by and visit them all! It's fun to see how other towns celebrate the season.
MONDAY
Town and Country Living / My Sweet Savannah / Finding Silver Pennies
Hymns and Verses / Duke Manor Farm
TUESDAY
Saw Nail and Paint / It All Started with Paint / Maison de Cinq / Southern Hospitality
Don't Miss a Post, join my list!