I'm so excited to kick off this week with another Christmas home tour that I'm part of today.  I love being a part of the blogger community and sharing my home at Christmas is a big part of that each year.  I have always loved and decorated for Christmas and now since I'm a blogger, I get to share it with all of you.
Welcome! I'm so happy to be joining Mary from A Stroll Thru Life and her annual Christmas home tour.
If you're stopping by from Nesting With Grace, welcome! I love Brooke's home all decorated for Christmas, always charming.
Our porch looks all cozy and festive this year. I added Mark's boyhood sled again this year and love it out here.
Inside the front door is the garland laden staircase, a treat coming inside. It's all lit up with white lights.
I'm so thrilled to share the tree with all of you. I just love it this year, it's my very favorite ever, I think. It truly is a mix of both of our childhood ornaments, Mark and mine. We both have Shiny Brites from growing up that we got from our moms. What a treat they are!
This tree is new to us this year and it's a great size for our living room. Last years' tree was way too big for this space and overwhelmed the room so much, I had to move out both chairs. This one is much better and fits the space perfectly. It's from Tree Classics, the company I worked with for the last 3 years at Christmas.
I added new ribbon this year too, from Old Time Pottery, a mix of blues and a peacock ribbon too. I love them all together and especially on this colorful tree.
All this color makes me so happy and takes me back to childhood.
I couldn't help but take a lot of pics to share.  I have the tree sitting on a basket this year, you can't really see it that well here, but I added a throw over the basket too.
A capiz shell star and colorful pics finish off the topper.
Closeup of the ornaments that we love so much. These are a mix of vintage Shiny Brites and some newer ones, as well as colorful ornaments I've had for a long time.
I added in some picks too to fill out the tree.  I love this mix of nostalgic wrapping paper.
Blues definitely are a good color for Christmas, especially mixed with all the other colors.
Here's a look at the ribbons up close. There are 3 on there, one is a blue mesh.
I'm just in love with the tree this year and it truly is my very favorite ever!
Side table with some gold ornaments in a brass tray, easy way to add some Holiday cheer around the room.
I added a pretty Christmas pillow to the sofa.
And another look at the lighted garland on the stairs.
I turn it on every morning when I get up and it stays lit all day.
Moving to the dining room, I love setting this room up for Christmas too.  Peeking to the foyer table from the dining room is a pretty view.
I hung these sparkly white and silver glass ornaments from our brass chandelier for some extra sparkle.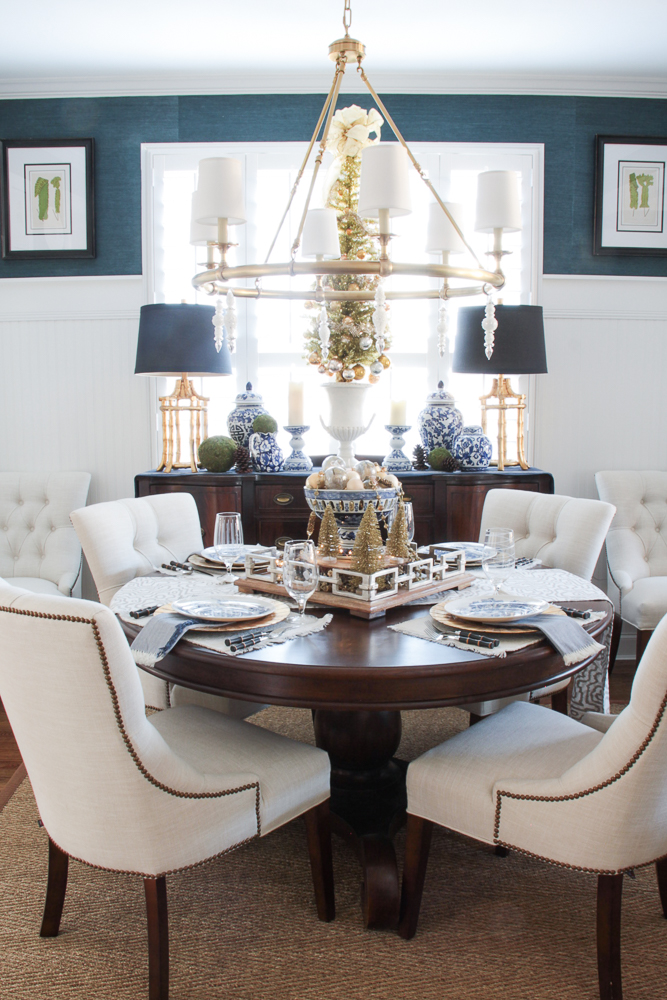 Even though we don't use our dining room all the time, it sure is pretty to set the table and look at it all decked out with Christmas cheer.
In the middle of the table is a beautiful tray I leave there from Homegoods. I always just add whatever seasonal decor to it. These gold glitter bottlebrush trees are from Target dollar spot. I couldn't resist them.
Blue and white plates I picked up at an antique store last year look great in our navy and white dining room.
As you can see, I love blue and white and leave it out most of the time in the dining room.
Adding my vintage gold tree in here is an easy fit with all the gold in the room.
I found this a few years ago at an antiques shop in Nashville and grabbed it up.  I've collected some pretty vintage ornaments to go on it over the years and just love it.
It's so nice to see the tree sparkling in the living room.
Adding blue and white is so easy for the Holidays and really every season.
And that's a look at the living and dining rooms this year. Thank you all so much for stopping by! It's always fun to share this Christmas decor with all of you and I wish for each of you and your families a very Merry Christmas. Enjoy this Holiday season to the fullest!  We are making the most of it!
If you missed my Christmas kitchen, check it out and also the family room and foyer.
Don't forget to stop by next to Sarah at Life on Virginia Street . She always has a beautiful home tour!
And all of these links below will take you to all the 30 bloggers on the tour this week. I'll be updating all the links this week so that they will all go directly to the posts and you can come back and visit them all anytime you want some inspiration this Christmas season. These bloggers are all so talented!
Tuesday, Dec. 4
 Setting For Four, ZDesign At Home, Inspiration For Moms, House By Hoff  
Don't Miss a Post, join my list!