I love Christmas and celebrating this wonderful time of the year with my husband and family. We dearly love the lights around the house this time of year. It will be sad to see them go in January so for now we will enjoy all the festiveness while we have it.
I might have saved the best part of the tour for last. If you love color, you'll love today's It's a Colorful Life Christmas tours. I love color and since Mark and I got married, I've been decorating our tree with al the Shiny Brites that we both have and more that I've collected. I love our tree and hope you do too!
If you're new here, welcome! I'm so glad you stopped by. I'm Rhoda and this is my 13th Christmas in blogland. I can't believe it's been that long, but I've been sharing decorating inspiration for a long time now and my wish is that what I do will inspire you to make your home a beautiful and peaceful place for your family.
If you're stopping by from Kate Decorates, I'm so glad you're here! I'm so enjoying seeing these other color loving girls and their Christmas homes!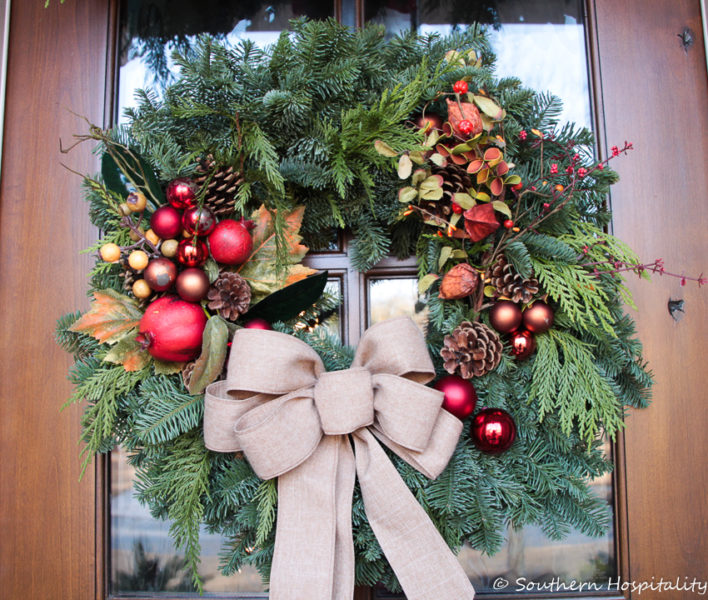 Come on in and let's look around. If you missed my front porch tour, you can see it there on the link. It's festive and traditional and fun on our porch!
Here's the foyer coming in our home. I love the garland on the stairs and all the mercury glass ornaments hanging there. You can see our foyer and family room here.
But the star of the show is the Christmas tree. Come on in and let's take a look at the living room. As you can see by looking around, I love shades of blue and have used lots of blue in our home.
The Shiny Brites look great with a lot of blue accents so I've added ribbon in teal and navy hues to show off the tree.
Plus all the Shiny Brites of my childhood and Mark's childhood. How special is that?
There are new ornaments on the tree too, but they're all colorful so mix together well. Those little Santa statues are Mark's. He's a sentimental guy and loves Christmas too and I thought these would look good around the tree and they do!
All this color sure makes for a happy tree. And a happy me!
I don't think I can go back to a neutral tree again after this explosion of color. Can you spy my DIY willow tree collar? I made that out of a basket I found. You can't see it very well, but it's there.
And there's no reason to do that since we have all these beauties in the family. There's another peek at the tree collar basket.
Enjoy this Christmas tour video I put together:
The top of the tree got a colorful grouping of picks and a lighted star. I love adding sparkly picks to the tree too.
Plaid and traditional Christmas wrap make a beautiful addition to the tree.
And so does my Chinoiserie garden stool piled with presents.
Tree unlit.
Tree at night!
I've had this nativity for over 20 years and it looks good here on my grandma's side table.
I added some sparkly aqua ornaments to the box on the coffee table and a pretty white bottle brush tree.
Simple and easy coffee table for Christmas.
Looking into the dining room. I've shared that space already, so take a look at the dining room here.
Another look at the beautiful Shiny Brite tree and my gallery wall.
I can't get enough of it!
Next we'll head to the kitchen, which is also colorful and traditional Christmas colors of red and green.
I've had most of this decor for many years and enjoy getting it out every year.
I made that ornament wreath a couple of years ago.The cookie jars are part of Mark's collection. Told you he's nostalgic!
The green and red wreath are perfect in here with the Christmas spirit sign.
I so love the Christmas spirit, don't you?
Better not pout!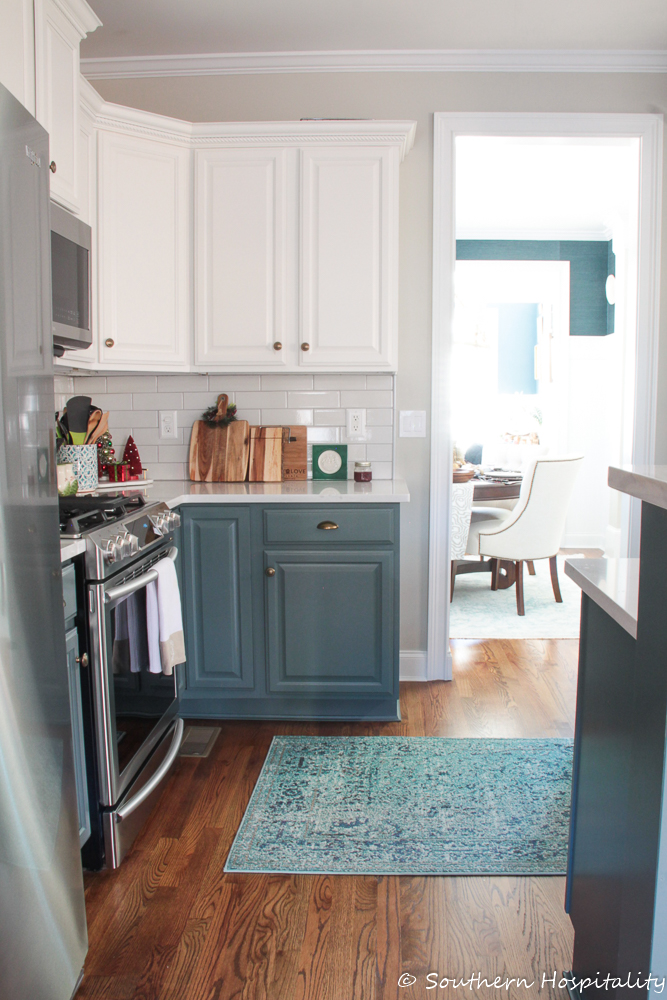 I don't do much in the kitchen, but since we remodeled it and got new countertops last January, it's fun to add a few little touches in here.
We also just got a new slide in stove and a new microwave. Our old one broke right after we got the new stove, so a new one was in order. We love the new stove so much.
Bottle brush trees are a fun addition to the kitchen for a pop of color. I hope you enjoyed this look at our colorful Shiny Brite tree and the kitchen and sitting area. I'm so happy to be finished with the Christmas decorating so we can truly enjoy the season and all that it brings.
I hope this is a peaceful and joyous Christmas for all of you!
Next on the tour is Heather with Heathered Nest. You're going to love her home, I always enjoy seeing what Heather does.
Don't miss the ladies below and all of their colorful Christmas decor too! We all love color and have joined together in this blog hop to share our homes with you and I know you'll enjoy them all! In a sea of neutral decor out there, we color lovers have to stick together. 
MONDAY
Dimples and Tangles | Jeweled Interiors | Kaleidoscope Living | Haneen's Haven | Southern State of Mind
TUESDAY
Rain on a Tin Roof | Our Fifth House | PMQ for Two | Efforless Style |
WEDNESDAY
Kate Decorates | Southern Hospitality | Heathered Nest | The Pink Clutch
Don't Miss a Post, join my list!