This post is sponsored by Clifty Farms Country Meats.
Our family loves breakfast. You know, the Southern kind of breakfast that involves ham and biscuits and probably something you may have never heard of before. Grits and tomato gravy. If that doesn't ring a bell with you, you probably didn't grow up in the South. We happen to love breakfast for lunch or dinner, so last week, mama cooked up a batch of Southern grits and tomato gravy with homemade biscuits and country ham from Clifty Farms Country Meats.
My dad especially loves country ham. I do too! It's always been one of my faves growing up. That savory country ham was a favorite of ours and when I got an email from Clifty Farms out of Tennessee about trying out their country ham and doing a giveaway with y'all, well….of course I said yes! We love country ham, what's not to love about that offer.
Clifty Farms is a family owned business in their 4th generation of curing hams in TN and KY (since 1954). They ship products all over the country now with their online business of hams, bacon, sausage, and barbeque. Their secret recipe curing process, that produces the delicate flavor of a Real Hickory Smoked Country Ham, has not changed from generation to generation.
Clifty Farms is available at many local grocery stores, including but not limited to Kroger, Publix, Wal-Mart in the Atlanta area. Those are stores I shop at all the time.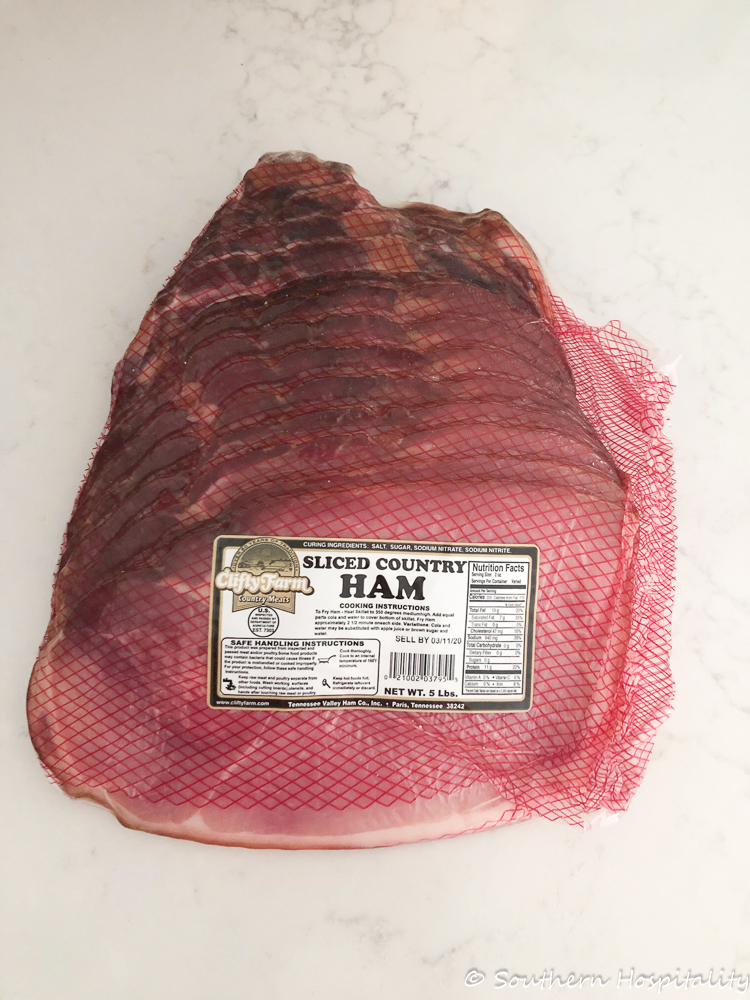 Clifty Farms Country Meats sent me a beautiful pack of country ham. We only cooked one or two slices for our meal and there's more for dad to enjoy and for me to share with some of our family.
Stay tuned, there's a Clifty Farms Country ham giveaway for you all too! Think about Easter coming up. Easter brunch or even as part of your Easter dinner, Clifty Farms could be a great addition.
Back to our breakfast for lunch ham and grits. Mom made up some homemade biscuits too. I can share this recipe with you all later if you'd like. Mom always uses a certain flour and she never measured her biscuits, we we used the recipe on the flour mix. I'll share it later for you all, but today let's look at the ham.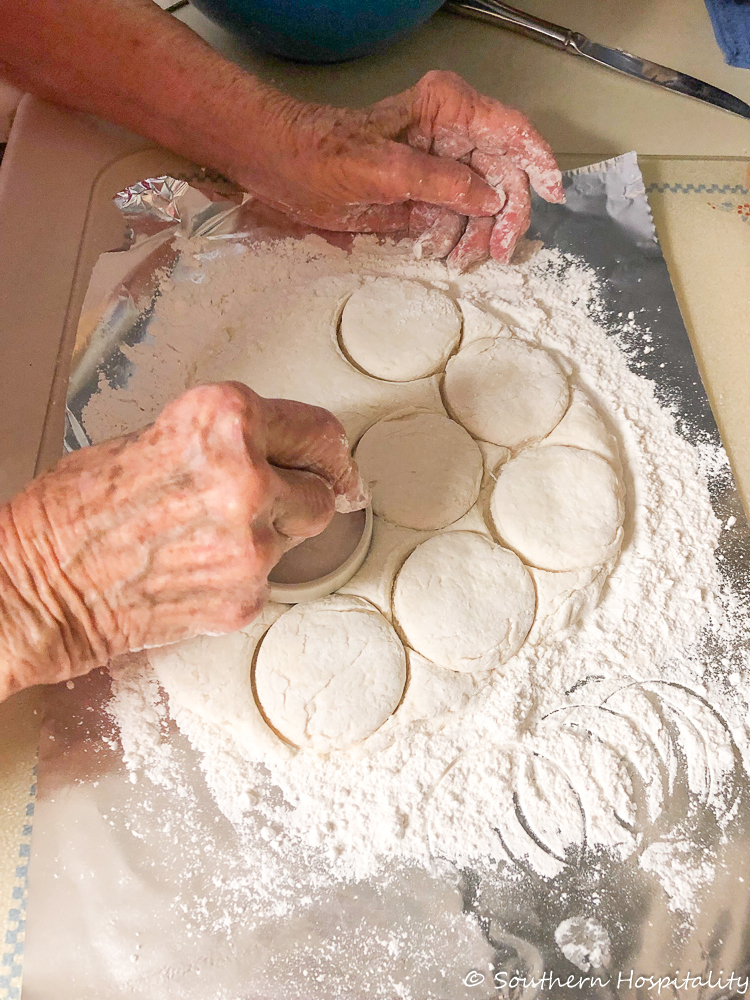 Biscuit cutting and ready to cook.
We followed the directions on the Clifty Farms ham package and simmered the ham in water and brown sugar. We also drained off the water and lightly browned the ham at the end.
Mom also made up a batch of tomato gravy and grits, using bacon grease as the base. I've shared this recipe several years ago, so go here to see that all shared out and how she makes this Southern delicacy.
Simmering the tomato gravy ready for the grits.
The Clifty Farms ham after cooking and lightly browning in the black iron skillet looks ready to eat.
Biscuits right out of the oven, ready for butter and honey.
And here's our brunch of grits and tomato gravy, homemade biscuits, and that delicious country ham from Clifty Farms.
Mixing in the tomato gravy and after butter and honey on the biscuit. Wow, did this bring back memories of childhood and growing up! I don't get grits and tomato gravy all that often anymore, or country ham.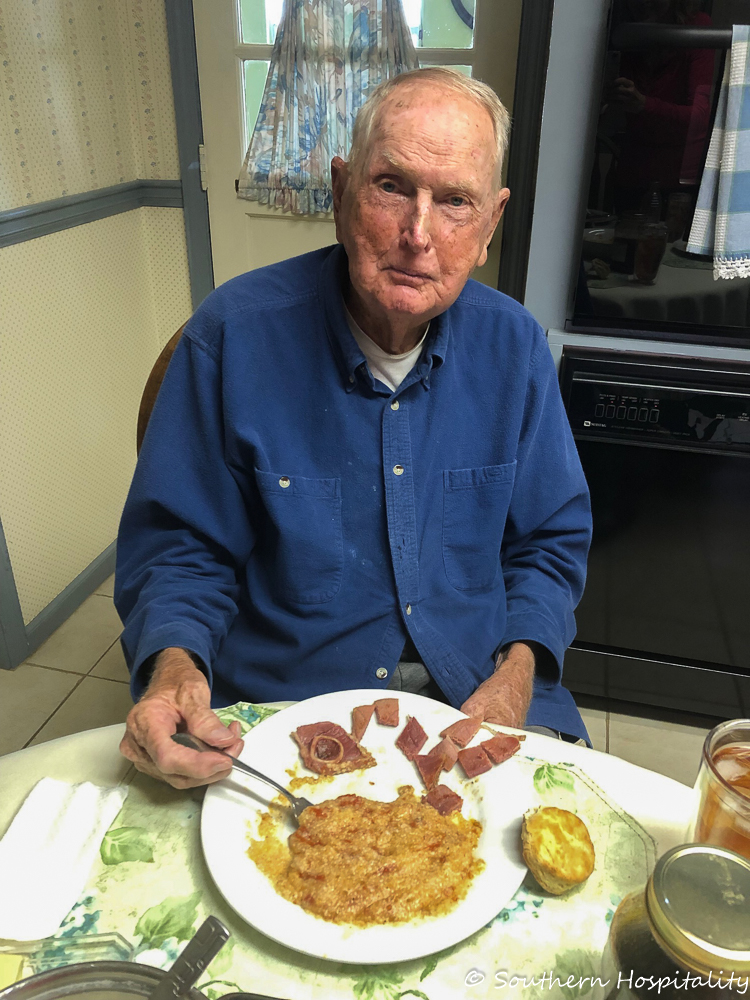 Dad was on cloud nine over this lunch, believe me. I got a picture of him as he was eating so I tried to get a non-chewing photo. He was very intent on eating this deliciousness and didn't want to stop and pose. When he heard what we were having, he was so happy!
I asked him what he thought of the Clifty Farms ham and he said "it was great, very very good ham". That's his direct quote and coming from a Country Ham connoisseur. Mom and dad both loved it and so did my sister and I. My mom mentioned that it's not as salty as most country hams, which she liked a lot. She doesn't like too much salt and these hams are not overly salted, but very flavorful and tasty.
I knew you'd enjoy seeing this Southern breakfast food that mom stirred up, food that I grew up on. We were all looking forward to eating this again and it was a good lunch with our parents day. My sister and I make a point to have lunch with them once a week and they love it. If you follow me on Instagram, I share our meals every week over there.
I'm very happy to be able to give one of you a Clifty Farms ham pack too. As I mentioned, think about Easter and how you can incorporate a Clifty Farms ham into your breakfast, brunch, or Easter dinner.
All you have to do is visit Clifty Farms and leave a comment here (add your email address to the Rafflecopter widget below) and tell me what you plan to serve on Easter and how you could use Clifty Farms ham to feed your family too!
That's it, one of you will win a delicious 5 lb. sliced Half Country Ham package from Clifty Farms. I love sharing good brands with you all and you will be so happy to try out this delicious country ham.
Don't Miss a Post, join my list!