Last year, I missed the Country Living Fair since I was out of town, but this year, I got to experience it all.  Set in the woods at Stone Mountain Park, here in Atlanta, the fair is a treasure trove for antiques and collectibles lovers.  And believe me, there are plenty of those folks out there.  I was even surprised at how many men were there with their sweeties, looking around and enjoying the beautiful Fall day we had. I love Country Living, the magazine, and knew this would be a fun adventure and it sure was!
I met up with a big group of bloggers here by the pumpkin pile and there was no missing this thing! Doesn't that just make you smile?
As an ambassador for Hometalk, I took some t-shirts and handed them out and we had a banner on  hand to document our outing.  If you haven't checked out Hometalk yet, it's a wonderful online community of home owners, professionals, and general lovers of home and you can post projects and share with this huge growing community.  Great way to get connected with others who are as passionate about their homes as you are.
It is always great to connect with other bloggers and it was fun to see all these girls (and guys) again. We also met up with Ben Ashby (back row, middle), one of the founders and Editor in Chief for the new Folk magazine.  Have you seen it yet?  They have been around a year now and are doing some amazing things with this new magazine and featuring some bloggers as well.  If you love Americana and nostalgic pictures, you'll love the magazine. They feature all sorts of stories on products made in America too. Great to meet you, Ben!
We all split up after this and went our separate ways, since it was so hard to stay together, weaving in and out of the trees looking at the many vendors set up for the Country Living Fair.  There was a main stage and a cooking stage set up too, with several fun presentations during the day.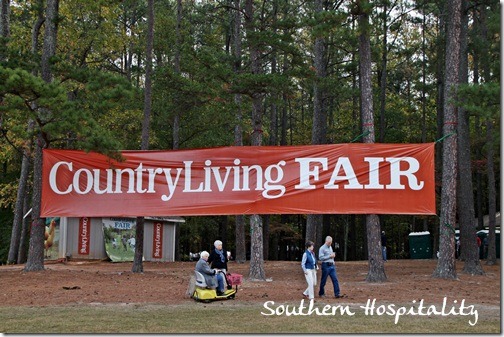 There was no missing this Country Living Fair banner either.  You can imagine how neat this setting is.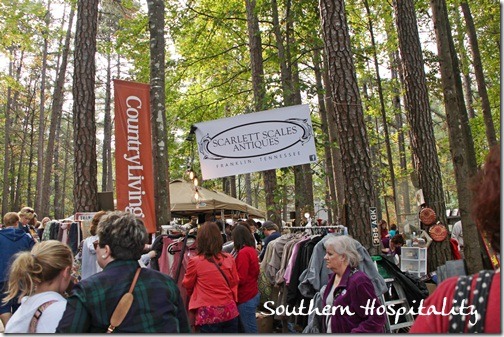 There were plenty of lookers on hand and we had fun browsing the different vendors set up along the winding paved walk ways at Stone Mountain.
Lots of vintage finds and Fall décor to be found.
Loved this pile of gourds.
And these huge letters for sale.
So many things to see and look at.
Nest vendor with a pretty display.

Pretty vignette table set up.
Loved this table set with white and the live plants.
Red berries and greens always get me excited for Christmas.
Cute little boxes spilling out of a mailbox.
Pennants made with fabrics were adorable.
A whole booth with nothing but vintage pillows made from mostly old barkcloth.  Really cute!
And this is the vendor who sold them, in case you are interested.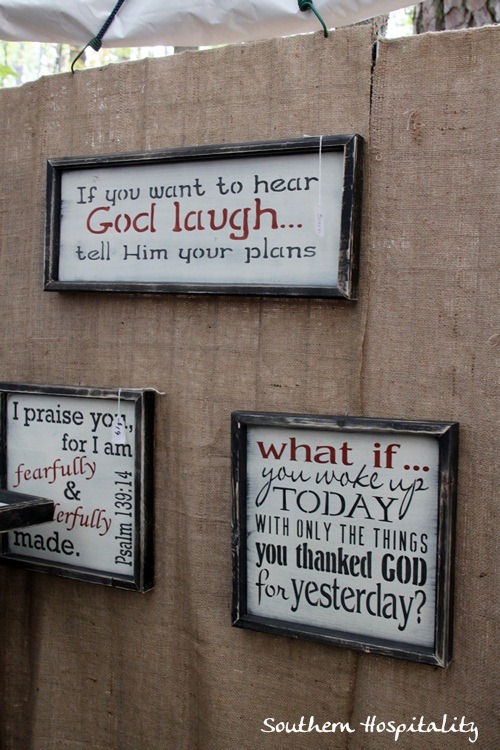 We loved this vendor, with painted signs, many of them Biblical and inspirational.  We really liked that top one, "If you want to hear God laugh, tell him your plans."  Amen to that one!
OK, found the vendor name!  It's Pine Designs, so just click that link for more info.  Great place, wonderful scripture verses.
This verse has meant a lot to me over the last 2 years and several of you have quoted it to me in your comments, so I had to get this one ($10) and I have plans to do something fun with it.  I have some old real beadboard that was ripped out of this house (from the flooring in my bathroom vanity area) and I have plans to do something with it.
A pretty horse made with old wood.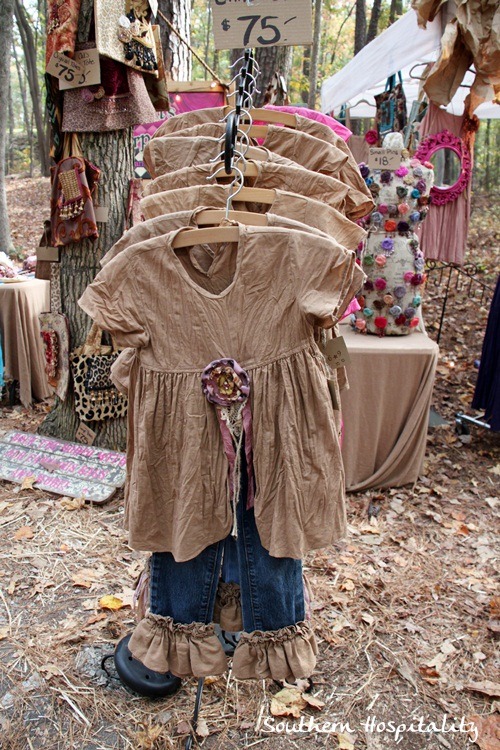 Cute ruffled children's clothing.
A beautiful winter white Christmas scene.
Love this look!  Can't wait for Christmas too.
Beautiful Fall displays all around.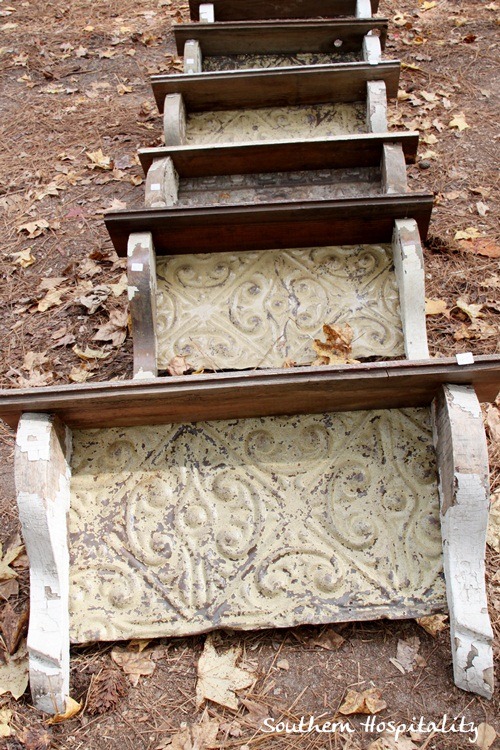 Some pretty vintage wood and tin shelves, these were $95 each.
We also stopped by Rustoleum's booth and got a private blogger's demo on their new product, Tile Transformations.
The Tile Transformations kit works like my Countertop Transformations kit and can be used over old tile.  Neat product, we all were impressed with the outcome.
And that was my beautiful Fall day at the Country Living Fair.  So glad I took the day  off from unpacking and got outdoors for some sunshine and fresh air.
I love this time of year!
Ahhhh, beautiful Fall leaves!
It's Halloween today, are you ready for it?  I almost forgot to go and buy some candy, I have a feeling my new neighborhood has lots of kids who will be out trick or treating tonight!
Don't Miss a Post, join my list!