We are back and I'm still trying to recover from our fabulous cruise. I picked up a cold on the way back on the plane and have been nursing that for a few days, but I have a busy schedule this week, so just have to power on through and get things done. I'm working on that show house patio space I shared with you all in the last few weeks and it has to be finished tonight! So, that's my week in a nutshell! I love my job though. Always something new and interesting!
Next week is busy too with a media event for the Invitation Homes show house on Tuesday and then on Thursday, May 16th, I have a planting workshop scheduled. If you missed this post, go to that link above to read about the show house and you can also click here if you're here in the Atlanta area and want to attend my workshop. There are a few spots left, so I'd love to see you there!
So, today's fashion post is not the normal one. I don't have anything new to share as I am currently doing loads of laundry! But I thought you might enjoy seeing what I took on the cruise. And while I'm at it, I'll share pics of how I packed for the cruise. People are sometimes interested in that part too, so I snapped some pics while I was packing. I shared some of this on Instagram and got lots of comments, so I ended up not taking as much and I'm glad I listened to the feedback I got!
I used those packing cubes from EZ Packing (affiliate link) that I've had a couple years, when I worked with them. I don't always use packing cubes, but for a large suitcase and longer vacation, it's nice to get things packed more organized and easy to see.
These are the EZ Packing cubes I have. This is two sets. I love the different sizes and you can mix them up and use them however you want to. I put jewelry in the smallest one.
Some things I didn't pack in a cube, like these jackets.
I rolled up my shirts and they all fit in one packing cube. It was easy to see what I had this way. I wore all but 2 tops.
Pants..I took these 4 plus one more. Here's where I tell you that Mark's luggage was delayed on our cruise so he wasn't too happy for a day or so, but it finally came. I had several people tell me to pack an extra change of clothes in my carry-on so I did that, but Mark didn't. All of his clothing and toiletries were in his big bag. Air France somehow messed up and didn't get his bag on our connection flight, so it was missing when we arrived in Basel. We filled out information with Air France before we left and she looked up his baggage claim # and found it in the system. She said it should arrive later that day before the ship left the dock.
It didn't!
So Day one, Mark had no clothes to change into. We met the nicest people at our table the first night at dinner and the very first couple we met were from the Nashville area and just happened to be right next door to our stateroom. He offered Mark a shirt to borrow the next day. Another guy at our table had arrived early for the cruise and had the same thing happen. His luggage was delayed and he had to go out and buy some new clothes. He finally got it and had an extra set of 2 new underwear which he passed on to Mark. So that was such a nice gesture by these guys! Mark survived Day one and by late afternoon on Day 2, his luggage finally arrived.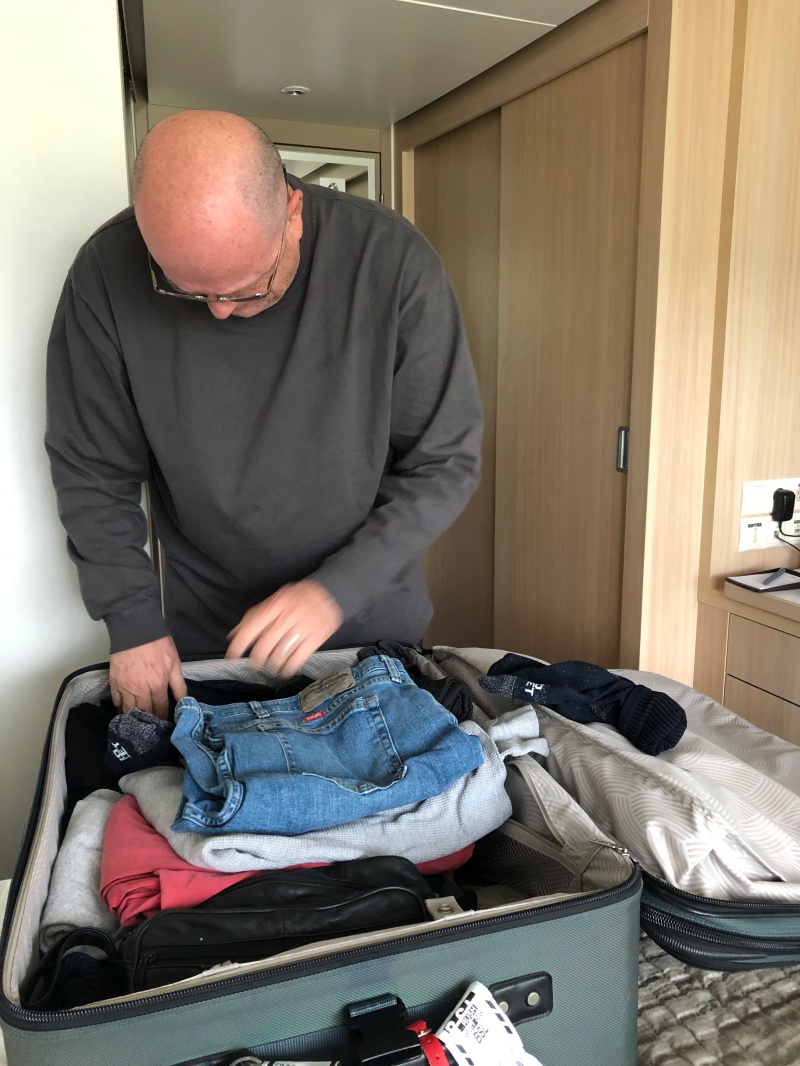 I posted this picture on Instagram stories as Mark opened his long awaited suitcase. I thought he was going to kiss it! He's wearing the shirt our neighbor loaned him and the ship laundered it and he was able to return it clean.
Back to my packing method!
Scarves were suggested to me too and I'm glad I took 3 with me. They were nice to layer on a few days. I didn't take a pic of the black and white dress and black and white jumpsuit I took but I put them both in one cube. Knit fabrics like those really pack well and don't take up much room.
I packed PJ's and underwear in one cube. These are the shoes I ended up taking, plus my black Adidas which I wore a lot. One pair of wedges I wore a couple nights with my black jumpsuit and black and white striped dress. I didn't get pics of everything I wore, but got a variety. I wore all the shoes I took.
I wore yoga pants and a long sleeve athletic top on the plane along with my black raincoat and black Adidas tennis shoes. I knew it would be chilly when we got there and it was.
I packed 2 sweaters in a cube in case the weather was chilly. It was and I wore both of them. I took my leopard raincoat too and wore it one day. My black raincoat was a bit heavier so I wore it on the colder days and was glad I had it.
I laid my pants on top of the packing cubes and that side was done.
I tucked these cubes on the other side with the jackets and had plenty of room. My suitcase came in at just under 40 lbs. so I did good on that. It wasn't overly packed at all, but I had plenty to wear. I did wear pants more than once and mixed them up.
This is a variety of the pics I took and what I wore out on excursions and to dinner a few nights.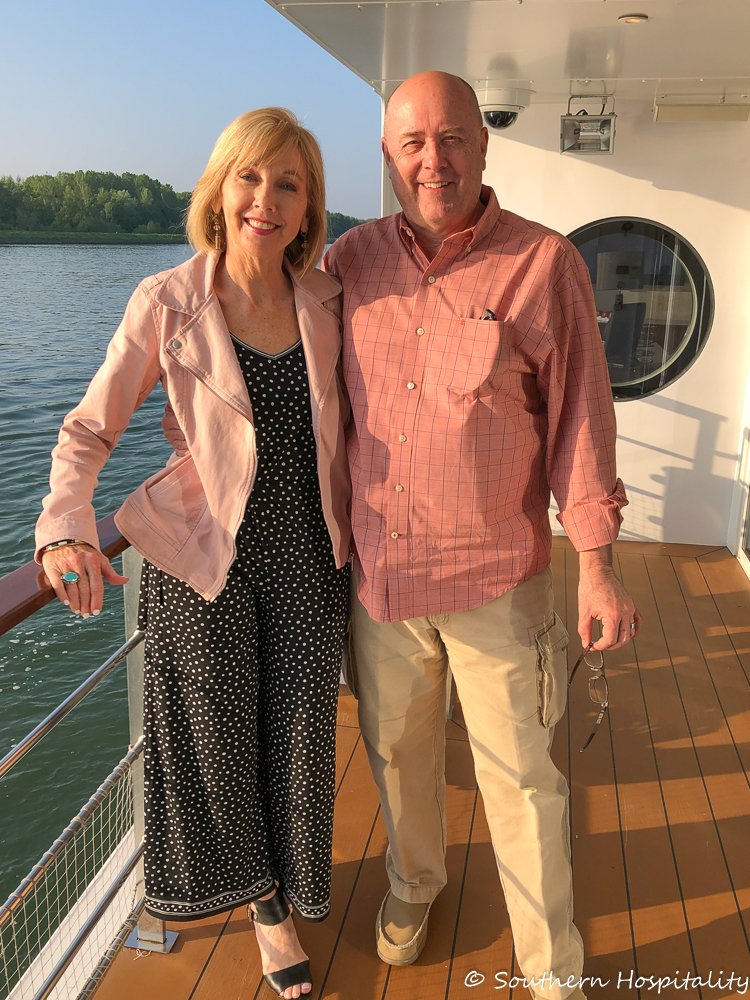 The weather was up and down so jackets and layering were definitely needed. We had sunshine some days in the afternoon and even in them morning a few times but overall the temps were in the 50's or 60's in the day and then dipped lower at night. So I took plenty of layers for day and evening.
You've seen this jumpsuit before, but this time I paired it with my black wedge sandals by Sam Edelman. I've had these a couple of years now. The pink jacket is new and from Old Navy. I look forward to wearing it with more things.
Day time excursions were all about comfort and being warm (this was in Strasbourg). It definitely was gusty and chilly many days we were out, so a jacket was needed. I took 5 pair of jeans and they all came in handy. I changed them out with tops for day time and evening. I took my black raincoat because it looked like we would have some rain while we were there, but fortunately the rain missed us during the day time. This one had a flannel lining so was warm enough.
This day was a little warmer so I wore my khaki pants with leopard shoes and a sleeveless long top along with my white jeans jacket.
This is a new top I found while in LA recently and I wore it with blue jeans and my black suede flats. I took a variety of jewelry pieces that I could wear during the evening too.
Someone had also suggested I take some scarves, so I did that too and added these lightweight scarves for a bit of extra warmth on those chilly mornings we went out.
I was glad I packed this gray sweater too, as it was cold enough to wear it on a couple of days. It had warmed up on this castle tour and I took off the black raincoat. This was one of the warmest sunnier days we had. The views up top were spectacular!
Mark captured a few of these pics on his phone so I thought I'd use them to show what I wore. Nothing fancy at all, but comfortable and good walking shoes are a must. We did a lot of walking.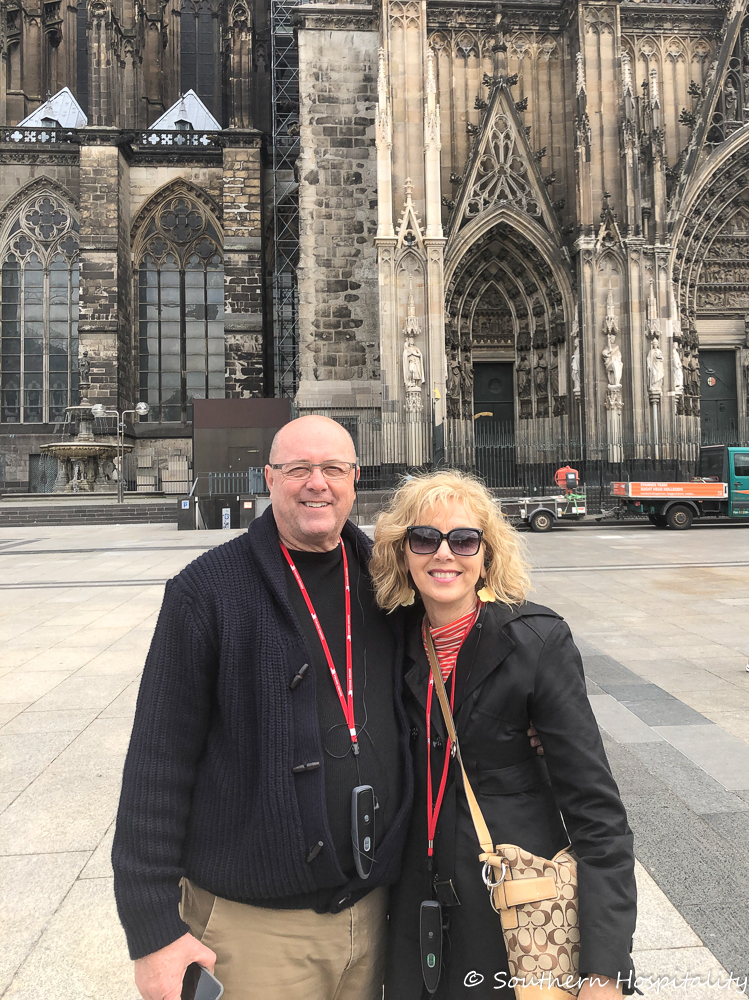 In front of the cathedral in Cologne, it was magnificent! Layered up as usual, it was chilly walking around.
Mark captured this pic of me on our little balcony one afternoon. I had on some skinny jeans I'll be sharing with you again soon and those stretchy shoes I really like in black and white. I had on a black long sleeve t-shirt and my long black cardigan for warmth.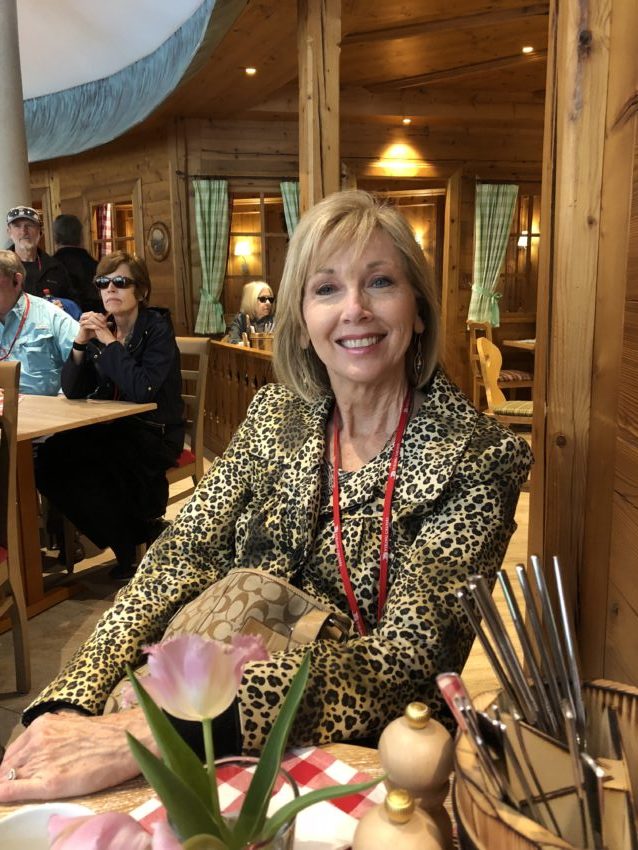 And I also took my leopard rain coat as an added jacket in case we got rain. We lucked out on the rain and really didn't get much at all along our journey. This was the first day of the trip and I had flat ironed my hair before we left, so it was good for about 4 days, but halfway in the trip I washed my hair and went curly. I took some of my curly girl hair products and just made the best of it the rest of the trip. We had plenty of windy days up top too which of course didn't make for good hair days. But we were on vacation, so I just made the best of it and rewet it every day and tried to make it look decent for dinner.
It was so much fun and I have a lot to share with you all. As soon as I can get my photos edited and start putting together my posts, I'll share it all. I'm still trying to decide how many posts to do to share it all, but I might do at least 3 to capture the experience and all we saw and did.
Stay tuned for more of our cruise!
Here are a few things that I'm wearing below in case you're interested (Affiliate links). I just bought those J Crew wedge shoes just before I left for the cruise. Didn't take them and have to wear them, but I love them and if you're looking for something fun and new, you might too. Love the black and white calf print!
Don't Miss a Post, join my list!