Hair is always a topic that we as women love to discuss and hair is ever changing it seems. We have to stay up on new things to keep our hair looking good as we age, so that's what I'm sharing today. Today on Fashion over 50, I'm going to dive into the curly hair conversation that we started last week. Every time I wear my hair curly, you all love it. I get a lot of compliments here and on Instagram raving about my curly wavy hair. I'll add that my hair is more wavy than spiral curly these days, although I think it was a bit curlier when I was younger as you can see from the pic below.
I was about 28 in the above pic, which I've shared before. I had lots of layers cut in my short bob and didn't have to do much to it for all this curl. I just used some styling gel and dried it on low with a hair dryer for all that volume and curl. It was always big hair back then. Body in my hair is something I've never lacked.
Now I don't have quite as many layers as I did back then. The sides of my hair are also thinner than back then too and a little longer in the front, but I still have plenty of hair. It's on the wavy side now and not spiral curls like many curly girls have. So, today Iet's talk about curly hair. I think many of you have curly/wavy hair too and aren't we always trying to figure out what to do with it?
I know I have spent all my life in a bit of a love/hate relationship with my hair. I've had so many hairstyles over the years, but they always had a lot of volume until the flat iron came out and I could actually flatten and tame it into a sleeker style. I still plan to flat iron my hair too, but I'm glad I have options and I'm glad there are better products out there now for curly/wavy hair. When that's the natural kind of hair we have, why not embrace it more?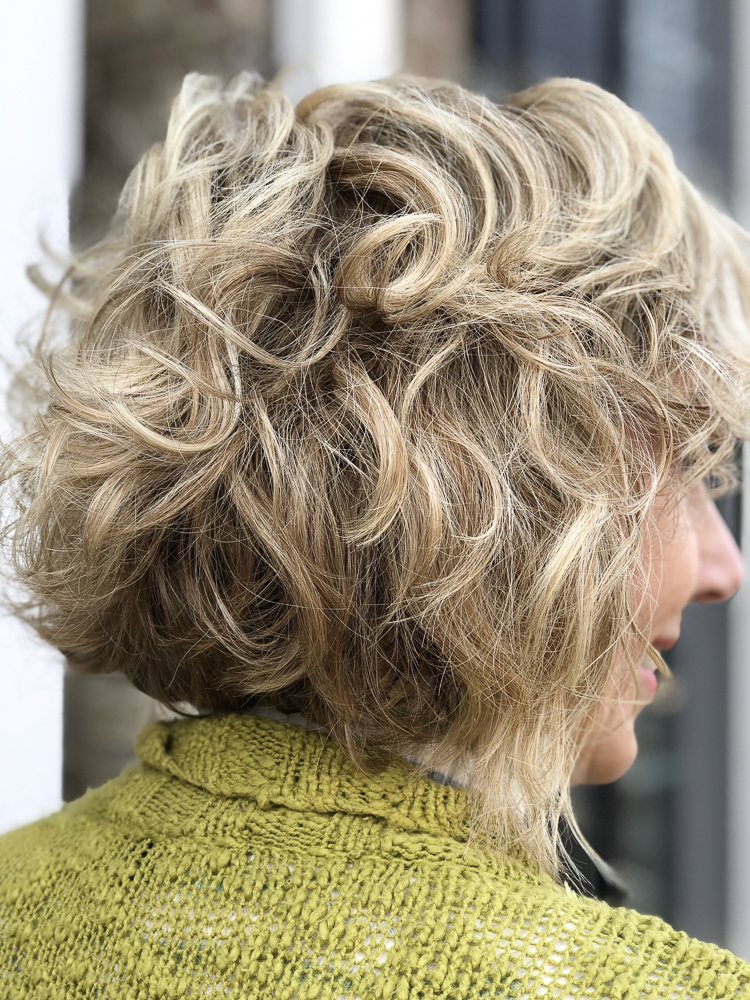 I shared the back of my hair last week after using some new curly hair products which I'll share below. This was day one of styling my hair with these products and I was really happy with the results. I'll share some other pics of days after this and how it looked then. Curly hair can look really good, but it doesn't always look the same every single day. Some days are better than others.
Let me just say, I'm still reading up on the Curly Girl method of taking care of hair and I found most of my information from the Naturally Curly website. Apparently, the Curly Girl method is a book by Lorraine Massey (affiliate link below). I have not read the book, but the main points of the book are listed on the Naturally Curly website I linked above.
I'm not going to retype all that's already on the website, you can go over and read it all too, but the main things to avoid with curly/wavy hair are:
Shampoo (especially those with Sulfates)
Heat
Combs/Brushes
Fragrance
Sulfates -namely sodium lauryl sulfate & ammonium laureth sulfate
Non-Water Soluble Silicones
Alcohol
So, basically any styling products with those ingredients above are not good for curly hair. I'm sure over the years I've used all the wrong products on my hair. Curly hair tends to be dry as I have known about my own hair over the years. The more you can hydrate curly hair, the more it will look healthy and bouncy instead of dry and damaged.
The Curly Girl method basically trades in regular shampoo for conditioners and gels only (and the ones without harsh ingredients). You can experiment with your own hair and see how it responds. I've used Sulfate free shampoo for a few years now and knew that Sulfates were bad for my hair.
She gives recommendations for wavy, curly, and coily hair, so depending on your hair type, you can experiment with certain products and methods of styling to get the best results for your curly/wavy hair.
I'm between wavy and curly hair, so I read that part and have followed some of these methods for the past two times I've washed my hair.
Now, I don't wash my hair but twice a week. I hardly ever go longer than 5 or 6 days without washing, depending on my schedule. That has changed dramatically because when I was younger I washed my hair every day, which isn't good for hair. Especially course thick hair like mine. As I've gotten older, I don't have oily skin around my hairline as much anymore and that made my hair oily back then, so I couldn't stand that and washed way more often. Going to the gym and sweating a lot, my hair would always get soaked too, but it's not as bad as it used to be. We all lose a lot of moisture on our skin and hair as we age.
As I've read up on this method, it made sense to me and I figured I'd try some of the products recommended as well as the methods of caring for curly hair and see if it made a difference. And I'm happy to say, it did make a difference immediately, the first time I tried the products, so I'll share all of that below too.
I went to Target and looked up the products listed on the Naturally Curly website and started looking for the brands that were recommended, so that's how I came up with the products I bought. There are many products suggested, so just note that I found some that Target had in stock and those are the ones I've tried. You may need to experiment for your hair and see what works for you if you have curly/wavy hair too. I've spent a small fortune over the years on hair products so if I find something that works well for me, I definitely stick with it.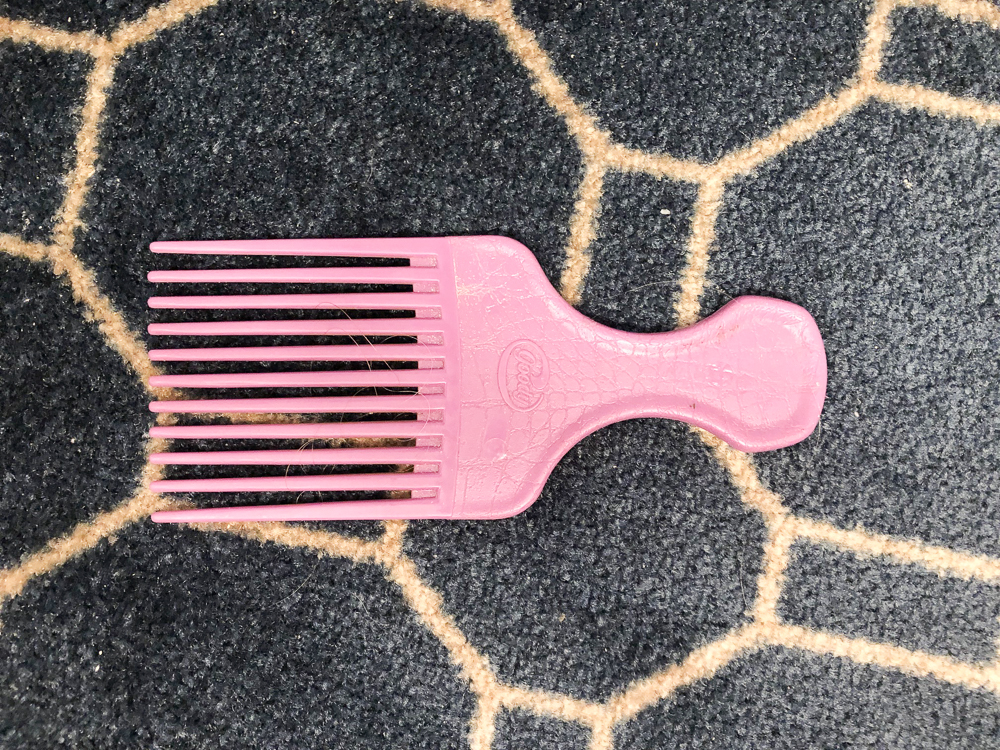 Here's another little tip I have always done. See that pink pick above? That's all I've ever used to style my hair. I never brush my hair with a hairbrush. I use a big round brush when I'm drying my hair if I'm going to flat iron it, but I never just brush my hair. I do use a wide tooth comb to comb it out, but once it's dry, that's all I use to pull my hair apart and style it. It works whether I've flat ironed it or I'm wearing it curly. That little pick is all I've ever used for my whole life. I don't even know how long I've had this one, many years now. I'm down to only one, but usually have an extra one around.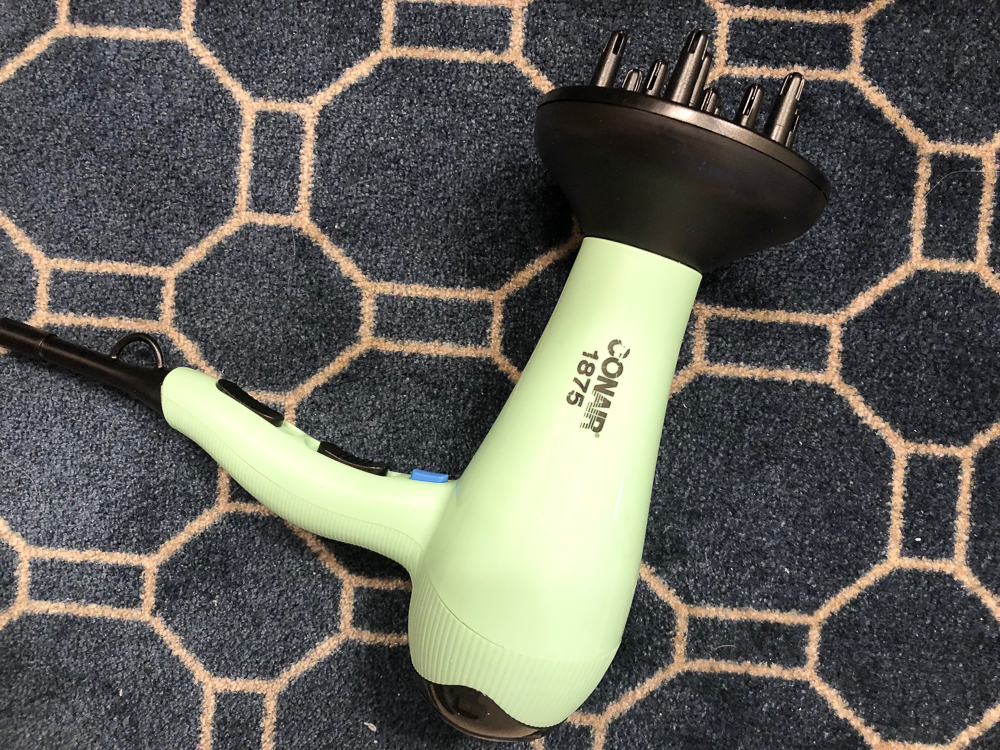 If you don't have a hair dryer with a diffuser on it, you'll definitely want to get one of those for drying your hair. The black thing on the end is the diffuser and it keeps the air from coming out too fast. It blows low and diffuses your hair with low heat as you dry it. I've heard all sorts of recommendations for this too. They even get into discussions about porosity, density, and width of hair, but I haven't gone any further into that. I've just skimmed the basics, but if you want to know more head over to the Naturally Curly website and there is SO much information.
I've heard to never use heat, to only air dry. I've heard that many use a diffuser for most of the drying process and then air dry. I can't air dry, I wash my hair at night and no way will go to bed with sopping wet hair, so I'm always going to use a diffuser when I go curly. Of course, sleeping on damp hair will disturb the curl pattern and you basically have to restyle in the morning when you get up. I'll get to that more below as I talk about what I've done lately with my styling.
I've also heard to only use t-shirts to blot hair and never terrycloth towels. I haven't gotten t-shirts yet for blotting my hair, but I did buy a microfiber hair towel. Not sure that does any good or not, but I heard that terrycloth towels rough up the hair cuticle and cause frizziness, which we curly girls are always trying to avoid.
That's been my biggest problem with going curly/wavy with my hair. The frizz has been unavoidable, so that's where these products come in. I think they are definitely making a difference in the frizz control for my hair, I can certainly tell a big difference already in that. Now we will see what happens when summer arrives!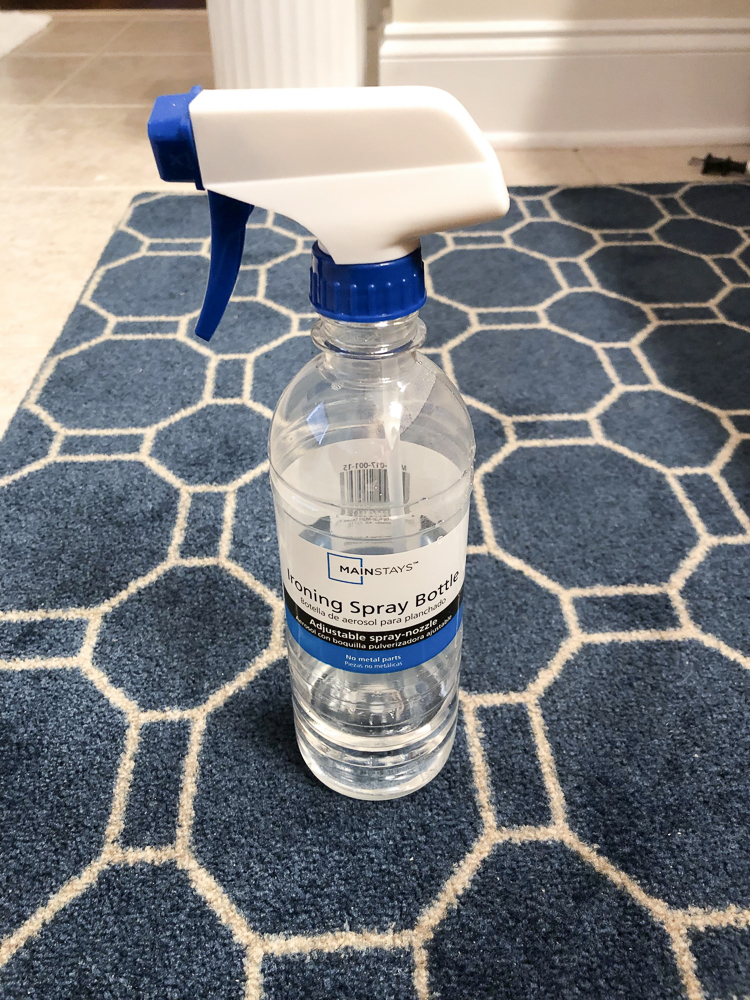 Another thing you might want to get is a spray bottle for spritzing your hair with water if you are like me and have to restyle it in the morning if you're going curly. I wash my hair at night, dry with the diffuser, but after sleeping on it, the sides flatten out (especially one side that I tend to sleep on). So spraying my hair with water to activate the gel again or adding a little more gel or leave-in conditioner helps the hair to re-curl and look good for the day.
The majority of my curl/wave is in the back of my hair and the sides are not quite as wavy, so I have to work with the sides and top more to get it looking good. Let me tell you that wearing your hair curly or wavy is not easier than flat ironing. I can go several days with my hair flat ironed without having to do much to it. But keeping curly hair looking good for 4 days in a row is a challenge! I'm sure those of you with curly hair know just what I mean. It's also been recommended to me to get a satin pillowcase which I haven't done yet either.
Curly hair just takes more time and effort to keep it looking good, that's been my experience. But this method and these new products are definitely helping, I can say that for sure.
So, here's what I bought at Target. This brand, As I Am, was on one of the lists I pulled up and Target had several items in this brand. It was mentioned on the Curly Girl method that co-washing curly hair is good for it instead of using traditional shampoo. If you have wavy hair, they mentioned using non-sulfate shampoo which I do anyway, but I figured a co-wash might be worth trying.
Co-Washing is basically washing your hair with conditioner. This co-wash above is a cleansing cream conditioner that you rub into your scalp with fingertips and not fingernails. They suggest you massage your scalp to let the natural oils and dirt come out and then be washed away for a few minutes in the shower. This is a gentle method of washing curly/wavy hair to add hydration and not strip away the natural oils. I've used the co-wash twice so far. You might think that using this would make your hair feel oily, but it does not.
It's also suggested that you use a leave-in conditioner in your hair if it is curly or wavy. I thought this might weigh down my hair and make it feel greasy and heavy, but again, it did not. My hair felt soft and manageable after using it. So after the co-wash which is washed out in the shower, I added this leave-in conditioner, about a quarter's size in my palm rubbed through my hair to the ends.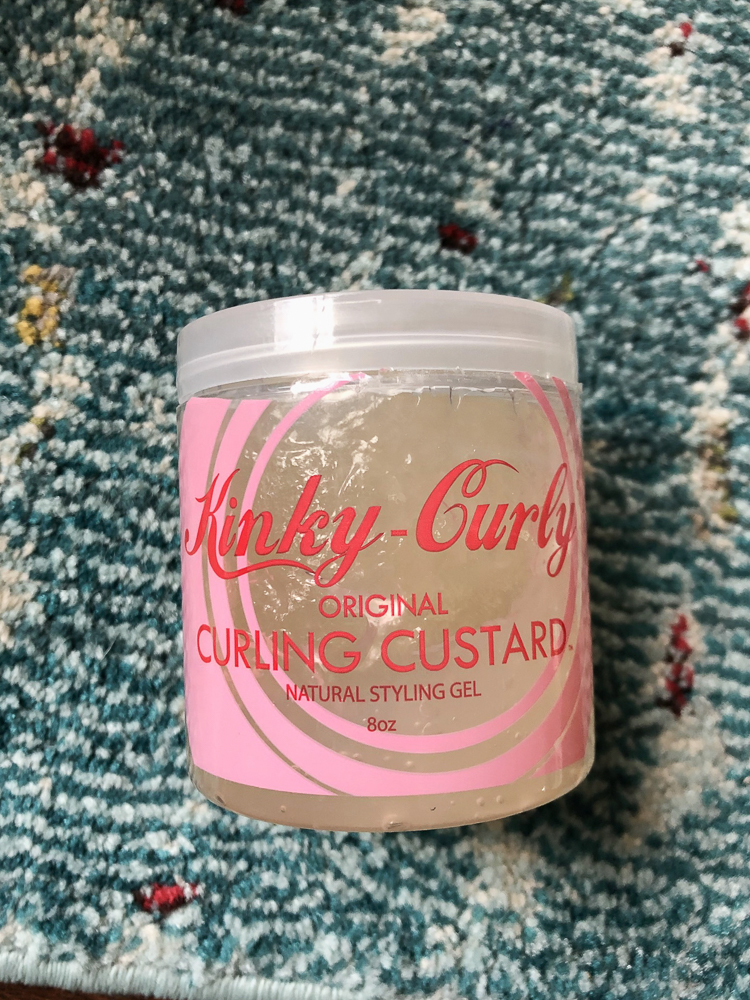 Next, I picked up this styling gel or custard which was one of the products recommended and Target had this on the shelf. It definitely helps to define the curls in my hair more and helped the sides to hold the curl/wave as I dried it. My hair looks really good when I first diffuse it with the dryer. The more I sleep on it and as days go by, I have to rework it and activate the gel again with some water, especially the sides and top of my hair.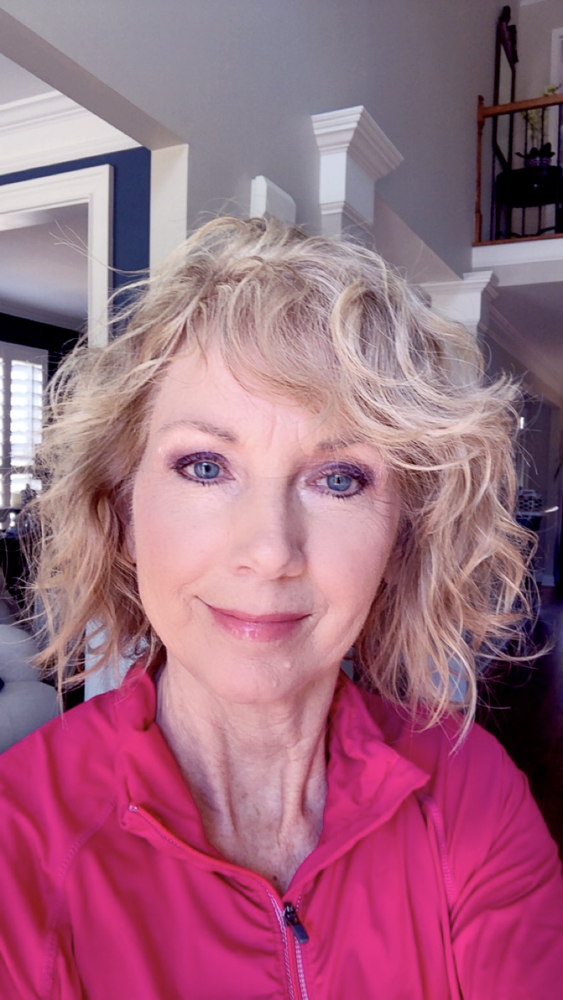 So, here is Day 2 after using the Co-wash, conditioner and gel in my hair. I did have to work on the sides with spritzing more water and scrunching the hair to get the curl and waves defined again. Most curly girls know that scrunching is using your hands when hair is wet and you're diffusing it, cupping with your hands and getting the curls to activate.
And here's a quick shot of the back on Day 2. It's still very wavy. I usually bend over and use that pick I showed you to pull out the hair clumps and separate the waves and make them more defined. I use my fingers a lot too on the top and sides to separate and pull my hair where I want it.
The thing with curly hair is you just don't know exactly what it's going to do on any given day. Some days it feels pretty and sassy and other days, it feels like I shouldn't be going out like that! It just feels messy and unruly. But I have to say these products are helping me like it much better on day 2 and 3.
Here's another day after co-washing, Day 4. It gets more challenging as the days go by. It's almost easier just to start over with everything again, but the longer you can go without washing again, the better. I spritzed the sides with water as well as the top.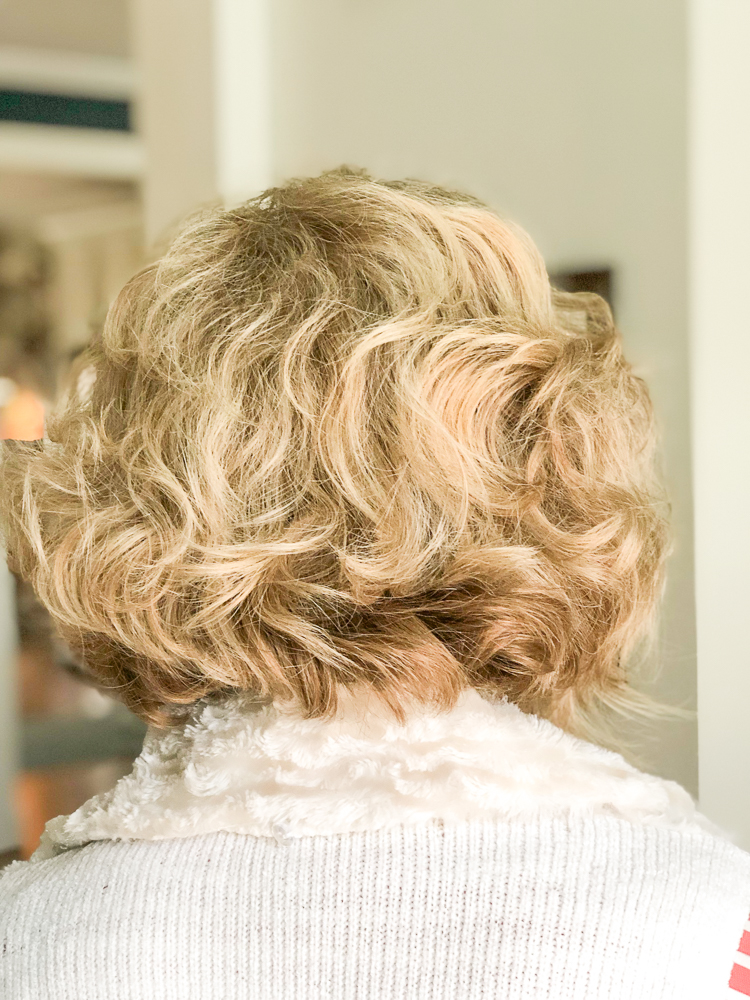 The back by now was getting a little clumpier and not as defined with the wave and curl.
But still not bad. The frizz is definitely more under control than it used to be at this stage.
Other side, so you can see the whole hair style. I know many people would kill to have curly wavy hair like this. I wish I could share it with you! It's funny because in high school, the style then was long flowy straight hair. I never had long flowy straight hair in my life and always envied those that did have silky flowing locks. I'm not kidding when I say I used a pick on my hair my entire life! There was a reason for that!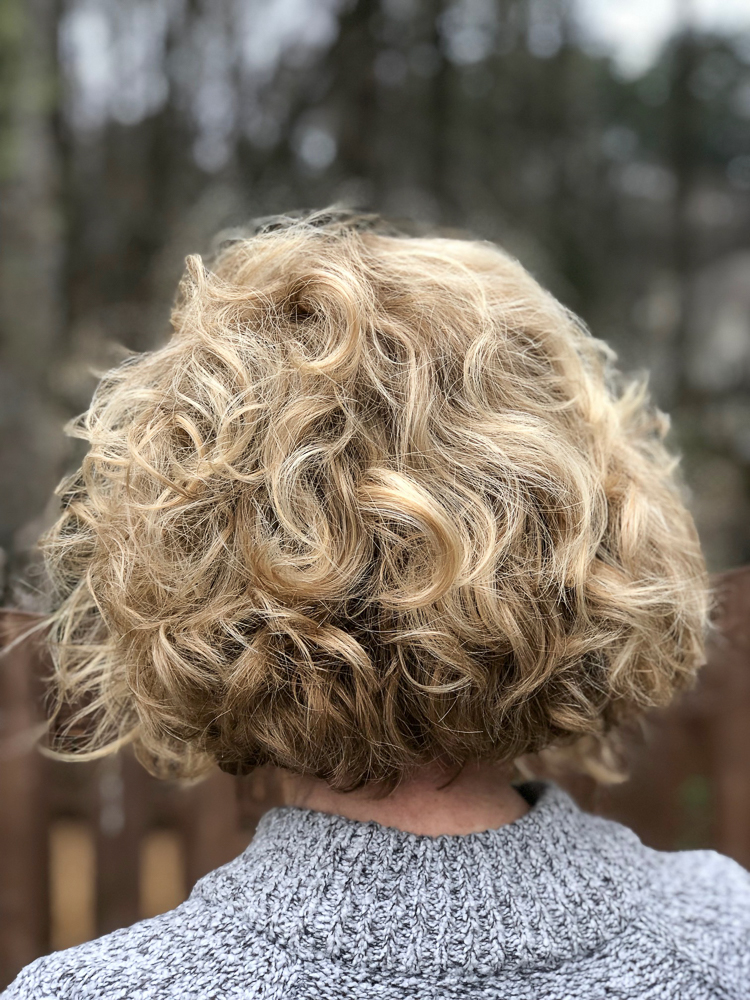 And here's a shot at Day 1 again, using the products a second time. They really do work well for me. This is diffusing with the hair gel. I do think these products really help hydrate the hair with good ingredients which keeps the frizz down. I have struggled with frizz my entire life too.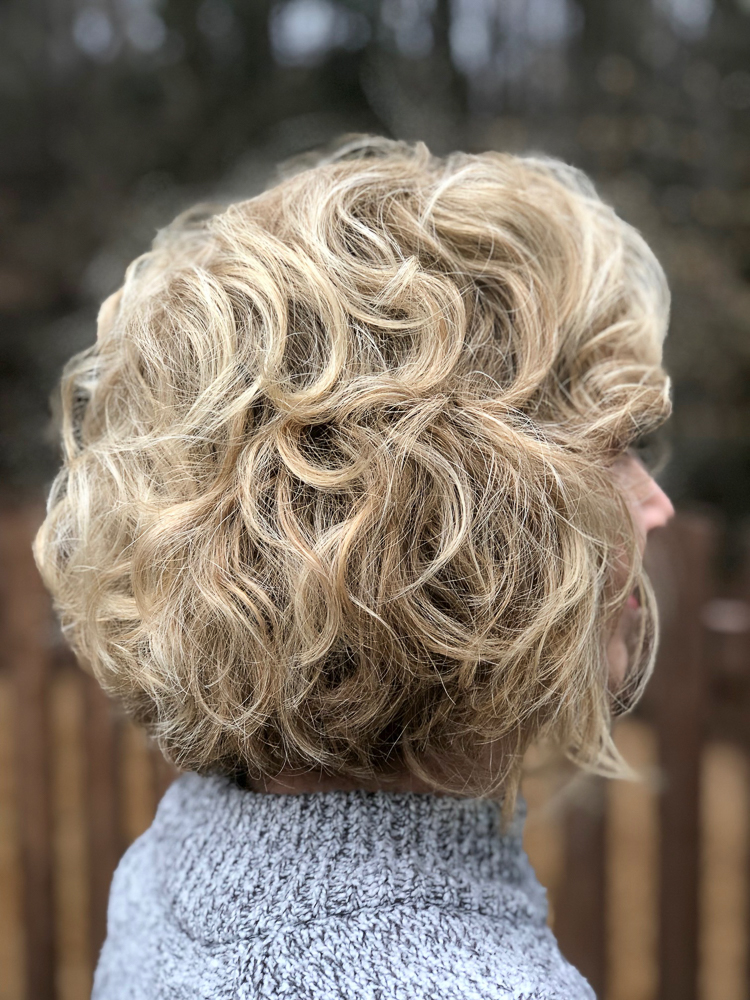 If I can use products that help my hair look better and feel better, then I'm definitely going to do that. Again, I'm not going to stop straightening my hair completely, but from what I'm reading, the more that curly girls use this method and add good products to your hair, the better your hair will perform. I've been following along on some Instagram girls who tag their hair #curlygirl and watching their hair stories too. So many of them started on the Curly Girl method and watched their hair texture and curl change over time. The better they treated their hair, the better it looked. Many of them have gorgeous curly hair!
So, I think I will embrace my curly hair more and more and wear it curly more and more. The more I use these products with better ingredients for my hair type, the better it will look, I think. I just wanted to share this with all of you and if you have curly/wavy hair, I know you can relate. I do think the products and method of caring for curly hair does make a big difference and I'm learning more all the time.
Here are the 3 products I found at Target (affiliate links provided.) This is by no means the only products out there, there are so many. I've heard great things about DivaCurl too, so I'll link a few more things that are recommended as well. I can attest to the 3 I bought (not the DivaCurl products) as working for my hair type. I was pleasantly surprised that my hair didn't feel weighed down and greasy, but even more bouncy and softer than ever. The gel isn't really crunchy either. It does hold, but doesn't leave a hard gel set to the curls and you can still separate them too without any problem. I don't like super crunchy curls on me. The more you use, the crunchier it is, but I didn't use too much on mine to get it to set and curl more.
All of you curly girls, feel free to chime in and share what is working or has worked for you and your curly/wavy hair. I think this can help all of us!

Don't Miss a Post, join my list!