It's time again for an update on my dad's garden. He has been very busy this year, between his Georgia garden and his North Carolina garden, tending to both of them as well as he can. You would think an almost 88 year old would slow down a bit and relax during the heat of the summer, wouldn't you? Not my dad. He thrives on growing his garden every year and I think he would just have nothing to live for if he had to give it up. So, we encourage him within reason to keep gardening. It's his passion and that's truly what keeps him going. I don't know how he does it, as being outside during the sweltering heat that we've had lately, just about kills me. I can't take that heat nearly as well as he can.
My idea of fun right now is floating in the pool or lake to beat the heat.
This guy takes it all in stride and loves watching his garden grow and showing off the fruits of his labor.
It is looking much different that when I showed you an update a few weeks ago.
This was the end of April after he got everything planted.  Now look at it!
We have luckily gotten a lot of rain in May and June and that helped it grow.  The rain is starting to slow down now, so we are needing more with all the heat and humidity in GA this time of year.
But, so far he is bringing in plenty of veggies and mom is cooking it up.  They share with us all we want of squash, zucchini, green beans, tomatoes and cucumbers.
He's got plenty to share.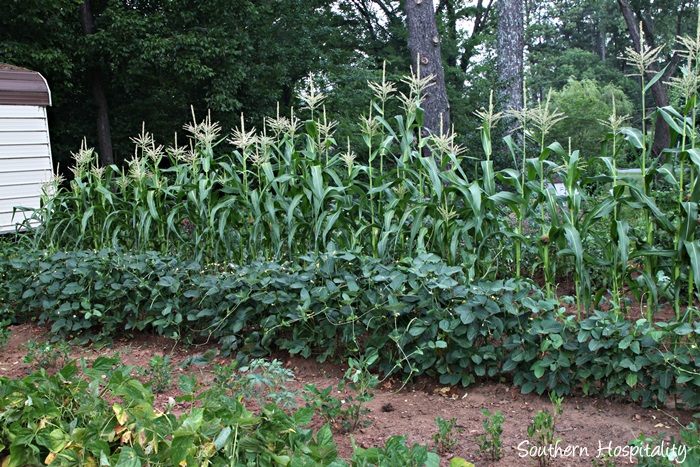 He planted one row of corn in Georgia this year, but the bulk of corn he plants in NC. Those are green beans in front of the corn.
Squash has been plentiful this month, but he says the heat is drying up the vines.
Now, this is what gets me excited every year….homegrown tomatoes coming in. We all anticipate the first tomatoes and eat our fill of fresh tomatoes.  There is nothing like a homegrown Better Boy tomato and that first tomato sandwich of the season.
Last week, I made my first for this year, which made me a happy girl.
There are plenty of green ones on the vine all getting ready to ripen up.
He has placed an owl in the garden to deter birds and I think it works pretty well.
Last time Parker was home visiting, Lauren got her overalls just so she could get her picture made with her great grandaddy in the garden, so here is that priceless photo. Aren't they both the cutest?
And here's the bounty, the tomatoes rolling in this past week.
Squash, cucumbers, and eggplant are also coming in.
Dad wanted me to be sure and show you the rutabaga he has grown.  He's proud of all of it!
This was the feast that my mom prepared for lunch last week.  My sister and I try to go over and eat lunch with them once a week and mom always cooks up a great Southern meal like this.
Meat loaf is one of her specialties and she's been making this for years.  Fresh mustard greens, green beans out of the garden, along with fried eggplant (I've shared his recipe before) and tomatoes and cucumbers round out the meal.  Yes, it's as good as it looks!  If you follow me on Facebook you often see these meals that I post over there. They are legendary and get everyone talking on my Facebook page!  My mom has been cooking like this my whole life and it never gets old.  We are truly blessed to still have her and my dad.
Many of you have asked for the meatloaf recipe every time I post it on Facebook, so here it is, as close as I can get from her memory of how she makes it.
Iris's Meatloaf
2 lbs. ground beef
1/3 lb. pork sausage (she uses the roll pork sausage, just a portion of it, mixed with the ground beef for flavor)
Add about 1/2 cup of regular breadcrumbs to bind.
1 egg
Salt and Garlic powder
Mix all together and form loaf.  She then spreads a can of diced tomatoes on top and adds chopped green pepper to the top.
Cut up potatoes and carrots and place in baking dish around the meatloaf.  Bake at 350° for at least an hour or until cooked through.  The meatloaf makes it's own juice and flavors the potatoes and carrots.
We celebrated Father's Day on my back porch with a cookout of hamburgers and the fixings.  I made homemade strawberry ice cream in my little ice cream maker and we all enjoyed that.  Dad's face here says "hurry up, I'm ready to dig into this ice cream." He loves sweets, as do I!
So, that's an update on the garden this year. We Southerners do love fresh veggies and eating out of the garden and I'm so happy that my dad still does it all.  I know it won't last forever and truly treasure these memories of garden eating that we have had all my life.
Don't Miss a Post, join my list!