A travelogue of Cape Cod and Chatham, MA.  Enjoy the sights and food highlights of day tripping in Chatham, MA and our Fall visit to Cape Cod.
Hey there! I hope you all had a great weekend. It turned cold here in Atlanta finally and we got some crisp colder weather which feels pretty good after all the heat of the summer months.
I hope y'all aren't tired of hearing about our Cape Cod trip yet, because I have SO many pictures and adventures to share of our New England vacation.  Looking back at all the photos I took, it really captures the essence of our trip and how beautiful and charming it was.  So, today we are starting in Chatham, the first stop of our Cape Cod jaunt.  I'm going to take you through the week as we experienced it, with all the B&B's we stayed at as well as the restaurants and food we experienced along the way. Food is such a big part of every vacation, isn't it?  We love to eat good food and Cape Cod has some great food.  I had heard so much about all the lobster dishes and it didn't disappoint, so I'll share all the restaurants that we loved as well.
We arrived to a Nor'easter in Boston, which was a pretty heavy rain storm when we got into the airport and it rained pretty much the entire Saturday, our first day there.  But we made the best of it in our rain gear and umbrellas.  We drove down the Cape toward Chatham and after I stopped at a CVS for a little makeup replenishment, we headed to find something to eat.  I've already told you that I'm a gal who has to have her food and we were both pretty hungry by the time we got down there, so I started looking on my phone for a good place to land.  And you know what we wanted, right?
Lobster rolls!
I had heard Mark talking about lobster rolls for months now and I was finally going to experience this delicacy myself.  I was ready for the challenge!
My phone steered me to a restaurant called Brax Landing.  It got a high rating on the internet, so we headed that way, hoping for the best.  We were NOT disappointed.  It was still raining pretty heavily and the place was almost full.
We got a seat right by the window and got a pretty view of the boats on the water right outside and what looks like a pretty fun patio in nice weather.  It was the beginning of our trip with the whole week ahead of us!  Thank goodness, the rain stopped that day and the next few days were sunny or partly cloudy.
Next stop was checking into our B&B.  I had done some research earlier to book all of our lodging ahead of time and the Carriage House Inn got great ratings and I loved the look of the place.  We were certainly not disappointed at all in this charming B&B.  In fact, it was our favorite of all the places we stayed the entire week, in part because of the very personable hosts, Brian and Chef Peter.  They bought the Inn only a year ago and have done so many improvements already, including updating the decor of the rooms and working on the landscaping as well.  It's a beautiful piece of history, this former 1890 whaling captain's home.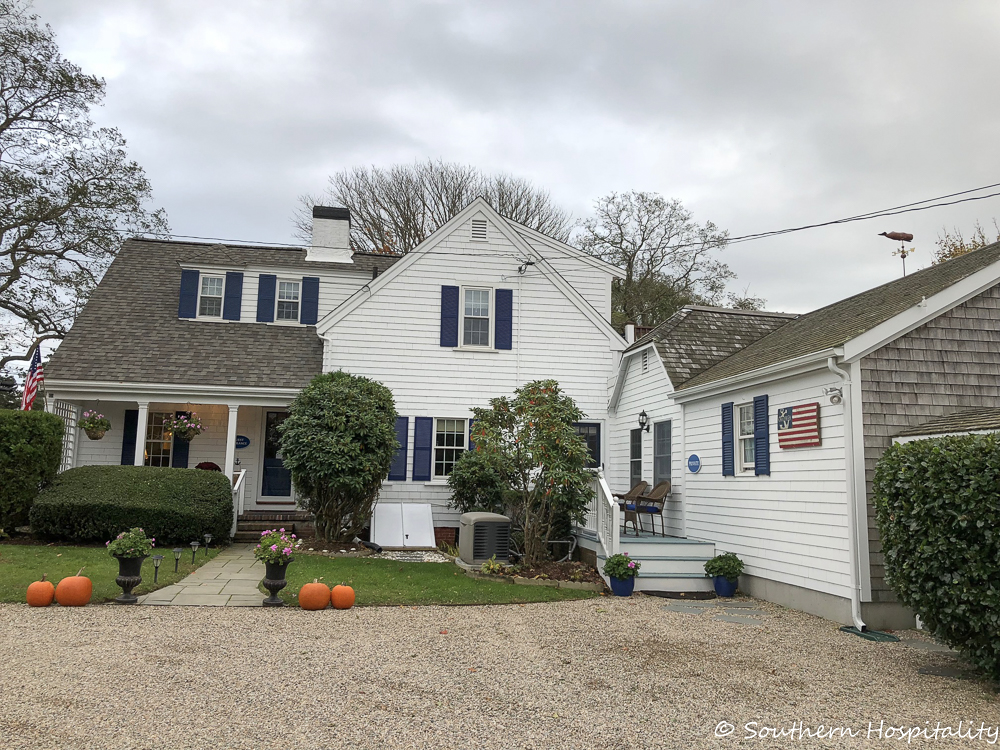 The inn has a 6 rooms, including the carriage house with two rooms as well.  We stayed inside the inn, but our next visit, I'd love to stay in one of the carriage house rooms, since they have a fireplace.
This charming side porch is the guest entry. We were welcomed by our host, Brian and he gave us the lay of the land for the inn, as well as breakfast.  He was also SO helpful in telling us things to do around Chatam, Provincetown, and other smaller towns around the Cape, providing maps and his favorite stops.  He was a wealth of knowledge and we took his advice on some of the things we did.  He and Chef Peter run the inn together and do a beautiful job of it.
The carpeted runner going to our room was lovely. The inn itself is a pretty place, with comfortable seating in the living room.
We hung out here one afternoon and thoroughly enjoyed the ambiance.
With a fire going to ward off the chill outside, it was a cozy place to just be.
Moving to the windowed sunroom, this was the area for breakfast and it was so pleasant to sit back there at the tables and have a delicious home cooked breakfast. Afternoons offered guests wine and desserts.
Our guest room was cozy and comfortable.  We made ourselves completely at home here and enjoyed our two night stay so much.
That's Mark being Mark, pretending to hide from the camera.
A well appointed and cozy room was wonderful for our first two nights on Cape Cod.  What a wonderful start to the week.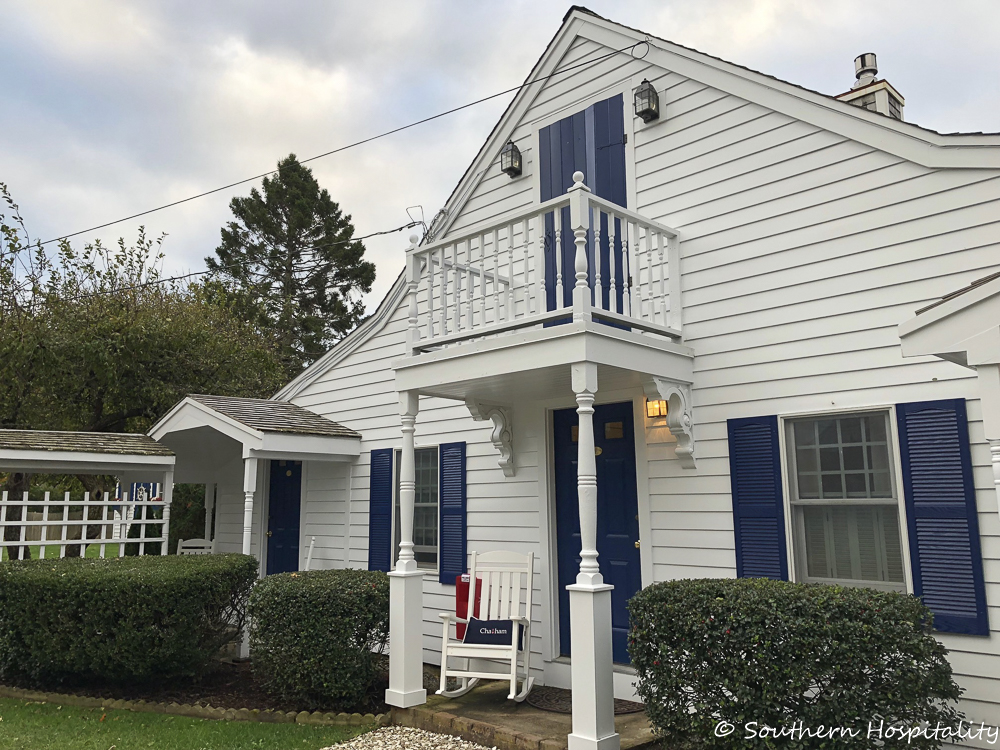 The carriage house holds two really pretty rooms with fireplaces.  We didn't get a chance to stay in these, but next time!
Brian wanted me to see these as they have been totally renovated with updated and beautiful decor.  I did tell him I'm a blogger and would be sharing the Inn with my readers.
Already getting great reviews and awards, the Carriage House Inn rates high with us.
Outside in the courtyard are several tables and I can imagine how nice this would be in the summer months.  It was a little too chilly out during our stay, but I loved the look of this patio.
The Fall leaves were stunning and those fading hosta even looked pretty with their Autumn splendor. The Carriage House Inn is located in a great spot, just a short distance from downtown Chatham.
I can't skip over the breakfasts we had at the Inn. Chef Peter is well trained and does a beautiful job presenting a gorgeous and tasty breakfast.  Served in two courses, it was a treat.  Fruit and savory breads to start, along with coffee and orange juice.
Freshly made quiche with homemade pie crust and savory ham was next.  It was mouth watering good!  A great way to start our day!
The second morning was also fabulous with an apple tart with fruit.
Scrambled eggs, bacon and toast to follow, with homemade jams.
Mark was raving about the homemade blueberry jam and we left the Inn with a complimentary jar of Chef Peter's freshly canned blueberry jam.  Such a treat to bring home from our trip!  I would highly recommend The Carriage House Inn.  We definitely want to go back again.  Brian and Chef Peter are consummate hosts and the attention to detail is outstanding.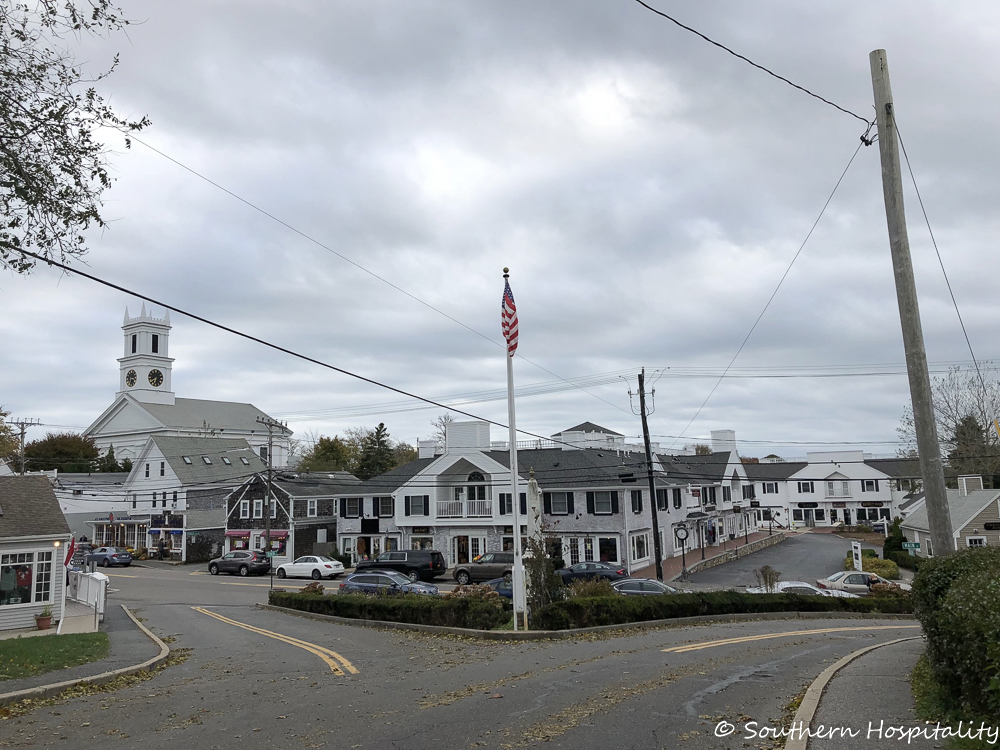 We headed to downtown Chatham to take a look around this charming town. It truly is like a quaint village and I can imagine how pretty it must be at Christmas.
The downtown has charming shops and restaurants as well as quaint historic homes.
It was a pleasant walking town with pretty things to see along the way, a very walkable downtown.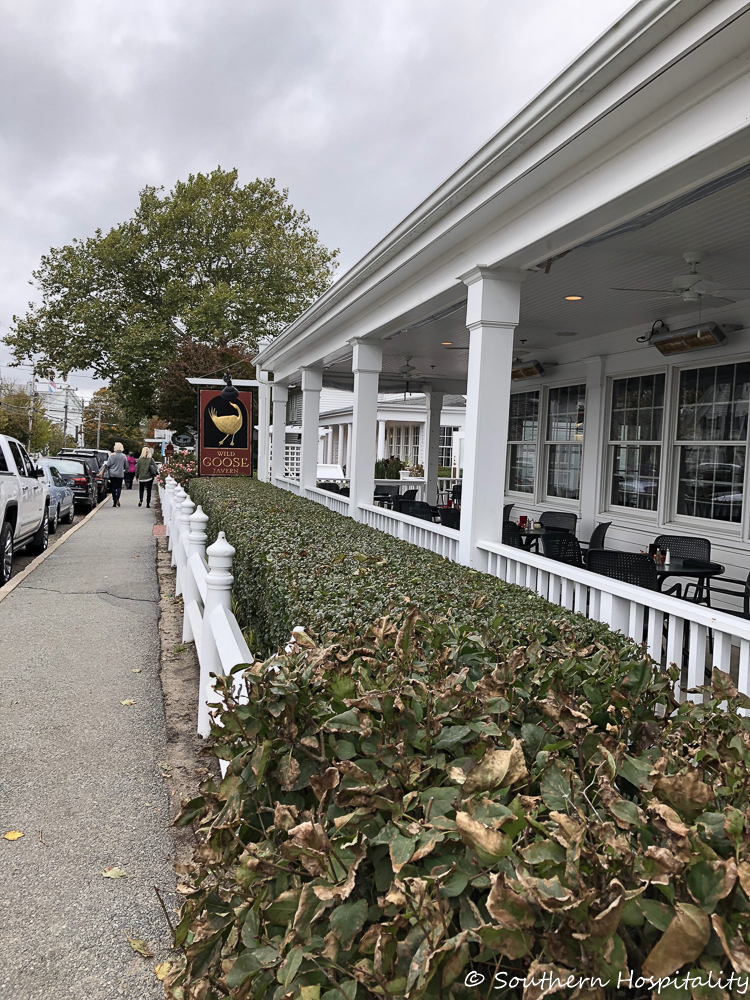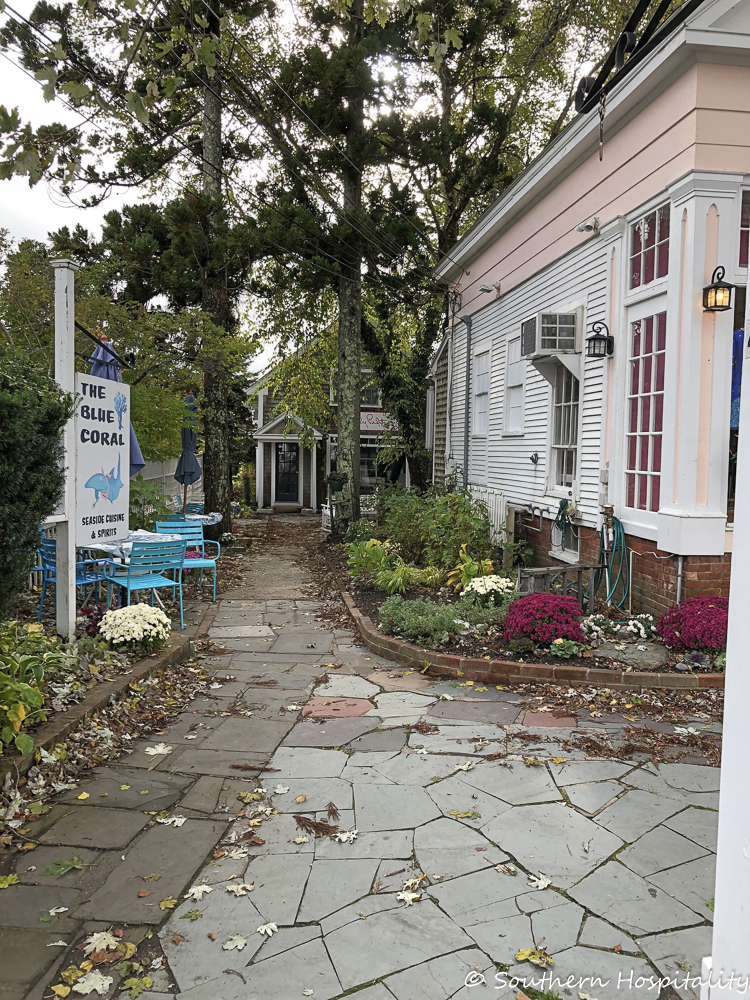 Fall looks good on Chatham, MA.
I loved this town clock, so English looking.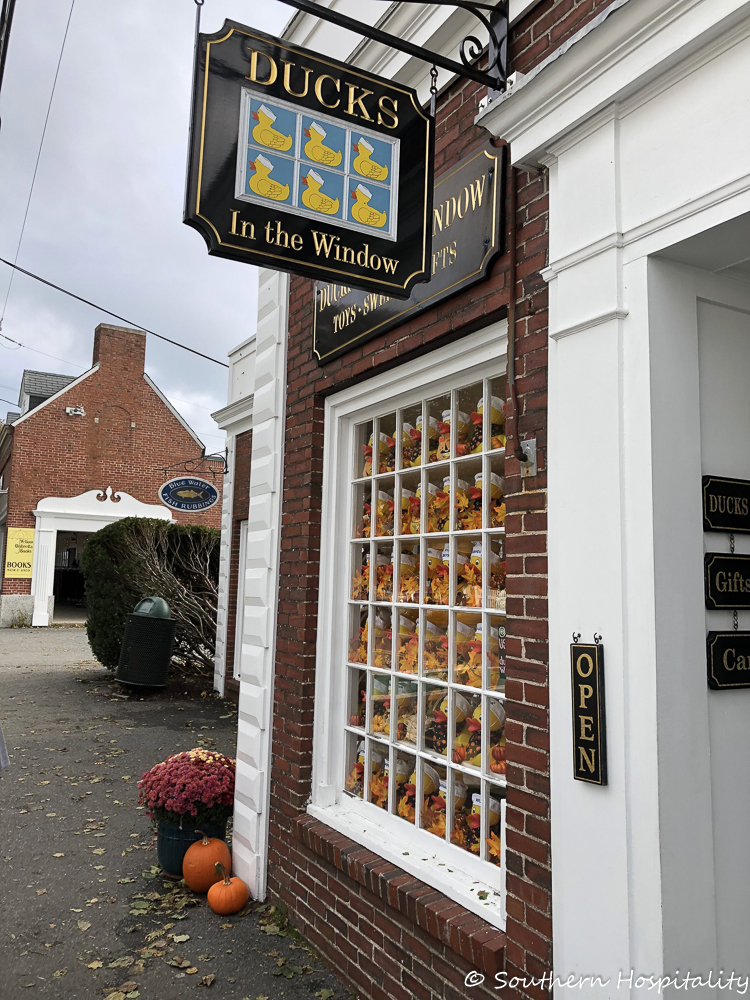 This shop was cute, Ducks in the Window.
I was drawn to the churches we saw all along the Cape and this one in Chatham was so pretty.
This one was pretty too. Those stain glass windows!
Another, with an array of pumpkins all over the front lawn. What a picture perfect fall.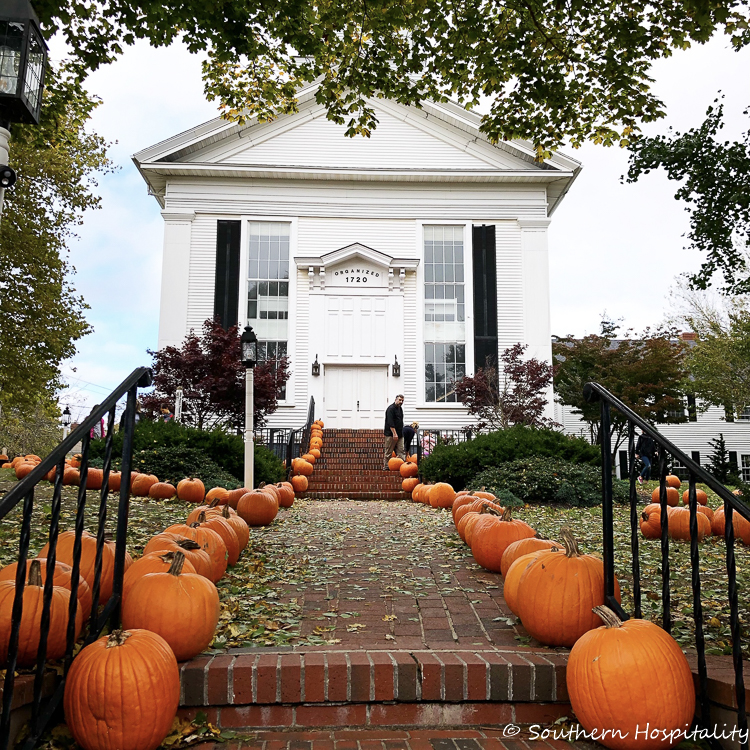 I just loved this!
We had some great meals in Chatham and our first night out was to The Impudent Oyster, a restaurant we found online with good reviews (we booked in advance) and Brian at the Inn also recommended it.  It did not disappoint! I was still full from the lobster roll I had from our first lunch in town and so I ordered a calamari and artichoke appetizer over arugula which was delicious.
Side note about eating on vacation:  We discovered the problem with going on vacation and drooling over all the food is this…there's only so much room in one's tummy to eat a certain amount of food per day, so pacing is necessary. With a full breakfast, it's hard to eat lunch and then a big dinner.  We definitely had to pace those meals and more than once we weren't hungry enough for a huge dinner if we did eat lunch and often skipped lunch so we would be hungry for dinner.  What a nice problem to have, right?
Mark got the tuna dish and he absolutely loved it!
Our next dinner stop was at Bluefin, an Asian restaurant, specializing in seafood and sushi.
I'm not a sushi fan, so I got grilled swordfish, with rice and sautéed spinach.  It was divine!  I ate every morsel.
Mark got several different varieties of sushi and loved it, including some with lobster.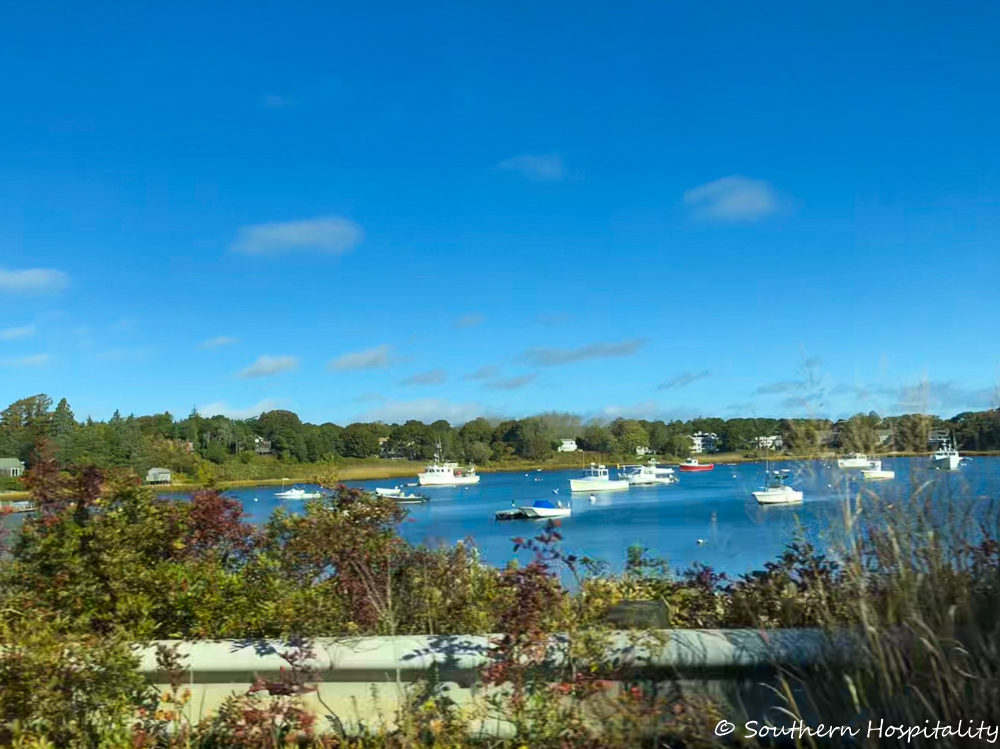 Our first full day out in Chatham, we drove around looking at all those gorgeous house that I shared in this post.
We had a rental car, so it was great to be able to go where we wanted. We headed up the coast toward Provincetown.  It was a cloudy day.  We stopped in at the Salt Pond national park and took look around.
There was a lot of interesting history at the park and we enjoyed a short video about the history of the Cape.
Mark snapped this shot of me near the water in another state park up by P-town.
We arrived in Provincetown, at the northern tip of Cape Cod.  The Cape is not very big, so it's easy to get around and you can drive anywhere on the Cape in an hour or two.
We walked around town, taking it all in.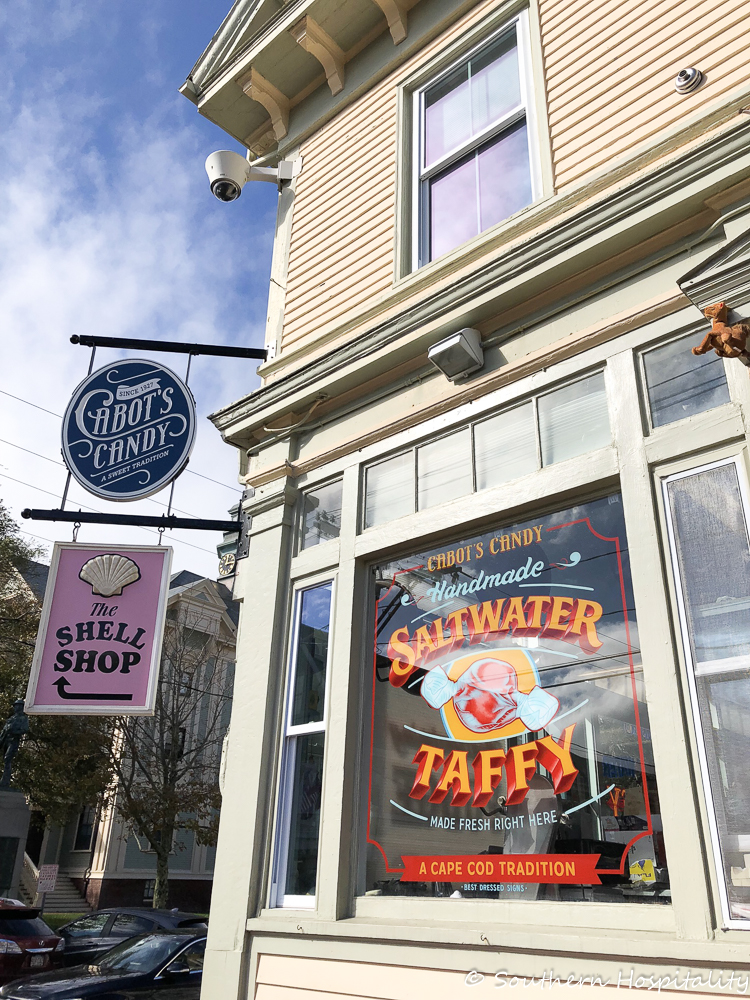 We bought some taffy and chocolate here and I also went in the shell shop and bought a few shells to add to my collection.
There are some gorgeous shells out there and most of these would never be found on the beach. I just love seashells!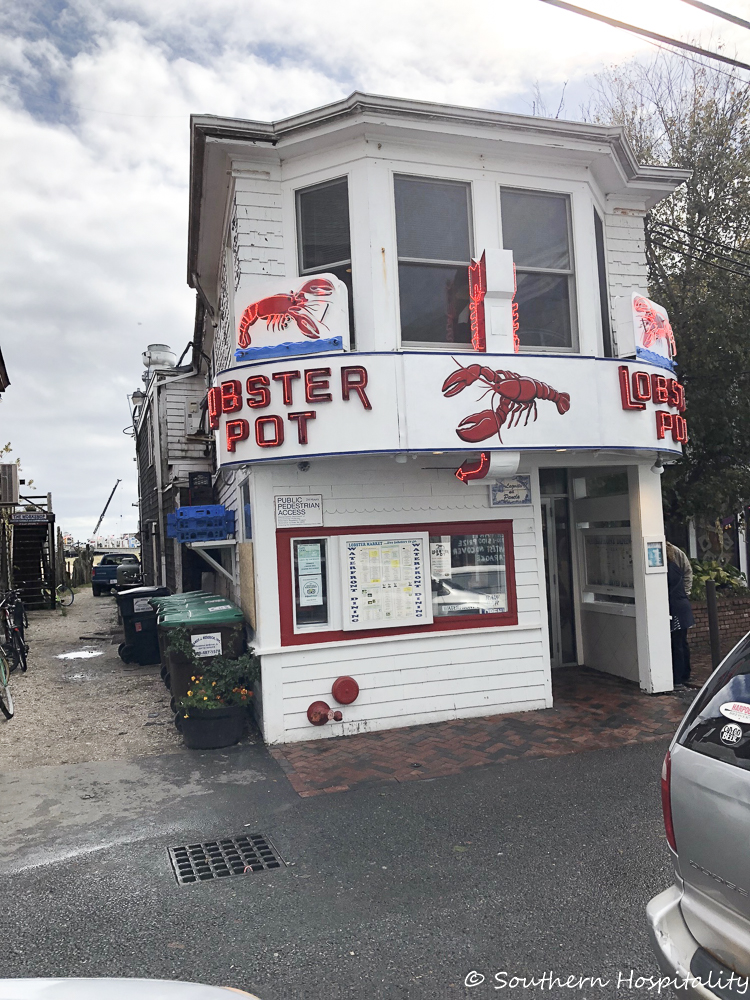 Provincetown is an interesting place to visit.  Again, after a hearty breakfast, we weren't hungry for lunch, even though we heard The Lobster Pot was a great place to go.  We just couldn't eat anything else while there, so waited until dinner for our next big meal.
A selfie in P-Town.
It was chilly and cloudy while there.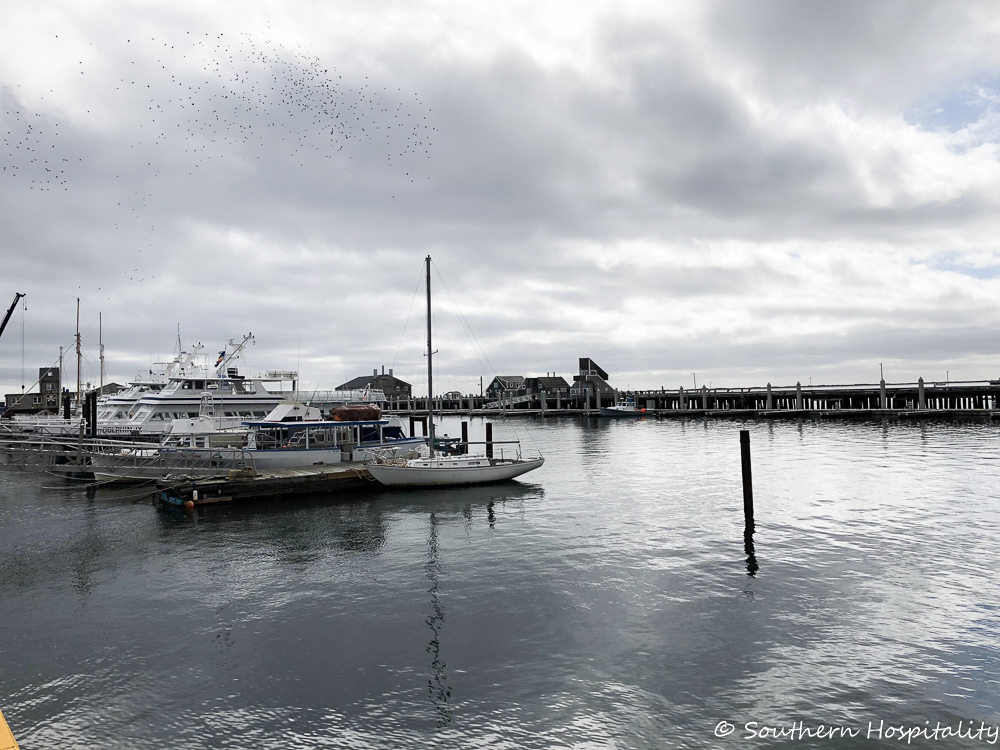 Pretty and picturesque.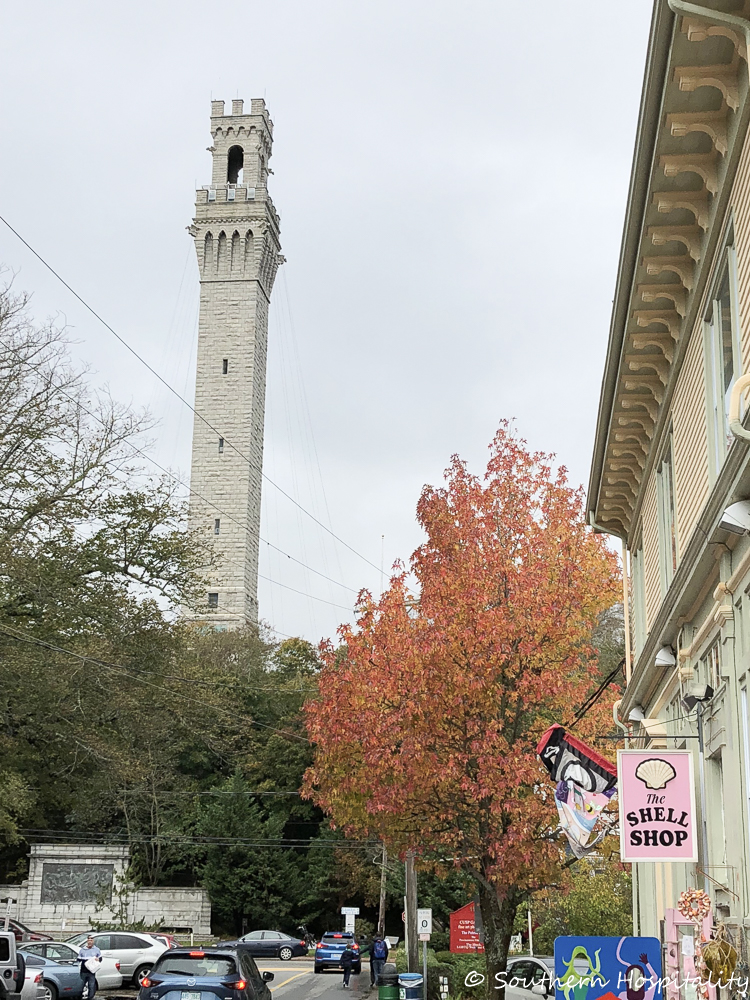 The tower is a monument to the landing of the Pilgrims in the area.
Town Hall Building.
Downtown strolling, another walkable town.
I loved the detail on this porch roof.
On the way back to Chatham, I got a message on Instagram from one of my blog friends, Kelly, (Talk of the House on Instagram) and she suggested we stop by Sparrow in Orleans for a hot chocolate and  sweet treat, so I took her advice and looked it up.  What a neat place!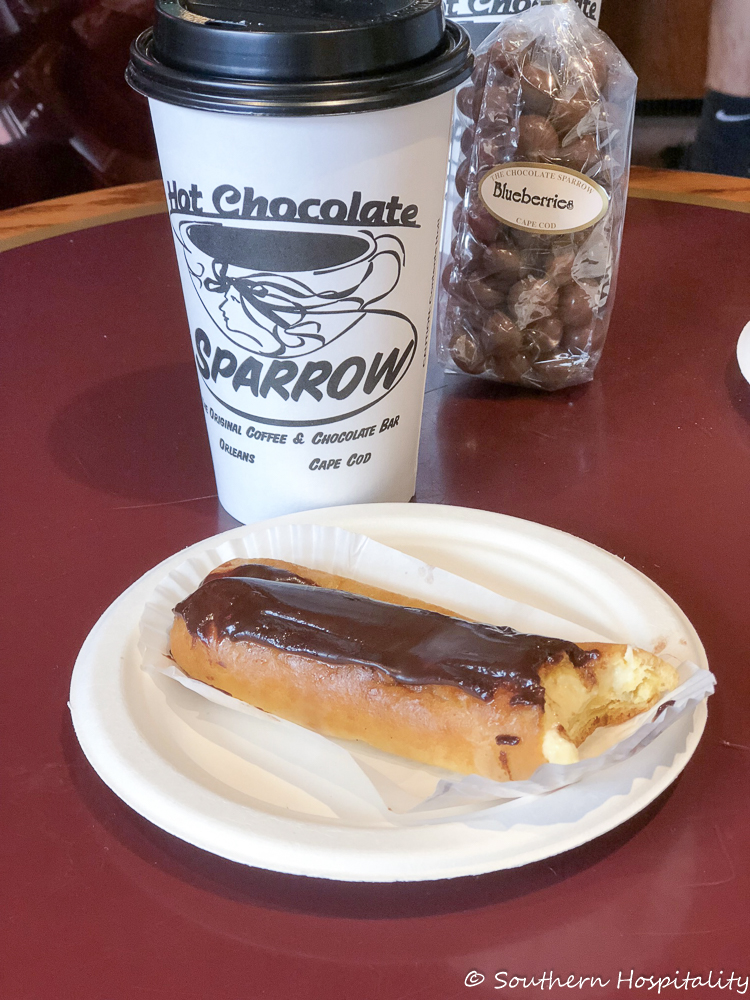 We got delicious hot chocolate and a chocolate eclair, which was so good.  A perfect midday treat!  Mark left with chocolate covered blueberries too, which were also very tasty. It was a wonderful candy shop with hot and cold beverages.
So, that's a good recap of our time in Chatham.  We saw much of downtown and ate some great food.  My first lobster roll was near Chatham and it was such a memorable first visit to this area and a great introduction to the Cape.  We had 3 more towns to visit and each of them would be different and unique, all with good food along the way.
I'll share each stop and the highlights of what we did there, so stay tuned for more!  I hope you're enjoying this travelogue of Cape Cod. We sure had a great time and no doubt will be going back next year to visit some of these same spots as well as new ones!
Don't Miss a Post, join my list!