My friend Debbie, owns a monogram business, Miss Lucy's Monograms, and she runs this fun business from her basement.  It's a family affair and she takes orders and purchases supplies and her husband runs the monogram machine. They are a hard-working family and it's fun to see all the beautiful things that come out of Miss Lucy's.
I wanted to share an update that Debbie recently completed.
Debbie recently updated her shipping area with beadboard wallpaper (yes, my Graham Brown version) that I love so much.  I went over and helped her put up the wallpaper and they painted it and installed a shipping counter and Debbie got it all organized, as only Debbie can do.  She's a creative gal and that's why we get along so well.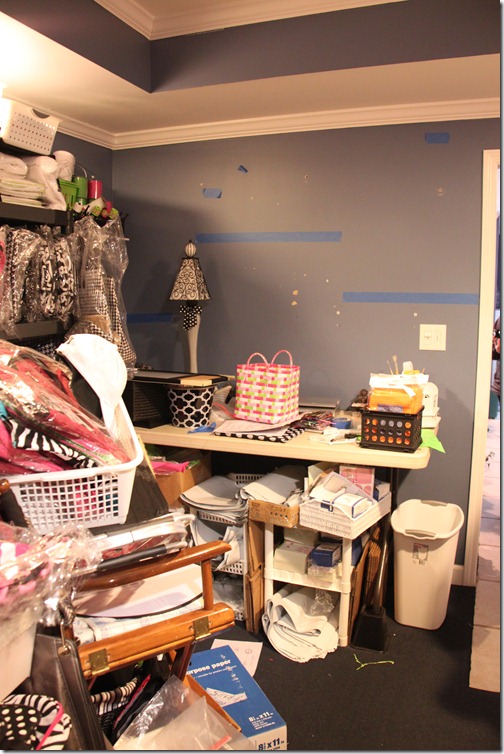 Here's her somewhat messy shipping area before she decided to tackle it and get it whipped into shape.
We spent about an hour and got the wallpaper all up and ready to paint.  It was a fast project, since we only did one big wall and wrapped it slightly to the left wall. That's Debbie trying to stay out of my pictures outside the door. 🙂
It doesn't matter if there are a few little gaps in the paper, the paint covers it all up when it's all painted.
Here's the same area, decluttered, organized and beautiful.  What a difference!
She recovered this ottoman while she was at it and it looks pretty down here.  With all her bags and items ready to monogram, it's all at her fingertips now.
With a cute calendar to keep her on schedule and other pretty things on the wall, this space is happy and functional.
Weekly calendar
This little white cabinet was moved on top of the laminate countertop to keep things stashed and out of the way.
Crinkle paper, her signature "paws" bags and other shipping supplies are at the ready.
She covered the inside door with zebra fabric, trimmed out with fabric gimp.
And added a cute zebra knob for continuity.
A clock and lamp helps light the area and makes it feel cozy as well.
Reminder to Create!  That's not a problem with Debbie.
A metal shelf from Hobby Lobby helps keep all that colorful ribbon in place.
Isn't that clever?  She took a cute curtain rod and hung it from the shelf with raffia, strung on her ribbon and it is hanging there ready to use.
Cute and stylish!
A lazy Susan keeps all the pens, scissors, and notecards organized.
Shipping central at Miss Lucy's Monograms.
It's a beautiful thing!  Debbie will be so happy that you stopped by.  If you're in the market for personalized monogrammed beautiful things, go over and visit Miss Lucy's.  I support my friend completely and her button is always on my sidebar! 
The $50 Home Depot card winner has been announced!
Don't Miss a Post, join my list!