This year, I kept it pretty sweet and simple in the dining room. I love the natural, neutral feel and it's just enough festivity.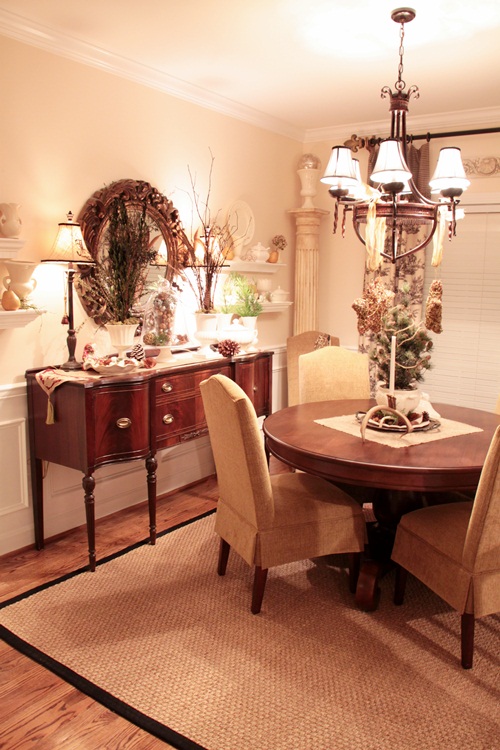 I added one of my urns with sticks and feathers in here as well as another urn with preserved greens on the other side of the buffet.
My pinecones that were collected a couple of years ago came in handy, as well as all the acorns and nuts that I painted silver and gold a few years ago.  These things last indefinitely and they've been stored in the attic in a box.
I simply filled up a glass vase with my goodies and topped it with my huge cloche. 
Different shapes of pinecones make it interesting and painting some white mixes it up too.
This Fitz and Floyd Christmas bowl gets filled with some baubles and natural things and that's it.  Simple!
On the right side, I just plopped some fresh greens cut from our nearby woods in my yardsale white vases.
And that's it, pinecones, acorns, and greenery and you've got some Christmas going on.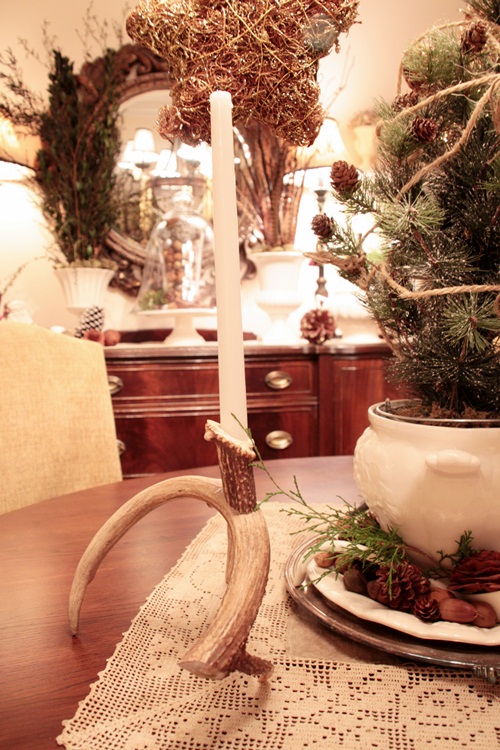 I picked up the antlers in Marietta and it's made into a candle holder.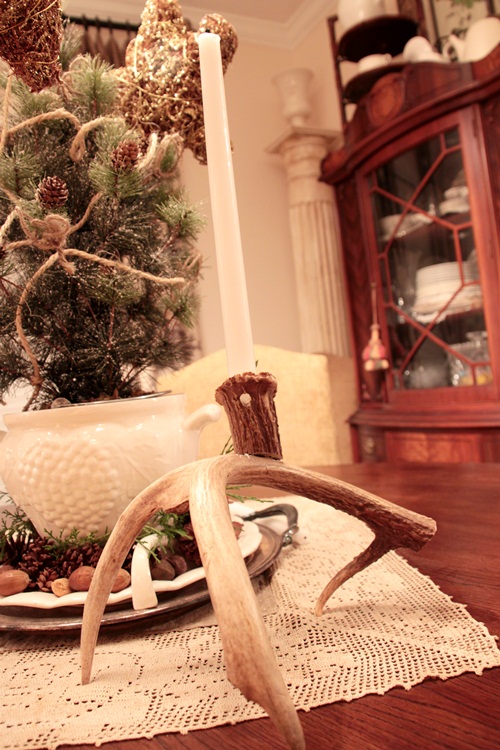 Mixes right in with a natural Christmas.
In one of my soup tureens, I added a faux rustic Christmas tree from Hobby Lobby that I found in the sales a couple years ago.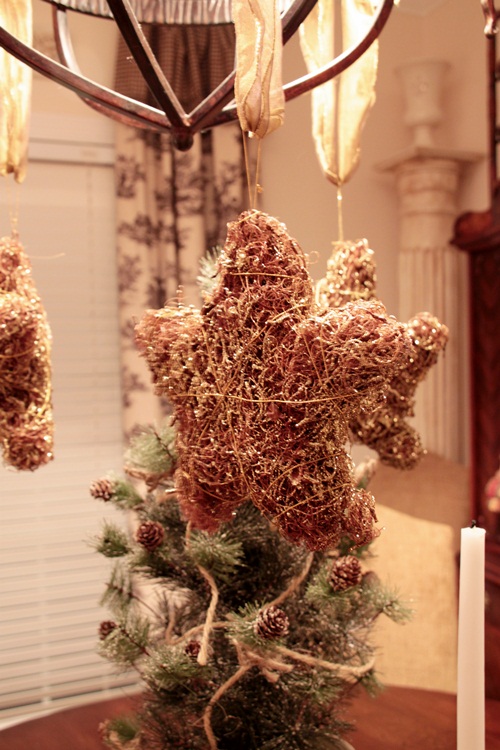 These pretty grapevine-ish glittery stars are so pretty tied on the chandelier with some bronze ribbon.  I've had these stars for many years and still love them.
Simple, this didn't take long to put together.
I added a little fresh cedar on the shelves.
We actually do eat in here occasionally, as evidenced by this table setting.  Found these bird plates at TJ Maxx and love them.  Enough for 4 people, we had another couple, friends of ours over for dinner recently and enjoyed the ambience in the dining room.
These plates can be used for many occasions.  Love the colors.
Dining room is decked out for the Holiday and it didn't take a lot of work.
Every year, I always say I'm going to do more fresh greens, but somehow never spend the money on it, when I've already got lots of faux.  One day, maybe!
Merry Christmas and I hope you are enjoying your Holiday season so far!
Because this is technically a tablescape post, I'm joining Susan's Tablescape Thursday, Christmas edition.

Don't Miss a Post, join my list!