I will be back with more Feature Fridays next week, just had a few deadlines to meet and Fridays have been it.  This will wrap up the early Christmas décor ideas until I  actually decorate my house for Christmas and of course, I'll be sharing all of that again this year.
In case you missed my Michaels Dream Christmas tree post you can click for that and Michaels has a Pinterest board with all the Dream Trees this year. You'll get LOTS of inspiration from those trees, I saw several I loved as well.
One of the challenges that we were given by Michaels for the Dream Christmas tree challenge was to come up with a DIY ornament idea using things from Michaels. So, while were were shopping for the tree, I picked up a few things that I knew I could use to do some cute ornaments.  I've seen lots of folks use those plain glass ornaments that you can buy by the box, so that's what I got to start with. I love fake snow too and while this idea is nothing new, I think they are cute and you can really personalize them and put whatever you want inside.  They become a tiny little jewel box holding snow and dreams, sort of like the old show globes that have been around forever.
Fun!
I bought a pack of round glass ornaments, a package of small green glitter bows, a package of glitter bulb mini-ornaments in different colors, and 2 kinds of faux snow.
I got everything out and ready to go and used a small funnel to fill up my glass ornaments with snow.
Using a spoon to fill up the funnel, then I used a Q-tip to push it all down in the glass ornament.  I filled them up about 1/2 way.  It's messy, so definitely do this with a towel or papers underneath.
These pics are not great and in low light, but then I dropped in the mini bulb ornaments and also added a snipped faux greenery to add in there too. You could really just use your imagination on this and as long as it goes in the small hole in the ornament, you are free to use whatever you can dream up.
I used my hot glue gun and glued a glittery green bow on either side of the hanger to add some extra bling.
And here they all are ready to use.  You do have to be careful after filling them, because if you mix up the snow too much, your ornaments will get lost in the snow drift.
   I'd suggest keeping the package they came in so you can sit them upright for storage on a shelf somewhere.  There are so many ways you can use these and I tried out a couple of them.  Oh, one of my balls has small gold glitter balls in there. The mouth of that one ornament was too small to fit my glitter bulbs in there, so I used something else I had on hand.
Hanging a pretty flocked garland with pinecones from Michaels on my porch, I just hung up the snowy ornaments with hooks.  A pretty way to display them, you could hang this on a mantel or tall doorway.  I love how delicate they are.
Then, I tried them on my sideboard in the dining room, sitting pretty on mercury glass candle holders on top of my white cake plate.  So cute and delicate!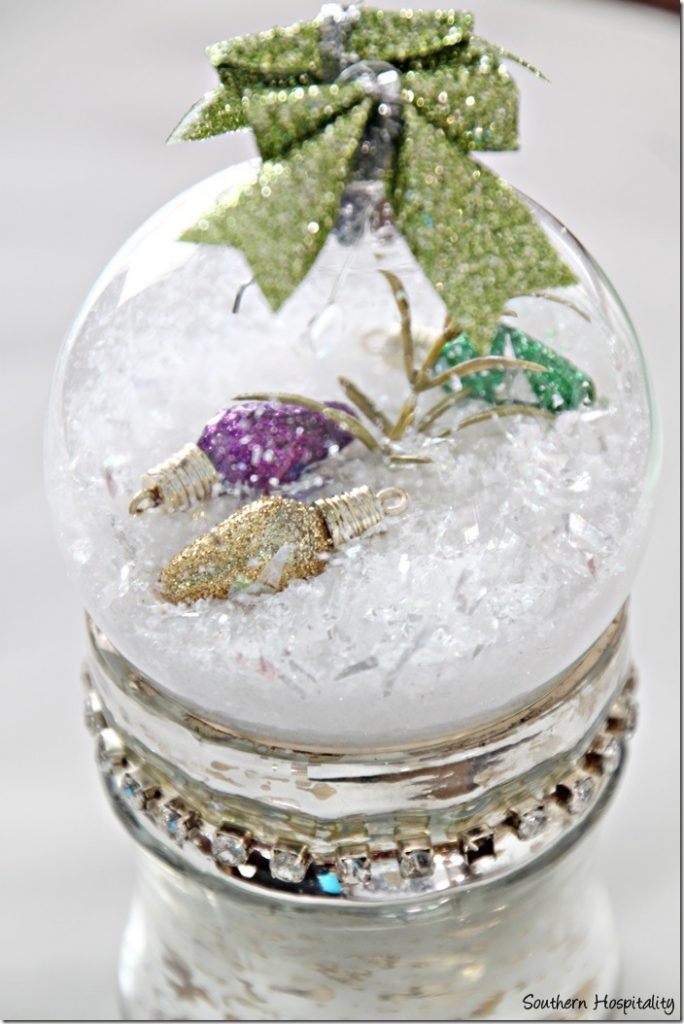 Aren't they sparkly and festive?  I plan to add these to my small tabletop tree this year that I'm going to decorate with all my vintage ornaments.  It will be colorful and nostalgic feeling.
I just love mercury glass for adding that sparkle to any table.
And sparkly bows and ornaments are a great mix too.
I hope this gives you some ideas on a project to do with your kids or grandkids.  Just be sure you have a table protected because the snow will be flying. Fake snow is such a fun thing to use to decorate with during Christmas.  I love it under glass!
The Michaels Décor Guide has tons of ideas and projects to make spreading the holiday cheer throughout your house easy. Navigate through the online version, download a copy, or pick up one at your local Michaels!
Michaels is offering a holiday helpline this year! Now through Christmas Eve you can call 1-800-MICHAELS Monday through Friday from noon until 5 p.m. CST and be connected directly to Michaels crafting experts. You also can send craft questions via email to

[email protected]

or by using the hashtag #askmichaels on Facebook and Twitter.
Need inspiration about what to put under the tree for your kids this year? Check out the Michaels Holiday Gift Guide – with tons of present ideas, including the must-have gift this season, the original Rainbow Loom!
Note:  I participated in the Michaels Dream tree challenge this year and received a 7' tree and giftcard to decorate it with.  Sharing an ornament is part of the challenge. I was not told what to write or which project to share.
Don't Miss a Post, join my list!