Hey friends!  If you've been on Instagram or reading blogs lately, you'll see that Fall has taken over in a big way all over the web.  I love Fall myself, but am not into filling my house with a whole bunch of decorations this time of year. I just want to do a simple subtle touch on my foyer table, mantel and dining room, so that's what I do.  I go through these feelings every year of not keeping up with what all is going on out there, but I have to just do my thing and not worry about it.  I love Christmas so as usual, will save my energy for that season of the year!
But, today I wanted to join Marty with A Stroll Thru Life for her annual Fall tour of homes and there is going to be a lot of inspiration, so hope you enjoy, even if you're like me and don't go all out.
If you're coming by from Pink Peppermint Design, welcome!  I know you enjoyed Tammy's pretty home.  I'll list all the links in this tour at the bottom of the post, so hope you'll go by and and take a peek at all of them.
Welcome to all of you!  If you're new to my blog, I'm so excited to meet you and I hope you'll stick around and enjoy the tour.  You can find out more about me on my About Me page, but a quick introduction….I've been blogging for a very long time and am one of the original decor bloggers out there, going on 12 years now.  It's been such a fun journey and I still enjoy sharing inspiration and ideas with my readers all these years.  I think creating a livable and soothing home is at the forefront of living a beautiful life and that's what my husband, Mark, and I are working towards in our house. We've been here just one short year, but have already accomplished so much, so I hope you enjoy!
When you come in our front door, this foyer table is the first thing you see, along with the staircase going upstairs.  We'll come back here in a minute!
Just to the right is our small but cozy living room.  We've added a lot of molding in here to really jazz it up and it doesn't even feel like the same house we bought.  I call my style classic Southern Traditional, but it's not your grandma's Traditional.
You can peek into the dining room from the living room to as this is a pretty open floor plan. We've added a lot of molding as well as changed out all the lighting and paint colors.
The view from the living room to the dining room is one of my faves!  We added that gorgeous light fixture last year just before Christmas and it really makes the room.
I like color, in case you haven't noticed!  I'm not into the all neutral decor that is out there now, so I do my own thing and decorate in a way that makes us happy.  And color makes me happy! See that pillow there in the middle with the oak leaf.  That came from a local friend here in Atlanta, Mary, and she has a business called Pillow Candy, seasonal pillow accents, so check her out on that link if you're interested. It's the cutest!
This vintage painting gallery wall is one of my favorite things in the living room.  I collected each and every one of these pieces over the years and they make me smile.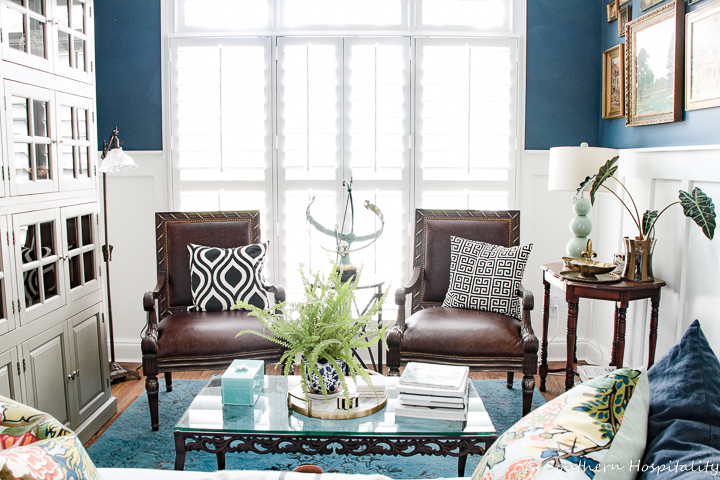 The living room isn't big, but it packs a lot of style punch.  My husband, Mark and I have been married just a year and our things have meshed together well, creating a home that we love. See those dark brown leather chairs?  I dyed those last year and updated the look a lot, so check out that link if you need some leather updated.
We recently added Plantation shutters in this room and the dining room.  Love them, they add so much classic style!
Here are a few things that you'll see in my home (or very similar), so take a look if you see something you like and want to know where I got them (affiliate links used).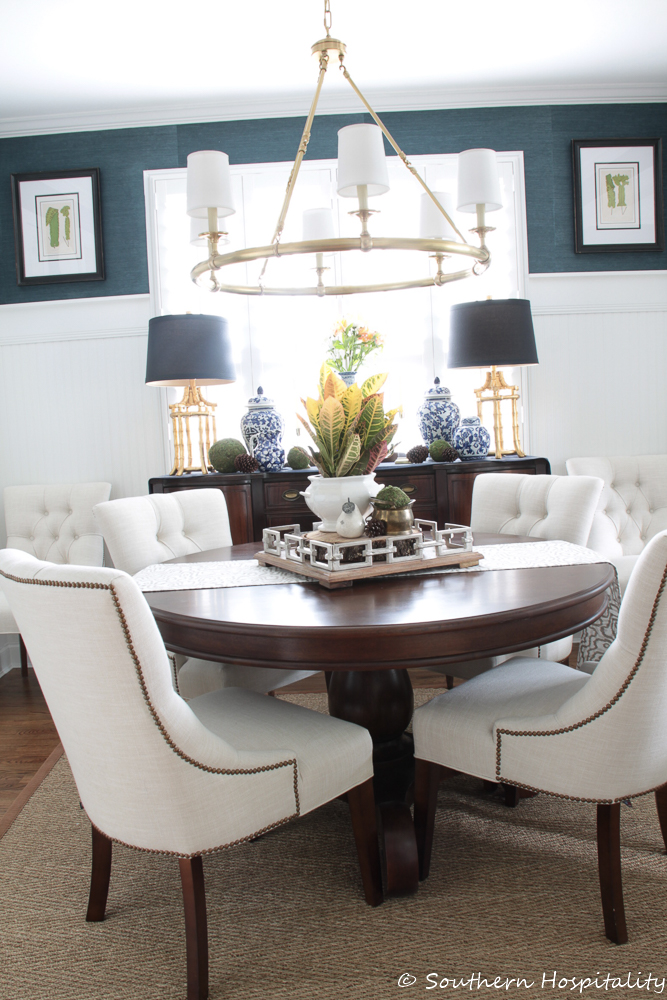 Next is the dining room and even though we don't eat in here all the time, I love looking at it.  I have had these pieces for a long time and they are such classic pieces.  The chairs are fairly new and add a bit of a modern touch.
I love blue and white and use a lot of it around the house and it fits in with our style so much.  The dining room has navy blue grasscloth and we love it.
These gorgeous gold bamboo lamps are a lucky Homegoods find.  I add just a few touches on the sideboard for each season and this is a simple look with fresh flowers, blue and white pottery, moss balls, and a few pinecones.
Looking to the living room.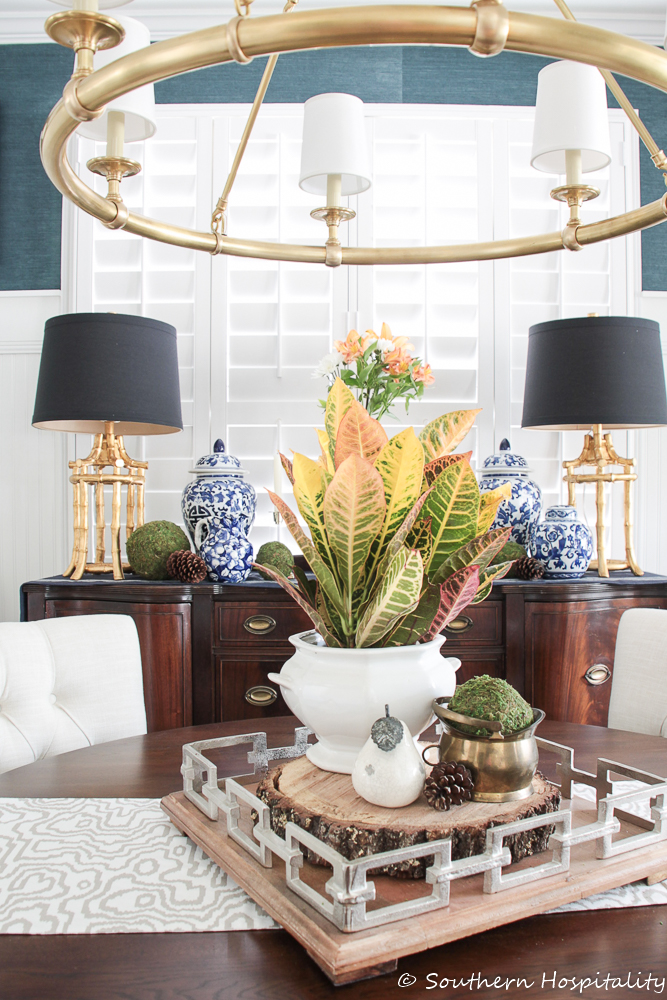 On the dining room table, I have a chunky tray that I love and it always holds my seasonal decor.  This is a simple look of a potted Croton in a soup tureen.  I have lots of white pottery too that I've collected and it goes with every season.
Those crotons are so vibrant in color and are a great Fall season accent.  A few other accessories round it all out. I like to keep things pretty simple and bringing in nature is always appealing. That little brass bucket is a thriftstore find and the pear probably is too.  I can't remember where I found it. I love shopping yardsales and vintage stores for those perfect little accents.
Flowers are always a great addition for seasonal accents.  I loved these orange tones for Fall.
Love this view from the dining room to the foyer table.
I have a lot of fun with this foyer table every season and enjoy pulling out my seasonal accents to add some Fall touches coming in the door.
This piece is by Hooker and is linked in my Shop my Home page.  I've so enjoyed this piece and it fits our home perfectly.  I found that round bamboo mirror last year on a thrifting adventure in FL and brought it home.
I love pulling out what I have collected in my stash for each season and really do like to keep it simple and easy.  I don't go out and buy a lot of pumpkins or things I have to store. I've had most of these pieces for a few years, although I did add a few things this year from a local Acworth decor shop.  I found that pottery vase at a yardsale years ago and it happens to go so well with a Biltmore Inspirations bowl that I've had since that was a thing. They went out of business but I love the pottery bowl with the oak leaf on it.  Those big acorns are also from Biltmore Inspirations.  Too bad they didn't make it.  Cotton stems are from Magnolia Market when I visited there last year.
That pretty painting is an original Charlotte Terrell.  I have adored her paintings since I saw an original in a showhouse last year and I bought one small original for myself.
This white urn I've had for years too and it came from a local nursery, Pikes, it's very heavy.  I love little vintage touches and that bamboo easel holds a vintage fall painting I found in Round Top a couple of years ago.  That's bamboo easel always gets questions and I found it at a long ago yardsale.  I keep my most special treasures for a long time and still have so many things  I've found over the years shopping vintage. I have a special love for vintage bamboo.
This is my favorite place to decorate for the seasons.
This dough bowl is new and I found it at a local Acworth shop, Rustic Ruby. She has a lot of cute decor things for the home.   I just added some faux pears, artichokes, pinecones and feathers to it for a cute Fall touch.
Underneath are other treasures that I've found over the years, like the oak leaf basket, bamboo stool and that black iron urn. Those have been with me for years.  The cute bee hive basket is from Rustic Ruby.
Next we have our family room. I don't do a lot of decorating in here for Fall, it looks pretty much the same as always.
This is where we hang out most of the time. I love how it's evolved since we've been in the house. those chairs are from Scott Antique from a shop in NC.  I get a lot of questions about those and they were a great deal.  They are swivel chairs.
We so enjoy this room and all that glorious light coming in.
The mantel got al little Fall touch with blue and white pottery, a recent estate sale find.
That painting is Mark's newest winter scene and it's an original watercolor. We thought it was perfect for the family room this time of year, so added it over the fireplace.
It has some navy blue in it which accents these blue and white pottery pieces.
I'm loving blue and white more than ever and have collected it for about 20 years.
Our colorful home definitely feels like home, sweet home to us!
Here's a peek into the keeping room and kitchen.  We opted not to do a breakfast table in there, it just wasn't that big, so I added my beautiful French cabinet for extra storage, with open shelves above.
I love having these shelves to decorate with my vintage finds.
It just adds a lot of color and texture to the space and gives me a chance to show off my collections. I haven't changed these shelves a lot for Fall, but added this colorful platter and the pear.
I love vintage planters and have fun adding cute plants in them for texture and color around the house. These are all yardsale finds, including the silver tray.
Our kitchen isn't a huge or fancy space, but it serves us well in the middle of the house, creating a circle of flow on the bottom floor.  We painted these cabinets after we bought the house last year and are still so happy with them.  After Christmas, I'm planning a Phase Two with new backsplash and countertops. I'm looking forward to lightening the kitchen up with lighter counters.This color photographs brighter than it actually is, Knoxville Gray by Benjamin Moore. We love it and painted the inside of the front door the same color.
Another peek into the family room.
I haven't really showed this artwork close up, but this is part of Mark's original watercolor collection that he has had framed.  I love that they are part of our family room and they look so good in here.  The others are above the TV. These are all winter scenes, his favorite time of year.
Hope you enjoyed our little tour of Fall! It's not a big presentation, but just subtle touches for the season and just enough for us.  I love this time of year and can't wait for some cooler temps as we usher in the beginning of the Holidays!  It's a beautiful season to enjoy, isn't it?  Thank you all for stopping by, I hope you were a little bit inspired!
Don't miss this whole week of Fall home tours, there's so much inspiration out there!  Thanks to Marty for putting this tour together.  Next stop on the tour is my friend, Laura, with Decor to Adore. She's a sweetheart, so stop on by and see her Fall tour!
Monday, Sept. 10th   
 A Stroll Thru Life  | Nesting With Grace  | Pink Peppermint Design  
Southern Hospitality | Decor To Adore | Cuckoo4Design 
Tuesday, Sept. 11
  ZDesign At Home  | Duke ManorFarm  | Setting For Four      
Simple Stylings  | Seeking Lavender Lane | Life On Virginia Street
                                                                                          Wed. Sept 12
Our FifthHouse | Our Southern Home | Clean & Scentsible 
House By Hoff |  Follow The Yellow Brick Home 
Thurs. Sept 13
Inspiration For Moms | Life Love Larson |  Monica Wants It
Haneens Haven | My Sweet Savannah |  11 Magnolia Lane  
Friday, Sept. 14
Thrifty & Chic | Decorating Delirium 
 Starfish Cottage | Thistlewood Farm 
SaveSave
SaveSave
SaveSave
SaveSave
SaveSave
SaveSave
SaveSave
Don't Miss a Post, join my list!