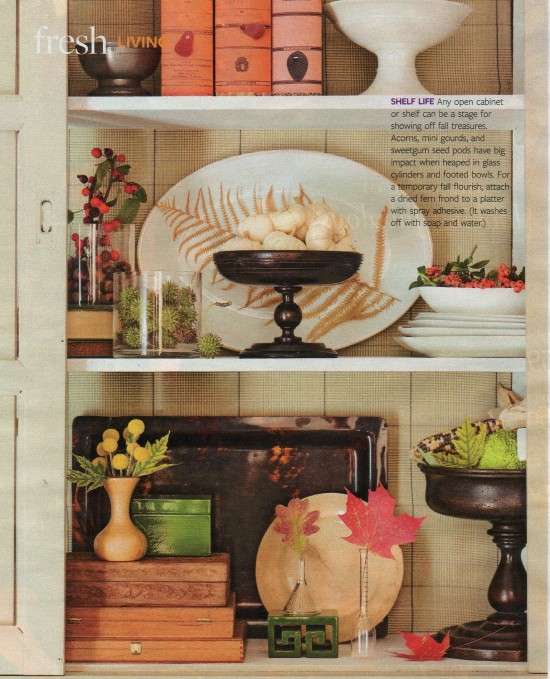 Iadore everything about this picture in the October issue of Better Homes and Gardens, and studied all the little details when I flipped open to this page.
Lots of great ideas here, from the glass pieces holding some treasured collectibles, to the leaning platter on the back of the shelf, as well as the darker urns which break up the tones.  Those white pumpkins in the dark urn are especially adorable.  I see some white creamware/ironstone (check out the fern frond glued on the platter)  and lots of pretty Fall colors and natural elements interspersed with all the neutral whites and blacks too, which makes for a just about perfect bookshelf display in my opinion and would be easy to duplicate.
Speaking of urns, I did manage to hit a few yardsales and came up with this beauty recently.  It's not real wood, but has a beautiful shape and color, so for $2, it joined my collection and I switched out the painted brass urn that my white pumpkin was sitting in earlier for this nicer one and it is even better and the pumpkin sits up higher.
Decorating Tip:  Urns like this are so multi-faceted and I always snatch them up, because they can be used in so many ways.
On the subject of yardsales, I'm going to be having my own at the end of the month and I'm shooting for October 24th which is next weekend, if I can get my act together in time.  Any of you girls in the area, if you'd like to come to my sale, just email me for directions and I'd love for you to stop by!
There's a fun giveaway coming up tomorrow, so come on back!

Don't Miss a Post, join my list!