Oh, Fall how I love you!
You all are certainly inspiring out there!  Wow, at all the great autumn inspiration at my recent outdoor Fall party.  I couldn't help but go through and pick out a few of these fave Fall decorating ideas to share with everyone.  I hope you don't  mind!  Since I'm in moving mode these days, nothing makes me happier than showing off all the inspiration out there in the blogosphere.  Don't we all love a pretty and welcoming front door or porch for the season?
There are wreaths, porch vignettes, pumpkins, and more that all scream FALL.  This is one of my favorite times of the year, how about you?
You've all outdone yourselves this year. Hope you enjoy these highlights!  Wish I could feature them all, but these pretty pics caught my eye, so enjoy the beauty of the season.
Freddy and Petunia picked up these beautiful organic acorns and painted them.  Not only painted them, but matched up and glued the caps back on. I have to confess, I've picked up acorns and painted them too.  Easy and cheap way to decorate for Fall.  Love this idea!
This beautiful cottagey front porch from Proverbs 31 Girl just makes me want to sit a spell.
An easy burlap wreath was made by Angie's Roost and she shows you how.
Creek Line House didn't have to go far to get her harvesty corn bundles hanging.  Her backyard garden supplied it all and that's the best part.
Brooke from All Things Thrifty picked corn tassels and made this cute wreath out of a pool noodle.  Love how textural and natural it is on this rustic wall.
This outdoor backyard birthday party from Domestic Fashionista just screams Fall and I love how she set her table.  Cute ideas for an outdoor party!
This beautiful Fall yarn wreath from Love of Family and Home looks like a magazine shot!  Beautiful and so pretty for the season.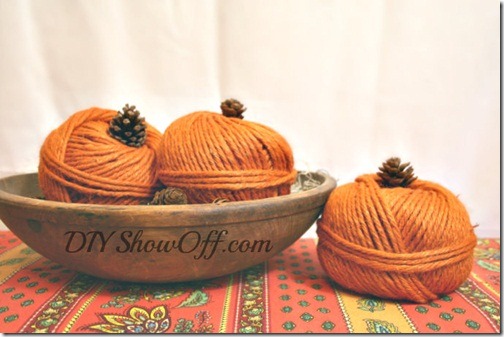 These cute DIY yarn pumpkins from DIY ShowOff are so adorable sitting on a table.  Check out the pinecone stems.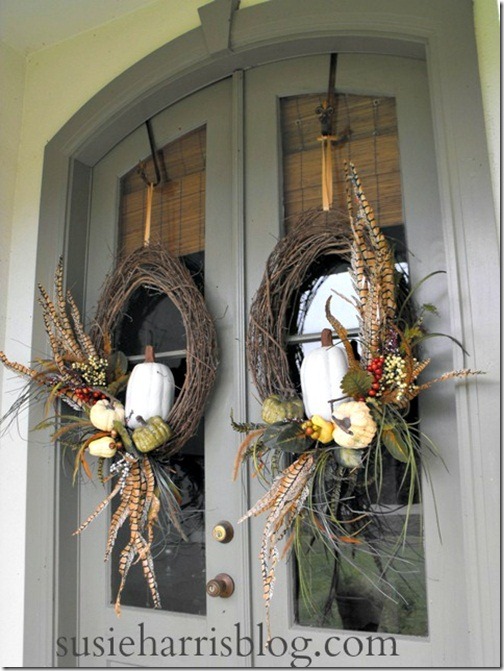 My friend, Susie, made these beautiful autumn beauties awhile ago, but freshened them up for this year.  Love, love them on her gray front doors and every time I see them, I smile.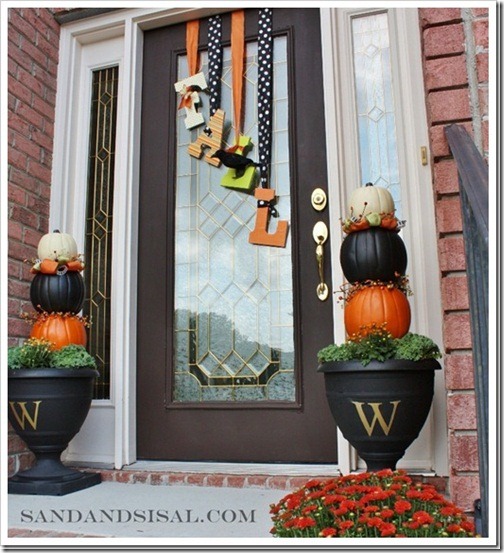 Kim from Sand and Sisal made this cute Fall letters greeting on her front door with MDF.  Love it!
Another beautiful Fall yarn wreath from Architecture of a Mom.  It's just amazing at all the variations on these pretty wreaths.
Decorating Ideas Made Easy shows how to make this beauty of a wreath as well.  Lovely piece!
OK, so I fell for the dog on the porch at Boy Plus Girl Design.  He's such a cute adornment with the pumpkins.
Cottage at the  Crossroads celebrates Fall on the porch.  How pretty is this shot?
Simply Organized is getting ready for Halloween and this entry is just gorgeous!
The Humble Nest adds a little turquoise on the porch and you know, it fits right in!
Christina, The Frugal Homemaker put together a beautiful hydrangea wreath. I love working with dried hydrangeas too.
Kari at Thistlewood Farm knows her way around decorating a farmhouse porch and this one is stunning.
Kelly at Eclectically Vintage put together her own porch pumpkin topiary and how cute is it?
This shot from The Long Awaited Home just reminds me of the country, with pumpkin patches and red wagons.
Laura from Finding Home put together this vintage silverware whirlygig for her front yard, stamped with my favorite scripture.  So whimsical!
This pretty DIY Fall leaf front door mat from Life is a Party gives a nod to simple and elegant.
Sarah from The Yellow Cape Cod really knows how to welcome guests with this beautiful display.
Those are a few of my faves from the party, so thank you ALL who took the time to come by and link up.  Fall is such a great time of the year and I hope you'll enjoy your Fall to the fullest.  I'm going to try to enjoy this month, even though it's crazy busy!
The winner of the Kirkland's giftcard is Gina E, who has already been emailed!
Don't Miss a Post, join my list!