Happy Fall!  Are you enjoying this time of year so far?  I sure am!  Our cool and crisp days are a welcome respite from the heat of summer and I'm enjoying sleeping with the windows open.  Nothing like clear fresh air and snoozing!
Today is another of our Fall parties and Kate is hosting Fall tablescapes and vignettes at her blog.  Since I don't often set a formal table, I'm going back and highlighting a few of my fave tables that I've set using Fall dishes and autumn hues and I'm also highlighting some other beautiful tables across blogland.
It's fun to set a pretty table sometimes, isn't it? 
My friend, Beth, shared this beautiful table last year for Thanksgiving.  I love the simplicity and the texture of all of these pieces.  Those DIY feather napkins are gorgeous!
Another blog friend, Cristin, put together this table in beautiful greens for her unique Thanksgiving table. I love how greens can transcend each holiday and feel right at home with so many settings.
Another understated and muted palette, my friend, Myra, did this one in gold and silver.  So pretty, soothing, and yes, elegant too!
These hedge apples from Sweet Something Designs make a beautiful outdoor tablesetting, with the rustic table and elegant plates and napkins.  Again, in greens, it's a beautiful mix to the turning red leaves and berries.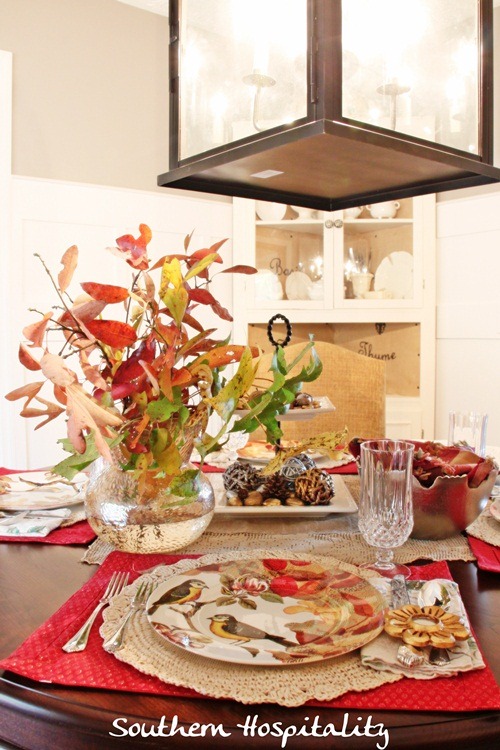 Here's a Thanksgiving table I put together last year using some pretty bird plates I have on hand with rich and vibrant Fall colors.  Those real turning leaves in the vase add a lot of color to the table too.  I love backyard greens!
And this pretty Mikasa setting I did recently on the porch gives a definite nod to Fall.
Hope you enjoyed seeing these beautiful tables and they inspire you to get out the good stuff and use it!  Don't forget to stop by Kate's for lots more inspiration!
Don't Miss a Post, join my list!