Back from a sweet weekend with my parents in Atlanta, it's always fun to go home and be the baby of the family again.  OK, so I'm way too old to be a baby, but that doesn't stop my parents from pretending I am. 🙂  I went with them to their church's Thanksgiving dinner Sunday night.  It was a good visit, I have the best parents in the world.
My sister and I had some fun shopping time, browsing a few antique malls (I'll be back with some of those pics later this week) and my favorite fabric store, Fabric and Fringe Warehouse.  We popped in there and I was hoping to get inspired by a fabric, since I'm really thinking about changing out the toile drapes in my dining room for something a little newer and fresher.  Love the toile but need a change after 9 yrs. and I think I found it!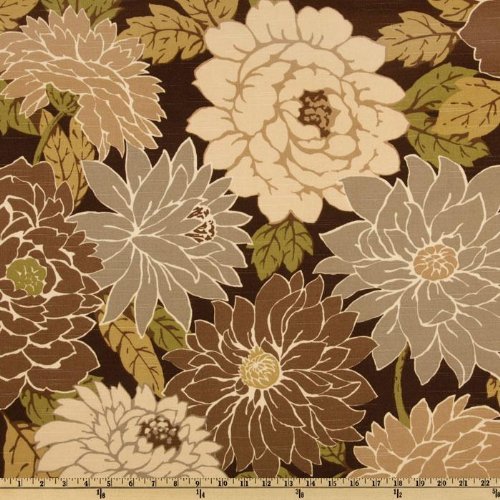 This is a Robert Allen fabric called  Basquiat in Teak and it's only $12 a yard.  Perfect!  These colors of cream, gray, gold, brown and green are so yummy and will keep the room neutral, yet bring in a fresh look and even a bit of green from the kitchen.
I think I'm sold on it and will probably move forward with purchasing the fabric next month when I'm over there for Christmas.  My mom said she would even sew them for me since she's inside more during the winter and it's just straight seam sewing.  They will turn out so much better if she does it for me.
So, what do ya think? I think I've found my next fabric love.  I've seen florals making a big comeback, but not the romantic florals of years past.  These have a bit more of a modern edge and I'm liking them.
Don't Miss a Post, join my list!