Time for another family update post!  We've had a lot of time with the girls this year and Lauren has been home more than ever, giving us all time with these little ones.  It's been great and we love it when they come home.
Earlier in August, Renee had the girls for a whole week.  They had all been to the beach in FL and after that week was over, she brought them home for a week here with us and that was fun, so these pics are a mix of August pics and pics from last weekend when Lauren was home again with the girls.  I just snap photos and create memories for our family, so I've ended up being the keeper of the photos and documenting our time together. One day, I know it will be priceless to have these photos and memories all in one spot.
So, today I'm just sharing some highlights from both of these visits with all of you.  Mom made vegetable beef soup when they were here in August and the girls love her soup.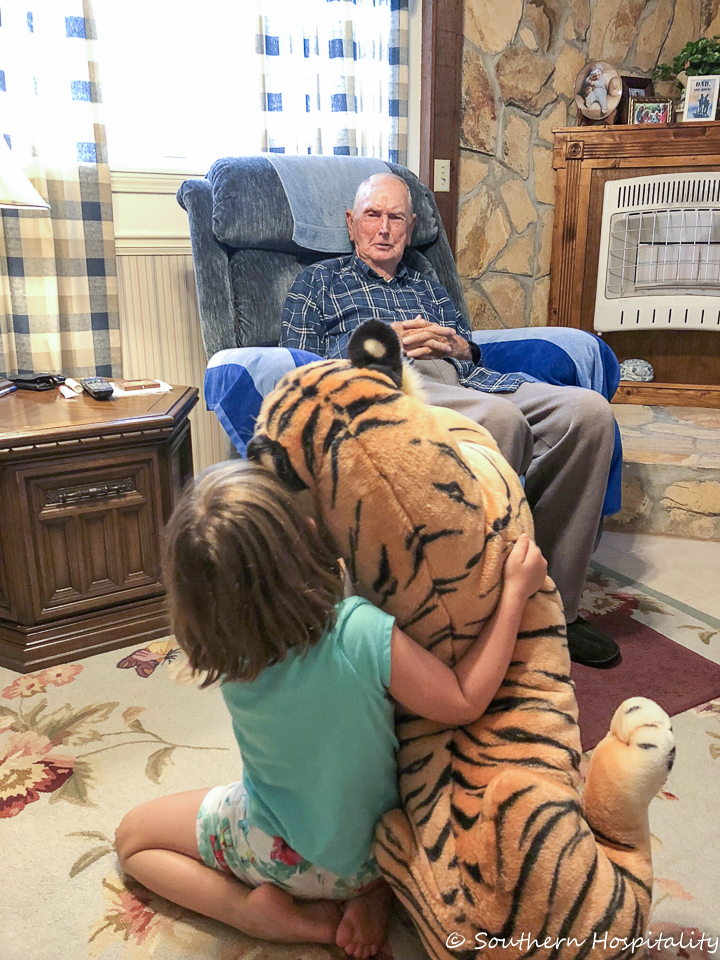 There was plenty of play time with dad looking on.  I'm pretty sure having Parker around takes him back to when Lauren was a little girl doing the same things.
Parker ended up spending the the night with Mark and me two nights and that was fun.  She came over like a big girl and stayed with us only saying a couple of times she wanted to go back to Nae-Nae's house.  I talked her out of that and she had fun with Mark making funny faces with a computer app.
We watched a kids movie together and I captured this cuteness.  She loves her some Mark! He's sort of an expert on little girls since he raised 4 of them.
She had fun playing with Holly too out on the deck.
She looks so cute in her summer dresses and those freckles kill me.
Following Mark out in the yard when he was mowing the grass.
One day, Renee and I took the girls to the lake near our house, Lake Alatoona.  It was a beautiful day and not many people were there, so that was fun.
The girls had fun playing in the sand and we floated on our floats for a long time too. This is summer to me!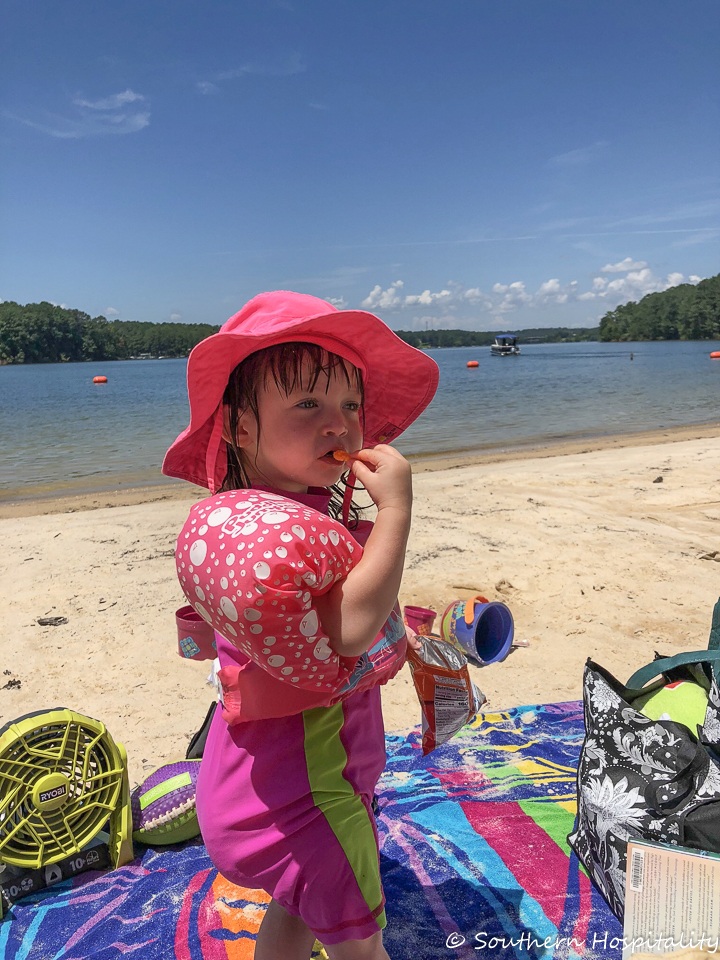 Little Iris had fun too and we had lunch on the beach too.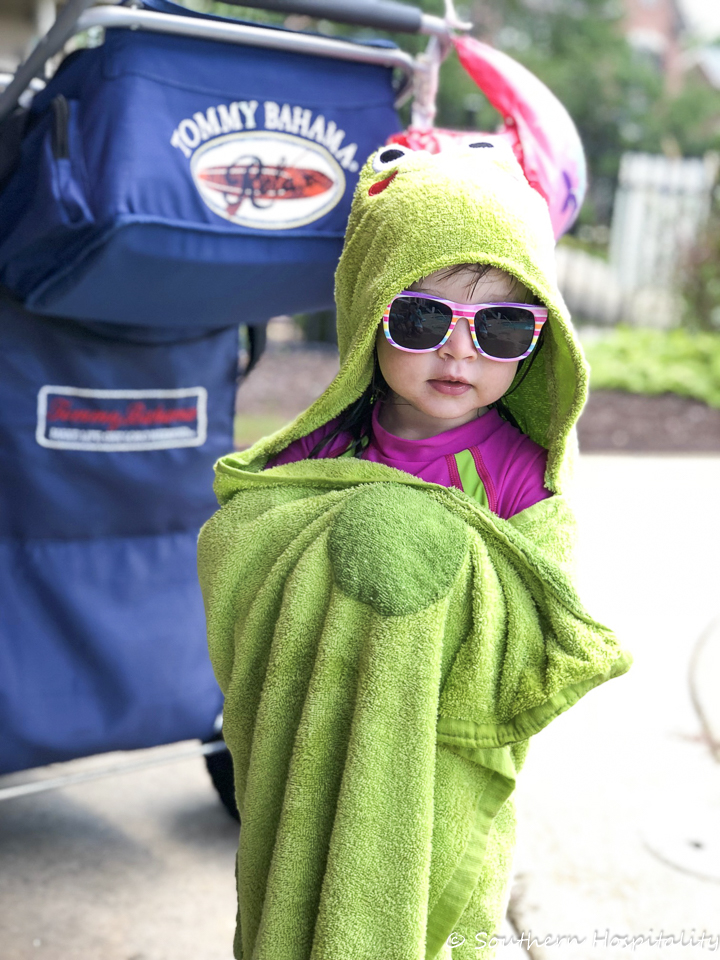 Another day we went to my sister's neighborhood pool, always fun as well.  We all love pool time and getting outside. Those girls love the water too!
One day, Iris was sick and Renee stayed home with her, but we were going to take Parker to Build a Bear at the mall to get a special treat, so I took her by myself. Being that unicorns are her fave, that's what Parker chose. She had so much fun helping the lady stuff her unicorn.
Renee let her pick out an outfit and jewelry for her unicorn, so Parker was all smiles!
They swung on the swing at mom and dad's house, Lauren's childhood swing that's been hanging for many years.
These next pics are from the last visit when Lauren was here last weekend.  Lauren has classes she takes for law and can take them in Atlanta, so it makes it nice for her to come here and she brings the girls to see us.  This was one of those trips.
Those girls love their Nana and she loves to have them home.
Iris and Iris time.  Little Iris just adores mom.
Renee and I took them one day to Catch Air, a kid's indoor playground. It is really cute if you have kids and haven't been there.  Great place for kids to play and play and play.
They can climb, spin, and do all sorts of fun activities.
You wear socks in there and they had a blast.
Everything is soft so it's very safe for little ones.
Catch Air is so cute!
Playing at mom and dad's house. They love pulling grass and playing with sticks.
Mom and dad looking on and enjoying having these girls home.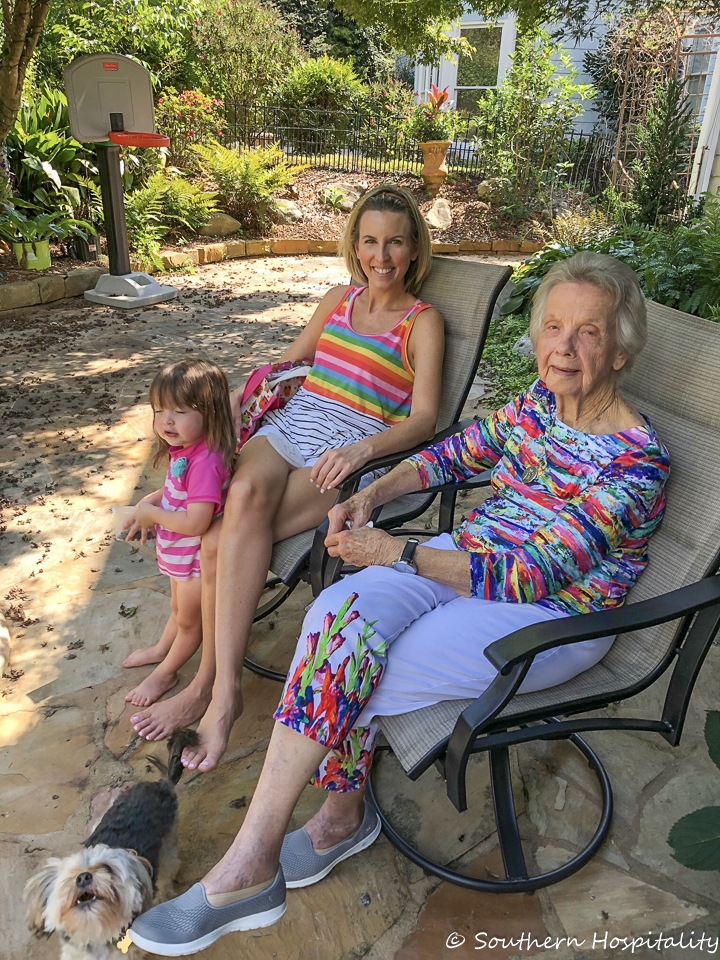 My sister fixed lunch the last day they were here and we all enjoyed a tasty lunch together.
My sister and Bruce have been working on their backyard for many years now and it's looking so good.  Those girls have so much fun playing in the little creek and love their outdoor time.
Mom and Dad are doing pretty well, so I wanted to share an update of them too.  We love spending time together as a family.  They are both doing well health wise, thank goodness, nothing major going on at the moment. They are maintaining pretty well.
Bruce's mother has just moved here from N. Augusta, SC and is getting settled into her house. She downsized from a big house by the river over there to an over 55 community, so she will be here with us for most family outings now and it's nice to have her here.  She loves those girls too!
So, that's the update!  Hope you enjoyed these snapshots of our family life!
Don't Miss a Post, join my list!