Moving back in with your parents when you're my age is rather daunting, but really there is nowhere I'd rather be at the moment.  They are my strong support, still after all these years and now I may have the privilege of looking after them in their older years and that is fine with me.
On the Thursday before our Friday move, I met up with friends, girls I've connected with in Birmingham and we met at my favorite Italian restaurant, Joe's in Alabaster.  I've blogged about it before and it is a wonderful place to enjoy a good meal.   These ladies have all been so supportive to me over the past few months and I couldn't have made it without them.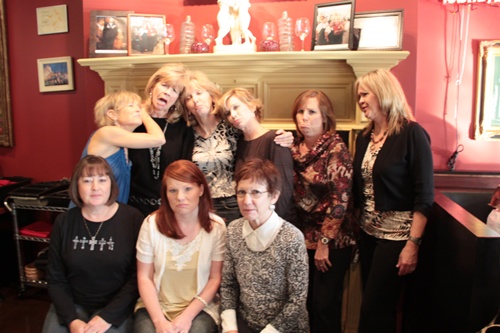 With a few pictures to seal the memory, we threw in one of melodramatic efforts just for some laughs. 
A couple more joined us for one last pic.  My sweet friend, Janice (in the blue top), got a beautiful picture frame and had everyone sign the mat, which will then be framed with the shot above, so I can remember these girls forever.  I have made some wonderful friends in Birmingham and will miss them all dearly, but I do hope to get back for a visit again.
I had the nightly special, a superb chicken and pasta dish.  It was magnifico!
Doesn't this look yummy too?
And to finish off the meal, I had to get a large slab of Joe's famous strawberry cake, which is enough for about 4 or 5 people easily.  We were stuffed and happy.
The next day, bright and early, my family showed up ready to help with the move.  We had lots of help from church staff, who brought over plenty of guys to help.  We could not have done it without them and I'm immensely grateful for all of them who came out. 
They moved everything out of the house and down on the driveway, where my brother-in-law, Bruce, packed the 26′ truck like a jigsaw puzzle.  I was very worried that we wouldn't get it all in that truck.  That worry was well founded and after lunch we had to go get another 14′ truck. 🙁
Here's a tip for you:  Don't ever move!  You will realize just how much "stuff" you really have.  This was after I had 2 moving sales too! 
My friend from church, Sharon, was so much help.  She has back issues so couldn't move much, but she showed up early to help me get the big truck back to the house and that was a huge help.  She later went back with me to get the 2nd truck.  Thank goodness we got everything on the 2nd truck, except my house plants and Sharon is taking care of those until I can get back over to Birmingham to get them.
We took a lunch break and then the real work began.
Saying farewell to the empty house.  I will miss it, but it is time to move on.  No, the rug didn't stay, it came with me.
The 2nd truck got packed to the gills and we were finally ready to pull out for Atlanta, late in the afternoon.  It was an all-day tiring job.
My brother-in-law drove one truck and my dad drove the other one. 
And we had 2 cars too.  We headed out around 5:00 Central time and made it home after dark.  An exhausting day it was, but I'm glad it is finally over. My sweet dad had a metal storage building built in their backyard to hold all my stuff. I can't say enough about my wonderful parents.  It makes me cry to think about them and how good they are to me.
With bittersweet memories, I've moved out of the house we have lived in for 5 years and I am back to the room I lived in when I was 16 and my family first moved in this house. It's not a fancy house at all, nothing like the Birmingham house, but it will be my new home  and home is where those that you love are living.
Yes, I will miss the Birmingham house and the joy of making it a home, but when life changes drastically, we must make other arrangements.  This is not something that was planned, but sometimes you don't plan for life, it just happens when you least expect it.  I know all of this didn't take God by surprise, so I'm leaning on that promise and not my own understanding.
I still cannot share all the details, maybe one day I can, but I will say this:
I need to live with my parents because I have been taken advantage of financially, devastated to a large degree by the man I thought I could trust.  It's been a 3 month journey of dealing with where I thought life was going, finding out the truth, and knowing that I will survive this in spite of the pain of the reality that I now must live in.
That is only part of the story, but the rest will have to wait.
It is not the end of the world.  I will survive.  I will be OK.  That I know.
So, I will move forward and I still hope that all of you will go with me on my new journey.  Most likely,  I will be getting a full time job again.  That is nothing new for me.  I have worked most of my life and can do it again.
I will confess that the last few months, I've felt that blogland has been passing me by.  When you're dealing with real life issues, decorating and projects definitely take a backseat.  Nothing else is important but surviving.  I won't be in that pretty house anymore, doing projects and coming up with creative ideas there.  I've seen all the wonderful creativity out there in the blogosphere and felt a little sad that I am not a part of it right now, but I know that one day I will have a house again.
The bottom line is this:  I plan to keep on blogging, yes I do! I can't imagine not blogging now, it is truly a part of my life that I still enjoy so much.  It will just be different than what you've seen from me in the last 4 years. I'll be sharing friend's projects and hopefully some creativity along the way.  And plenty of decorating ideas!
I might even talk my mom into letting me do some updates in their 1973 house.  It's time!  Time to get rid of some mauve carpet in the bathroom I'll be using AND strip off some dated wallpaper.
So, you might get to see a few projects outta me after all.  And I'll be looking for lots of other decor stuff to highlight for you too.
Thank you ALL so much for your prayers and support these last 3 months.  It has truly wrapped me up in love like a warm coat and I so much appreciate you all.
It will be a new journey and where it leads, I have no idea. Finding a new normal will be at the forefront.  I know it will be sweet.  Very sweet. God sometimes allows trials and pain in our lives to draw us closer to Him.
Thanks again to all of you for your very sweet support behind the scenes of my life.  It has meant the world to me.
I would very much love to meet up with many of you bloggers/readers in the Atlanta area for a lunch date sometime soon, so keep that in mind.  Le Madeleine is one of my favorite spots, so that just might be a good place to meet.  Hopefully, one Saturday coming up will work, so I will set a date and let you all know.
Don't Miss a Post, join my list!