Hi, friends!  I'm a day ahead on Fashion over 50 this week, since I have something fun I'm doing tomorrow, so be sure and come back for that.
Today, I'm sharing my second shipment of Stitch Fix (my referral link) so you can see what I got this time.  I shared my first shipment with you and only kept the shoes/booties in that shipment. This time I kept 2 tops and sent the rest back.  I'm still a little on the fence about the overall impression with Stitch Fix success, but I do think they have a good thing going.  If you're not that great with putting clothes together and your shopping spots are limited in your area or you don't like to shop online and try to put things together, then Stitch Fix might be for you. Again, this is in no way sponsored, I ordered from them just like anyone else would order.  A few of you bought last week and used my link, so I did get some credit to shop again, so I tried it again.  You can do the same thing and share your link and get credit too, so keep that in mind.
I explained how Stitch Fix works in my first post, so hop over there if you don't know what it's about and that explains it all.  It's basically an online clothing shopping site where you have your own personal shopper shop for you by filling out a detailed profile on your likes and dislikes, price points and more.
They send 5 things in the shipment and it doesn't all go together, but they also give you detailed cards that give suggestions on how to wear it all with things you already have.
I kept this pretty floral and black and white striped top, which was definitely something I liked.  It has a scallop edge in front and back, tab sleeves and reminds me of something from Anthropologie.
I liked the mix of materials and felt it would be a good mix with things I already have.  I wore it with some Banana Republic cropped white pants I already had and flat loafers.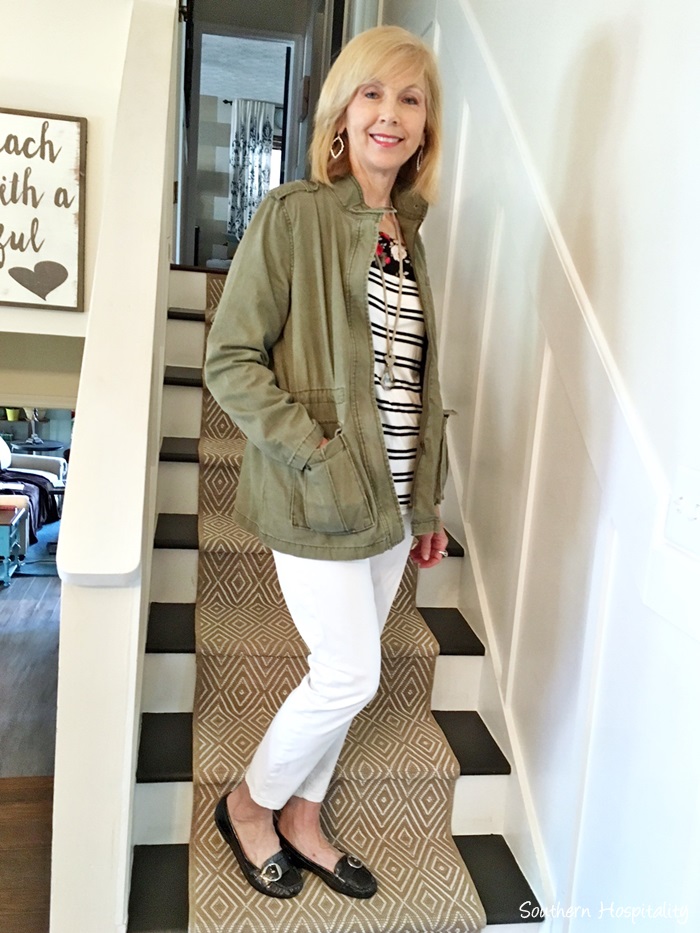 I was heading out for a casual day outing, so added that cute Army green spring jacket I shared a few weeks ago.  It is a very versatile piece to wear with a lot of things this time of year.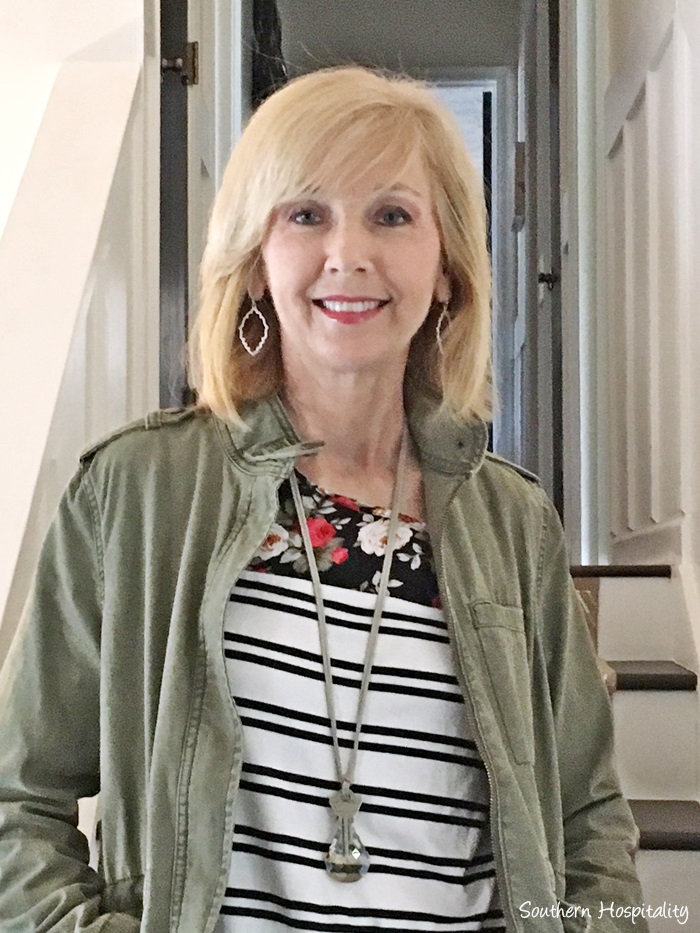 That top even has a bit of this same olive green in the floral part, so  it was a nice complement. I love the pockets on this jacket.  So many of you ordered this jacket last time I featured it, so thanks for buying through my link!  It's now sold out, so but here's the link (affiliate link) in case you want to check back and hopefully they will restock again. 
The other top I kept, but haven't worn yet is this red flowy one.  It's got some neat detailing on the top, with tiny pleats and edging that gives it a casual but cute look.  It will be great with white skinny jeans and sandals for spring.
These next 3 things I sent back.  This was a longer tonic top in navy blues and white.  They had suggested wearing this top with the cobalt blue cropped pants that I show next, but I didn't like either of them well enough to keep them. I really didn't like the colors together either.
These are cropped pants by Kut from the Kloth, which is a brand I like. These were a little more low rider than I really like and I don't like pants quite this cropped.  They were shorter than my white cropped pants above.
This white jacket was really cute, but I have a similar one already in my closet and this one was almost $100, so not a bargain to  me.
They do ask you the price range you want to spend on tops and jackets and I think I put $50 to $100, and they do have things even pricier than that or less than that.
Overall, I'd say I do a really good job of finding bargains and can get things less myself, but it is fun to see what the stylist puts together for me and if it's something that really wows me and I want to keep it.  I kept 2 of these and sent the rest back.  Plus there's a $20 styling fee and if you don't buy something, you lose that.  You only get the best deal if you keep all 5 things and get a 25% discount on the entire package.  So, I haven't benefited from that yet.
Several of you ordered last time, so I'd be curious what you think about Stitch Fix? How did it work for any of you who have tried it?  Love it or is it just meeehh?
Don't Miss a Post, join my list!