It's no secret that I like to wear black and have plenty of it in my closet.  It just works with so many things. Today's top is another one from Glamour Farms and I really like this one and how flowy it looks with skinny jeans and booties.  You can do a lot with this top, from adding a scarf to a necklace and bracelet to dress it up a little.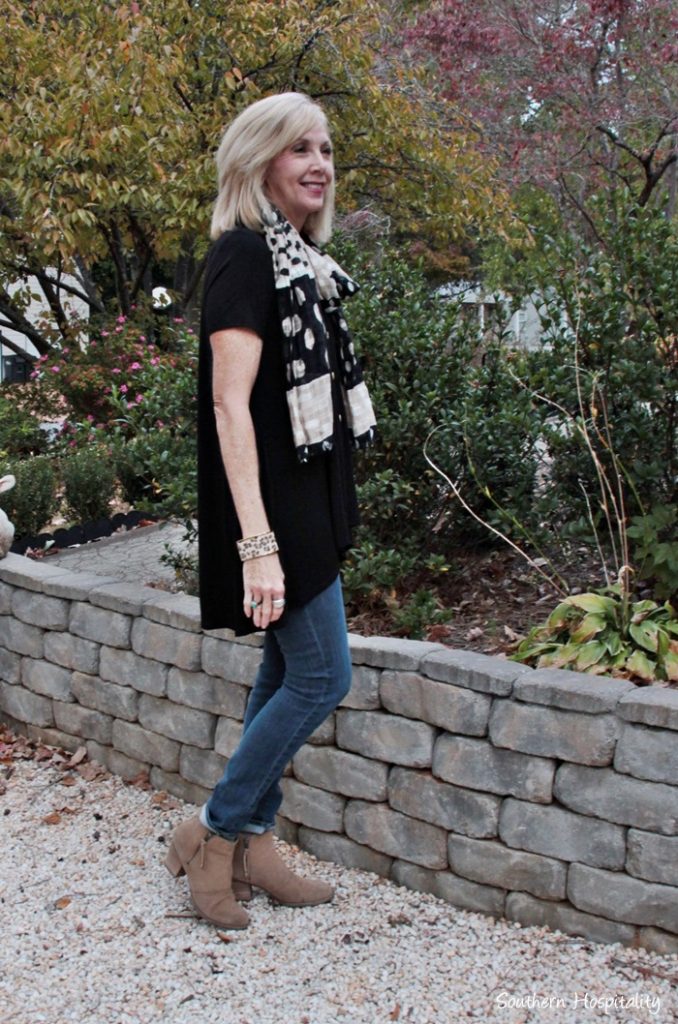 This is the Angela Button Tunic in Black and you can see it dips in the back and is shorter in the front.
To order from Glamour Farms for $10 off any regular priced item over $20, use code RHODA888, good through December 18th!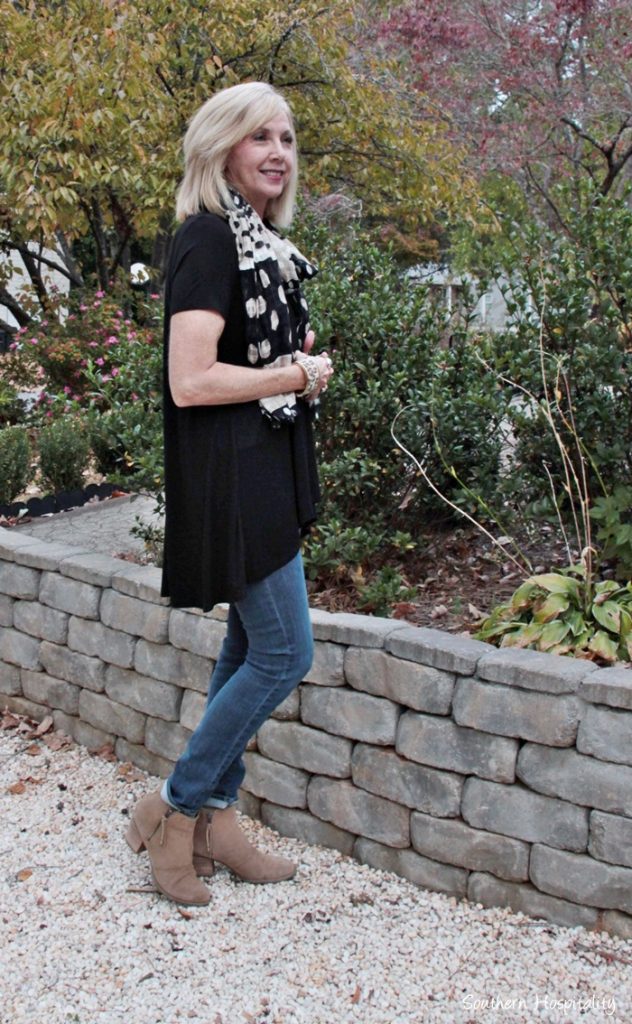 I love black with jeans and this one has buttons in a khaki color, so I added my neutral scarf with those colors in it for a bit more interest.  My beige suede booties round out the look.  Booties are no longer available, by American Eagle Outfitters.  Here's a page of booties from TJ Maxx (affiliate link).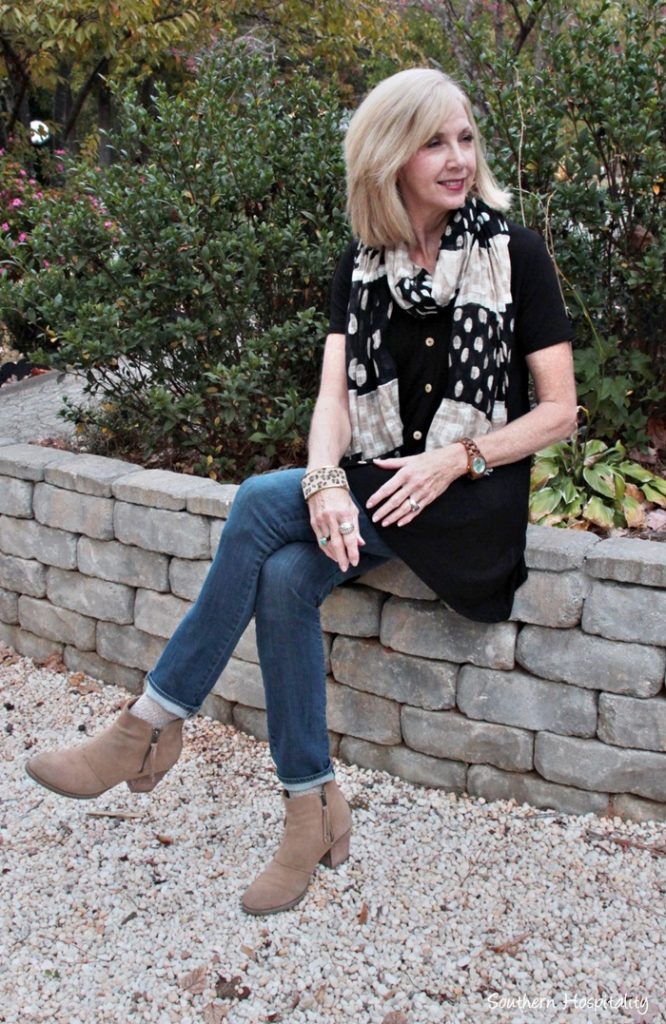 I did wear socks with my booties this time and this was a date night outfit l last weekend.  Bracelet from Accessory Concierge (affiliate link).  Jeans are the ones I've showed many times before, Rock and Republic skinny jeans from Kohls.
Let's talk about jeans for a minute.  You may have noticed that ripped jeans are all the rage now, with the knees all ripped out and holes down the leg. Well, you won't find me wearing them.  I just don't think they are that flattering a look on older women. Just my opinion, but something I've observed.  I don't want to look like I'm trying too hard to be young, when I'm pushing 60, so that style is not something I'd be comfortable in.  I'm not knocking anyone who wants to wear them, I'm just saying for me it's not what I will be wearing or feel good in.  I'd love to know your opinion on ripped jeans!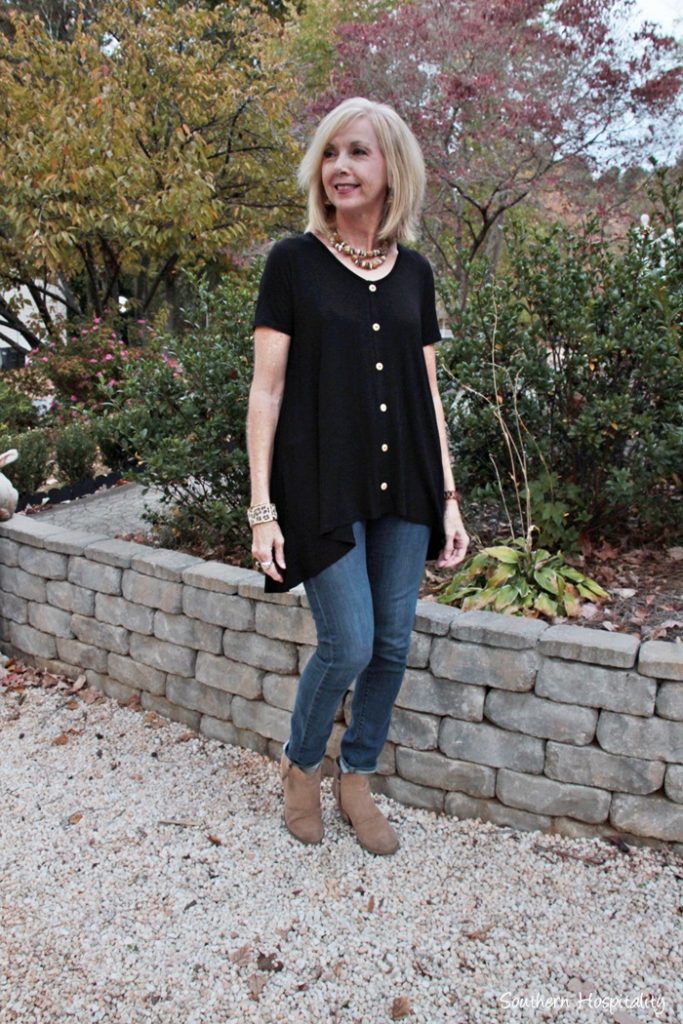 Another way to style a top like this is with a necklace.  This one is neutral stones in a beige color that picks up the button and booties color.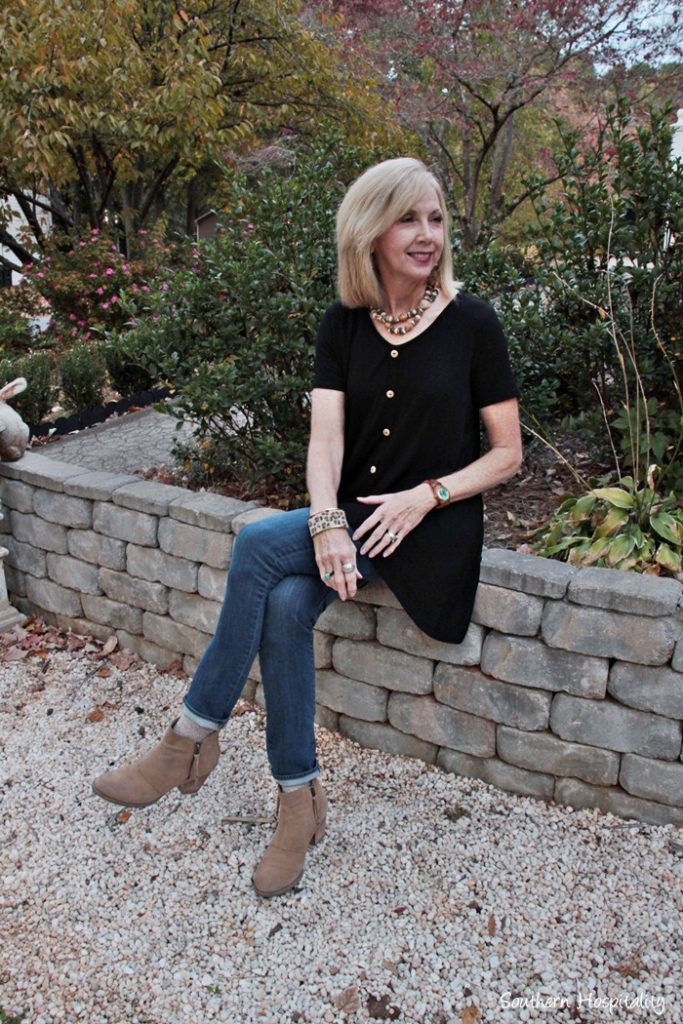 A comfortable and casual look for my night out. I also took a jacket to wear since it is finally getting chilly at night.
You can see in my windows that I'm decorating for Christmas this week.  I want to be all finished by Thanksgiving, so I can really enjoy the Holidays with my family and friends. I love this time of year and want to enjoy every minute of it.
Here's a closer look at my accessories. Scarf probably came from TJ Maxx (affiliate link), necklace was a yardsale find and I don't remember where I got the earrings.  Watch is my wood Jord watch (affiliate link) that I love.
That's it for this week!  Thank you all as always for faithfully stopping by Fashion over 50!
Don't Miss a Post, join my list!