Happy Wednesday and welcome back to Fashion over 50.  I've shared some of my makeup favorites with you before, but I've got a few new things in my arsenal lately, so thought I'd do a new post about that for y'all.
Now, let me start by saying, I'm not an expert on applying makeup.  I see women who are far more adept at it than I am and they probably spend a lot longer applying than I do.  I can put on my makeup in about 10 minutes.  I don't go for a heavy hand in using makeup and nowadays lighter and more natural is the best look for me.  I have always loved makeup back to my teenage years and spent lots of time buying makeup and beauty products and practicing putting on eye shadow and mascara, so I know the basics of highlighting and contouring my eyes and face.  Back in the 80's, I was wearing a lot heavier makeup, but not anymore.
I am not loyal to one particular brand and as I've gotten older, I'm all over the board with brands of makeup.  I've been using Bare Minerals powder makeup for probably 10 years now, but recently have tried out some new items that have hit the market.
I was recently at a shopping event in Buckhead and stopped in the Nars store for a little makeup session and I tried out some new products that I'll share with you below.  One little thing she did that I liked and had done before, but gotten away from, is adding just a bit of navy or blue shade of eye pencil right at the outside bottom corner of my eyes to bring out the blue.  I use brown creme eye liner, but adding that bit of blue really makes the eyes pop more.
So, today, I'm sharing a few new products I've been using the last few months.
One of them is called CC cream, which is a glorified tinted moisturizer, but it's supposed to have anti-aging qualities to it also with serum and brighteners added.  Just a note that I'm not really a complete purist on my makeup.  I know that there are bad ingredients in makeup and skin care and I haven't gotten to the point that I don't use things out there even if they have lots of ingredients I can't pronounce in them.  So, keep that in mind as you go through my list.  These are well known brands, but they might not be as pure as you want, if you are into really natural ingredients in your makeup.
I figure something's going to get us all, but I don't think it's going to be my makeup that brings me down in the end.
These are a few of my favorites at the moment for makeup, including lipsticks, mascara, blush and eye shadow.  Keep in mind that these colors work well for my skin tone and eye color, so you'll have to take your own into consideration when you are choosing colors.
#1 It Cosmetics Vitality Cheek Blush  – Pretty in Peony is the color I'm using now and it's a pretty coral shade.  Adds some vitality to the face.
#2 Nars Creamy Concealer – in Custard – I started using this over a year ago and I really do love it. A little goes a long ways and it lasts a long time.
#3 Nars Blush – In Orgasm (yes, that's the name, everyone run out and get that one!) 🙂  I tried this out on my shopping trip in Nars and when I bought mascara, we got samples of this one, so I'll be using it some this summer. It's a pretty pink with soft glimmer.
#4 Nars Audacious Mascara – In Black – I really liked this mascara after trying it in the Nars store and it did lengthen my lashes more than normal, so I bought it.
#5 It Cosmetics CC Cream – In Light.  CC stands for Correcting Cream.  I bought this on the recommendation of another fashion/beauty blogger and really do like it.  It doesn't take a lot and I apply it with a makeup sponge, but it goes on light and creamy and the finish is very soft and natural.  It's not heavy like old liquid makeups, but very light feeling when on.  It doesn't cover every single flaw either, but I don't mind that. Gone are the days of heavy caked makeup for me.  I still like the Bare Minerals powder for some days, but I'm using this one more and more.  There's an illuminating version of this too, but I haven't tried that one yet.  What I really like is the SPF 50 that it features.  I like to protect my face from the sun.
#6 Nars Radiant Tinted Moisturizer  – In Alaska – One of my friends passed this to me and I've enjoyed it too.  It's also light and creamy and is a tinted moisturizer.  It's a bit more expensive than the IT CC cream, so I'll probably stick with that one when it's time to buy more, since I like it a bit better anyway.
#7 Diandra Eye Shadow palette – In Toast of the Town – I don't remember where I got this trio, but I've started using it lately and like the brown/copper tones with my blue eyes.  Not very expensive either.
#8 Gelaze Gel polish  – I think I've mentioned before that I ruined my nails about 10 years ago when I was doing acrylics for over a year.  Those drills they use messed up my nail bed, so I have ridges and my nails grow with some defects now.  Gel nails are the only thing I can get to stay on my nails now and I bought my own LED light and do them at home.  Gelaze gel polishes are my favorites so far and I'm using White and Pink shades most of the time.  I can keep them on for 7 to 10 days before they start peeling. I haven't mastered removing them the correct way, so once they start peeling, I just pick at them until it's all peeled off and then I start over.  Not the best method, but it works for me!  It does dry out my nails a bit, but not at all like acrylic nails will do.  My nails are actually pretty strong and they grow like crazy with the gel nails and I keep them cut to a good length. I like the Gelaze Clear top coat to finish it off too.  I usually do 2 coats of color and the clear top coat.  I set them for 60 seconds for each coat and then when finished, rub them with alcohol to take off the sticky residue that is left.  My nails are instantly set and dry and I can continue on my way.  It really is fast once you master it.  I've always been good with polishing my nails  myself since I was a teen.  Some people are good at it and others are not.  One note is that gel polish goes on a little different than regular polish so you have to get used to that too.  It moves a bit before the LED light sets it and can look a little streaky, so just be aware of that.  Once you get used to using it, it's not so bad. The main thing is to try to keep it off your cuticles when applying to your nails.
#9 Sensational LED light for gel nails – I bought my light kit at Walgreens about 3 years ago, but this is the same light I have. This is what sets the gel polish instantly.  I set mine for 60 seconds for each coat I do and I can be all finished and dry in about 15 minutes.
#10 Bare Minerals Mineral Veil – I still love this lightweight finish after I put on my makeup and blush. I use a soft natural bristle brush to buff it over my face and it gives a nice sheer look and sort of sets my makeup for the day.
#11 Boots No. 7 Crayon – I really like the Statement color, a nice sheer coral/red.  I like colors that I can swipe on and go.  This lip shine doesn't stay on all day though, so be aware of that. You have to reapply often.
#12 Calvin Klein CK lip shine – this one is no longer available, but I loved Alarm 600.  I found a couple of colors on Ebay, but not this one.  Too bad, it was a nice coral red shade and went on nicely.
Note:  Affiliate links used above. 
I tried to show some up close pics of my makeup lately.  I'm wearing the Boots No. 7 lip shine in Statement in this pic, as well as the Toast of the Town eye shadows. My skin is far from perfect, I have freckles and age spots, but I like the CC cream a lot.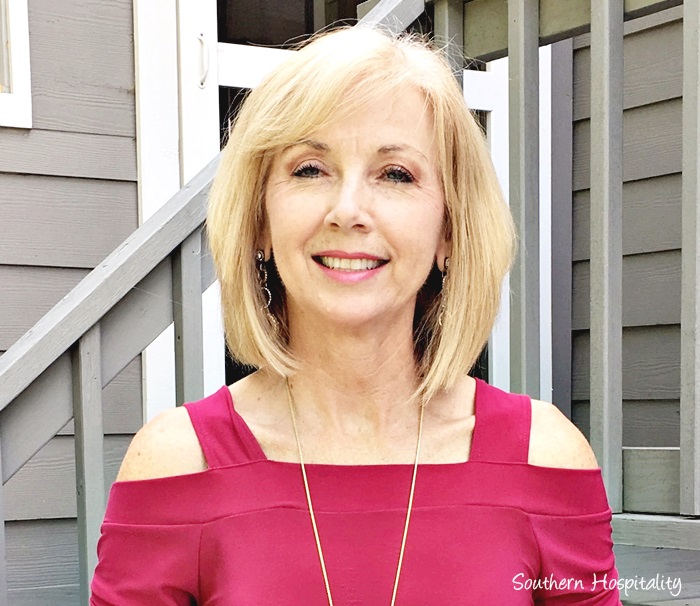 I don't remember which lipstick this is, but it has a little more pink in it.
Again, this one is the Boots No. 7 lip shine and eye shadows in Toast of the Town.
And here's a shot of my gel nails in White on White.  Oh yuck, at my aging hands! I don't do a perfect job, but it looks decent to me.
So, that's a few of the beauty products in my makeup case right now that I'm using and enjoying.  Hope you got some good ideas for yourself.  I do think that we as women want to still look good no matter our age and makeup is part of that for me.  I feel so much better when I have on my full face of makeup.  Makeup improves everyone to me!
Feel free to add your faves in the comments and share with everyone!
Don't Miss a Post, join my list!