Hi friends!  I'm back with one more outfit that you've seen before for Fashion over 50 today.  I don't have new clothes all the time, even if it might seem that way. There are plenty of clothes in my closet that I get out again and again and enjoy them once more.  So it is with the maxi dress. I do enjoy maxi dresses, as they feel very summery and feminine at the same time.  This striped one came from Ross over a year ago last spring and so (sadly) I can't link to it.  I shared it back in the spring last year and you can see what I wore with it that time around.
As I mentioned then, I love maxi dresses and wore them in the 70's when they were trending then and now they are popular all over again.  It's fun to wear them with a little heel and it is almost necessary with this one as it's very long.
We were heading to church and I snapped some pics before we left.  My classic white, black and tan Calvin Klein purse has been a mainstay for me.
I'm not big on changing out my purses, so I like to find neutral ones that go with everything and this one does that.  I found it at TJ Maxx over a year ago.
I do love stripes and this dress in black and khaki is a classic.  I added some gold jewelry for a little extra bling.  In a form fitting dress like this, you really have to wear a shaper underneath. I'm wearing one of those long line spandex panty things.  Helps to keep things sucked in and no lumps and bumps.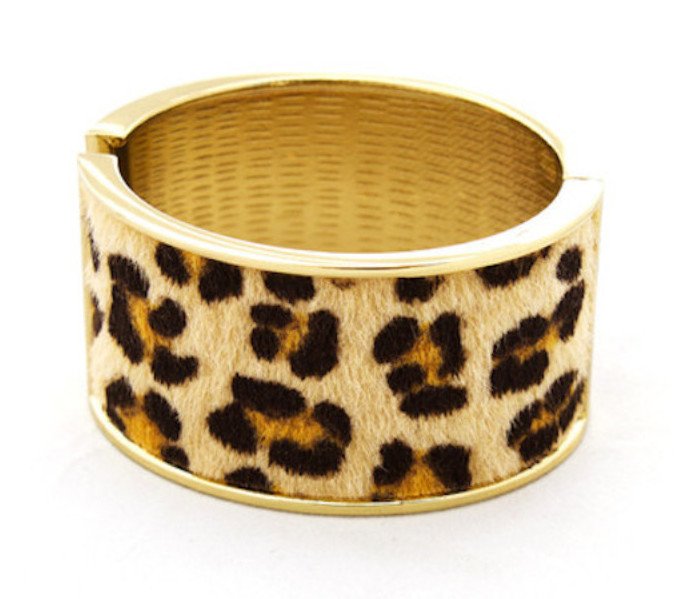 Leopard bracelet is from Accessory Concierge (affiliate link).
From the back.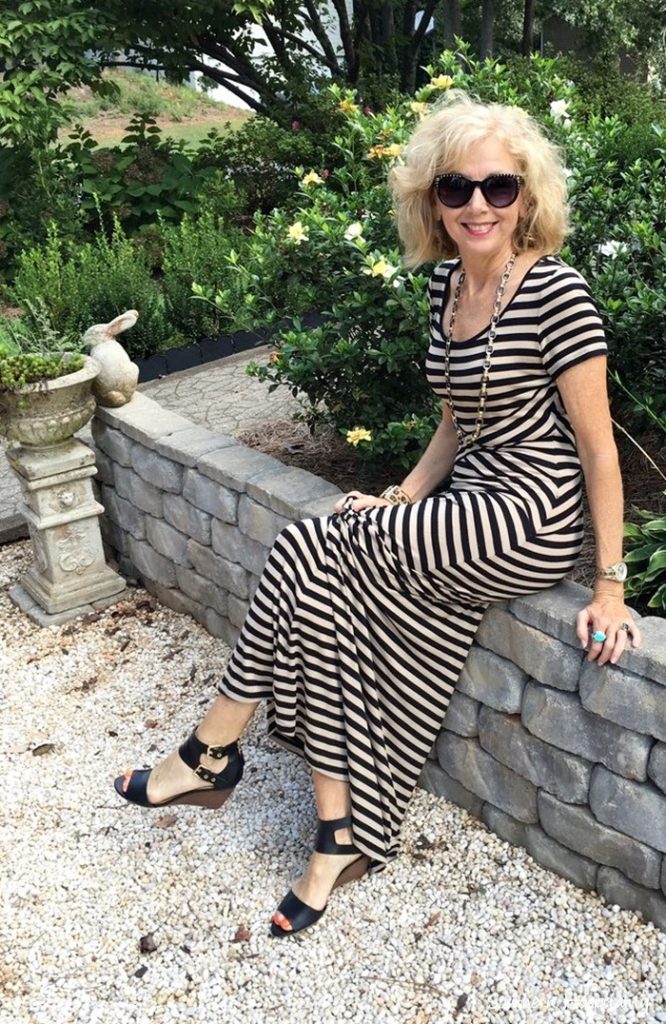 So, I totally am a shoe person! I don't know what it is about shoe styles now, but they are really appealing to me.  Shoe styles seem to change every few years and I'm loving what is out there now.   I seem to have a thing for Sam Edelman shoes and when I spotted these a month or so ago, decided I really had to have them too.  They are Susanna wedge from Nordstrom and this was the first time wearing them.  I really love the double strap with gold hardware.  Very stylish shoes and the heel isn't too high.  I keep adding more Sam Edelman's to my wardrobe, as his shoes just call out to me.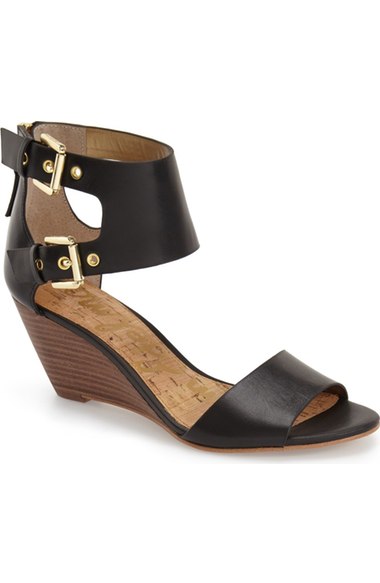 Shoes, Sam Edelman Susanna (affiliate link)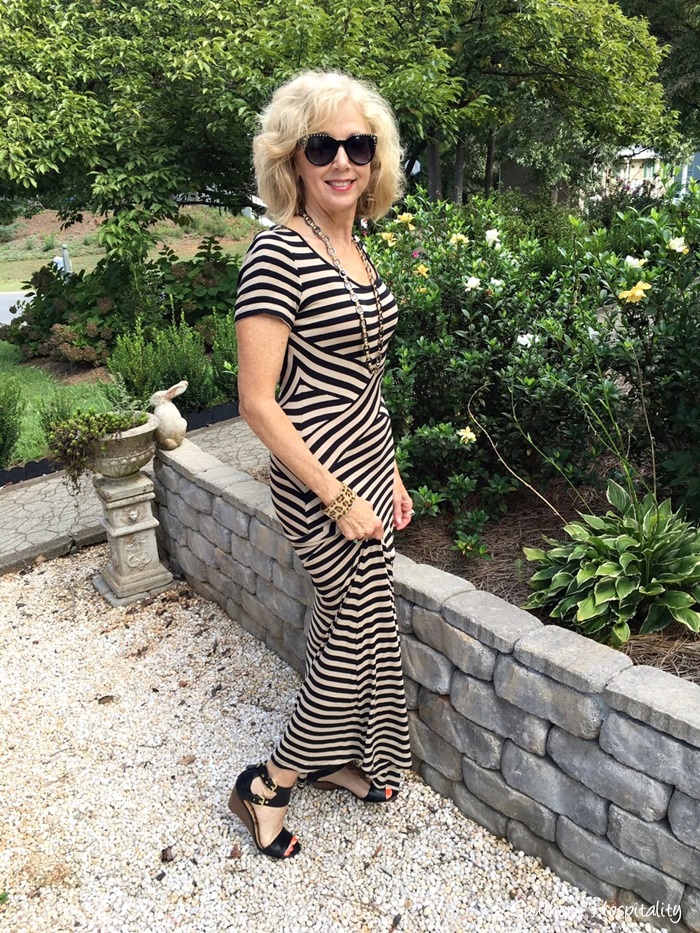 They will be fun to wear into fall with skinny jeans and dresses, so I can see them going with a lot of things.
Every time I wear my hair curly, you all really love it and I thank you for that.  I truly have had a love hate relationship with this head of hair of mine my entire life.  It was only in the last 5 years or so that I learned how to straighten it with a flat iron and that has been a fun invention to get to know.  More and more, I'm embracing my curls again, but it can still be a challenge.
Those of you with curly hair probably know what I mean.  I use some products on my hair, so I thought I'd share what I'm using now to try to tame the frizz and keep my curls looking good.  You would think that going curly/wavy would be easy to care for, but it actually sometimes requires more effort.  When I sleep on it, it just gets wilder and crazier the next morning (picture a birds nest as a visual!), so I usually wet down the sides and top and then add more anti-frizz product to try to get it fluffy and curly/wavy again.  There's an art to styling curly hair and some days I like it and some days I don't. This particular day the humidity was doing some crazy stuff with my hair and so that's my disclaimer. It gets bushy and frizzy some days which is not the look I'm going for.  The weather really does have a huge effect on the way curly hair behaves and humidity can wreak havoc.  It actually did very well at the beach with the breezes down there.  Not sure why that makes a difference but it seemed less humid there and more windy.
Just to share, here's a product my stylist found for me to try and I've been using it the last couple of weeks. It seems to help keep my hair soft, while enhancing the curls without being too crunchy, if you know what I mean.  Another product I use sometimes is John Freida's Dream Curls, a spray that helps to combat frizz, but it makes my hair a little stiffer than the Redken.
Here's what my stylist got for me recently:
Redken Curvaceous Ringlet curls (affiliate link), I found it the cheapest at Walmart online.  It's not going to make your hair have ringlets, but it does help soften and shape those natural curls.  I use it in my wet hair and then style with a hair dryer set to warm on low, scrunching my hair as it dries, then I don't dry it completely, but still a bit damp at the crown.  I air dry the rest, fluffing it with my fingers as it's drying.
Another product I use often is John Freida's Frizz Ease Dream Curls (affiliate link).  It works pretty well too in styling curly/wavy hair and giving that beach tossed look that we love. It is a little more stiff than the first one, which does help as certain parts of my hair are curlier than others and the straighter parts need more holding power.
I also use Argan oil, which adds moisture to my dry hair and this is the one I use.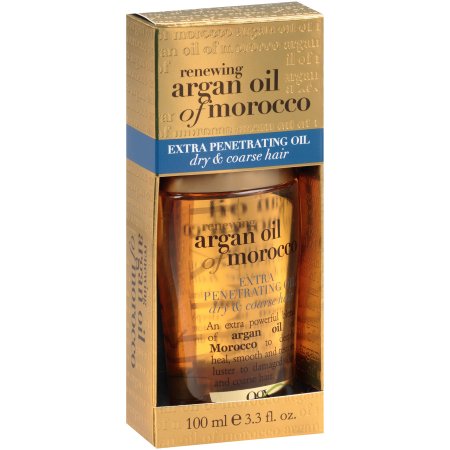 This goes on wet hair and then the other styling products are added too.  Argan Oil from Walmart (affiliate link).
I've used other products too, but these are my faves right now.  I will keep wearing my hair curly even through the winter months and actually that's a pretty good idea since the humidity will be less then and I'll lose much of the frizz I seem to battle now. With our high heat and humidity it just brings out the frizz in curly hair and mine is no exception.  But these products help my hair to look decent when I wear it curly or wavy and from the comments, you all love it like this, so thank you!   I'm very thankful that I can wear it curly or straight as straight didn't used to be an option at all.  The wonders of hair gadgets are phenomenal!
Don't Miss a Post, join my list!