Before we get to Fashion over 50 today, I have some VERY exciting news!  On Monday, at 9:30 in the a.m. we had a new arrival in our family.  Baby Iris was born!!  It was the fastest delivery I've ever heard of and they barely made it to the hospital in time.  Less than 30 minutes after arrival, she was here!  Needless to say, my sister didn't make it down there in time, so they drove down and got there that evening.  None of the family in town made it, it was so fast!  We are glad that Lauren didn't have to labor long at all to bring this little precious into the world!  She was due at the end of this month, but we had a feeling she wouldn't go that long.
Lauren and Iris are doing great!  She's named after our mama, her great grandmother, and she couldn't have a better namesake as this woman.
We think she is a doll and were eagerly awaiting pictures.  She has some similarities to her big sister, Parker, but not completely.  She has a headful of black hair which you can't see here.
The whole family of 4 enjoying the new baby girl in the family. They got a video of Parker meeting Iris for the first time and it was so sweet.  Needless to say, we are all over the moon over this new baby girl in the family.  Mom and I are going to go down in about 3 weeks to see her and can't wait for that.  Y'all will get to see another baby growing up in the family!
Back to my regular post…..
The weather has been magnificent here in Atlanta for the last week or so.  We had plenty of rain for awhile, but now spring is bringing sunshine and flowers and we are all loving that. My dad has been working in his garden, getting his veggies planted, so I'll share him later on.  He lives for this time of year and gardening season.
For Fashion over 50 this week, I'm sharing different ways I wear white jeans.  I love white jeans and really put them to use during the hot summer months. They are so versatile to mix up with so many things and you can dress them up or down.
Glamour Farms sent me a couple more things to style and I love, love this turquoise top, the Arabel Lattice Top (affiliate link)  in Jade.  Use Code Rhoda3 for $10 off at Glamour Farms!
I'm wearing a Small in this. The ruffles give it a feminine look and the length is just right for jeans.  It has a bit of cotton trim detail on it as well, which adds some interest. And of course, I love turquoise anything and this is one of my best colors, so I play up the blues.
Looks great with my skinny jeans from Target.  I bought these a few years ago, but here's a similar pair from Target Mossimo (affiliate link).  I have 3 pair of white jeans (and one winter white cord) now and they are all a little different, but all versatile.
I added some of my turquoise jewelry along with a little bit of coral red for some punch.  These shoes are Lucky Brand and are leopard skin.   I always love a little bit of leopard in my wardrobe.
Similar Lucky Brand (affiliate link) Emmie flats from Shoe Buy. These are the stretchy flats and mine are not.  Mine are called the Letah, but seem to be sold out online. I got mine at Belk on clearance.
Here's another similar leopard flat from Franco Sarto (affiliate link).
Another outfit I wore with white jeans is this top that I picked up in January at the mart.  It was one of those sample sale bargains and I love the colors of coral and white.  It's longer in the back than the front and is a perfect top for a casual outing.  Unfortunately I can't find this online anywhere, but the brand is Felicite.
Jeans are Kut from the Kloth Diana skinnies (affiliate link)
Last year, I shared this online site with  you, when I picked up this pretty long lightweight coral sweater from Thredup (affiliate link). It's an online consignment store and they have some pretty things for much less than retail. You can read the descriptions and see if it's something you'd like and the condition of each item.  The sweater is by Eileen Fisher and I love the color.  It's a great layering piece.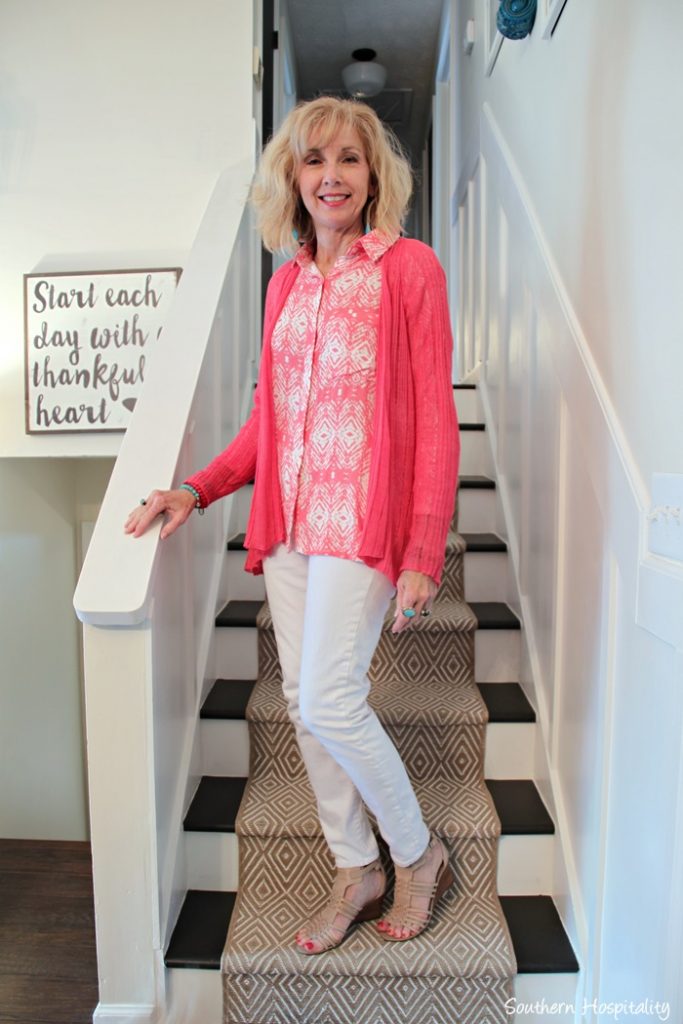 These shoes are by Franco Sarto and I got them a year ago at TJ Maxx.  I've really enjoyed these neutral tan leather wedges to wear with lots of summer things.
Here is a cute pair of tan heeled sandals from Franco Sarto (affiliate link).
Another sweater that I picked up from Thredup (affiliate link) last year is this pretty green from Alberto Makali.  It's a pretty high end brand, but nearly new on Thredup.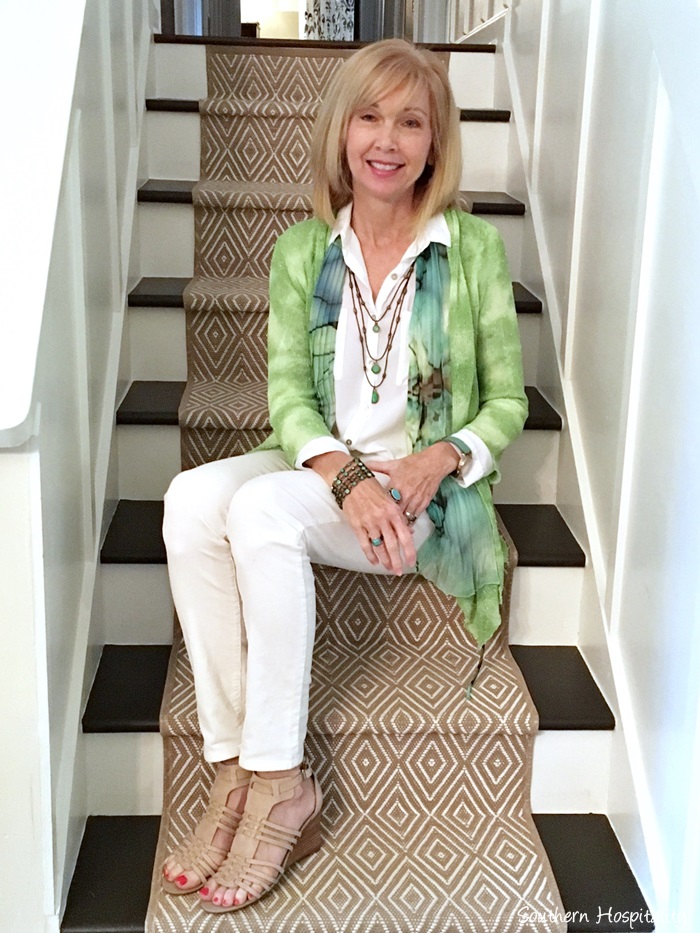 I wore it with my Kut from the Kloth skinny cords and a cream flowy top and loved how it came together.  I can't find the skinny cords online anymore, probably because they are out of season.  I've enjoyed these this year too and they are a nice Winter White.
I added jewelry that I picked up from the Mart in January for just the right color.  The sweater has a built in scarf like edging that gives it a really pretty touch.  I decided to wear it with neutral creamy white to let it shine.
That's it for Fashion over 50 today! Hope you are still enjoying and getting some ideas on your wardrobe too. I love to mix and match what I have in my closet to come up with fresh looks, adding a few pieces here and there.
Don't Miss a Post, join my list!