Hi friends! I'm back with some new spring fashion ideas for Fashion over 50 today. Spring is right around the corner and with that comes events we all have: weddings, spring parties, showers, etc. so these outfits would be perfect for any of those events. There's a mix of dresses, tops and jumpsuits, most from Nordstrom Rack, but I've added a few things from Shein (affiliate link). Have you heard of this online shop before? I know a lot of bloggers who have ordered from them and love their clothing. They are extremely inexpensive and I figure that if you're looking for a cute dress or top and don't want to spend a lot, this might be a good option. I haven't ordered myself, but I think I'll do that soon and check out the quality. For the price, it can't be top quality but again sometimes we don't want to spend a lot to get something new. Everyone I've talked to has loved what they bought and I heard to read the reviews for sizing tips. You'll see the links in the shopping widget below. They have some really nice looking things.
Affiliate links used in this post. 
Before we get into fashion, I wanted to share this cute rattan plant stand I just got from Urban Outfitters. I heard that this plant is toxic to dogs, so wanted to get it up off the ground and this does the trick.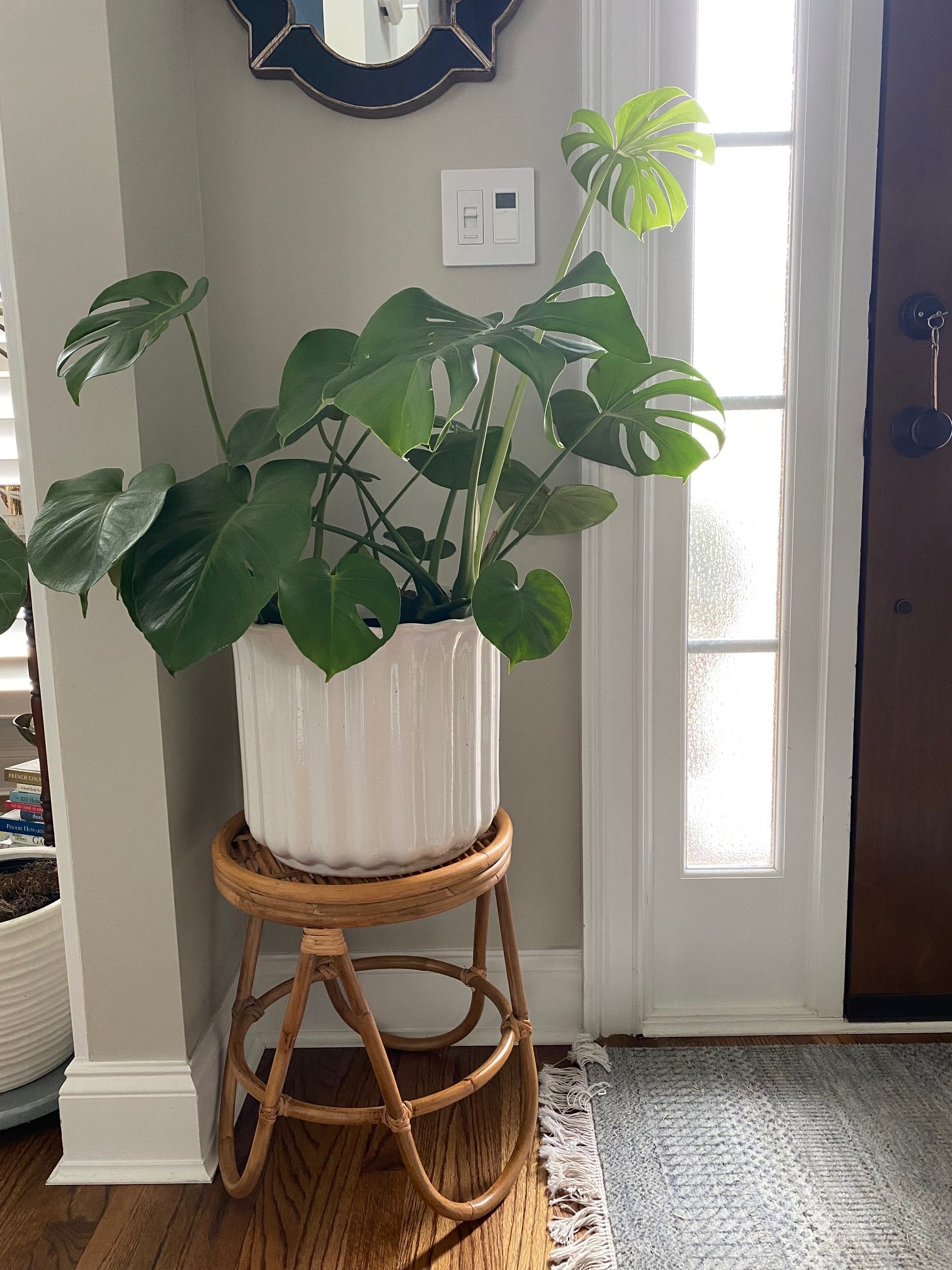 You can find it here at Urban Outfitters.  You know I love rattan!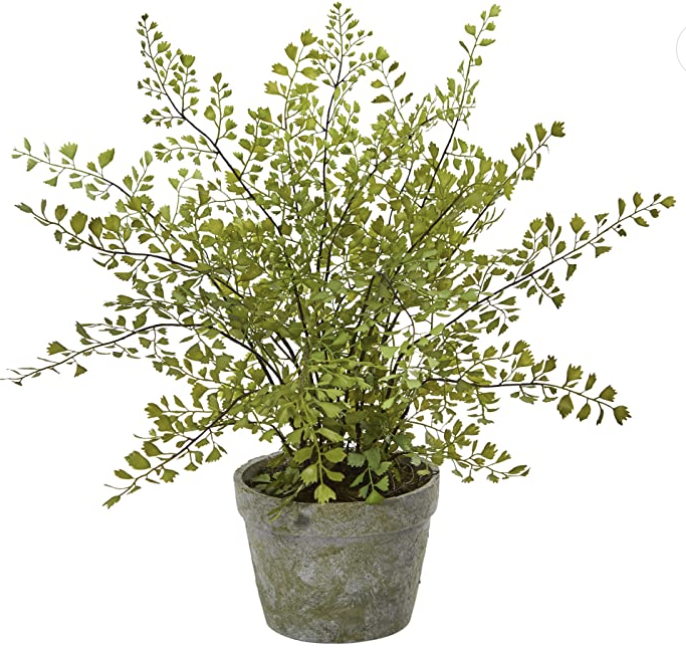 I also got this pretty Maiden Hair fern faux plant, brand is Nearly Natural and they carry them on Amazon too. This one is priced pretty well for a nice faux and I plan to use it in my lady head because I can't seem to keep a live plant alive! It looks very realistic. Here's a page of fauxs I have added on Amazon, including those boxwood topiaries I've shared with you earlier. Still love them too!
Here are all the above items in the shopping widget below, just click through for each item and it will go directly to that page. You can check out Shein for yourself too. Let me know if you've ordered from them before. I love those black and white block heel shoes, but I sure don't need another pair of shoes in my closet!
I shared all those athleisure pieces I bought recently on sale with you last week and really like everything I got. I also remembered the 2nd hand shopping site I've enjoyed before, ThredUp  (this is not affiliate links, but I love shopping here) and decided to check them out and see what they had in Chico's Zenergy options. They had a lot, so I went on another shopping spree to add to my other things I just got from Chico's and J. Jill. They had a lot of tops and jackets so I bought more things to mix and match for travel options. I can't wait to get these in. Here's everything I got from ThredUp and the total of my cart was $118. Great prices for gently used clothing items from Chico's and they should all work wonderfully with those 3 pair  of black athleisure pants I bought. The jackets will be nice for layering and the prices were so good I could not pass them up. So check out ThredUp if you want some bargains! The key is to narrow down your search by keywords. I put in Chico's Zenergy and filtered by size 0 and that worked great. Size 0 is a size 4 to 6 and if you've bought Chico's before, you probably know your size. I feel confident buying this brand second hand and they give descriptions of the condition of each item too. Notice a few things say final sale, so no returns on those.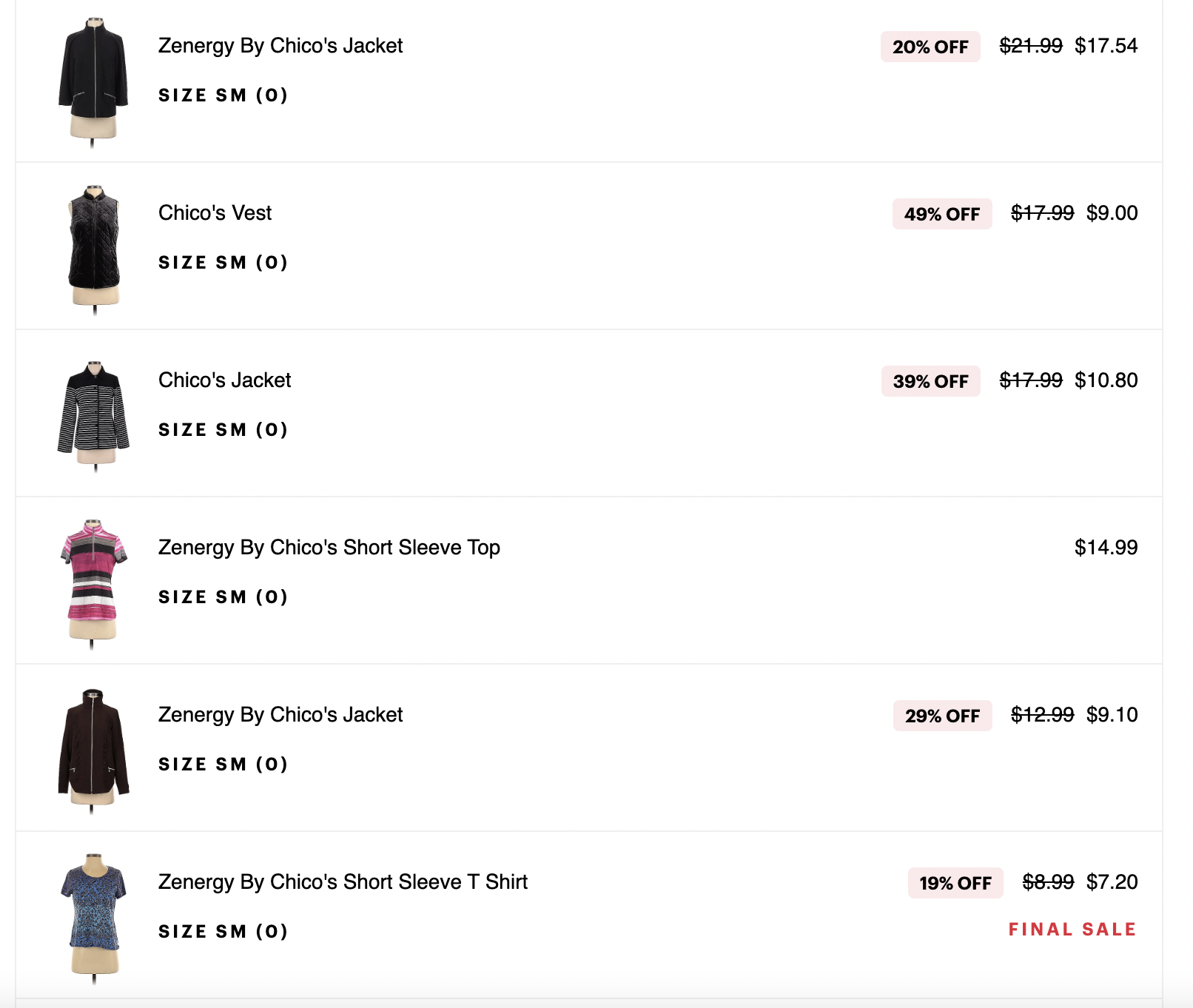 Don't Miss a Post, join my list!