It's definitely true that my lifestyle  has evolved to an even more casual look and feel over the years. Not working in an office has allowed me to pare down my wardrobe to mostly casual outfits, with lots of jeans and tops. I have a whole array of workout gear too that I've worn for years that consists of yoga pants, sports bras and spandex tops that are comfy, but not necessarily worthy of going out. Not to say that I don't wear them out, I stop by and run errands many days when I'm in my workout clothes, but I really wanted to upgrade and elevate my travel looks, especially when we go on that cruise at the end of April.
So, I found a few things from Chico's and J. Jill that I wanted to share with you today, in case you are in the market for some better looking, but casual outfits that you can mix and match with things already in your closet. I love black and buy a lot of black clothing so this is the base of what I got. Black is so versatile and can be mixed with so many things.
Affiliate links used below.
I got in the Chico's pieces first and all of these are on sale right now. I'll link everything at the bottom for you, as well as here. These scuba pants fit like leggings but are nice and thick with zip pockets and also zippers at the ankle. They are cropped a bit and I would have gotten tall if they offered them, but they didn't so these are definitely ankle length on me and I didn't try them on for you, but hopefully you get the idea from the models in the pics. This Zenergy striped black and white top will go with lots of things and I can wear it with white jeans or these active black pants. They are all wrinkle resistant fabric too, which will be great for packing. I bought a total of 4 active wear pants and I like all of them, so will keep them all.
These leopard Rockport shoes are very comfy and will definitely be going with me on the cruise. They are on sale too with limited sizes left.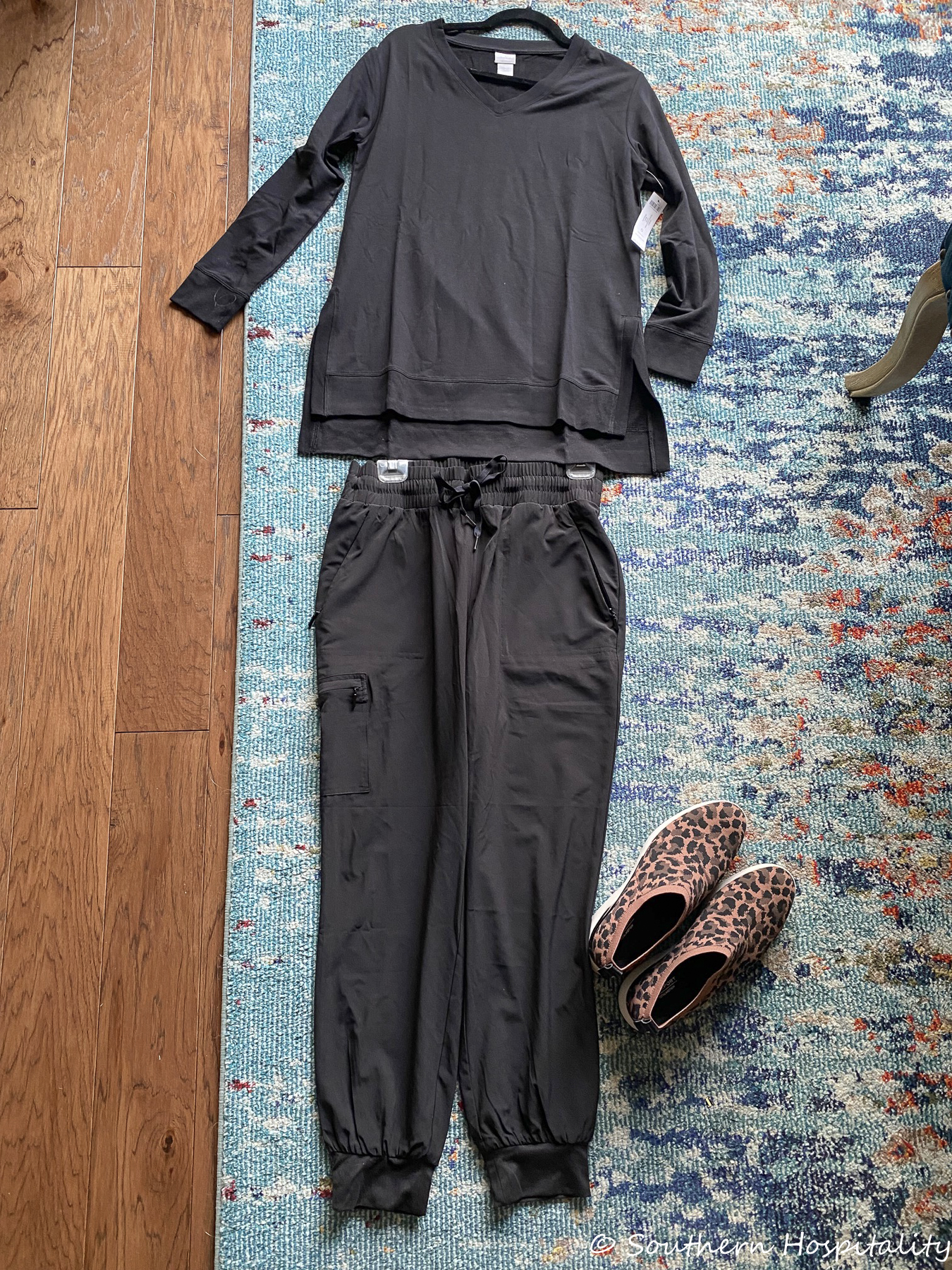 These two pieces are also from Chico's and I love them both. These Zenergy UPF Jogger pants are a lightweight fabric and very comfy. There's also a pocket on the upper thigh which is nice. You can see it on the left. I love this relaxed fit cozy V neck tunic top too which will be great for travel. I usually get size 0 in Chico's clothes, these pants are a .5 which they say is a size 6 which is what I usually wear. I could have sized down to a 0 in these too, but will keep them. They have a drawstring waist for adjustments. The tops are size 0 as well as the scuba pants.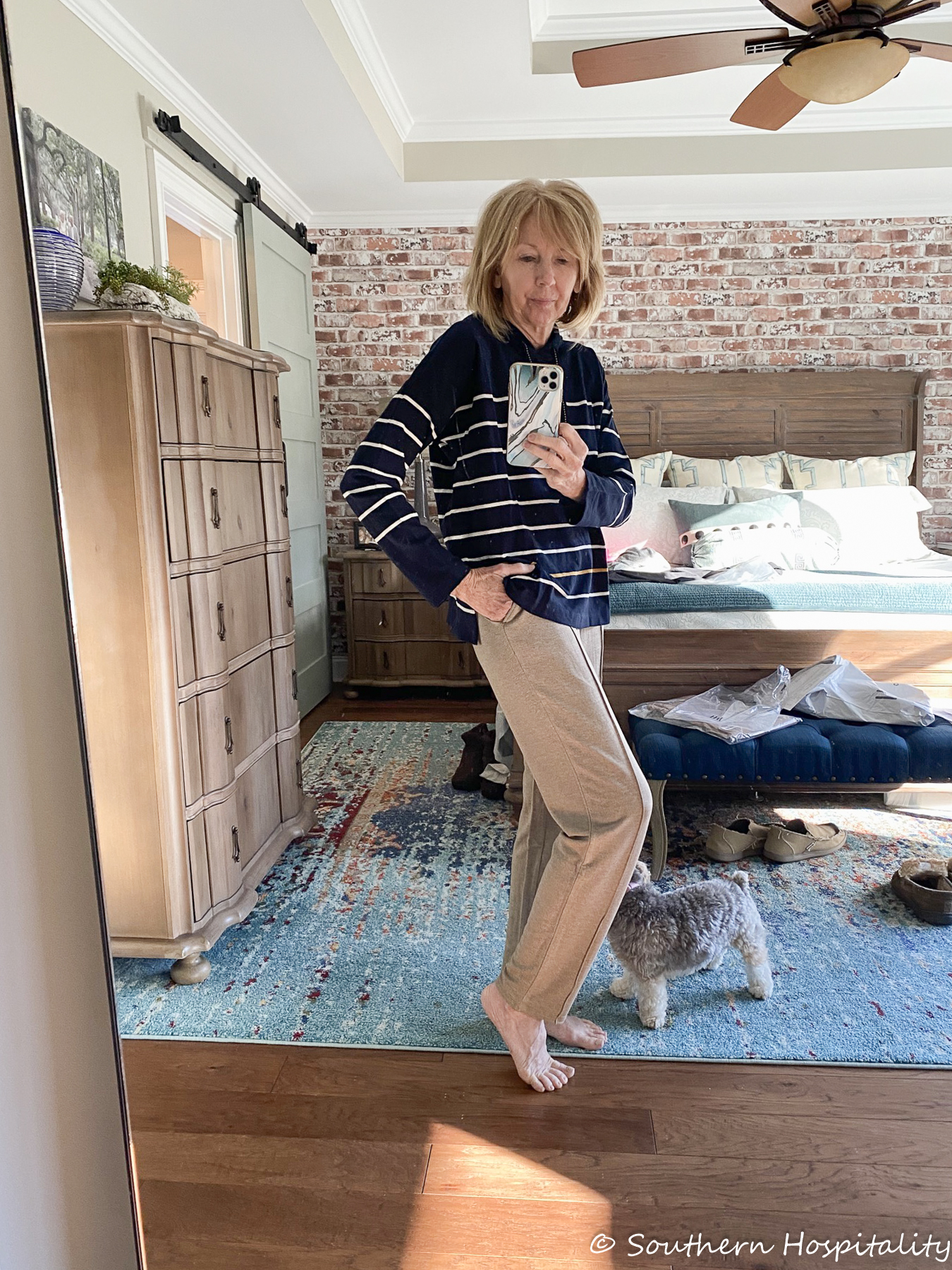 These next 4 pieces are from J. Jill and I tried them on when I got them in the mail, so here you go. They are all on sale too, so grab them if you like them. These brown/tan pants are soft, relaxed fit with elastic waist and pockets on the side. I got size Small Tall in both pants and Small tops, just for reference. Their Smalls are plenty roomy, I think. These tan Tranquility Fleece Tapered pants color is Bark Multi Heather. I can wear these with plenty of things I already have, like striped T's and vests. I'll wear sneakers with these too.
The top is a navy/white/tan stripe with a hoodie and really cute too. Looks like the size that's left is a Small Petite. They are going fast.
Another look at those 2 pieces. Daisy is right there with me trying to help!
These black inset pants are cute too with a slit a the ankle, but limited sizes left. I will have 3 pairs of black activewear pants to mix up now. I like that these are slim but not tight, I get tired of leggings all the time.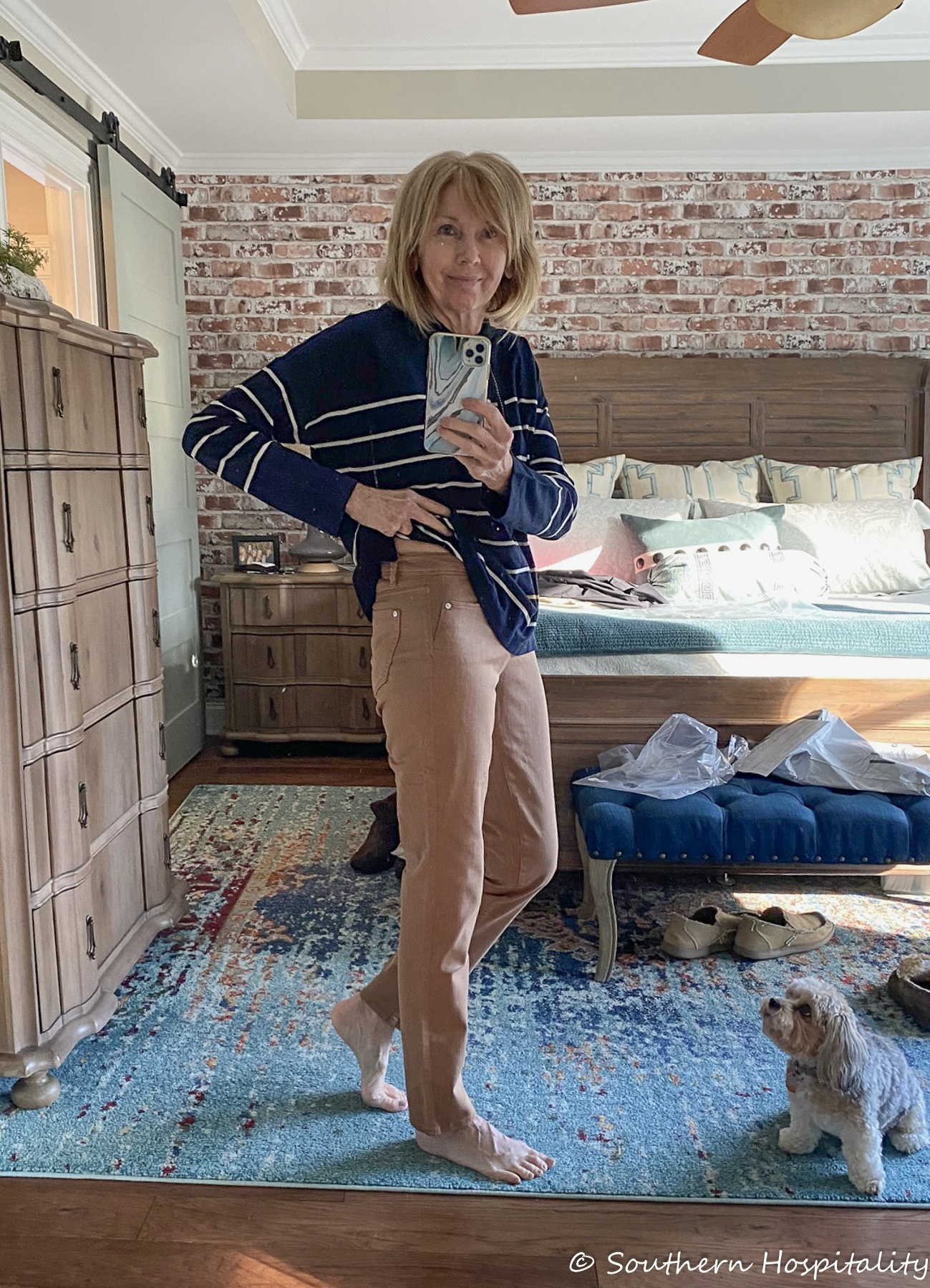 I really like the fit and color of these slim leg jeans, got a 6 Tall in these. Color Vicuna. There are lot of sizes left in these.
I can definitely wear this top with the jeans too so it will come in handy.
And it has a hood, so that might be nice when we are cruising. I'm pleased with everything I bought, so just wanted to pass along the sales I find. These J. Jill pieces are on a really good sale, so jump on them while you can if you're in the market.
You can see them all below in the shopping widget, except for those jeans I linked above. For some reason, I couldn't share it to the widget.
Don't Miss a Post, join my list!