You know I have a love for black and white and I always seem to find more to add to my closet. This is one last dress I found at Ross during their dress event and I got so many outfits for great prices. This one was $40 and the most expensive dress I bought that day. It's a Calvin Klein and I have loved Calvin dresses for a long time. They seem to fit me well and are well made too.
Be sure to read all the way to the bottom of the post today! If you're here in Atlanta, you're invited to a Fashion Workshop in Marietta and it's free. I'll be there too, so hope to see you there! I won't be leading it, but you'll enjoy it a lot.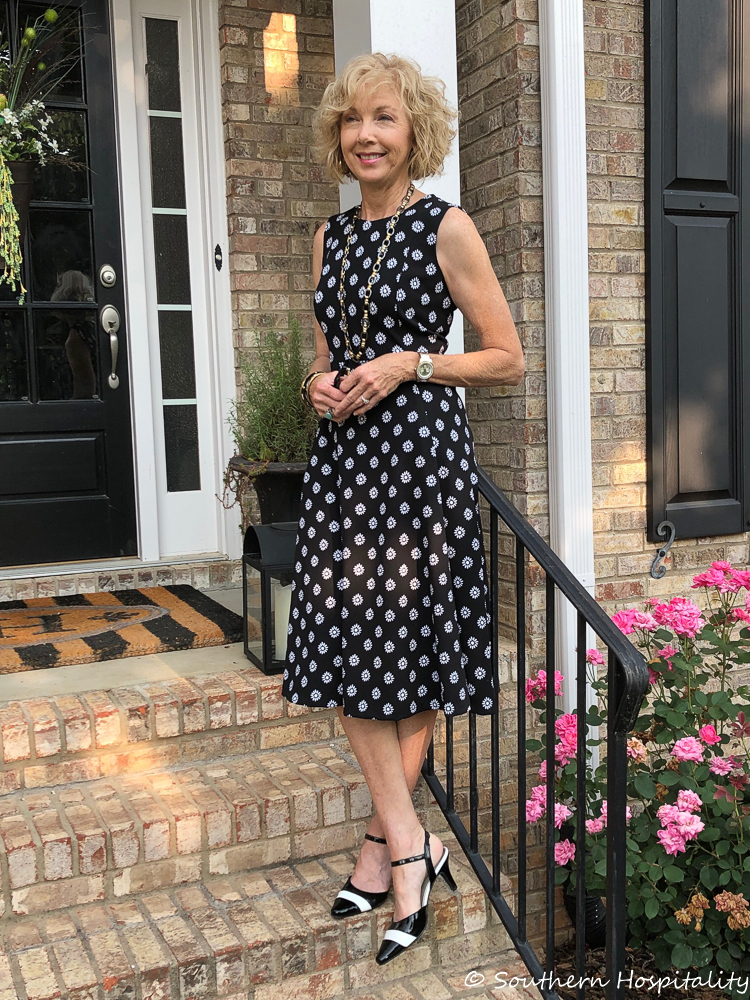 This sleeveless flare dress has small daisies printed on it and I loved the feel and fit of it. I don't get dressed up all the time, but it will make a nice dress for many occasions and I wore to to church recently.
Those black and white shoes are Naturalizer and I picked them up at Goodwill last year. They look nearly brand new. As much as I love black and white, I knew I could wear them with many things, pants included.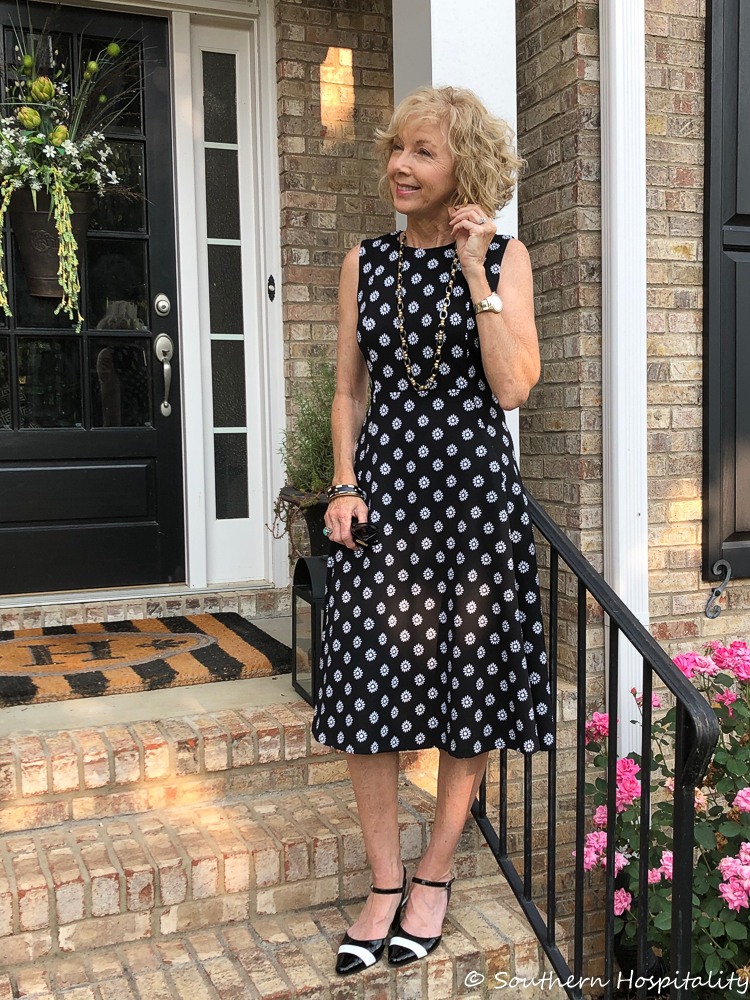 I love this dress and will enjoy having it around, it's a good length too.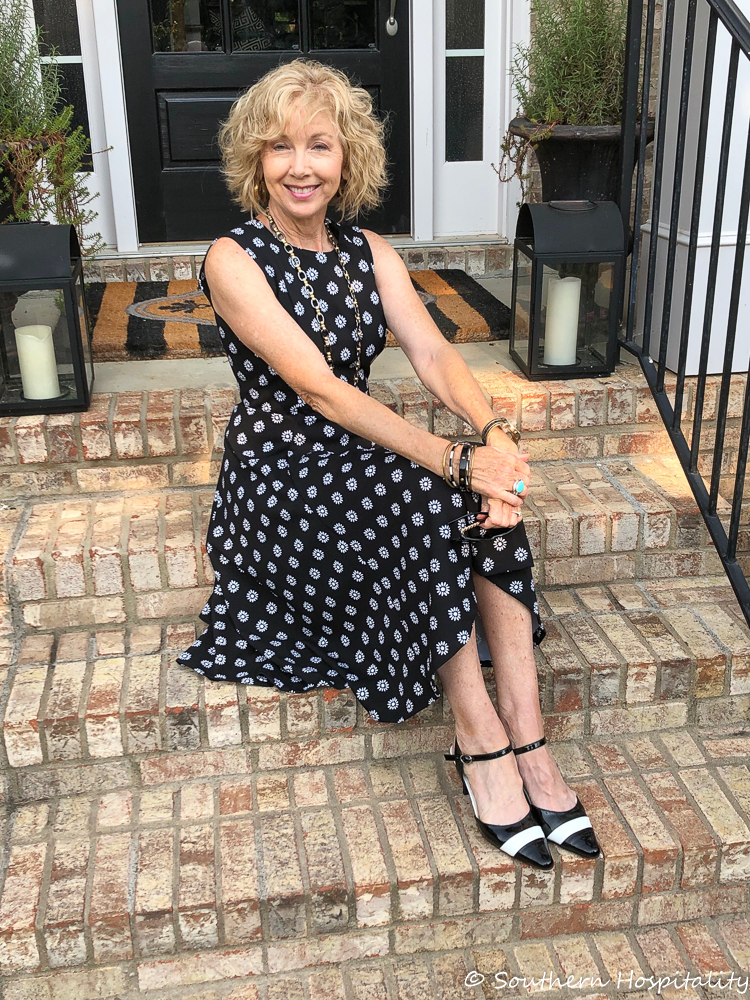 It's a flowy knit fabric and feels good on, fitted in the waist for a flattering look.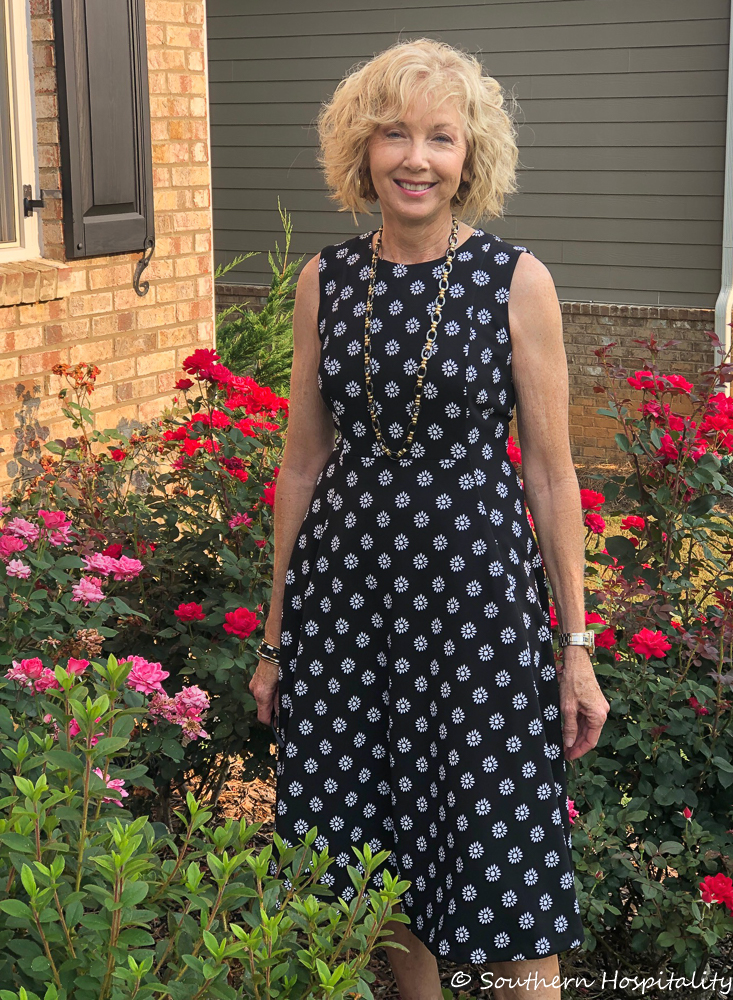 Our roses have been blooming like crazy so Mark insisted I take a pic with them.
I picked up that Kate Spade summer bag last year at a thrift shop and love it too.
Here's a closer peek at my jewelry, a black and gold chunky chain and black, white and gold bangle bracelets.
I've had good luck with Calvin Klein dresses in the past and have a few of them. Ross sells them, as well as TJ Maxx and Marshalls and they are usually a good buy, but here are a few I found online (affiliate links used):
Fashion Workshop Invitation!
You all might remember Robyn Hollner, a Fashion & Makeup Stylist who came to my house a couple of years ago and did a color consultation for me (she's a friend of my friend, Karen) and Robyn is doing a Fashion Workshop on Saturday, June 22nd, from 10-11 a.m.
You can sign up here for Fabulous Fashion for 50+! It's a free event and I'm going to be there too. It's at Urban Renewal, a really great consignment shop on Whitlock Ave. in Marietta.
Don't Miss a Post, join my list!