Today's post will be fun to share with y'all and I think you'll enjoy it!
My friend, Karen, who I introduced to you all in a previous fashion post has a fashion stylist friend, Robyn Hollner, who does makeup and wardrobe consultations, along with personal shopping trips to help you find your best style.  She's been in the business for over 20 years and knows a lot about this subject. She offered to come over and do an official makeup consultation on me to best determine if I'm wearing the right colors in makeup and my clothing.  She bases her information on the old Color Me Beautiful book that was so popular in the 80's that I have talked about on my blog before.  There is definitely something to the theory that we all fall under Spring, Summer, Fall or Winter colors.  Summer and Winter are cool undertones and Spring and Fall are warm.
I knew already that I have yellow-based (or warm toned) skin and Robyn helped me hone in on that and get more ideas on my makeup choices. I'm definitely a Spring in color tones.  I had not totally used all warm tones in my makeup so I think this will help me in the future when I'm choosing new makeup pieces for myself.  Robyn left me this handy card for Spring colors that will help me when I'm out shopping.  Colors either have warm or cool undertones in them and I know all of this from choosing paint colors, but I don't always apply that to my makeup.  I do pretty well with the colors I wear in my clothing, but now I'll be more aware in my makeup selections.
Spring has clear warm undertones, so I need to stay away from blue-based pinks and go more towards the coral/orange/rust family to perk up my complexion.  We need all the help we can get in our 50's, don't we?
Meet Robyn. She was so fun to meet and we started talking about warm colors and the process of finding what works on someone.  As she began draping me to see what colors looked best next to my face, I started to see it for myself.  It wasn't always obvious at first, because I'm drawn to favorite colors and colors that I love to wear, like blues and greens.  Luckily, the colors that I love the most are very prominent on the card and those shades lean to the warm side.  She did say a lot of blues can be worn by most everyone, like the teal workout top I have on.  She started with white as a neutral base.
Then, she took fabric swatches and one by one tried them by my face.  I guess I can wear yellows that are warm, but they aren't my favorite colors and I have nothing in my closet in this.  The card shows a very pale yellow for me.
This pink tone is one that I should stay away from, even though I do have some magenta and hot pink in my closet.  I do get compliments on the deeper pinks on me, so I will probably keep some of them, even though technically they are not my best shade.
Orange reds and corals are good on me and I knew that too from a couple of tops and a dress I have in that shade.  I don't usually wear bright orange by itself, but I do have a few prints in this tone.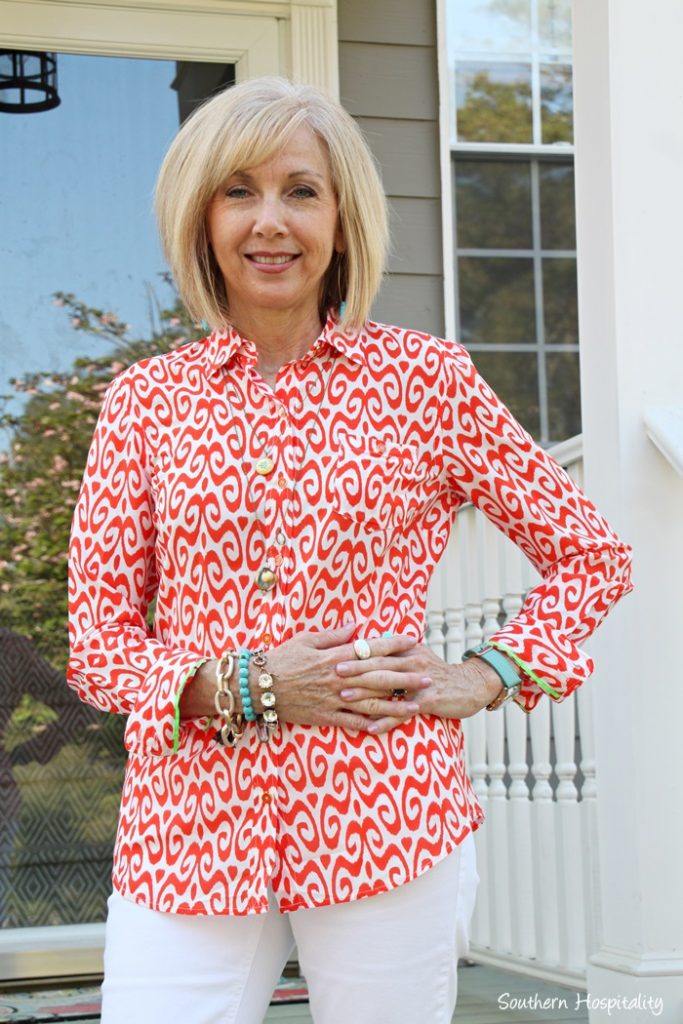 Like this one from C Wonder that I've shared before.
Again, the blue based pinks are not the best for me.
This one seems to be the same one on my card, a deep rusty red, so it should work for me in the warm family.
We determined that beige tones are better next to my face, rather than white-white.
This one was good too, it looks like one on my Warm card, in the deep coral family.
I think this one is too cool, in the pink tones.
This pastel melon is on my card too, so I could wear this, although I do think brighter colors definitely look best on me at this stage of life.  More color is better!
We then started talking about makeup and enhancing warm tones on the face.  I definitely need to stick to brighter corals to perk up my face.
She first applied a pink gloss to show me that it really didn't perk me up that much.  It's fine, just not the best.
We took that off and then she went for a warmer coral color.
It's definitely brightens up my face more. I do have a few lipsticks in this family already so that is good.
Next we started talking eye shadow colors and tones.
I have a whole palette of mostly neutral eye shadows that I've been using from Urban Decay. She said these are in the cool family (maybe except for the gold/brown in the middle), so even though I'm not throwing this away, I'll experiment with some warmer tones too.
Warmer tones on the eyes will really make my blue eyes pop with my skin tone.  I knew not to wear blue on my eyes (although we sure rocked blue back in the 70's, didn't we?!).   I've been wearing mostly pinky/beige/brown tones on my eyes for a long time, because I knew that browns would make my eyes stand out more.  I just need to go more warm with the browns to the copper family.
We experimented with more copper/deep rust shades on my eyes.
I do like them!
My friend, Karen, was having fun with my camera snapping all these pictures, so it made for a lot of laughing along the way.
Deeper shades of rust for the eyelids.
And a few swipes of a bronzer on the face.  I need to go more coral on my blush too instead of too much brown.  A little more color just gives us a pick me up as we get older.  Not a clown face (we've all seen those ladies, right?), just a pretty highlight.  Still use a light hand with the makeup.
I like the coral tones a lot and will definitely be more mindful of this in my new blush selections.
Ready to go shopping for a few new colors!
Consulting with Robin was a lot of fun, so if you are in the Atlanta area and want help with your makeup or wardrobe, you can contact Robyn at RH Image.  Her phone # is 678.262.6039.  You can find all her contact information there as well. She's a professional in the fashion/makeup industry and has a BS in Fashion Merchandising. She was a delight to meet and consult with.
I'm excited to perk up my makeup with some fresher coral tones and some brighter warm tones for my eyes.
I've been experimenting in the last few days and you can see that in these pics.  More of a copper/peachy tone on my eyes and the lipstick that I've shared before, Clinique Glazed Berry. It's definitely a coral tone and works for me.
This top is the Covered Perfectly 3/4 sleeve that I've shared before and this green color definitely works for me.  I'll share more of these outfits in a later post, but wanted you to see the makeup.
If you haven't found out your color tones yet, you may want to do that. It can definitely make a difference in what you wear in clothing and makeup.  It was a fun process and I would totally recommend Robyn to help you hone in on that if you are in the Atlanta area.
Note: Robyn gave me a free consultation and I told her I would share it on my blog.
Here are some makeup basics that I have enjoyed, the Naked palettes (affiliate links):

Don't Miss a Post, join my list!