During these hot months we have here in Georgia, I'm all about beating the heat and wearing shorts and cool tops. I wear modest Bermuda shorts right above the knee these days and it definitely helps to keep things cooler with our heat and humidity. I still like to look half way decent when we go out, so I make the effort to dress for a summer evening out, even if we're just going to town for dinner. We went to Henry's again this night, one of our favorite Acworth restaurants. Our downtown makes a great backdrop for photos!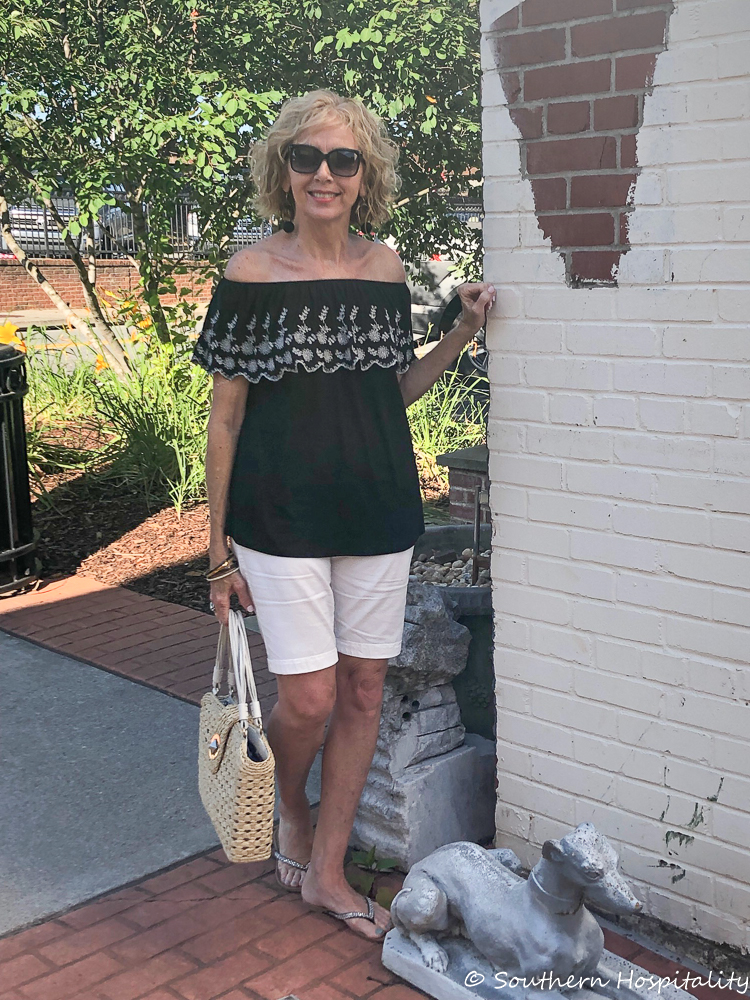 I picked up this knit off the shoulder top at TJ Maxx recently. They have such great inexpensive pieces and it's impossible to go in there and not find anything. The shorts I've had for a couple of years and they are comfortable cotton. With my thin legs, I stick to a slimmer silouette in shorts and that works best for me as do Bermuda length.
Simple jewelry and jeweled flip flops are all that's needed. Don't be afraid to bare those shoulders. They say that shoulders are one of the last body parts to age, so take advantage of that while you can, I say! I wouldn't bare my shoulders at church, but out to dinner with my man, yes please.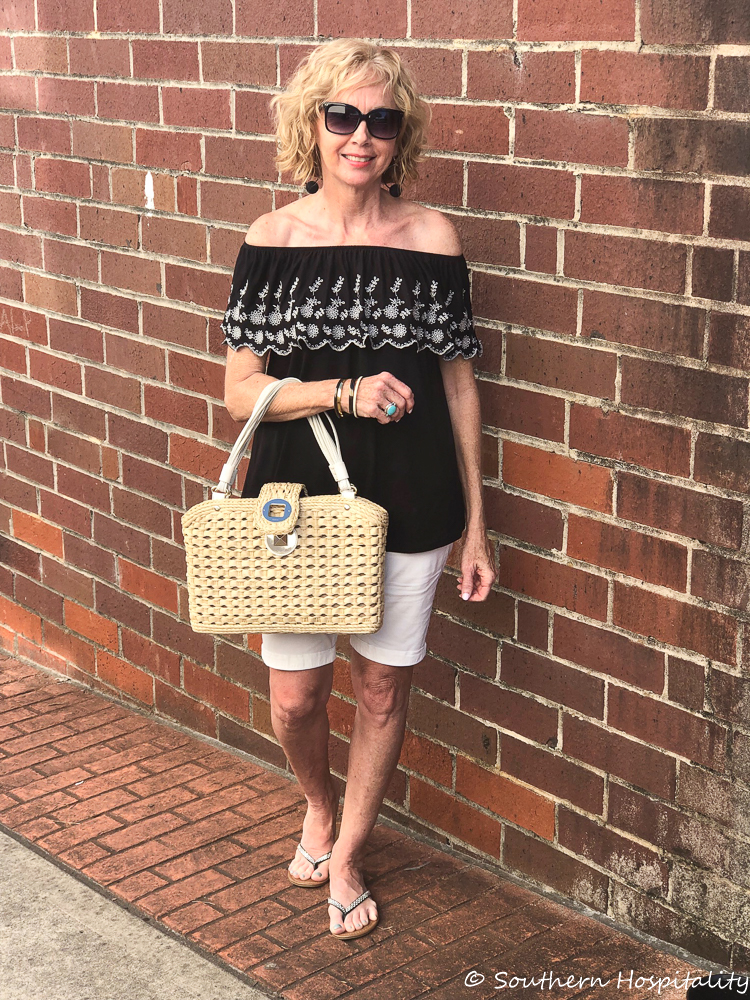 I continue to love this Kate Spade straw bag that I picked up at our local Acworth antiques shop last year. It was a good find and practically brand new!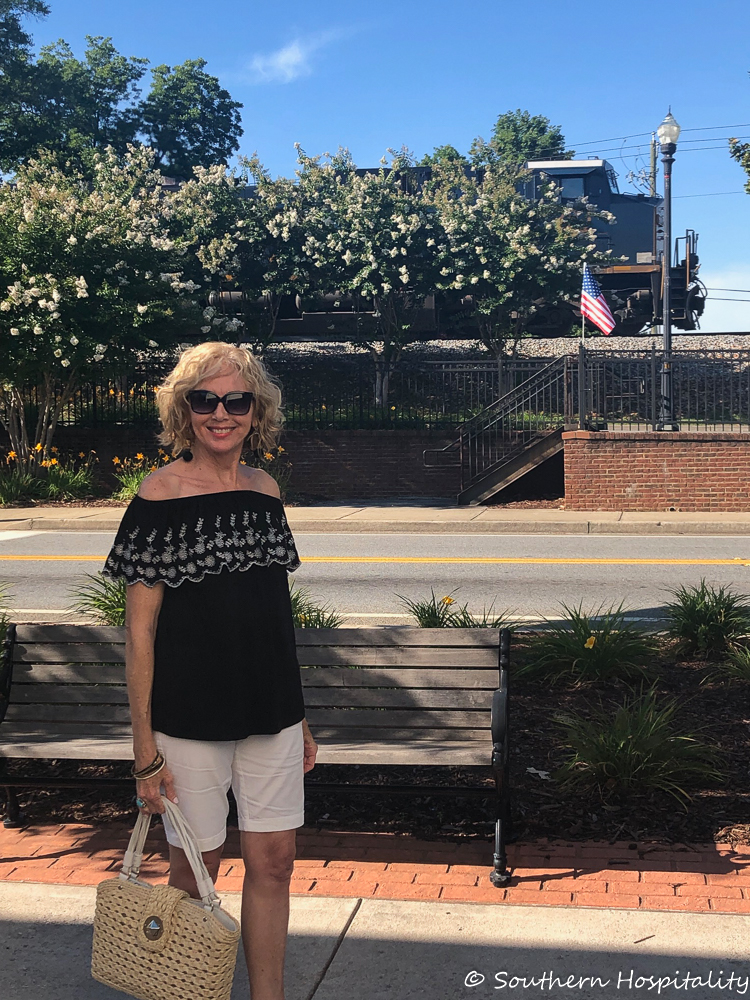 As always, black and white is a great combo that I can't get enough of. We see trains very often in downtown Acworth and our night out brought another one barreling through town.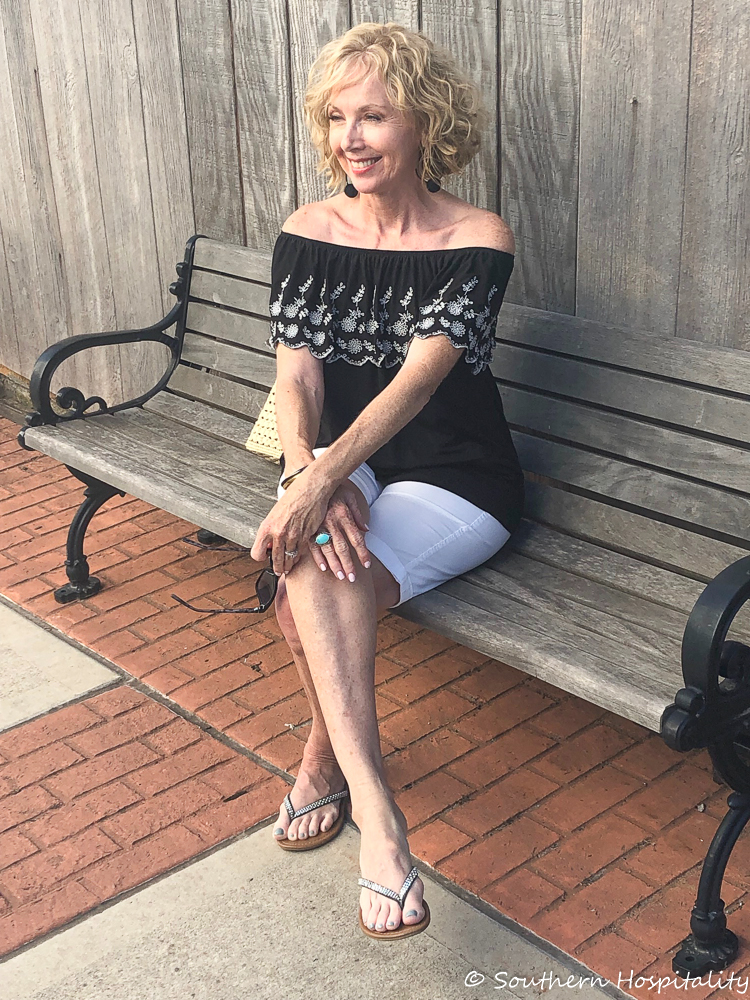 Cool and casual was the attire for the evening. We don't get too serious about dressing up in the summer months.
My hair has been curly more than not these days and I'm enjoying the curl, always trying to get it to look the best it can with going curly for a few days at a time.
Those curly girl products that I've talked about definitely help so check out my post about some of the products I've gotten for curly hair if you missed it, that help it a lot during these summer months. I might as well not fight it with our heat and humidity, that's for sure!
Thanks as always for stopping by to see my fashion posts! Here are a few things I found that are similar in case you're looking for casual shorts and tops for summer. Affiliate links used!
What are you doing to beat the heat? Do you wear shorts like I do or steer clear. I know a lot of older women don't like to wear shorts anymore, but I still have my share of them for summer.
Don't Miss a Post, join my list!