This post is sponsored by Chico's, all opinions and outfit choices are my own.
Fall is right around the corner, it has to be! Even though it's still so hot here, I'm really excited to think about dressing for the cooler temps that will be here soon. I always look forward to Fall when those treasured cozy and chic warmer clothes make their way back into our closet again!
I'm excited to be working with Chico's again on a Fall look featuring leopard print. I've been a fan of leopard print and animal print for a long time. All the way back to the 80's when I remember wearing animal print then, it's now considered a classic and a stylish addition to our wardrobes. Whether you are looking for a statement animal print piece, a head to toe look, or subtle touches like jewelry or a belt, Chico's has you covered this Fall. It's fun to mix up this wild print!
I opted for a leopard print moto jacket paired with some straight leg black jeans and a creamy sleeveless top, which is knit and easy care.
The statement jewelry from Chico's, I can wear with lots of other things as well with a touch of leopard.
These pieces are versatile for so many occasions and will look great with all black, a staple in my wardrobe.
I wore some tall suede booties I've had for several years. These straight leg jeans are nice and fitted with some stretch, so very comfortable. I wear a size smaller than normal in Chico's pants, size 4.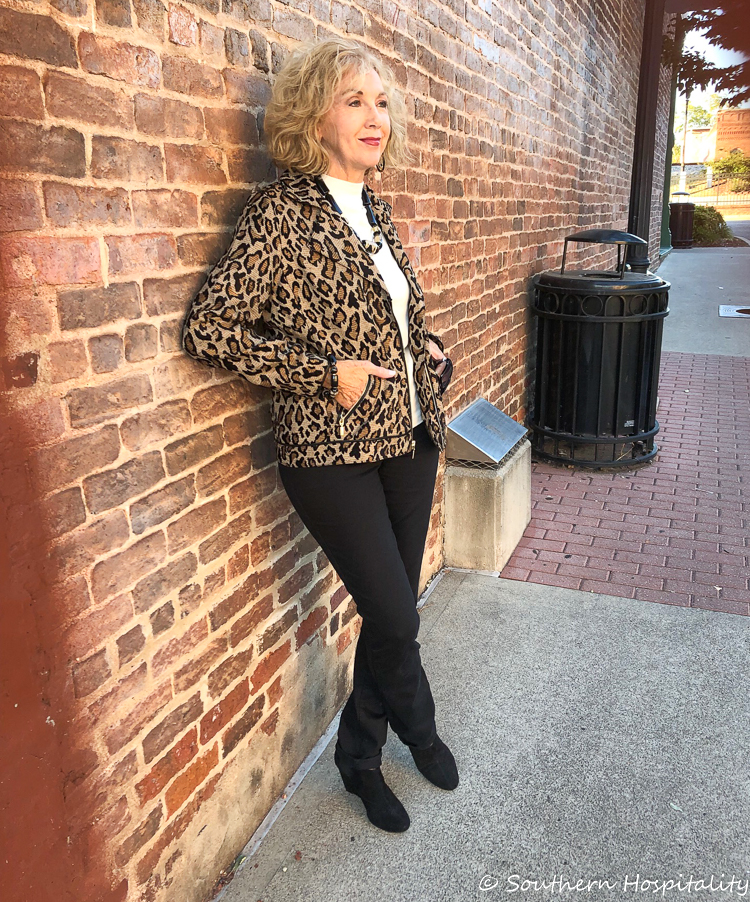 Side slit pockets in this Moto jacket make it sporty and chic. This will be a fun Fall outfit that I'll be happy to wear this upcoming season as it cools off.
I went with a darker tone plum lipstick to usher in Fall too. The jacket sort of matches my hair! I've always been drawn to leopard and animal print in general and have many pieces in my closet.
How about you? Do you have room for some animal print in your Fall closet too? What could you bring in to add some pizazz to what you already have?
I was sweating taking these pics in our late Summer heat, but Fall will be here before we know it and we'll have some cooler weather to enjoy. I'm so looking forward to putting on this Chico's outfit and wearing it out for a fun occasion. This jacket will be so fun to wear with jeans too, I can see it being very versatile.
Adding in a little leopard or animal print adds a lot of pizazz to your wardrobe, so think about that for the coming season and check out what's new for Fall at Chico's.
Here's a look at the items I'm wearing from Chicos (affiliate links): 
Don't Miss a Post, join my list!