Today, I'm back with a Fashion over 50, featuring a couple of my petite and curvy single friends.  You all say you love to see different body types, so here you go!
My roommate, Rhonda and I are completely different in build, so those of you who wanted me to mix it up with other body types will enjoy this.  Rhonda is petite and curvy. At almost 5'1″ and a size 6, she is just about the opposite of me in body type.  Rhonda is 60 years old and looks great.  I have some stylin' friends, by the way!  Most all of my single girlfriends like to stay in decent shape and wear fashionable clothes.
She's wearing long shorts (pedal pushers, maybe)  fitted below the knee with a shirred top in leopard print.  Those shirred tops are great for disguising the middle area where there might be a little extra you want to hide.
Shorts:  Attyre
Leopard: Style and Company from Macy's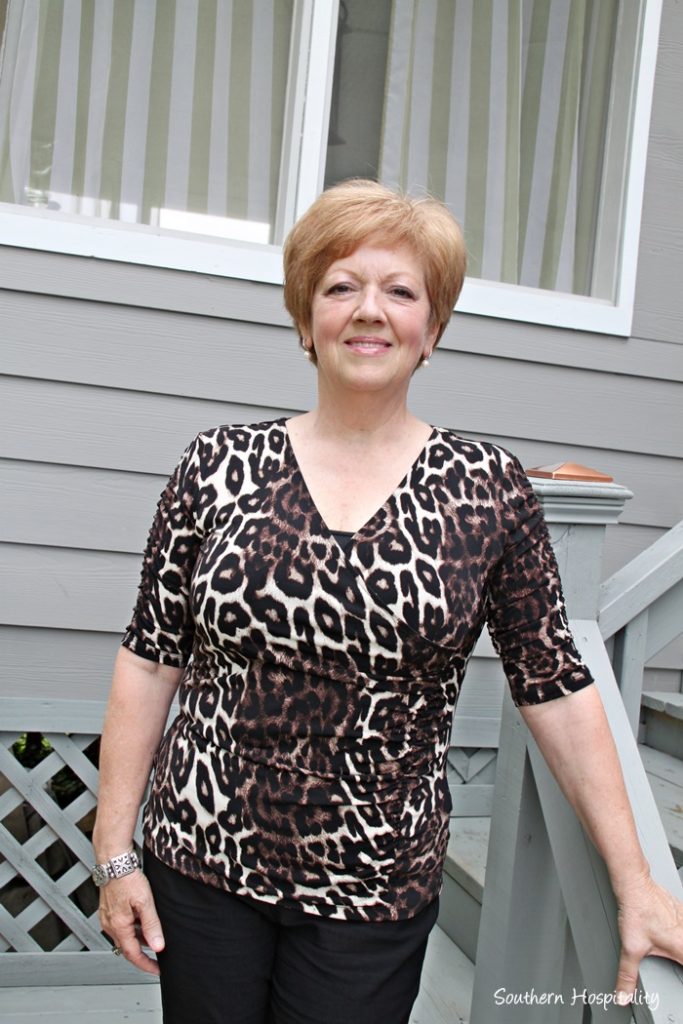 Rhonda is not nearly as flamboyant as I am with her jewelry and because she is petite, she keeps it simple with her jewelry choices and it works well for her.  Simple silver bracelet and her new pearl earrings were a gift from her daughter from Shane Co.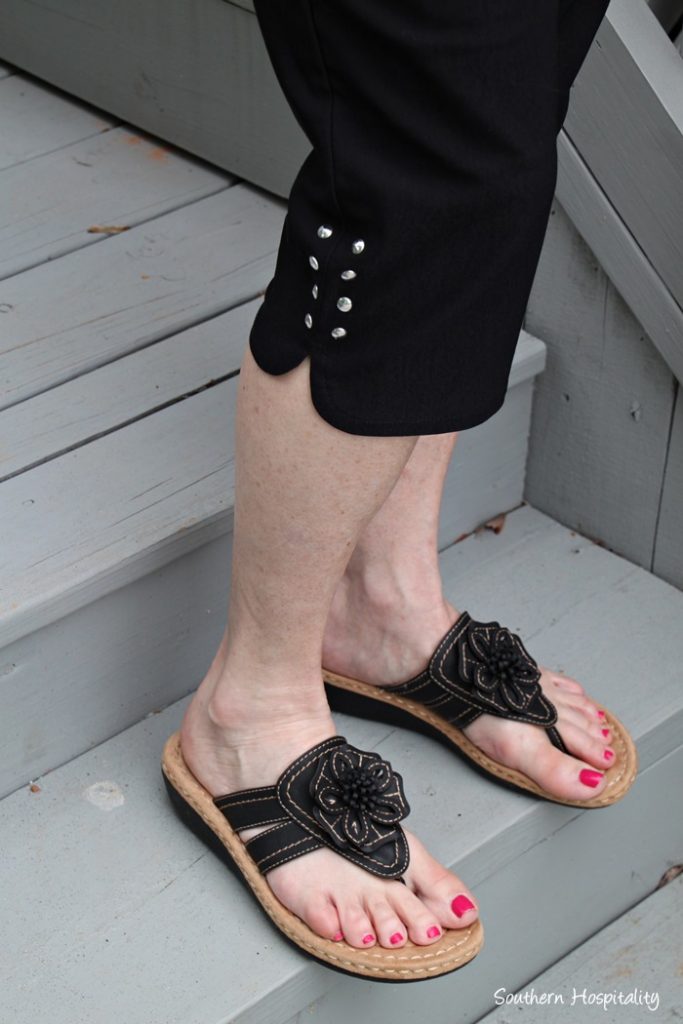 Those silver stud details on the shorts are really cute and her sandals are comfortable and fun for summer.
Black Sandals:  Cliff's by White Mountain from Marshall's (affiliate link here)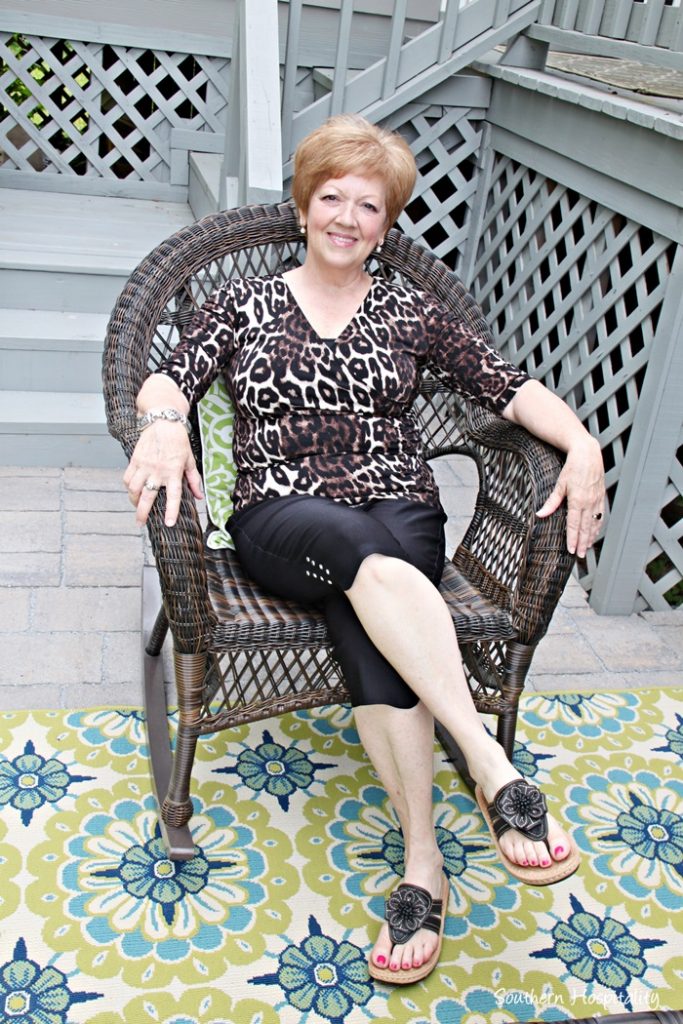 Rhonda has great legs and I told her she should show them off more often.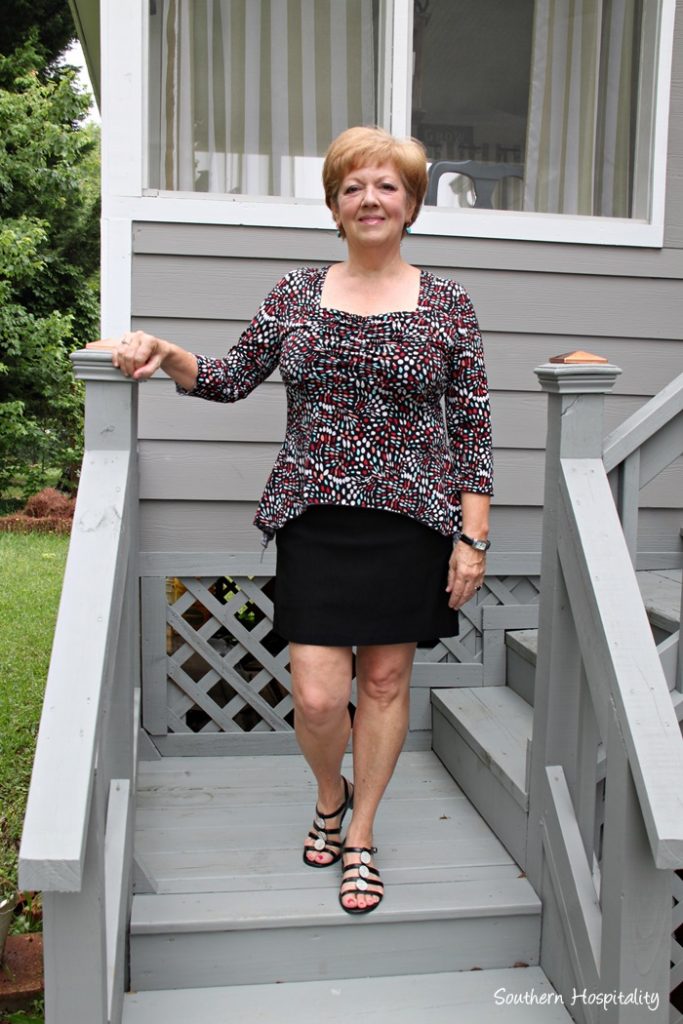 Skort:  Attyre  (here's an aqua skort in the same brand, affiliate link)
Top:  Susan Lawrence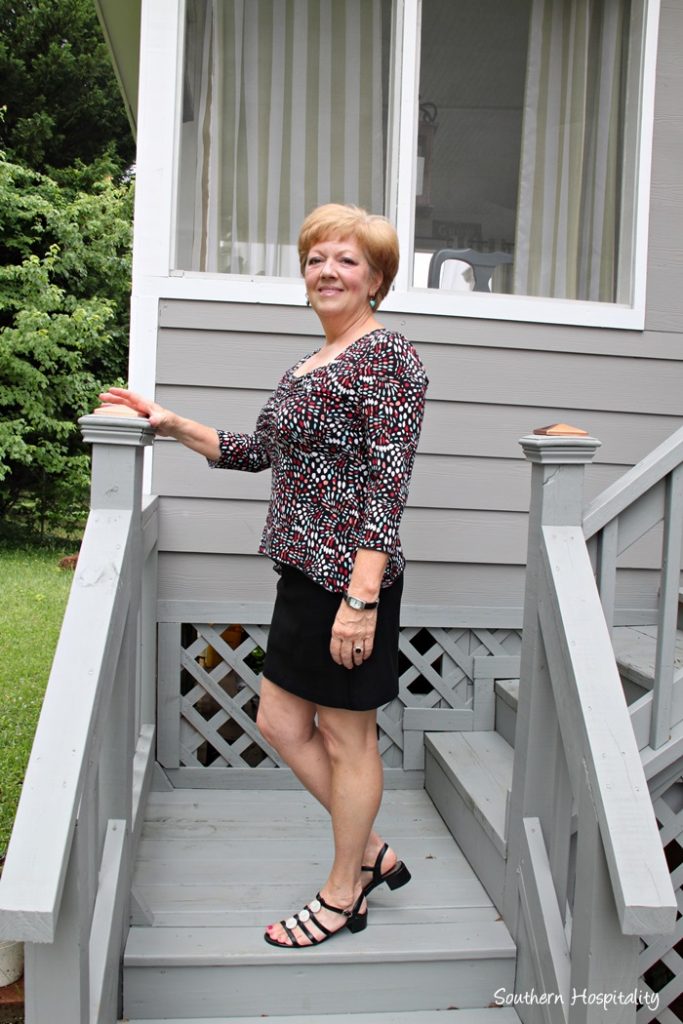 Low heeled sandals look great with a skort and it all looks very proportional on her smaller frame.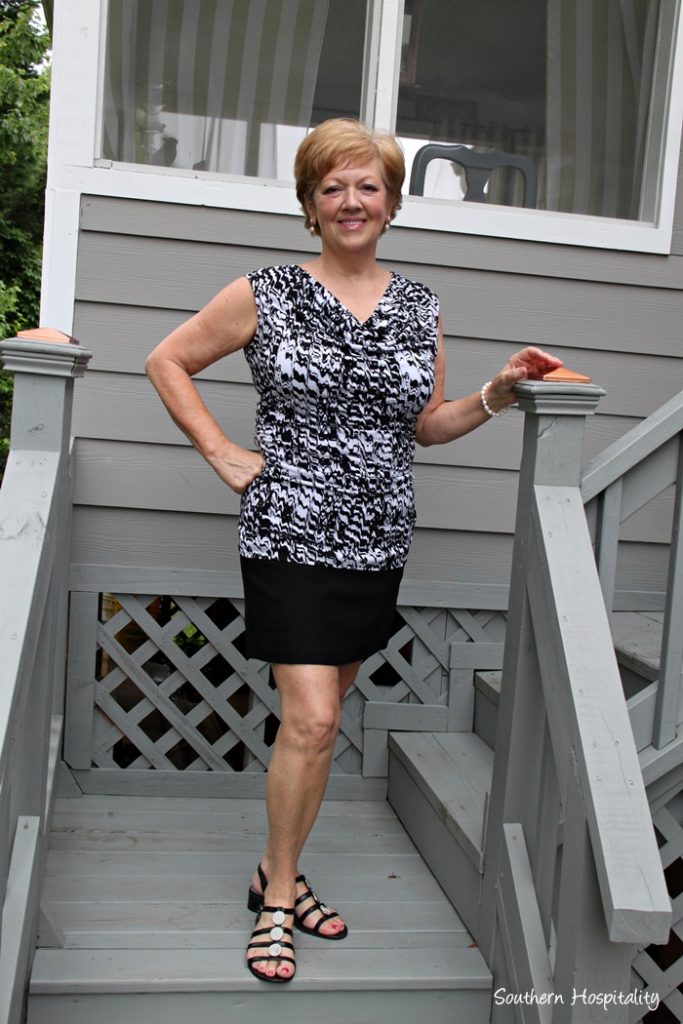 Top:  Chaus
Similar top from Chaus (affiliate link)
Another similar top from Chaus (affiliate link)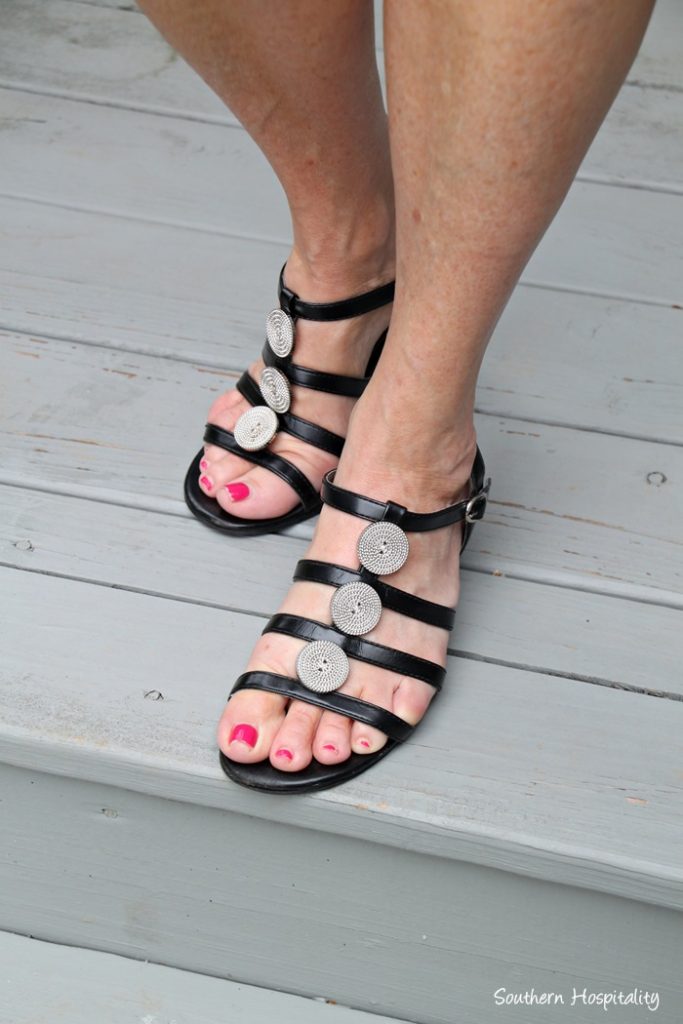 Sandals:  LifeStride (she's had these a few years)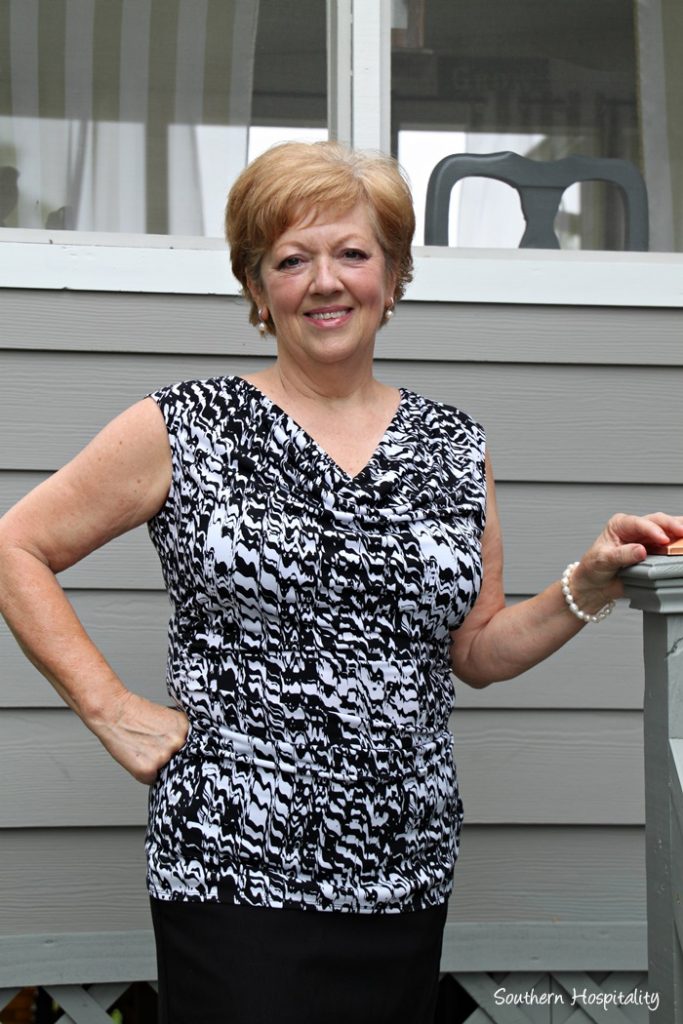 Another shirred top in black and white.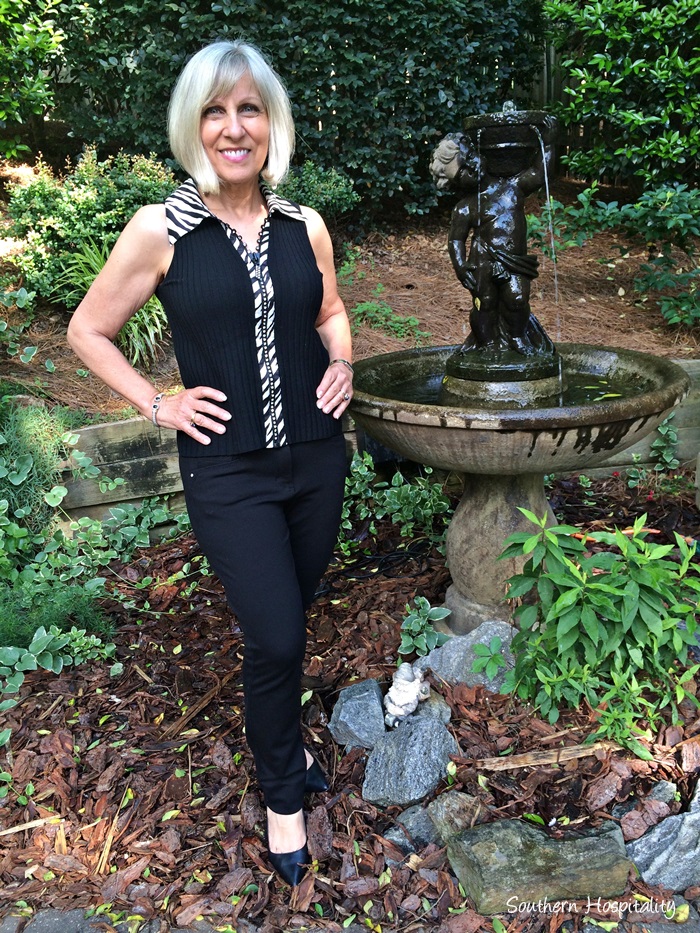 Here's my cute friend, Jana.  She is 61 and always dresses really cute. She is around 5′ tall (maybe a little taller) and is about a size 4.  She has on black strechy skinny pants and a black and white top. I don't have the details on the brands, but Jana is also petite, curvy, and busty just like Rhonda.  She dresses to accentuate her shape and most always wears a heel for a little extra height.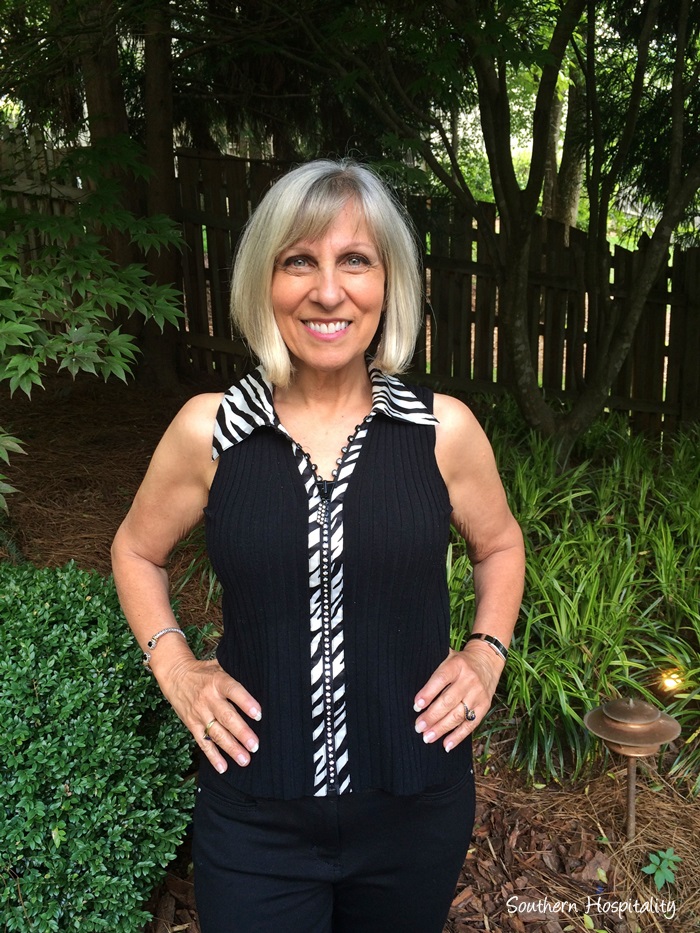 Jana always looks great and I love hanging out with my stylish single girlfriends. Who says we have to be frumpy over 50 or even 60?  I think you'll agree with me that these girls are far from frumpy.
Hope you got some ideas from this Fashion over 50 post! I will try to share more of my friends along the way so that you can see other body types and styles.
Don't Miss a Post, join my list!