Back today with another fashion post and I have to say, this is so fun. I'm so happy that y'all have really responded to the fashion posts like you have.  This has always been a fun topic for me, so to be able to share and talk about fashion and beauty with all of you, that's the icing on the cake for me.  Again, thank you for the enthusiasm on these posts!  I have a whole closet of clothes I can mix and match as well as accessorize, so it will help me to stretch my fashion creativity too.
This is an outfit I pulled together and wore to the Atlanta Mart a few weeks ago.  These pants, from TJ Maxx, are a snakeskin print jegging (which if you don't know, is legging/jeans combo) and I wore them with my new black boots.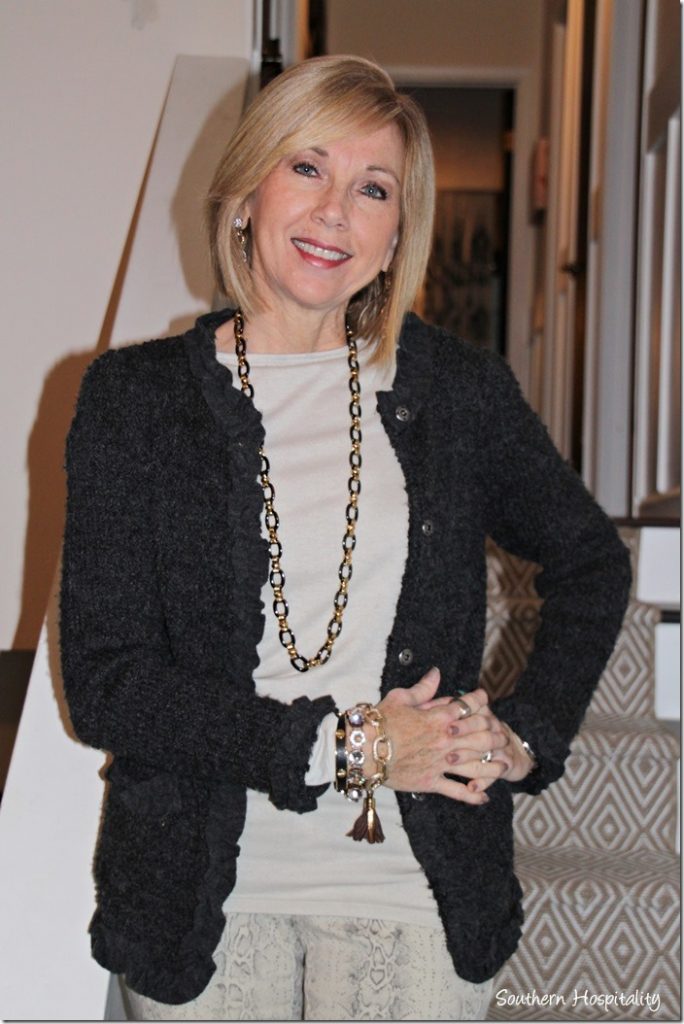 Charcoal Cardigan:  Similar / Boots:  Ralph Lauren Mila boots
The long sleeved shirt is from Ann Taylor and I picked it up at a thriftstore awhile back for $5. You've seen it in another fashion post too.  I topped it with a wool ruffled charcoal gray sweater (Willi Smith) that's been in my closet for a couple of years and it came from TJ Maxx.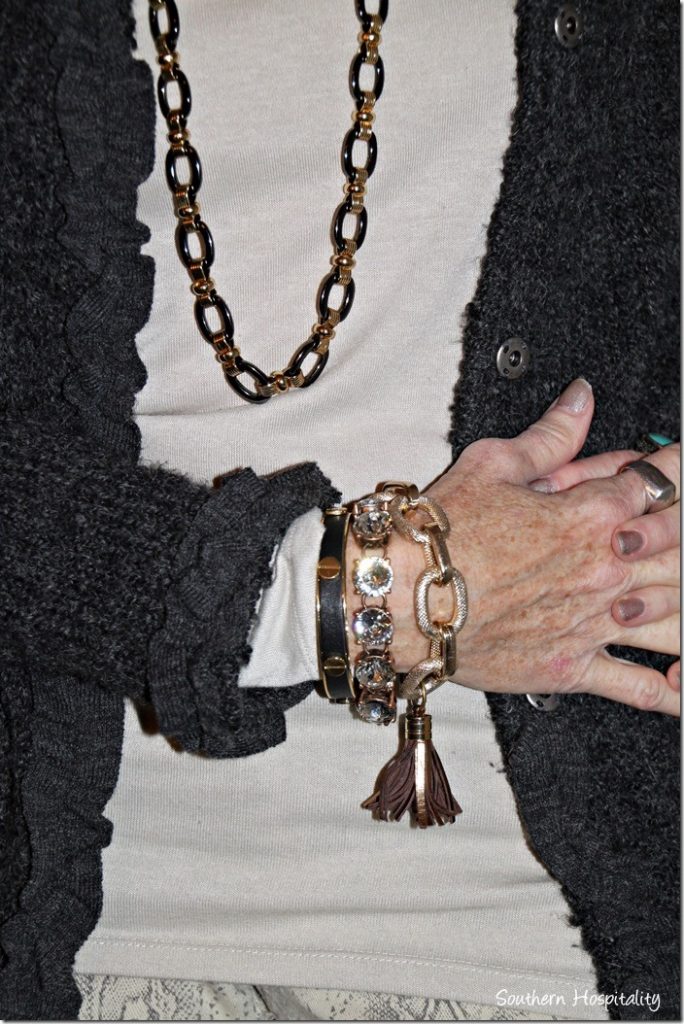 Once again, my blingy gold jewelry came out and I'm really loving the combo right now.  That necklace I picked up at C Wonder outlet on my shopping spree there before Christmas.  I just heard that all the C Wonder stores are closing, so that is sad news. I really got some nice pieces when the outlet closed so I'll have more of those to show you later.  Several pieces are good for spring summer wear.  That chunky black and gold necklace was $10 on clearance.
So there's another boots and skinny pants outfit.  I  like a little bit of faux skin or fur patterns in my closet too, as you'll notice along the way.  These snakeskin print pants came from TJ Maxx and they are DKNY brand.
This is a new outfit I recently got and this is one of the tops I scored at the sample sale at the Atlanta Mart, top is by Artex.   I picked up this pair of damask leggings while in New Orleans, at Dillards and I'll show you a close up of those.  I love the graphic print on the tunic shirt and because I love black and white so much, it's a winner for me.  I paid around $25 for the top and the leggings were on clearance for $23.
Would you believe, I didn't even notice this top had a face on it until way after I brought it home and someone mentioned it from a picture on Facebook?  That's what I get for shopping fast.  I do love it!
It was chilly out that day, so I topped the outfit with another sample sale score, this ruffled sweater (I think this was $30 by Lisa International) that I can wear with lots of things. It's gray, black and white and I love the ruffles on the sleeves and how the entire front and hem are ruffled with gray.  It ties in the middle.
When I wear this necklace, I always get asked about it.  I've have this necklace for about 4 years and also got it at the Atlanta Mart, in the cash and carry area.  The vendor is Art by Amy and she has an online store too, so you can check her out online if you're interested in one of these.  You can pick out the charms and make it personal.
Sweater:  Lisa International, Similar Sweater 
A closer look at the ruffled sweater.  This piece is so warm and comfy this time of year.
The tunic is plenty long enough with the leggings and the sweater is even longer.
Leggings:  Hue Flocked Brocade
Here's a closer look at the damask leggings. The brand is Hue and I got them on sale at Dillards.  Aren't they cute!  They're really thick too and very comfortable with lots of stretch.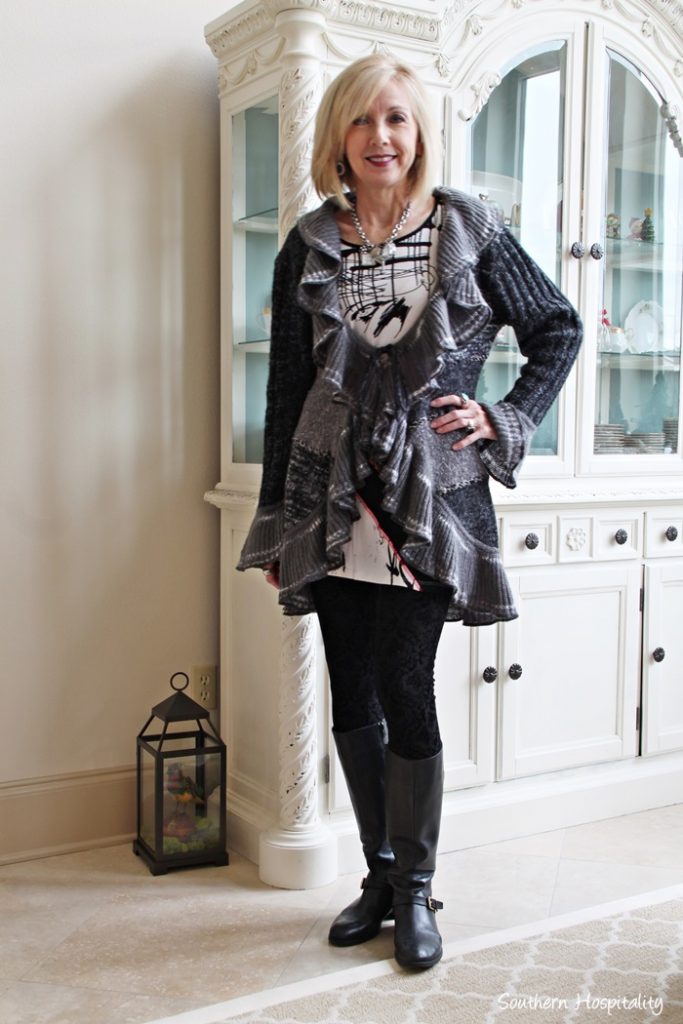 The sweater ties in the front and is really comfortable to wear, as well as warm. It sort of has a patchwork look too.  As much as I love black, I had to get it.
Here's a not so great pic snapped with my phone camera of black skinny jeans, black sweater and the new ruffled black and gray sweater.
So that's a look at how I'm wearing different sweaters this year, shorter ones and longer ones.  Have you tried the longer sweaters yet?  They really are fun!
Joining The Pleated Poppy's What I Wore Wednesday.
Disclosure:  This post contains affiliate links, but you don't pay any more from buying through my link.  I earn a small commission on sales. 
Don't Miss a Post, join my list!