I'm trying something different today for Fashion over 50. I've seen lots of fashion bloggers do dressing room try ons, so I am trying that today! I stopped in my local Target and found a few things that would be good for this time of year, so come along with me.
Now here's a disclaimer. Never go into Target with the thought that you're just going to try something on. Inevitably, you'll find something that comes home with you, just as what happened to me. I brought 2 things home.
I've been thinking about a casual Fall dress that I could wear with boots and this middy plaid flannel dress fits the bill. It will be perfect with my brown boots and that rust sweater I got at Target. I tried on a Small, but it was a little tight when I sat down, so I got the Medium instead, but it's Small in this pic. I've got hips so that gets me sometimes.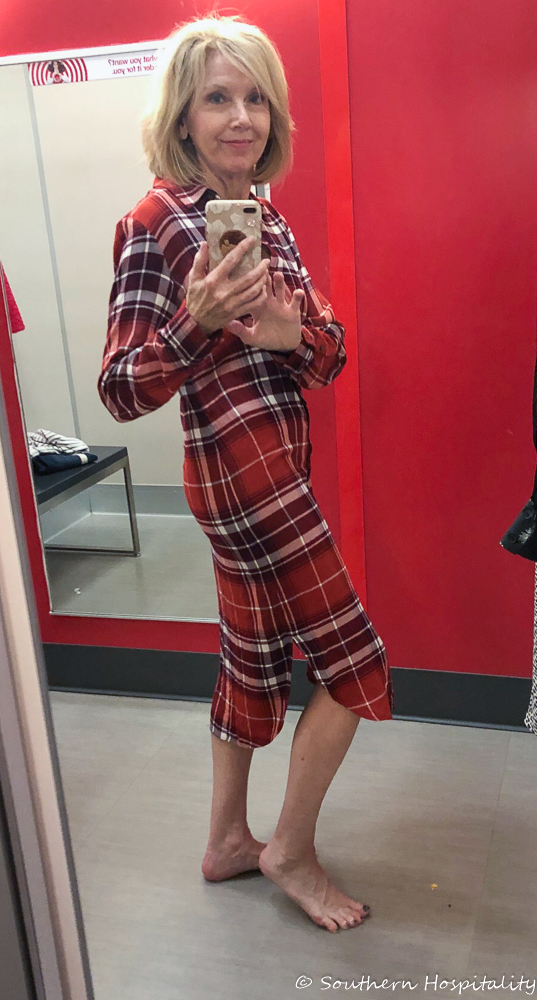 I'm going out of town to Nashville this weekend and I'm taking this dress with me. I like the longer hem in the back and the little slit. Ignore my bare feet and try to envision these with shoes. Next time I'll take some shoes into the dressing room with me. If you all like this idea, I'll do more of it. I can't buy everything I try on though!
Here it is at home with my brown boots. It's not sexy or anything, but it's a cute dress for Fall and Winter months with boots.
I can wear it with the rust cardigan too.
I decided to try on some of their Universal Threads jeans and see how they fit and I was happily surprised that they are stretchy and fit well. These are high rise skinny cropped jeans in a dark wash and at $24.99 very reasonable. I haven't tried on jeans in Target for a long time.
This tee shirt is nice too, from A New Day brand. It was on sale for $7 (reg. $10) so I brought it home too. I love these kinds of pieces for layering under jackets. This one has stretch and is longer for tucking in if you want. It's very soft and comfy.
Target has decent plaid shirts too and this black and white one is affordable and cute.
The shirt tail is nice and long.
These animal print pants from Who What Wear are really cute. I thought they would look great for a Holiday party, pared with a sparkly top or sweater and heels. They are cropped and very stretchy but have a slim silhouette.
I think the pants are a winner. I picked up this top to go with it, but it's a little too shiny for my taste, so disregard it. I really like the pants if you're in the market for affordable somewhat dressy pants for the Holiday season.
This Who What Wear furry coat caught my eye and the watermelon red is such a pretty color. I'm wearing a S/XS but it's very roomy. It's a fun coat for the season.
It's double breasted with pockets and would be fun for this time of year.
Just picture these things with the proper shoes and how cute they would be. Let me know if you like this trying on in the dressing room idea and I'll do more of it. It's tough though not to find something to bring home doing this! These are just a few ideas I thought I'd put out there for you.
Don't Miss a Post, join my list!