One of my new friends in Georgia, Loree, just moved in her newly rebuilt and renovated fixer upper house in Woodstock a few weeks ago.  I went by and saw the house as she and her hubby, Steve, were working on it.  Just as I am doing, their house was a DIY project.  Steve is very handy and knows how to do all of that work himself, so they gutted this small 1960's brick home and started over inside.
I'm adding in a couple of Before pics, so you can see how far this home has come!  It's amazing, the transformation:
BEFORE:  Scroll down to see the After.
One shot of the living room/dining room Before. 
It has turned out to be a jewel box of a home and I know you're going to enjoy seeing what Loree and Steve have done with this smaller footprint home.  It has lots of cottage touches and those make all the difference in the world. At the time I took pics, they were just about to move in and there were a few more things left to complete, but you'll get a really good idea of how this house will live.
This small brick home started off as red brick and now you can't even recognize it. It has a Craftsman feel now.
They painted the existing brick and added some cottage shutters and details like these shutter dogs.  A simple, but pretty lantern is on the porch.
Inside they salvaged the existing floors and had them stained dark and completely refinished.  Love the front door.  This is a living room and dining area combined.
The right side of the room houses the old double sided red brick fireplace, which they opted to keep as is.  The other side is in the kitchen.  Check out the planked ceiling.  The wood on the ceilings throughout were salvaged from the original walls in the house.   That door you see goes out to a small garage area that is attached.
Dining room side of the fireplace.  They were still cleaning up before moving in so that's why the floors aren't clean yet. Dust was still hanging around.
I love the special touches of woodwork that they chose, with these simple paneled doors and thick molding at the top.
With 2 bedrooms and 2 baths, this is not a big home, but it really has some nice touches.
Tiled tub in the bathroom.
Planks on the ceiling.
Their only child is a son and this is his room.
The kitchen is the heart of the home and this one is extra pretty with the painted green cabinetry that Loree chose.  Very homey!
Elegant and rustic at the same time.  Check out the special slate and wood floors and Steve did. Isn't that unique and beautiful?
They found granite at a good price and I love this slab.  I'm going to be picking Loree's brain for all the details on their sources.
Kitchen side of the red brick fireplace.
That rustic mantel adds just the right touch.
Those floors are just stunning.
I was able to help Loree out with her Pantry doors.  She told me she wanted to frost her doors to hide everything inside and she wanted to write Pantry on them.  I printed out these letters for her on my Silhouette machine and she installed them and frosted the doors herself with a frosting spray.
Love how these turned out, it was great to see them in person!
Now, that's a pantry I would love to have.
This is a combo laundryroom and office.
Distressed cabinets above.
The master bedroom was added on the back of the house and they used the existing red brick along with reclaimed wood to make a nice spot for the bed to sit.
A barn door goes into the master bathroom and master closet, which was still being finished out.
The master bathroom has planked wood as well.
I hope you enjoyed this small, but inspiring Georgia cottage that was completely renovated on a budget.  I loved the tour and knew you would too. Thanks, Loree and Steve for letting me share your beautiful home with all my readers.  I know they will get lots of ideas too!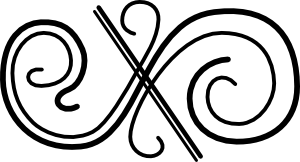 I'm sharing my framed mirror project over at Kirkland's pinning Parlor today, so hope you'll stop over there! Great way to update a plain glass mirror with molding from the big box stores!

Don't Miss a Post, join my list!