In Atlanta, we have some great show houses and the Southeastern Designer Showhouse is always a treat to see. The showhouse is open from May 9th through June 2 and is open for tours from Thursday – Saturday, 10 AM to 4 PM and Sunday 1-4 PM. If you get a chance to go, I would encourage you to do so, it's beautiful!
The media sponsor is Atlanta Homes & Lifestyles magazine and they invited us to the preview.
Located on Garmon Road off Mt. Paran Road, the home is a new build and presents a beautiful exterior, built by Robert Donner, Southern Gentry Homes. Architect: Dietrich Logan, Logan Design Group.
All photos below by official photographer, David Christensen for 2019 Southeastern Designer Showhouse.
Outdoor terrace: Erin Gates, Frontgate
Upstairs Bedroom: Holly Phillips, The English Room
Upstairs Bedroom: Honey Collins Interior Design
Porch: Huff-Harrington
Mudroom & Ground Floor Powder: Jennifer Ferguson, Jackye Lanham Designs
Study: Jonathan Savage, Savage Interior Design
Upstairs Master Bedroom: Paige Schnell, Tracery
Great Room: Phoebe Howard, Mrs.Howard
Dining Room: Robert Brown, Robert Brown Interiors
Main Stairwell & Upstairs Landing: Sande Beck
Master Bathroom: Stefan Alexander
Upstairs Study, Laundry Room, Gallery and Side Stair: Stephanie Jarvis
Screen Porch: Tish Mills Kirk
Entry Foyer: Tristan Harstan for Beth Webb Interiors
Master Bedroom: Will Huff and Heather Dewberry, Huff Dewberry
Kitchen/Keeping Room Designer: Yvonne McFadden
Kitchen, Master Bathroom & Pool Terrace Cabinetry: Morgan Creek Cabinetry
Yvonne McFadden
Below are pics I took of the house as I visited and toured. There was so much beauty to see in this house, I really loved a lot of it. Two things I noticed on the showhouse. Wallpaper is back in a big way, but you probably already know that. And shiplap is now being used in high end homes as accents too.
The entire upstairs of this house was shiplapped and it was pretty. I do like shiplap too, but it has certainly gone mainstream. In this house, it looked very upscale and definitely added architectural interest.
You should be able to tell most of these spaces that are mentioned above, but I didn't make detailed notes on each picture I took.
Kitchen: Yvonne McFadden
This master bedroom shown above was probably my favorite space in the house. I took lots of pics of Will Huff and Heather Dewberry's space. One other note, all the spaces weren't finished when we toured so I had to shoot around that too.
Wasn't this a gorgeous traditional bedroom? I loved the colors, the fabrics and everything about it, especially that bamboo-like bed.
Notice the shiplap going upstairs.
The ceilings were very unique as well.
I loved this art work!
This bedroom by Honey Collins was also very pretty and serene.
This stairwell art caught my eye and someone there who was finishing up the space by Stephanie Jarvis, the designer, said that these pencil drawings of trees were done by a young male artist who did them all with a No. 2 pencil. And each of the tree drawings had a Bible verse inside the drawings.
Update! I looked up the designer on Instagram and she has a picture posted of the art. The artist is Richard Bowers from Nashville, art available from Nashville Artist Collective. Richard is also on Instagram, so I'm linking him too. I found their page from Nashville Art Collective with his art, so you can click here to see a few of his tree drawings.
They looked so good in this stairwell!
This was the coffee table in Phoebe Howard's great room.
Owners veranda by Huff Harrington, I think.
I loved getting to meet Alabama designer, Ashley Gilbreath. She designed an upstairs bedroom and bathroom and it was gorgeous. I've admired her work for a long time and have never crossed paths with her until now. We also have a mutual friend in common, Layla with The Lettered Cottage. So it was so fun to get to meet her!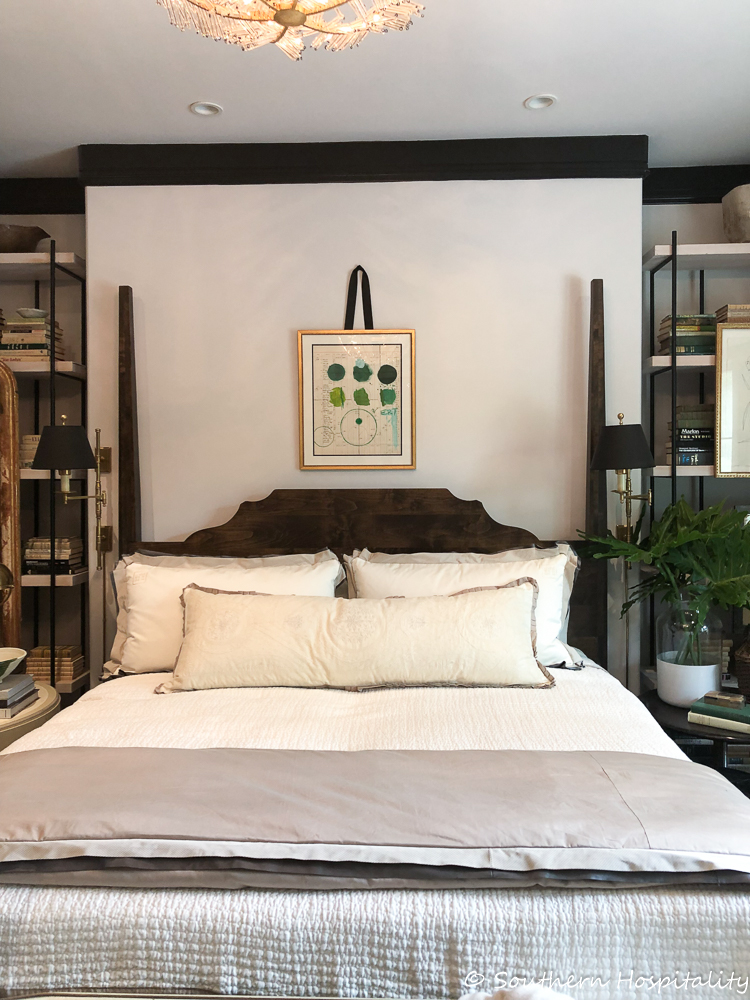 Stephanie Jarvis upstairs landing.
Powder Room: Jennifer Ferguson, Jackye Lanham Designs
Study: Jonathan Savage, Savage Interior Design
That's a peek at the 2019 Southeastern Designer Showhouse. I sure enjoyed the tour and I hope you did too. It's fun to get inspired at showhouses and these are really fun to look at!
Don't Miss a Post, join my list!