We go way back, the two of us.  The lady I'm featuring today, Pat with Back Porch Musings, is a longtime online friend that I met years ago (over 10) on an online decorating board that we were frequenting at the time, called Great Impressions.  Back in the day, it was a fun place to hang out and share decorating ideas and it was way before you could sit and look at home pics online. That was non-existent back in 2000.  Amazing how far the internet has come in 13 years!   Pat and I started our blogs within a month of each other.
So, Pat and I have known each other virtually all this time and I consider her a friend even though we've never met in person. She is one of the kindest and sweetest ladies I know and all of her creativity shines through on her blog, Back Porch Musings.  She's a wonderful photographer too and in her later years has a love of taking photos and documenting life's sweet journey through photography.  You'll enjoy her beautiful home, which she lovingly put together with her husband of many years.  They have a beautiful place out in the countryside in Missouri.
Their beautiful brick home in the countryside is so charming and pretty.
On the exterior, they've done lots of landscaping and prettying up the outdoors as well.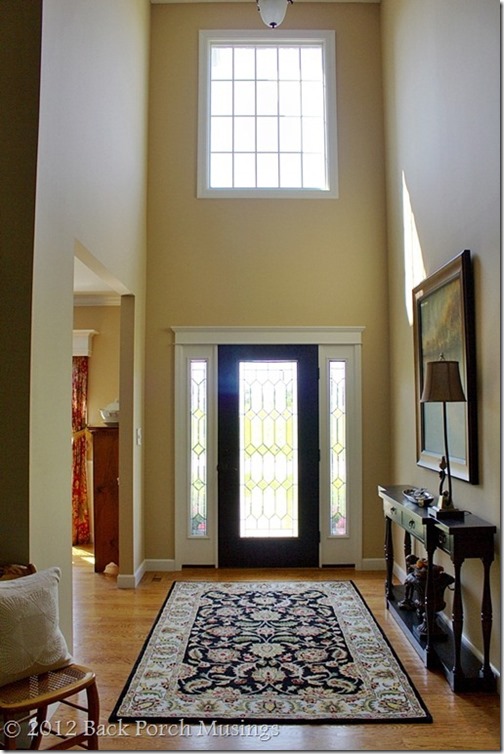 Inside the 2 story foyer.  Pat is a decorating diva and loves to changes things up all along the way.
Their hearth room right off the kitchen is cozy and casual with slate floors and a homey fireplace.
It looks to be a wonderful gathering place for family and friends.
The fireplace which gets changed out for the seasons.
Looking into the breakfast room and kitchen.
I love Pat's farmhouse table with all the multi-hued chairs surrounding it. And her beautiful collection of white dishes is to be envied on her cupboard.
Named after this porch, Pat's blog is a haven of comfort and rest.
They enjoy spending lots of time out here on the back porch and I certainly can't blame them.
The dining room has gone through some paint color changes and this one is neutral.
I also loved it in this beautiful aqua shade.  They were going to try to sell their home last year, but with the economy like it is, it just wasn't a good time to sell, so it's off market now.
The guest room has been newly redone with an upholstered headboard.
Pat also has quite the collection of dishes and serving pieces and always sets a gorgeous vignette.
I think this shot is the living room looking into the hearth room.
Living room coming in the front door.
Pretty pieces, Pat has collected some beautiful antiques and new pieces as well.
Downstairs, her hubby has his own lodge room and this is a spacious basement area.
And this is why it's called the lodge.  Rustic, but casual, perfect for entertaining.
What a beautiful home Pat and her hubby have. I hope you enjoyed the tour of this Missouri countryside home at Back Porch Musings. Pat is one sweet lady, so I hope you'll go over and visit her too.  She would love to meet you!
Don't Miss a Post, join my list!