Today's Feature Friday is such a fun one to see visually.  You all know I love historical homes and enjoy these type homes to tour and view in person.  Cynthia Weber is the interior designer and creative lady behind the blog, showcasing their beautiful 7 acre estate called BannockBurn 1878 in Ontario Canada, near Lake Huron. Before they purchased the home, it was established as a local B&B on a gorgeous piece of land, truly an idyllic setting if there ever was one.
Built in 1878, after 2 years of construction, the stone house still stands, as stately as it ever did.  Can you imagine living in a historical treasure like this?  Cynthia and her hubby serendipitously stopped by this house when it was a B&B and told the owners they were interested in buying it if it ever came up for sale.  It did and they got the home almost 2 years ago and now live here as residents.  Cynthia has a studio here and works with clients out of the home.
They've done some renovations on the home in the last 2 years, including the kitchen, which we will see pictures of.  There are not too many pictures inside the home, but some of the most remarkable are of the grounds of BannockBurn. They have 2 dogs, a Doberman and a dachshund.  I imagine these doggies love living here too, don't you?
Cynthia and hubby also garden extensively and have flower gardens and vegetable gardens growing.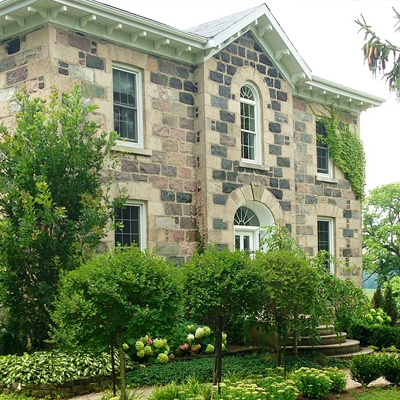 It is truly an outstanding piece of history, with the stone architecture and lovely and lush landscaping surrounding it.
They rebuilt the flagstone path going up to the front door and discovered a buried gristmill stone which they then used as the centerpiece of the path.
Flooring throughout the house was mismatched and not original, so they went with new flooring in a light oak finish.
The stairs were repainted and a beautiful Dash and Albert runner added.
It's a remarkable space.
Full of beauty and tranquility.
I love the white walls and how it all feels with antiques and collectibles. 
The living room at BannockBurn.
Cynthia has snippets of her home all throughout her blog, but now spends most of her time on Instagram, so you can follow her there for more day to day happenings and see all her beautiful pictures.  Be sure to scroll through her beautiful feed for more glimpses of her home and gardens.
It is just the most beautiful setting I think I've ever seen.  To wake up to this every morning must be a dream.
What a porch!
Cynthia renovated the kitchen with new painted cabinets, which gives it a very historical feel. Love that ceiling too!
An agate countertop went in the kitchen too, something I've never seen before.
Enjoy these little snippets of life in BannockBurn.
Herb gardens in galvanized tubs.
A view of Fall in the outdoors.
This stately tree is called the Wedding Tree, in the backyard at BannockBurn.  I can imagine a beautiful wedding under its sweeping limbs.
Views from the back porch to the barn.  What a vista view this is!
It must feel like living in another century to them.
Cynthia had always wanted a horse and got one earlier this year.  He's a miniature and so cute! That's the beautiful Cynthia playing with him in the snow.
I just love this gorgeous stately home and knew that you all would enjoy it too.  Thanks for stopping by today and I hope you'll go over and visit Cynthia too!  She's a very talented designer and has such an eye for creative details.
Don't Miss a Post, join my list!