Back today with another fun Feature Friday!  This blogger is fairly new and she blogs with her daughter at Biscuits and Burlap.  Pam and Sara are the mother daughter duo behind the blog and they share in writing the blog from an older/younger perspective, which is a great idea.  Pam, the mom, and her hubby built their dream home last year here in the Atlanta area, near the small town of Norcross, which has some cute historical streets with quaint homes.  Their home looks very Southern and I'm sure fits right into the area they live and I just love the feel of it.  Southern style gets me every time!
I'm meeting more and more over 50 bloggers and will be sharing more of them along the way. It's fun to connect with other bloggers who are more mature (notice I didn't say old!) and of the Baby Boomer generation!
I think Pam and her hubby downsized when they built this house, but it looks to be a perfect size open floor plan, perfect for empty nesters. Pam is a Mimi to several adorable grand children and mom of 3. I  know she is enjoying her new home so much.
This brick porch and front door just says welcome to me, a very Southern entry.  I adore Southern style homes so much and if I ever built a new house, it would have charm like this.
They opted for an open floor plan, which Pam says is sometimes hard to decorate around, with not a lot of walls to place things.  Her kitchen and greatroom and dining area all open up to each other.  I think it's great, I wouldn't mind that at all.
She goes into detail on her blog about the building process, so if you want to check out all the details, go over to her blog for more.
This is a pretty stacked stone fireplace and those built ins are great too!
Pam is still working on her home, but she has several spaces ready to show, so we are taking the tour. Decorating is always a work in progress, isn't it.  Looks great to me so far.
The kitchen isn't huge, but very workable and having a counter and stools is handy.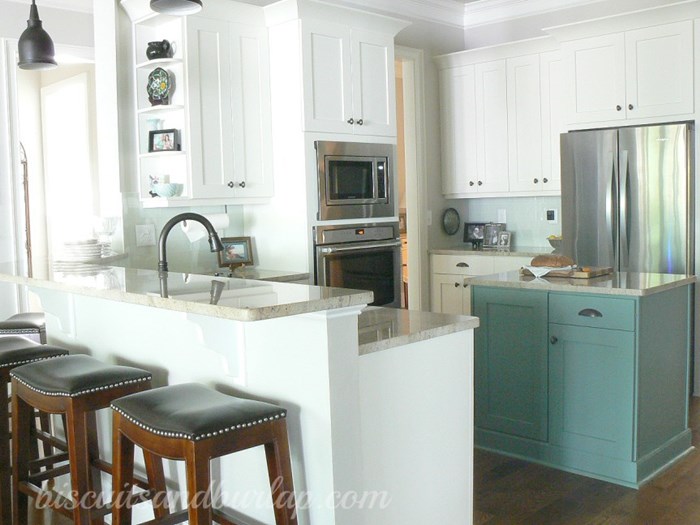 I love that turquoise island too.
I love the white cabinets and the granite and she has a Blanco sink similar to mine too.
Granite composite sink and they are wonderful sinks.
It looks like a very functional and stylish kitchen.
Instead of a big breakfast area, she has a drop leaf breakfast table to one side of the room and this space is so cute.  Just perfect for 2 people!
The dining room is spacious and seats 8, very nice and open.  Dining room is painted Sea Salt, one of the most famous Sherwin Williams paint colors out there.
Pam is a thrifty shopper too and found these pretty glass cabinets at a antiques/flea market place for a great price.  I think she said they are Henredon.
A cute Butler's pantry is in a little alcove off the dining room.
At night, they can open up the folding French doors and enjoy the big back porch.
A porch is always going to be on my wish list and this one is really pretty.
Cozy and comfy seating areas.
A dining table for al fresco meals.
Here it is at night, just for a fun shot.  Porches and candlelight, what a great combo.
A serving piece comes in handy on the porch as well.
And don't forget the outdoor grill and kitchen space.  A Big Green egg is all built in and ready to go, as well as a gas grill.
Stools surround the outdoor bar, ready for guests.  What a great house and porch!  So very Southern indeed.
I hope you enjoyed this new home tour of Pam of Biscuits and Burlap.  Check out the blogging duo and stop by and say hi, I know they would like to get to know you too!
Don't Miss a Post, join my list!