I love finding new blogs that I've never visited before and Bless'er House is one of them.  Meet Lauren, the blogger and homeowner.  She and her hubby bought a builder's grade home in 2013 and have started fixing it up to suit their taste and lifestyle. And they've done a fantastic job.  Lauren loves eclectic cottage style, so has added plenty of charm to this otherwise plain new home and now it has loads of character.  They live in SC, but are in the suburbs of Charlotte, so a Southern girl, she is.
I love to see transformations like this and they aren't even finished yet!
They took this builder's grade home and made it their own, since late 2013.
A plain Jane hallway turned into this…..
With board and batten and plenty of shopping on Craigslist, along with DIY projects.  Lauren is a really savvy shopper and scours the sales and thrift stores.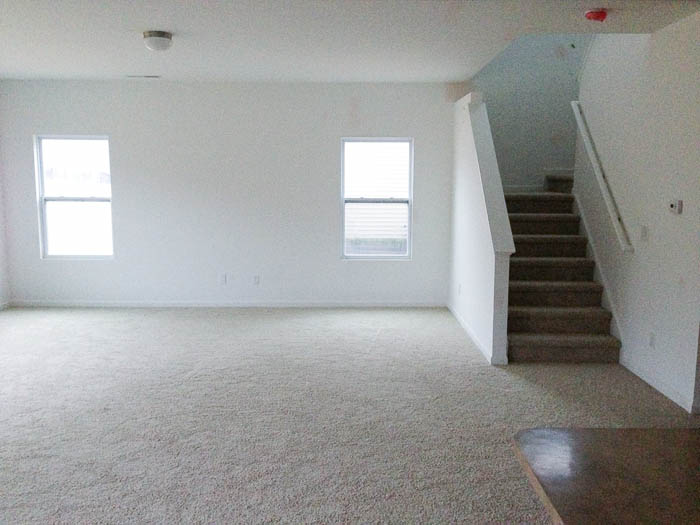 Living room, with no fireplace.
Changed to this cozy space, complete with a faux fireplace which adds so much character to this room.
Gallery wall up the stairs.
They also added this rustic beam in the doorway between the living room and kitchen area, which again adds so much charm.
Lauren has just completed painting her kitchen cabinet white and it went from this…..
To lighter and brighter white paint.  I love white kitchens and always will.  Notice the backsplash got a whitewash treatment too. You can check out all the details on her blog.
The also went over their laminate countertops with a DIY concrete countertop project and added a farmhouse sink from Ikea.  Looks great!
This project had me all in awe, with these 70's chairs being renovated.
To this! How about that makeover!  She used foam and drop cloths along with staining the chairs and completely updated the look of them.  These were a Craigslist find.   That chandy was a DIY project as well.
Their rustic industrial office looks like the pages of a catalog.
And they had me at that light fixtures. Lighting does make a difference!
The master bedroom is in progress, but looking good.
Lauren does use a lot of neutrals, but has mixed in a little color along the way.
They've already made over the bathrooms too, to suit their style.
They have a daughter with the cutest room.
And I hope you all enjoyed Bless'er House tour!  I sure did enjoy seeing what Lauren and hubby have done to their house.  They've done a lot of great things in this place and I know y'all are as inspired as I am with the transformations.  Stop by and say hi to Lauren!
Don't Miss a Post, join my list!