I love featuring real life homes that are done by women as crazy about decorating as all of us are.  Today we meet Terri (known as Tee by her friends) who blogs at Browne Eyed Belle and her beautiful dream home built in 2009.   Originally from Louisiana, Tee and her family now reside in Charlotte, North Carolina, where they built their dream home. It truly is a gorgeously beautiful palatial home that Terri has had fun working on, making it her own for her family.  And it shows!
Traditional, but not stuffy AT all, it has touches of French influence and is just downright magazine worthy.  I first saw Terri's gorgeous bedroom when she linked it up to one of my parties and I had to explore further in her home and then I found all the rest of these inspiring pics.
Doesn't this look like a French chateau?  Yep, right there in Charlotte, NC.
What a welcoming entry.
Snow last winter.
Beautiful family room with outdoor vistas in green. 
Which looks onto the amazing kitchen.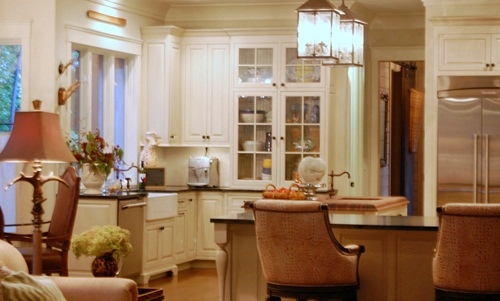 Check out those oh so pretty lanterns in this space.
A drool worthy farmhouse sink.
There is nothing NOT to love about Terri's entire house.
Terri has put together some sweet vignettes and that attention to detail is wonderful.
Even in the mudroom is outstanding, lots of great features.
Here's the bedroom shot that caught my eye.  I had to see more of this amazing home!
I'm so glad I did.
It is a treat for the eyes.  The master bath is spacious and there are not enough words to describe a home like this.
It could totally grace the pages of  Traditional Home magazine.
Terri has a phenomenal eye for details and putting it all together.
I hope you enjoyed the tour of Terri's home and I know she would love to hear from all of you too.  She's a funny lady with a witty sense of humor, so hop on over and say hello.
Don't we all love company?
Don't Miss a Post, join my list!