I'm back with a really fun Feature Friday today.  You've all met my new friend, Buck, when I featured his beautiful in-town bungalow here in Atlanta earlier this year.  I'm also going to be covering a flip house he's working on right now and I'll show the After pics as soon as that project is completed. And I just photographed his backyard, which is going to be a real treat for all of you.  I'll be sharing all of that soon!
In the meantime, Buck co-owns with a family member, a gorgeous 1850's historic home in Abbeville, SC, which is where Buck was raised.  Many of his family still live in the area.  Buck told us about the house and invited me and my girlfriends to go for a couple of days and enjoy this quaint Southern town.  Just 2 1/2 hours northeast of Atlanta, Abbeville, SC is a wonderful weekend get away destination for those in Georgia or surrounding states.  I have been here before, a couple times in fact, back in the 90's and stayed in the historic Belmont Hotel and took in a few plays at the beautiful Opera House.
My trip with the girls was so fun!  We so enjoyed hanging out in this beautiful house of Buck's.  We felt like we were in the movie, The Big Chill, gathering in a historic home for a weekend away and we took in a play in the Opera House this time too.  I'll be back later to share more about Abbeville, the city and how cute it is, but today I'll show you Buck's house.
It's amazing!!  I took (as usual) a zillion photos, so I hope you enjoy the tour.  I didn't have my tripod with me, so had to make due with trying to get the best shots indoors with my camera. I am not a professional photographer, but try to do the best I can.
This is what we saw when we first arrived on Magazine Street in Abbeville.  Is this not an amazing house?  Built in 1850, it's over 5,000 s.f., just a gorgeous hunk of house.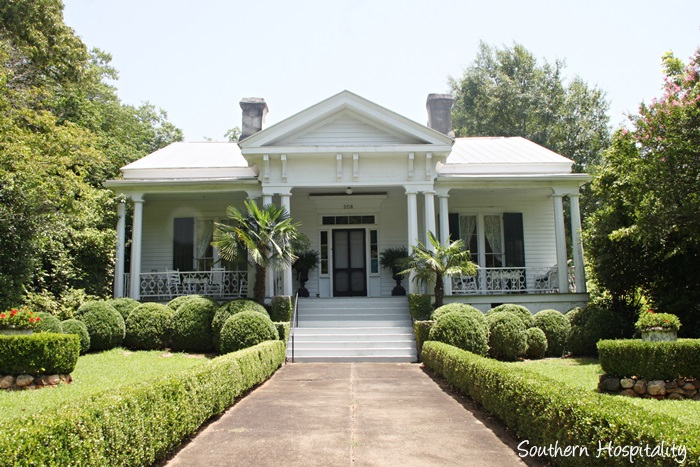 It's exactly what you'd picture in a small Southern town, isn't it?
The front stairs take you up to the HUGE front door.  Don't be fooled, that screen door is mega big and not a regular sized door at all.
My friends and I made ourselves at home for a couple of days in this beautiful home.  (My girlfriends, from left:  Karen; my roommate, Rhonda: Jana, and me).
This took me back to my grandma's front porch.  When we were growing up, she had rocking chairs and a swing on the front porch of her white frame house in Florida.  It wasn't this big, but had this feel.
Buck and his cousin have done an amazing job with this house over the 10 years they've owned it, adding beautiful antique furnishings and period pieces throughout.  What's a front porch without wicker and huge urns filled with ferns?  This house does the South proud!
White wicker sofa.
These huge floor to ceiling windows and shutters were just stunning.  You could imagine opening these windows on a hot summer day to let the breezes in.  Thankfully, this house is now air conditioned, so we were comfortable inside.
We took advantage of the early mornings by having coffee on the porch.  Don't miss those unusual railings on the house.
Buck has real plants and flowers all around the house.  His parents live nearby and take care of things for him, since he is a busy professional who flies all over the country.
Stepping inside, the foyer is spacious and big with plenty of room for large pieces of furniture.
I love that Buck has furnished the home so well with gorgeous antiques, rugs and accessories.  He has such a good eye for design.
This sideboard with marble top is a huge piece and just stunning.
A huge oil painting hangs over it with marble lamps flanking either side.
That's a real orchid in the planter.  Looks magazine worthy, doesn't it?
Looking back towards the massive front door.
To the right of the front door is the living room, open and airy and painted in a pretty peachy hue.
I love the light furniture in here, mixed with blues and creams.
That sofa is very comfortable and I loved the huge palm tree in the urn filling up the corner.
In a house like this with I think, 12′ ceilings you have to go up with scale.  There are some enormous mirrors and pieces of furniture in the house.
The antiques here are just amazing.
Looking towards the dining room, which we will get to later.
To the left of the front door is the library or billards room.
It has a gentlemen's feel about it.
Opulent window treatments are mixed with a leather Chesterfield and corner bookcase.
This bench is from an old pool hall, elevated to see the game.
Next door to the pool room through a small hallway is the master bedroom.
It's outfitted with some beautiful pieces too.
A canopy bed is the star in a heavy wood.
There are plenty of fireplaces in this house.
Looking back out to the foyer and hallway.
The master bath has a beautiful claw foot tub.
And a vanity sink with marble top.
Next door, another bedroom has lots of windows and a masculine feel. This is Buck's bedroom.
I loved the bathroom with all the beadboard and hex tile on the floors, all in black and white.  Just yummy!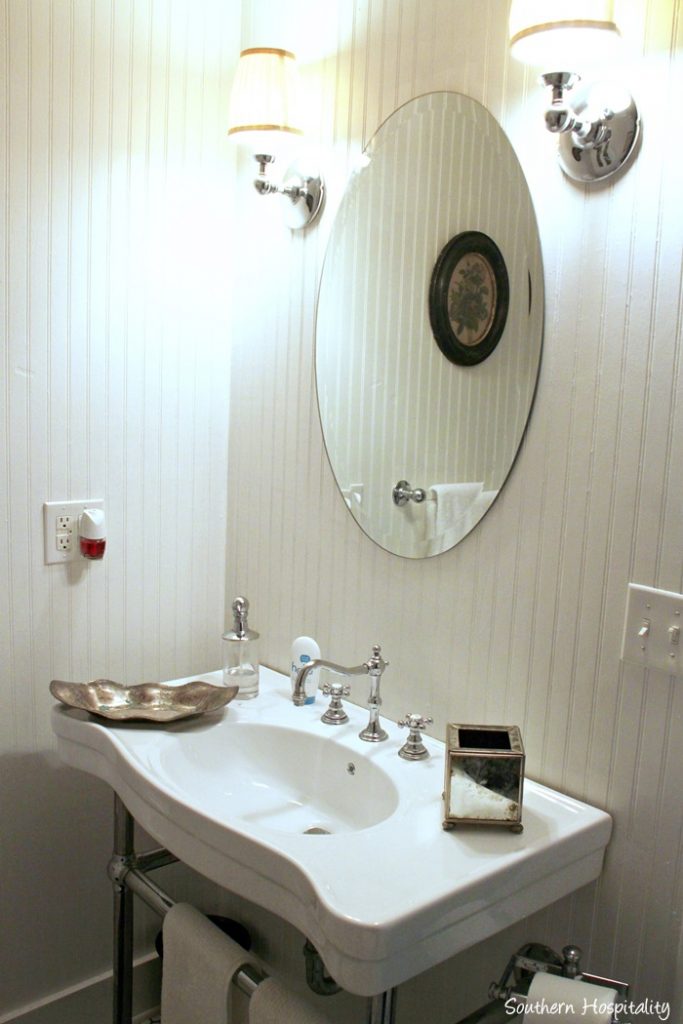 A pedestal sink doesn't take up much room.
All those elements together are so classic and pretty.
The family room is at the back of the house.  Notice the front door through the hallway there, shotgun style.
With a TV and plenty of cozy seating, this space is wonderful.
A breakfast room with lots of doors and windows is at the back of the house too, leading through to the kitchen, which has just been renovated.
Aren't those beams gorgeous?  Buck's dad mentioned that this used to be the kitchen at one time.
The new kitchen has a white hex floor too and a classic, but modern feel.  The refrigerator is off to the left, by the island.
Not a huge kitchen, but very functional and close to the familyroom and right next to the dining room.
In case you can't tell, the cabinets are painted a light gray.
Through a door from the kitchen is the formal dining room.  This room just oozes Southern charm, with the table and chairs and tall ceilings. Notice the doorways and transoms above, as well as that opulent mirror over the fireplace.
This is one grand dining room space!
What do you think might be in the Butler's pantry?
When we turned on the light and saw this, I just gasped!  This is a stunning collection of gold and white dinnerware, called Lysett.  I know nothing about this, except it is French and started by 2 guys in Atlanta.  Buck told me his cousin, Wayne, is the collector of this dinnerware.
I knew nothing about this china, but did a little research and came up with a few articles, like this one from UGA.  William Lycett, son of Edward Lycett from England, migrated from New York to Atlanta in the 1880's and opened a studio devoted to porcelain decoration.
It's quite impressive, the magnitude of this collection.
Apparently, the thing to do is get these monogrammed when getting married or for special occasions.
I've heard it was a middle to upper class tradition to collect this china with the family monogram.
It's beautiful, that's all I know!
I've never seen such an impressive collection before.  I'm sure it's worth a small fortune.
Back to the dining room, it's a beautiful room.  I can imagine dinners on this table and enjoying the ambience of this space.
Blue and white pieces over the wall cabinet.
Another impressive tall mirror.
A really gorgeous silver punch bowl.
Here's a good look at that beautiful gold mirror over the fireplace.
There's also a 2nd floor upstairs with 2 huge bedrooms with fireplaces in each and a shared modern bathroom in between. I just didn't take pics of all of that.
And that's a look at an impressive 1850's South Carolina home in Abbeville.  I hope you enjoyed seeing this house as much as we did.  It was truly a pleasure to say there and to walk on those patina heart pine floors, which have hosted no telling how many folks over the years.  Historic homes are so amazing to see and experience.
Buck tells me that they have decided to sell the house.  His family uses it for holidays and large family gatherings, but after 10 years they are going to sell.  There's a couple from CA interested in the house and they think an offer is coming soon. The asking price is $399K.
I'll be back later with lots more on Abbeville, SC. There's a lot to see in this small quaint Southern town!
Don't Miss a Post, join my list!