I've never been to the Hamptons, but whenever I see pics of houses in that area, I'm always smitten.  I think me and the Hamptons would get along just fine.  It looks so serene, pretty, and relaxing up there.  Makes me think of the Kennedys, Nantucket, Martha's Vineyard, all places I have never been.  Maybe one day, I'll visit that amazing area, but for now I'll just have to enjoy these pics.
House Beautiful always delivers some gorgeous eye candy and this Hampton's Country Home in red, white and vintage is another winner.
Creating a wonderful, weathered home in Bridgehampton, New York, design consultant Ellen O'Neill showcases the softer side of red.
I thought you would enjoy these too and I hope you do!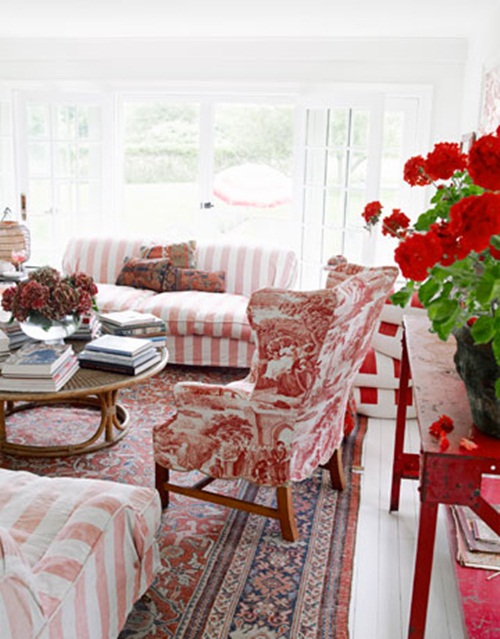 There's something so pretty about all the white walls and the soft reds in contrast.  Don't you love that red and white toile?  Toile is one of my fave fabrics to love.
This fireplace mantel is just plain yummy!
How cozy this cute doggie looks hanging out on the sofa.
Those red chairs sure pop in that room.
What is yummier than a black and white floor in an all-white kitchen?
Ahh, pure blissful scenes to take in.
This red and white bedroom is pretty cozy too.
Clawfoot tub and a red and white striped rug.  What is not to  love?
More red and white toile.  Who loves toile??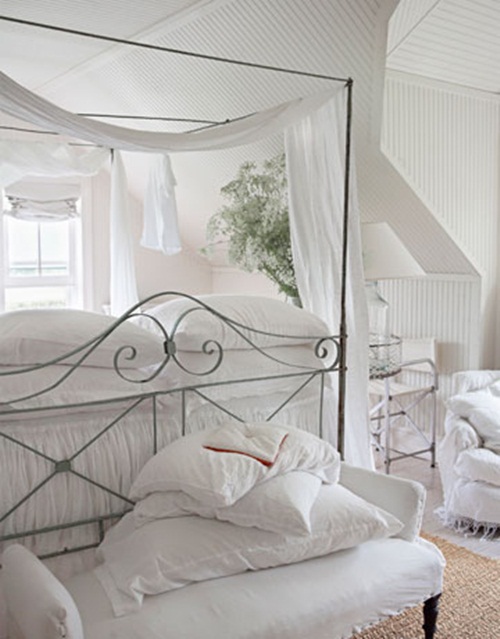 This bedroom is a little stark with all white and no color, but peaceful all the same.
Very pretty!
So, what did you think of the Hampton's cottage?  Did you love it?  Is it somewhere you could spend your time and relax?
All Photos: House Beautiful
Story: Christine Pittel
Design: Ellen O'Neill
Don't Miss a Post, join my list!