It seems that there is just a never ending supply of beautiful homes in blogland.  I'd like to introduce you to Lynn from Designing Acres, a fairly new blogger in Western New York, who lives in a beautiful home in the country on 72 acres.  Talking about getting away from it all, I'm sure they must enjoy the peace and quiet that living in the countryside would bring.  And wait until you see the home that she and her hubby built and designed.  So lovely!
They both have day jobs, but love designing and creating a beautiful space together.  And I'd say they have achieved that with this homestead they call, The Farm.
A sprawling across the back home set in a wooded area, they have plenty of room to roam the countryside and I'm sure never have to worry about noise.
I love the front of their home, so welcoming and beautifully done.
This breakfast room with a view is extra special.  Love those dark floors (of course, I would!).
White cabinets, dark countertop and a beautiful marble backsplash.  Love it.
This is one beautiful home.
Kitchen to breakfast area.
What a dining room, isn't this stunning?  Love it!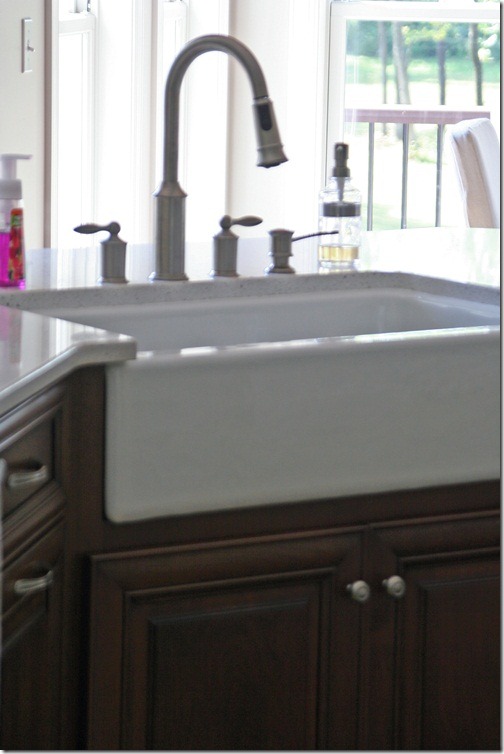 Farmhouse sink.  That faucet looks very similar to the one I'm using.
The master bedroom is well  lit and I love the mix of fabrics that Lynn has used.
The master bath looks extra dreamy too, I spot a clawfoot tub.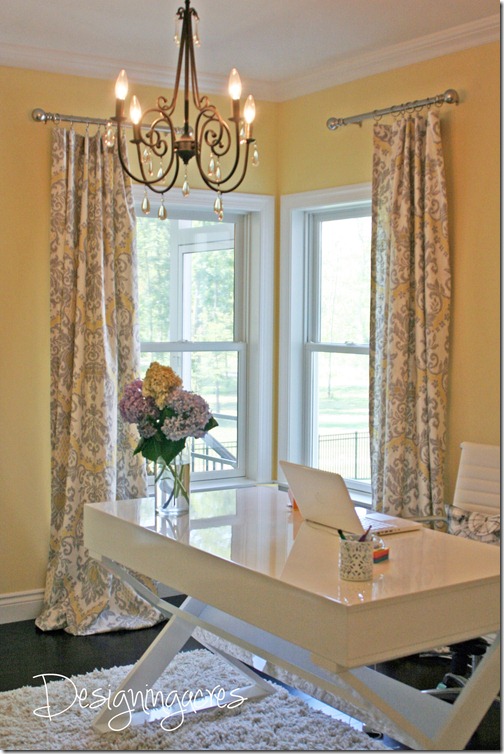 And what a nice office this is.  Love those drapes. Gray and yellow are a wonderful combo.
An open back porch takes advantage of those wooded views.  What a nice spot to sit and relax.
And last but not least, a pool in the backyard.  OK, this is like living at a resort, how pretty it all is.
Look at this sweet fella, I know I'd love him.  This is such a glorious place to live and I'm sure Lynn and her hubby must feel like they are in paradise.
Thanks, Lynn, for stopping by and sharing your beautiful home with my readers. I hope you'll all go over and visit Lynn and see all of her Home Tour at Designing Acres. I love to see how other people live and no matter which state or what size house it is, we all enjoy our homes and making them special.
I'm heading up to NC today for a couple of days at Angela's beautiful cottage with some blog girlfriends. We'll be doing a little antiquing and attending the Cashier's Showhouse again this year.  I'll come back with some fun pics, I hope!
Mark your calendars!
We're back for Fall!  My blog buds and I are doing more link parties this Fall. Did you realize that Fall is just around the corner?  September is just 2 weeks away, I can't believe it.  I'm so excited to be getting in my house just in time for cool, crisp Fall weather.  I still don't know when I'll get in there, but I'm hoping by the first of October.
I'll be doing something outside on the door or front porch and all of you can link up to every party if you'd like to join us!  We'd love that.
Here's to celebrating the Fall season with all of you!
Don't Miss a Post, join my list!