I'm back today with another inspiring Feature Friday and this one highlights Tybee Island again. This beautiful built in 1932 cottage, Ebbtide, is owned by Mary Kay Andrews and was meeting place central for our blog group last weekend. It's a spacious cottage, just steps from the boardwalk leading to the Tybee beach and has such a wonderful old beach cottage feel, like Grandma's house at the beach, as the Mermaid Cottage description says.  Mary Kay told us and they bought the house just over a year ago and she fixed it up with her keen junker's eye, making it so much better than it was.  This house would be perfect for a big reunion and holds lots of folks.
The exterior is cute and beachy, but doesn't quite portray the charm waiting inside.  I love that it has 4 drive under car spaces below as well as a couple of bedrooms downstairs too.
Mermaid Cottages handles lots of cottages on Tybee.
Kathy and Tom had the kitchen redone and it turned out fabulous. I love the red accents!
With some blue thrown in for fun.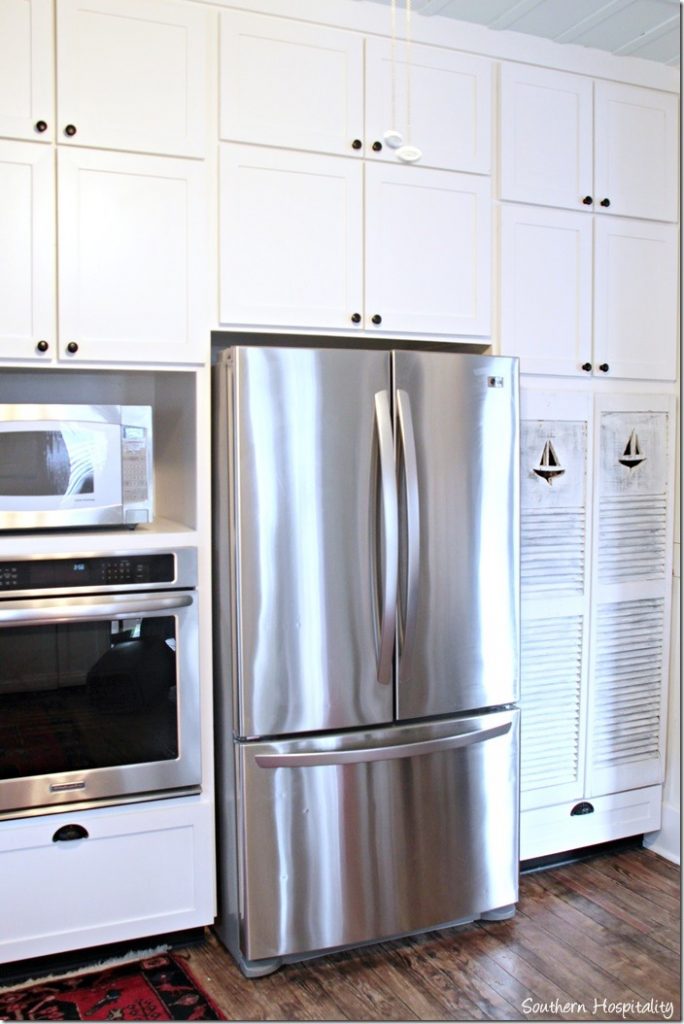 Big pantry area.
Looking towards the combined dining room living room from the kitchen.
Kathy made sure to keep this old Sunbeam Bread sign which was in the house when she bought it. It really makes a statement.
This large room is so spacious and perfect for gathering.
I love this old desk that they repurposed into a taller island by adding wood and feet.  Perfect divider for the rooms.
Fresh flowers in an oyster can.
Lots of vintage linens hanging around too.
And books, don't forget the books!
Ebbtide's cozy living room.
Love this vintage watering can and pail collection above the doors.
A sailfish over the whitewashed brick makes this room perfectly beachy.  Kathy said all of this paneling was the dark wood when they bought the house, but they thought that white paint would lighten it up and make it fresher for a beachy feel.  I totally think they made the right decision in painting some of it.
Living room with vintage art.
Kathy said they used Ana White's plan for these little shelves. I love this collection of vintage art!
Ebbtide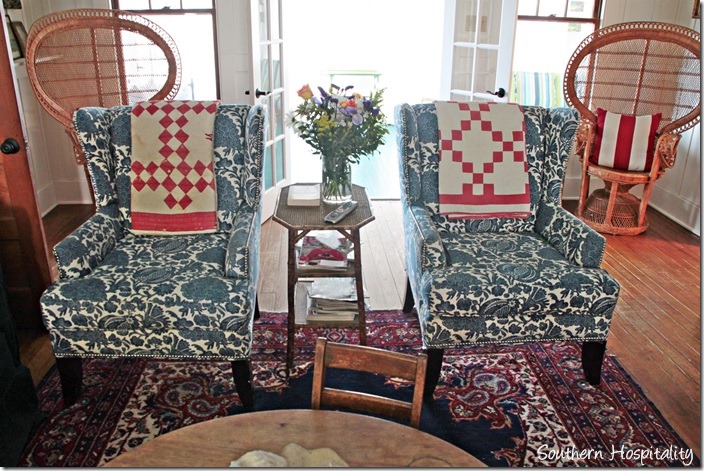 Signature blue and white chairs.  You can see Kathy's personality all over the house.
Vintage bathing suit.
One bedroom has twin beds with this cute red and white checks.  This is how all the paneling looked when they bought the house. I would have totally lightened up the living room too.
Another bedroom on the porch is perfect.
The shared bathroom.
How about this Please Do Not Disturb vintage framed art. What a great idea!
More vintage pieces in the bathroom.
One of the hallways with a cute shelf and book page art wreath given to her by a reader.
Another one of the bedrooms, so cozy and quaint.
All the little touches make it extra special and I love that it has it's own sink.
Couldn't you sleep well here?
The master in red, white and blue.
Pretty seashell art from an estate sale.
Vintage desk and chair.
Master bathroom.
Master bedroom chest and side chair. Love the oriental rug.
Downstairs are a couple more bedrooms with these cute twin beds.
And they have their own bathroom too.  We didn't have to use any of these rooms on our weekend trip.
Under the house is a great patio space perfect for entertaining.
Now this, this was my favorite of all at Ebbtide!  This huge wrap around glassed in porch was SO gorgeous.  She said the floor was already painted in this pretty turquoise color and what fun it is.
I love the old rattan furniture covered in beachy blue and green stripes.  I could hang out on this porch all day long.
Fun in the Sun, yes!
Boat art on the porch.
This end of the porch holds a TV, perfect for lounging.
I bet that's an Ikea slipcovered sofa.
Kathy told us she found this piece on Craigslist and wow, is it perfect out here!
Doesn't this just make you relax a bit looking at it?
Tybee is such a cool place and I'd love to go back. Hopefully I will do that one day.  It really is a throwback to old beach towns with riding bikes and a slower pace of life.  I really loved it and I think you would too!  I'll be back later with lots more from Tybee and Savannah!
For another great recap of our trip to Tybee and Savannah, don't miss Beth's Top 10 Things to Do at Tybee post!  Fantastic recap!
Happy Valentines day to all of you!  I have a fun concert date tonight and am excited to go!
Don't Miss a Post, join my list!