Blogland is an amazing place! I have had the pleasure of meeting so many faith-filled women in my years of blogging and Edie is one of them.  You might remember her aqua kitchen from 2 houses ago, that I featured a few years ago.  It was adorable and so innovative with that beautiful shade of turquoise she chose for her newly repainted kitchen at the time.
Old House Before the fire:
Not long after that, Edie's family moved to a beautiful lake house in Tennessee and they were not in that house all that long, when right before Christmas last year, they lost their entire house and furnishings in a house fire.  It was so tragic and such a loss for their family.  I know about loss myself in a little different way, but I also know the God who restores.   God is so faithful and in spite of horrible circumstances and unimaginable loss, He rebuilds and restores.  And wow, has God restored Edie and her family.  They have just recently moved back into their new house and it is absolutely a treat for the eyes.  You are going to love this!
If you love color, you will especially love Edie's choices of vibrant hues and gusty accessories in the way she has pulled her new home together.  And wait until you see this new kitchen!  Wowza!
OK, enough from me, let's get on with the tour of Edie's new home!  Of course, Edie and family got to choose every option that went into their new home and she documented it all on her blog.  If you have questions, you can probably find them in all the individual posts she has done about their new home.
Here is the newly built house with shingles and a farmhouse/cottage feel.  It sits right on a lake with a beautiful water view on the backside.  Since their lot is long and narrow, they had to choose a floorplan that would fit on the old footprint.
I just adore shingles such as this! What a smart design choice she made.
We'll start in the living room.  She painted her walls very neutral, bringing in color in fabrics and accessories.  I love these Ikat ottomans and the striped rug.
Gorgeous use of color and texture.  Edie had some help with design boards from the fabulous Darlene at Fieldstone Hill.
Love these built-ins with their dark background and beautiful accessories.  Edie is so good at putting things together.
And here is that fabulous new kitchen.  Farmhouse style, but elegant too.
Look at those yummy burnished brass pendant lights over the island.  So you've heard brass is coming back, this is the way to do it?!
Beautiful wall of windows above the sink.  This is a dream kitchen for sure.
The black island really grounds it all with spaciousness and beauty.
Gorgeous!  You can read all the details about the kitchen at Edie's blog, along with all the other rooms.
Open shelving is beautiful and practical when you have pretty things to display. Don't you love the color of the cabinets?
Her girls' room is just adorable. I love the fabrics and rug in here.
A pretty turquoise dresser is tucked into an alcove.
Beautiful!
The girls' bathroom and bedroom.  Love these colors, don't you?  It's just happy!
The bathroom cabinets are painted a pretty coral and what a welcome change that is from the typical colors.  Love how she added those oval mirrors above too, for a really custom look.
She has a finished lower level, with extra guestrooms and this is one.
Here's another one done in all white and neutrals.
Lover-ly!   I adore this.
Lower level living room is nice and cozy too.
And feast your eyes on Edie's office space, which also houses the washer and dryer.  What a happy and fun room this is!  I love her use of color in here, it would make me smile every time I walked in.
These are Ikea hacked bookcases, which look like built-ins.  I love how blogland is doing this with those inexpensive Billy bookcases from Ikea.  Great idea!  Paint the backs for a custom look.  Don't you just love that pink wingback chair?
Edie is fearless with mixing things up and I love that about her.  You can see she has one of those The South signs that I featured from my Dalton trip a few weeks ago.  If you want to know what it says, I snapped a close-up.  Edie is very Southern too and this sign says it all.
Here's the other side of the room that houses laundry duty!  What a way to do laundry and work at the same time.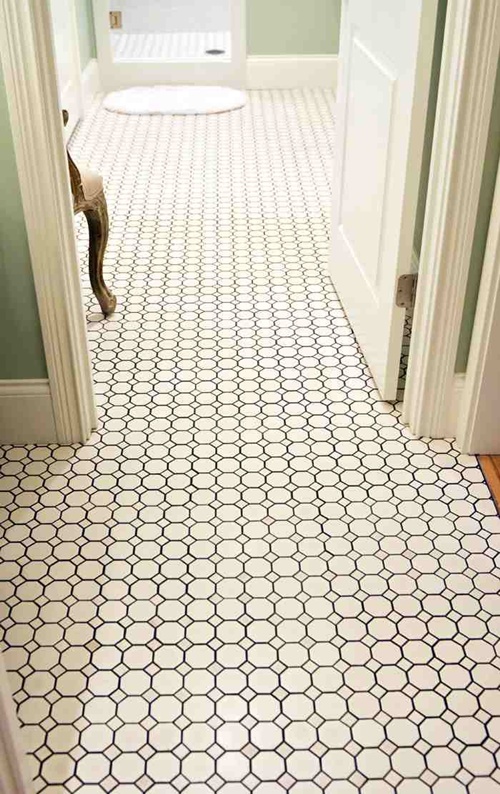 Edie shares all her flooring choices and she made some great ones, like this nostalgic tile in a bathroom.  Love it!
In their downstairs space, she opted for stained concrete, which I have always sworn I would do if given the chance to rip out carpet that is sitting on a slab.  I love, love stained concrete and scoring it is a great design decision too.
Edie, thanks so much for letting me share your beautiful new home with all of my readers!  It is truly gorgeous and what a blessing to see a house rise again.  Beauty from ashes, just as God promises us!  I'm so happy to see the journey your family has made this year.  It's a testimony to faith and grace.
I hope you'll stop by and say hello to Edie.  She's one of the nicest ladies in blogland!
You're also in for another treat coming soon!  I am now working with a new client here in Atlanta, Lynn, who also lost their home to a fire a year ago.  It too is already up and rebuilt, however the final touches with flooring, cabinets, hardware, lighting have yet to be installed.  She will be choosing all new furniture and accessories as well, since they too, lost everything.   I'm going to be helping out with the design process and couldn't be more excited.  Lynn is allowing me to document it all here on my blog, so I will start sharing all of that really soon! 
Don't Miss a Post, join my list!