I met my friend, Lynn, three years ago when I was a docent in her beautiful historic home, Ellwood, in Marietta.  We became friends and I loved hearing about her history of buying old houses and fixing them up.  I call her the real estate tycoon of Marietta, because she does indeed have lots of rental properties in this area, as well as others at the beach and mountains.  I featured her beach house, Seaside Sisters, down in Seagrove Beach, a couple of years ago.  It's gorgeous!
She's a fascinating lady, a combination of real estate investor and artist, wife and mom.  She's well known around Old Marietta Square and has lived in Ellwood for over 20 years.  She showed me pics of the house when they bought it and wow, it looked like it needed to be torn down instead of restored.  But, Lynn loves a good restoration project and tackled this house, making it a beautiful home for her family. Her husband is right there with her in their restoration efforts.
We also found out through talking the first time that we actually went to high school together.  We both went to Sprayberry High School here in Marietta and graduated one year apart.  Small world!
I hope you enjoy seeing Lynn's beautiful historic Marietta home and the efforts that she and her husband have taken to restore the home to it's somewhat original state, with modern conveniences added.  She recently completed a kitchen renovation in the last year or so and updated the kitchen with new cabinets and other amenities.  But, it fits right in with the character of the home.
Here's a little about the history of Ellwood that Lynn shared with me:
Elwood was originally occupied by John Raford Winters after he came to Marietta in 1833.  Sources say that this property was owned by Winters prior to the Civil War.  Several families have owned the house over the years and in 1992, Lynn and Hans bought the house and began restoring it, which took 2 years. It was overgrown and in need of extensive renovations.  
It was obvious during renovation that the house was built on to over the years, from the 3 type of bricks on the house.  The 2nd add-on was about 30 years newer and the last phase around 1900. 
For the restoration, moldings were reproduced, chimneys rebuilt (there are 10 fireplaces, the favorite being the one in the kitchen), all damaged windows reproduce and replaced, heart pine floors were refinished, new central heat and air, wiring and plumbing.  There was extensive damage to the home due to the condition of the old tin shingle roof, which leaked everywhere.  
The home is furnished with antiques, mostly being Federal and Early American Empire. Fabrics were selected that were fitting for the home.  The home has 16 rooms. The ceilings are 12 feet tall on the main floor and 10 feet upstairs.  
Hans and Lynn have restored many homes in Historic Marietta.
I'm not going to talk all the way through, so just enjoy the beautiful tour!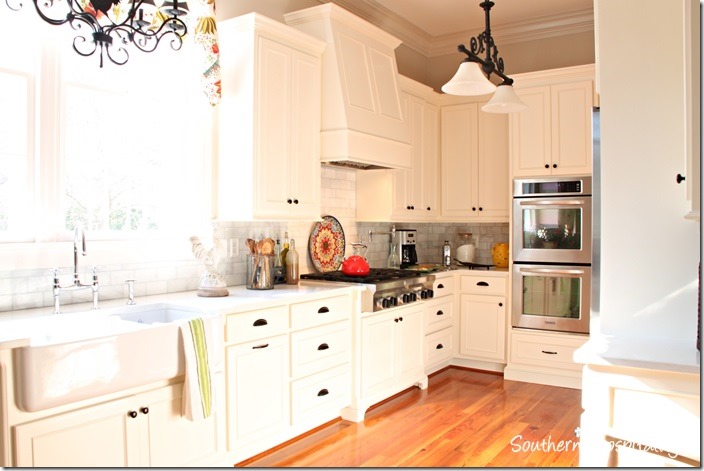 Daughter's room
The old smoke house is now used as a garden shed.
I hope you enjoyed this beautiful historical home tour in Marietta.  It's a joy for me to share the home of Lynn and Hans.  It's a beautiful home, filled with precious family memories.
Don't Miss a Post, join my list!